Dairy-Free Banana Ice Cream
As an Amazon Associate and member of other affiliate programs, I earn from qualifying purchases.
This easy dairy-free banana ice cream uses only three ingredients. With no added sugar, you could easily let your kids eat it for breakfast. #BestMomEver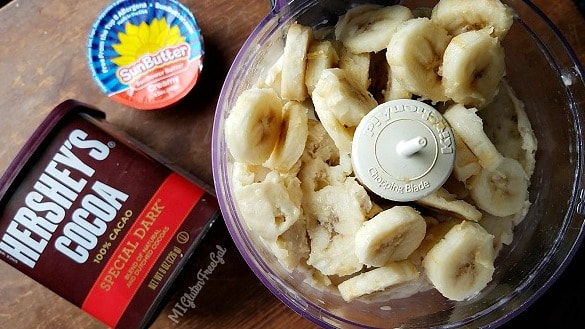 This dairy-free banana ice cream is magical. No, seriously. You take one simple ingredient, freeze it and blend it, and it makes an amazing dairy-free dessert. In just a few moments, you can take this boring food processor full of frozen, cut bananas and turn it into decadence! Of course, you don't have to stop at one ingredient. The world is your gluten-free dairy-free oyster and the possible add-ins are numerous! Did I mention that this dairy-free banana ice cream can be made with no additional sweeteners?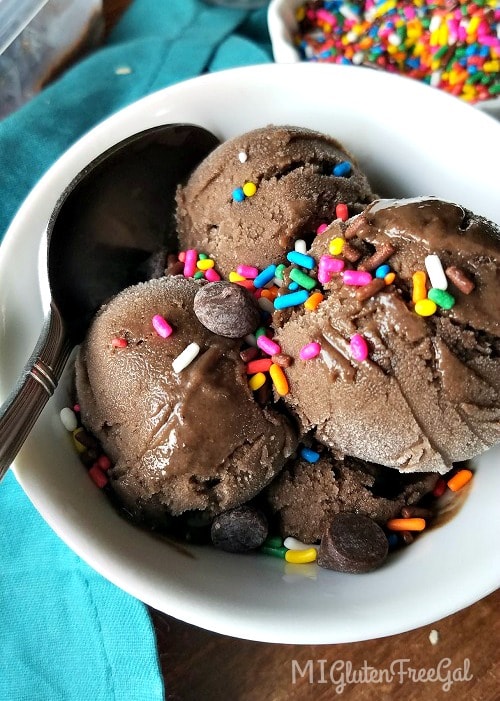 I first learned about dairy-free banana ice cream from TheKitchn years ago when I had a sore throat. I was skeptical then, but after one bite, I was a converted believer. My favorite add-ins are dark cocoa and SunButter. Adding that little bit of nut butter creates enough fat to emulsify the whole thing. Plus, once you've made this chocolatey banana ice cream, you mix in all sorts of things. Once, I mixed in nuts and marshmallows, and turned it into a Rocky Road ice cream. I served it for Father's Day and my family couldn't tell the difference!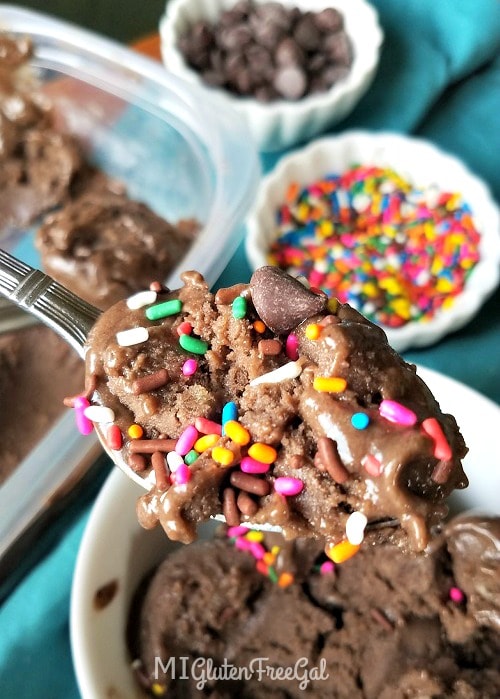 You can turn this banana ice cream into other flavors too. I've made it into a strawberry ice cream and used it for ice cream sandwiches. While at the gluten-free overnight camp, I made it into blueberry ice cream for our three campers who must eat a gluten-free, grain-free and sugar-free diet. They loved it and the counselors who received the extras loved it as well. Create fruity flavors simply by blending them in with the frozen bananas. (I find that adding additional thawed fruit for flavor works better than frozen.)
So ready to make some dairy-free banana ice cream for yourself? All you need is some frozen bananas, a food processor and some creativity!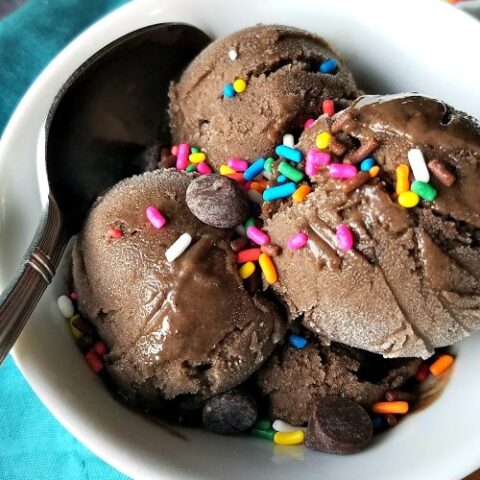 Dairy-Free Banana Ice Cream
Ingredients
3 bananas
1 tbsp dark cocoa
1 tbsp SunButter or other nut butter
Instructions
Line cookie sheet with aluminum foil. Cut bananas into coins and place on a lined cookie sheet. Freeze 5-6 hours, preferably overnight.
Remove hard, frozen banana chunks into the food processor and process until they start to turn creamy. This might take a while.
Add dark cocoa and SunButter, and process until fully incorporated into the frozen banana. The mixture will be creamy like soft serve ice cream.
You can eat as is or place in a container and freeze until hard. (I prefer the later.) Once frozen hard, scoop as you would regular ice cream and top as desired.
You can also make this into other flavors. If you want to make something like strawberry, leave out the cocoa and peanut (sun) butter. I find adding thawed strawberries or blueberries works better for making fruit flavored nice cream.
**This post contains affiliate links. Purchases made through those links help support this blog with no extra expense to you. Thank you for your continued support!**