Culver's Gluten-Free Buns are a Huge Hit
As an Amazon Associate and member of other affiliate programs, I earn from qualifying purchases.
A little birdie told me that Culver's now had gluten free buns. So I called my local Culver's to inquire if this was true and to ask them a few questions. Here's my expereience with Culver's gluten-free buns. **Update – Culver's now uses Rotella gluten free buns.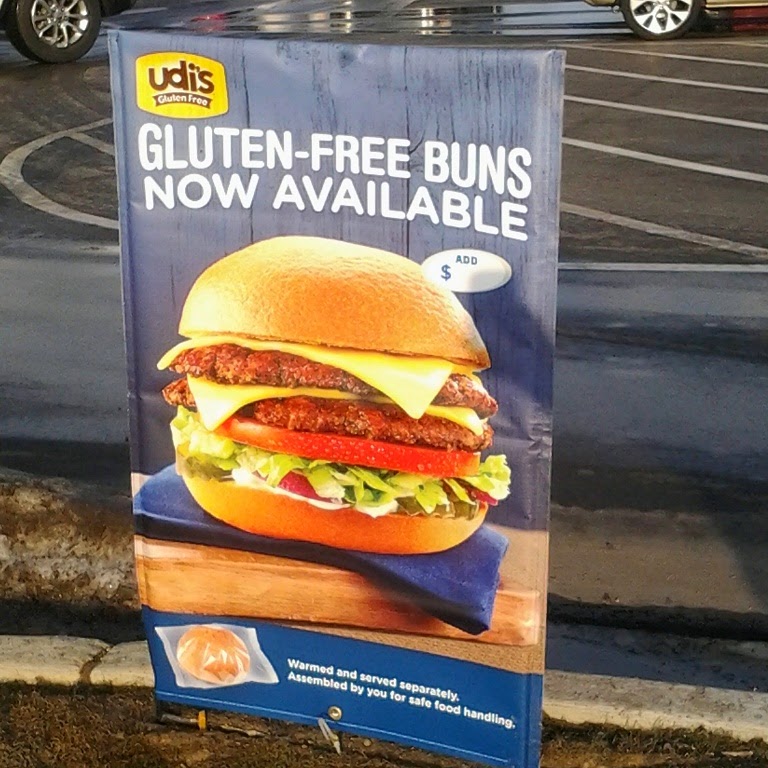 When I called, they told me how they serve the
Udi's bun
separate from the meat and condiments, in its own sealed packaging. This is to prevent the risk of cross-contact. They stated that all of their staff have been trained by their corporate office. They did not mention whether this training was in conjunction with GIG, NFCA, or another trusted gluten free organization.
While they don't have a specific gluten free "menu" they do have a
two page listing
at the back of their nutrition and allergen guide that lists items that are gluten free. This is in addition to the individual listing of all of their ingredients and their individual allergens, calories, and other nutrient contents. This was super helpful to have.
They also notated my order with an exclamation point which highlighted !FoodAllergy!. I was also blessed that the friendly gentleman taking our order has a sister with Celiac Disease, so he took extra care taking our order! I had previously checked to make sure that the meat was not grilled in the same place as their buns, as their website said that was possible.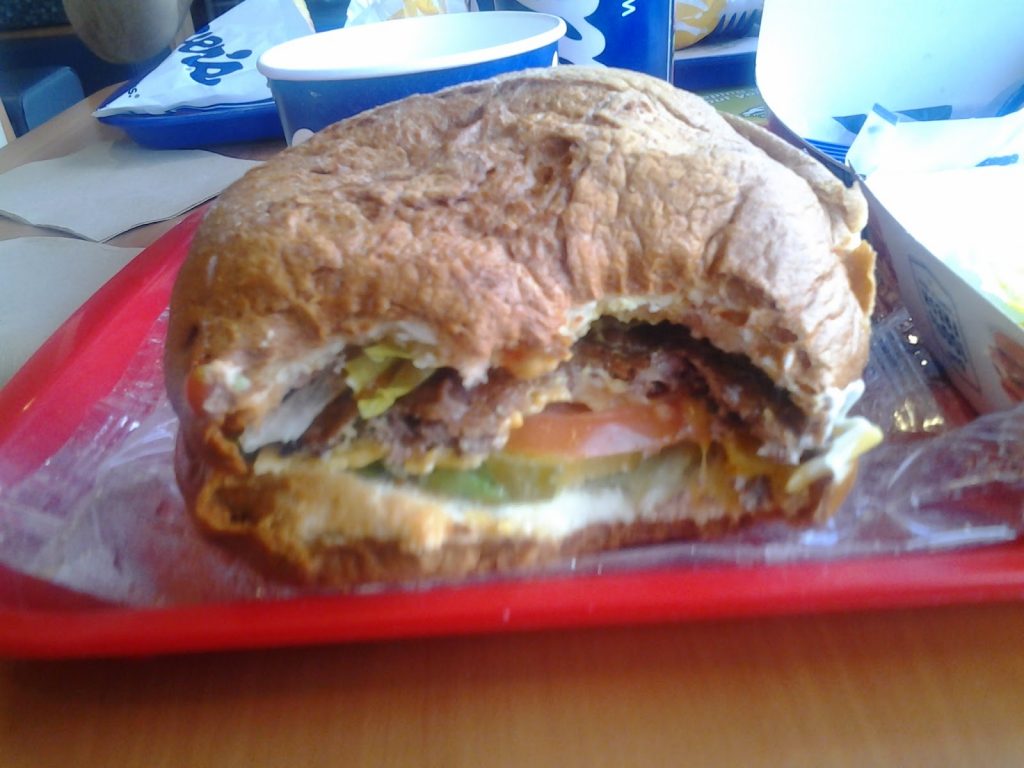 Because my burger was made up myself and everything was made fresh and separate, my burger was totally delicious. I ordered a side of mashed potatoes and my husband ordered a side of green beans. The green beans were AMAZING! Don't waste your time on the mashed potatoes- trust me.
Upon leaving, I kindly asked the staff if they had any literature about the new bun that I could share with my support group. They smiled and immediately made a copy of their FAQ's about the gluten-free bun program, after checking with management first of course.
Here's a copy of what they gave me.
Q: What are the ingredients for your gluten free buns?
A: We use Udi's Gluten-Free Bun. The ingredients are WATER, TAPIOCA STARCH, BROWN RICE FLOUR, NON-GMO CANOLA OIL, EGG WHITES, RESISTANT CORN STARCH, CANE SYRUP, TAPIOCA MALTODEXTRIN, POTATO FLOUR, DRIED CANE SYRUP, TAPIOCA SYRUP, YEAST, SUGARCANE FIBER, SALT, GUM (XANTHAN GUM, SODIUM ALGINATE, GUAR GUM), CULTURED CORN SYRUP SOLIDS AND CITRIC ACID (NATURAL MOLD INHIBITOR), XANTHAN GUM, ENZYMES.
Q: Do you grill your ButterBurgers on the same surface that you toast your buns?
A: The gluten-free bun is served in a sealed package for you to assemble on your own. Certain breads are placed on the same grill as our meats.
(**At my location they don't do this, as they have a separate toaster for their regular buns. Make sure to check with your location on this. She did mention that the grilled cheese is also cooked on the grill, but they have a dedicated section of the grill where they don't grill anything else. If concerned after asking about this, I would ask if they can cook your meat patty on aluminum foil.)
While we do our best to minimize cross-contact, Culver's restaurants are not gluten-free environments and cross-contact with other food items that contain gluten is possible.
(**Their roast beef is not cooked on a grill and therefore eliminates cross contact.)
Q: I see people posting about gluten-free buns at their local Culver's. When will my Culver's get a gluten free bun?
A: We hope to have a gluten-free bun option in all restaurants by the end of March.
Q: Is there a chance you will get a gluten-free (menu item) in the future?
A: We continue to work on making it safe to offer gluten-free menu options in a kitchen environment that is gluten tolerant. Please share your suggestions here https://bit.ly/RXUkUh so we can pass it along. Additional ingredient information can be found at https://www.culvers.com/menu-and-nutrition/allergen-grid. Thank you!
Q: Is your kitchen gluten tolerant?
A: Our team members receive training on how to prepare a gluten-free product with proper safe food handling precautions in an environment where common sources of gluten can be found.
Q: Is there an additional charge for the gluten-free bun?
A: Each of our restaurants is independently owned and operated and will make their own decision on this.
(**My location charges $1.00 extra, and alerted me of that prior to ordering.)
All in all, my husband and I agreed that we had a great experience, and anticipate that we would be interested in going again. At the bottom of the receipt it had directions for taking an online survey. As I have a smartphone, I was able to do it on premises and received a free cup of custard. Free ice cream is always a plus in my book!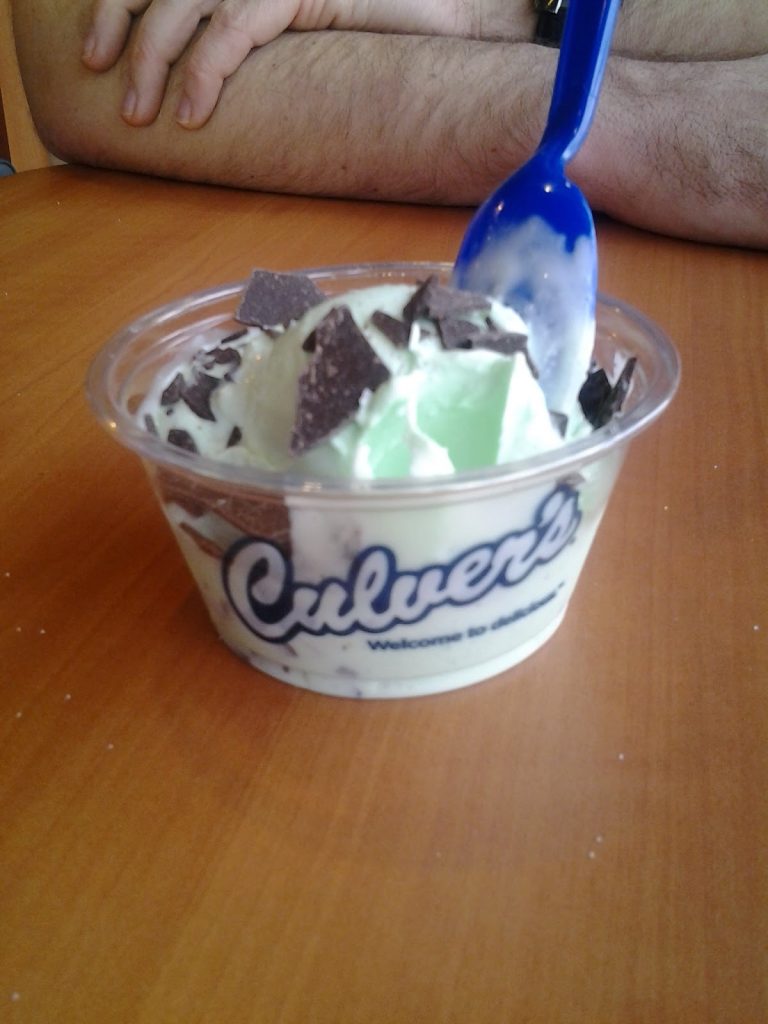 I paid for my own meal and was in no way persuaded or reimbursed for my opinions.
I provide this post simply to educate my readers about the experience I had and
to suggest they make an informed decision about their dining experiences.