Clarkston Union Lays the Gluten-free S'mac Down
As an Amazon Associate and member of other affiliate programs, I earn from qualifying purchases.
Clarkston Union is iconic. Housed in an old church, this first Union Joints establishment is notorious for their mac and cheese. Now with a gluten free version, and a complete gluten free menu, this place is a "must visit."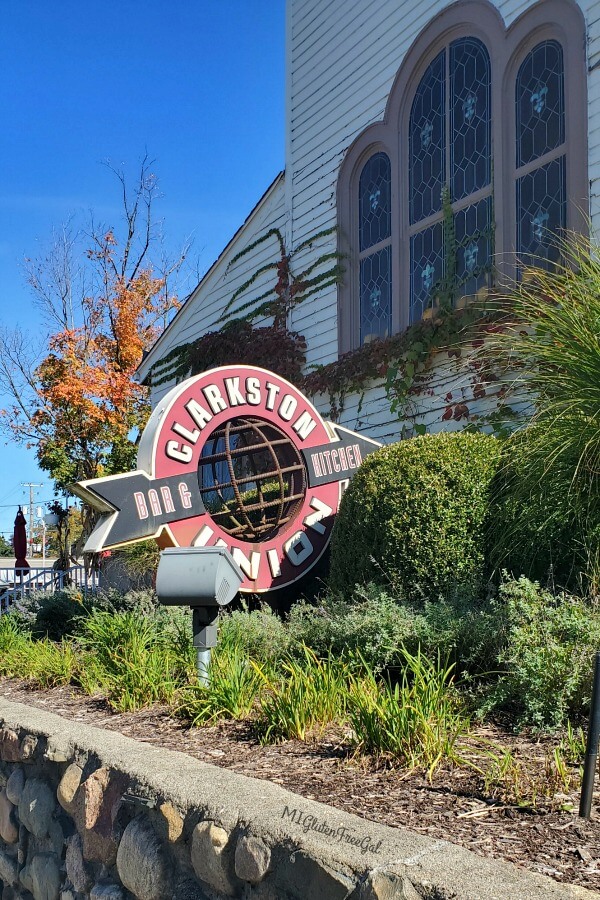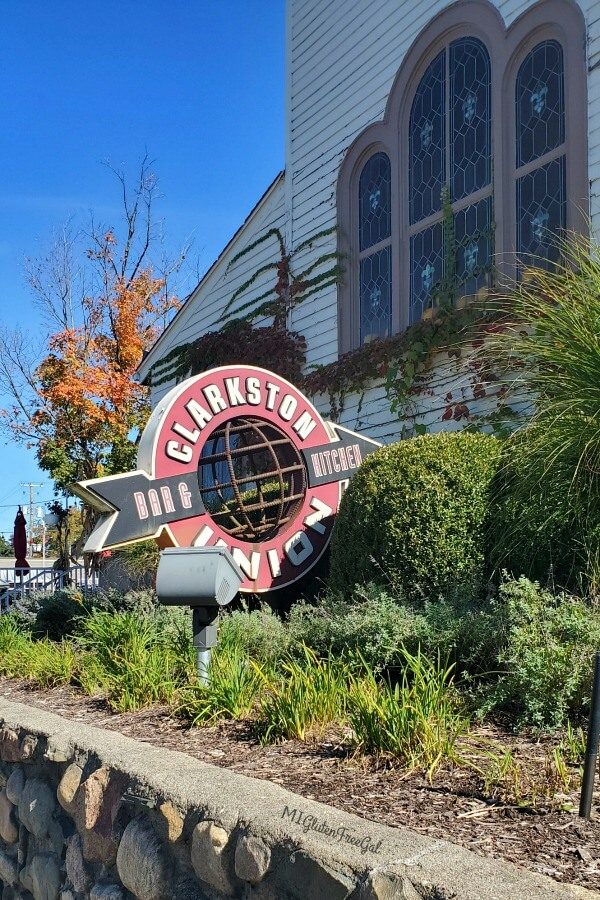 Clarkston Union Background
If you're unfamiliar with Clarkston Union, they are the original restaurant in the Union Family of Joints. Curt Catallo and wife Ann Stevenson opened Clarkston Union over 20 years ago. Their vision of renovating an old baptist church into a restaurant started a legacy of unique restaurants.
It's been a huge success. They've gone on to open other restaurants, such as Union Woodshop, Vinsetta's Garage, Fenton Fire Hall, and Honcho. They renovate each building to keep the character of the original structure and breathe new life into it. I think the interior of Vinsetta Garage is my favorite.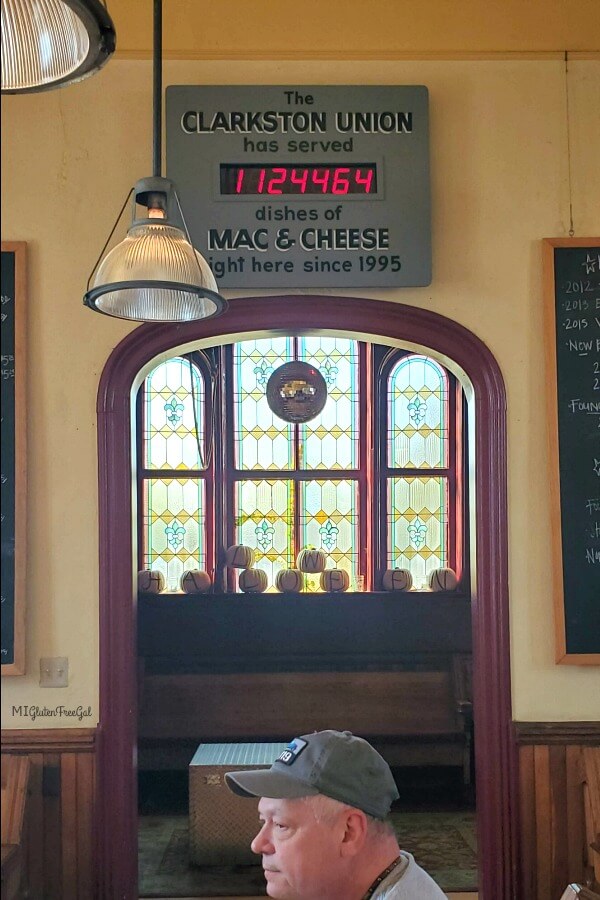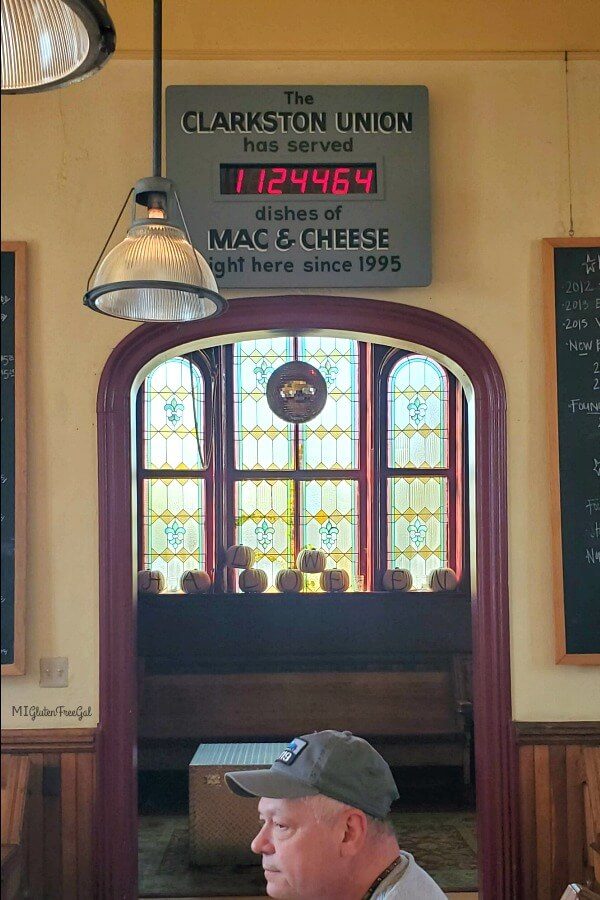 The Most Macked (Gluten Free) Mac N Cheese
In March of 2016, Clarkson Union messaged me with an invite. They wanted to let me know they had finally perfected their take on a gluten-free version of their famous Mac N' Cheese. This is no ordinary mac n' cheese. It's been featured on Food Network, Esquire, and even television shows in Canada. I felt incredibly honored.
After a quick half hour drive from Flint to Clarkston, we arrived at the restaurant and directed to a booth seat. (The booths are so cool – they're repurposed church pews!) Our lovely waitress Yvonne promptly greeted us, and I provided me with the gluten-free menu. I was amazed at how many options there were.
Pasta, pizza, burgers and sausages on a bun were all available to me. Dessert too! I later learned that all of their gluten-free products are sourced locally, with buns and pizza crust coming from Rumi's Passion in Plymouth and pasta from Mama Mucci's in Canton. They source local meat and produce as well, and believe in fresh food.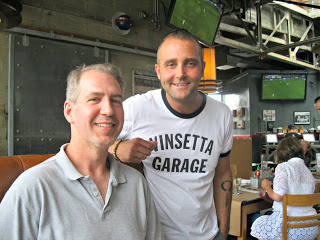 Executive Chef, Aaron Cozadd
Shortly after sitting down, chef Aaron Cozadd joined us at our table. Chef Cozadd is the executive and creative mind over the menus at all of the Union Joints. For someone who has so much notoriety, he was incredibly humble and gracious with his time. He politely asked if he could sit next to me in the booth, which of course I obliged.
While we waited for our food, we discussed his awareness of food allergies and his philosophy about cooking. It was eating the mac n' cheese at the Clarkston Union for the first time that opened his eyes to what cooking could be. This further led him to pursue a culinary degree from the famed CIA. While there, the school reinforced the importance of accommodating food allergies and intolerances.
** Chef Cozadd no longer works for the Union Joints chain.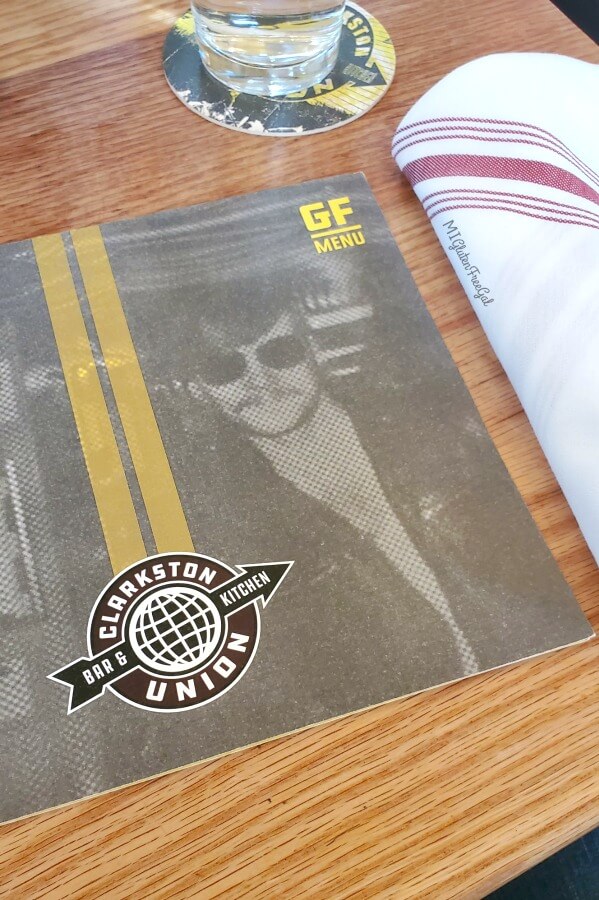 A Menu Created with Food Allergies in Mind
That has shaped how he cooks and creates new dishes, crafting menus that are as allergy-free as possible. He doesn't want anyone to feel like a second class citizen. Then again, he has first hand knowledge. Due to his peanut allergy, he personally knows the necessity to prevent all cross-contact, not swapping serving utensils, knives or cutting boards without thoroughly cleaning them.
During our conversation, our mac n' cheese came to the table. The gluten-free version arrived piping hot, in its dedicated red ceramic dish. These never use these red dishes for anything else. Chef Cozadd added they bake the GF mac on the top shelf of the oven, preventing crumbs from other dishes from inadvertently falling on it. Except for the pasta, thickening agents and bread crumbs, the gluten-free mac and cheese is the same as the original.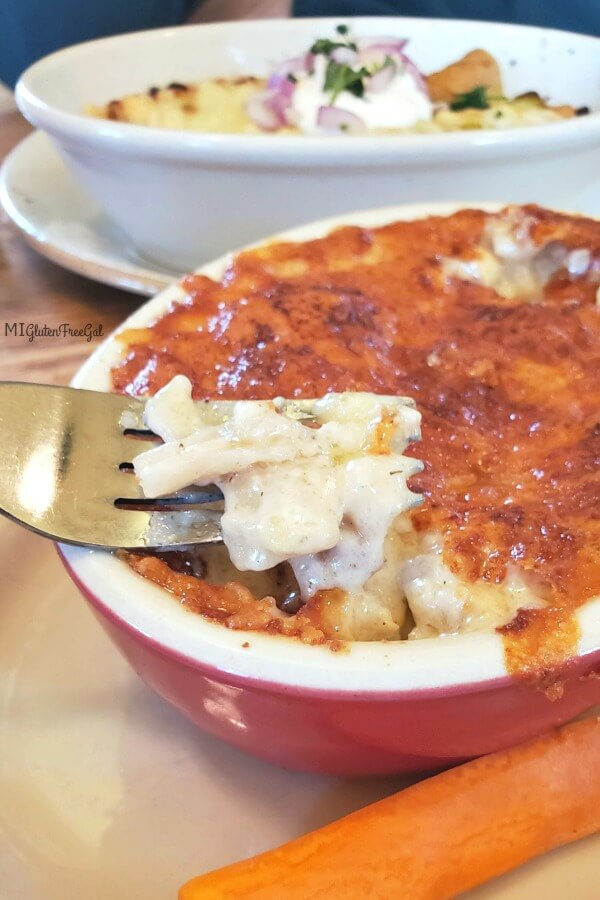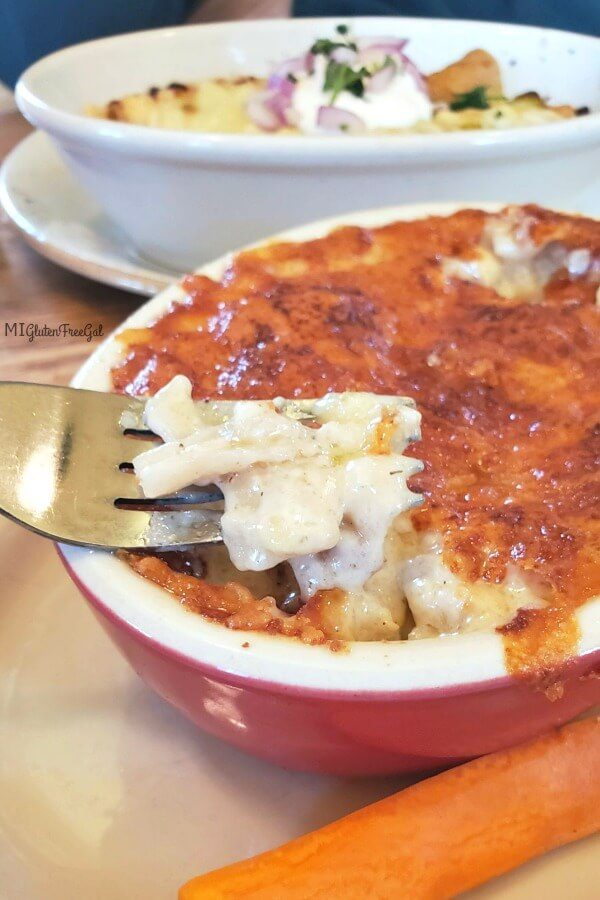 "It Tastes the Same"
So the moment of truth. My husband tried his regular mac, then he tried a bit of mine. A look of pleased surprise crossed his face. "It tastes the same," he stated. (He was even more amazed with our leftovers, and that it still tasted the same, and the noodles didn't disintegrate.) If I hadn't ordered other items, I would have inhaled the whole dish right there.
The rest of our meal arrived to our table. We thanked Chef Cozadd for spending so much time with us on a Friday night, and shook his hand as he left. We started eating our meal and were blown away by everything. The Steak Fattoush salad was amazing, with perfectly marinated, tender meat. (We took the leftovers home, and it was still so tender I was able to slice it with a butter knife.)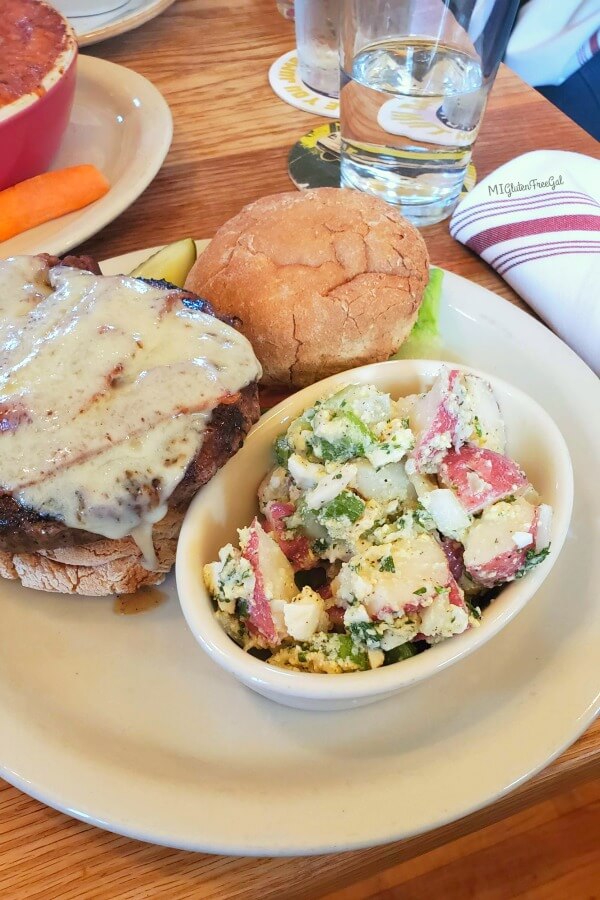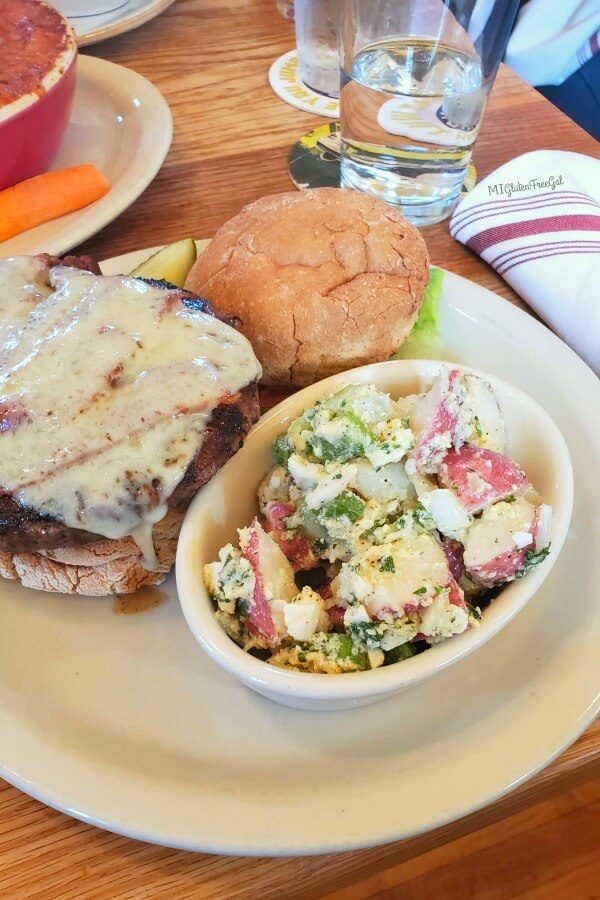 Does Clarkston Union Offer Vegetarian Options?
It's 2019, and I'm updating this post. Pictured above is their bacon cheeseburger with onion jam. HIGHLY recommend. However, they also have a portobello burger, which i believe is vegetarian. When we first visited in 2016, we enjoyed an amazing vegetarian pizza was amazing. Their pizza options rotate.
They also offer pork free items, including sausage. On our first visit, my husband enjoyed his sausage so much he was almost moved to tears. Their sausage immediately took him back to the flavors he missed from his childhood. To say that Clarkson Union has won us over as patrons is an understatement.
The Union Joints Family
As we closed our evening, we took some time to talk to our waitress, Yvonne. I asked about her background with the business and her reasons for working there. She said she's been there over 9 years, practically half the time the restaurant has been in existence. I asked her what kept here there for so many years. "We're family." She stated that the staff and owners all celebrate life together, going to each other's birthday parties, weddings, and funerals.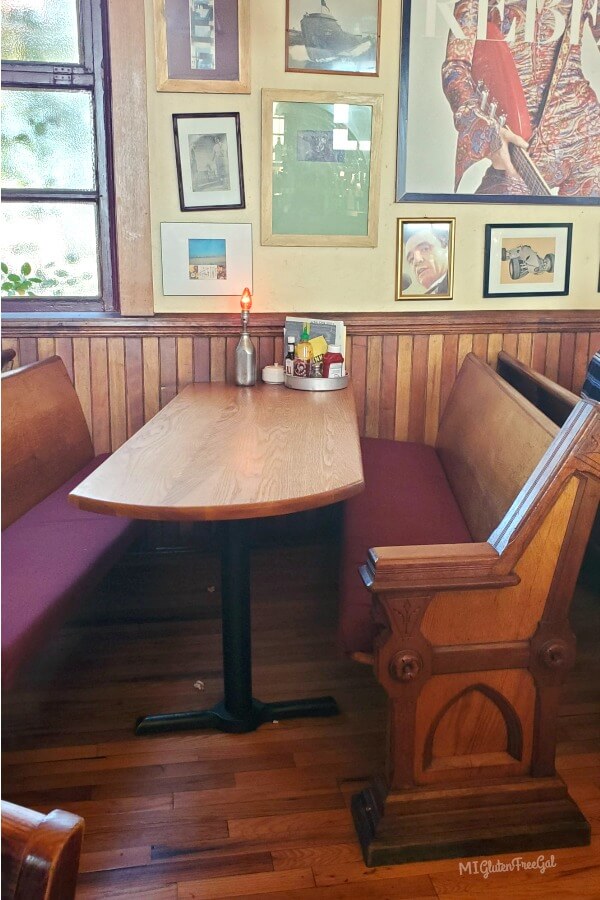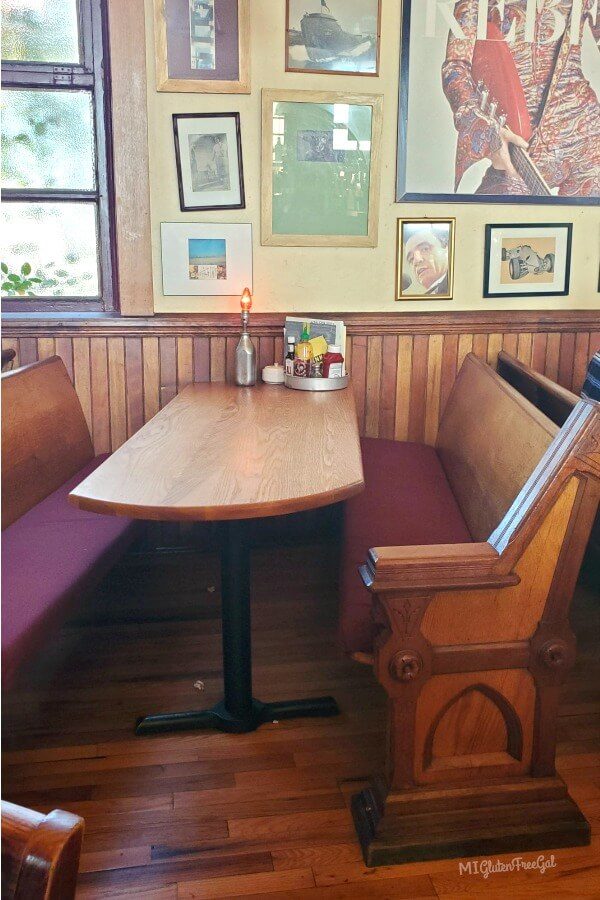 More Than Just a Customer
I asked her if she had an stories of customers that left a lasting impression up on her. She immediately told us the story of a particular elderly woman. This older woman came into the restaurant on a busy day, wanting to sit in one of the very large booths, all by herself. They thought it odd, but obliged.
After her order came, the elderly woman thanked the wait staff, explaining that it was the first time she had left her house since her elderly husband recently passed. The couple had been married for 50 years, ate there frequently, and she just needed to sit in "their booth." If I remember correctly they didn't let her pay for her meal.
Clarkston Union Bar & Kitchen
54 S Main St
Clarkston MI 48436
(248) 620 – 6100
Website | Facebook | Instagram | Twitter
Have you been to the Clarkston Union? What's your favorite dish there? Which Union Joint is your favorite place to get a meal?
** Although Clarkston Union provided us with a free meal, all thoughts and opinions are my own. We've become loyal Union Joint fans after this, taking friends and family to experience their meals, time and again.**
Clarkston Union is one of many Michigan restaurants I've visited. You can view a list of them on my Michigan gluten free dining post. Please remember to always ask any restaurant about their food preparation practices.