Clara Cookies: Gluten-Free Fuel for a Cause
As an Amazon Associate and member of other affiliate programs, I earn from qualifying purchases.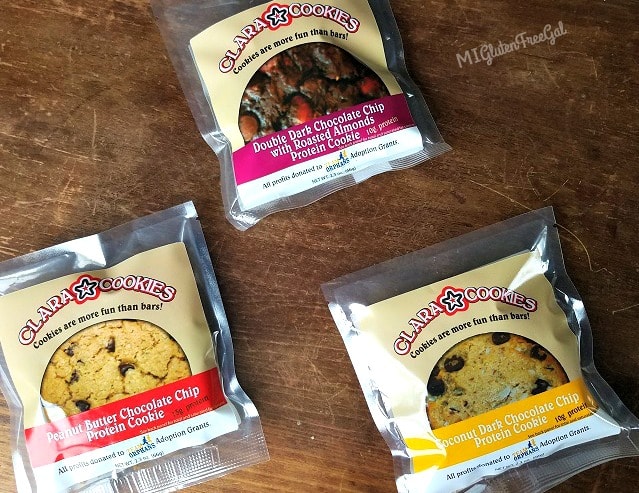 I love sharing about Michigan made products. Frequently I am introduced to new businesses and owners who make gluten-free products. Many are driven with a deep passion for helping others. Clara Cookies definitely falls in that category. I met the owner, Rebecca Cruttenden, at MSU's Making It In Michigan Conference. I was first drawn to her small business because their website states their cookies test to under 5 ppm of gluten!
Clara Cookies are a protein cookie made with verified gluten-free ingredients. Why cookies? Because as their tagline states, "cookies are more fun than bars." Her cookies are made with Bob's Red Mill Gluten-Free Oat flour which adds a good source of fiber. Her cookies also contain stevia, which has a lower glycemic index than regular sugar. As I can't tolerate either of those items personally, Rebecca whipped up a batch for me without them. They were delicious! You can learn more about Clara Cookies, in Rebecca's own words, below.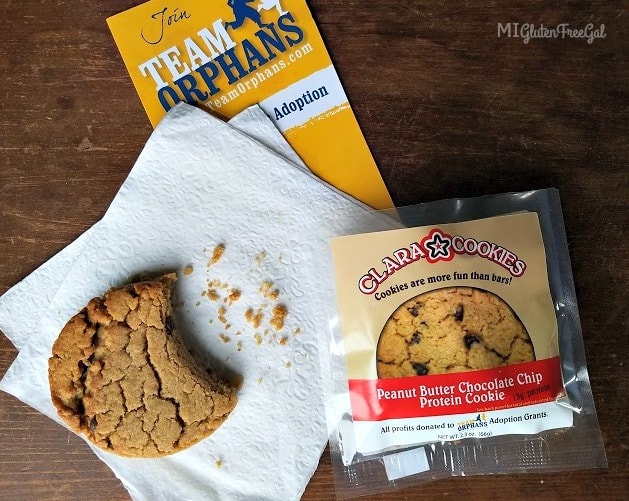 1. ​What​ inspired you to become a ​gluten-free food producer​?
I needed easy to digest, high protein food to use while training for and participating in Ironman triathlons. I tried many bars on the market, but none of them worked. My husband encouraged me to create a gluten-free, high protein cookie. I chose to make them gluten-free as I find they're easier to digest during races. In addition, I have several friends who must consume a gluten-free diet. I've experienced their frustration of trying to find great tasting gluten-free foods. It's especially difficult to find portable snacks that can be easily carried while running, biking, skiing, or hiking.
The purpose of Clara Cookies is more than just making great tasting protein sources. I race in the Ironman each year, raising $15,000 – $20,000 each time for Team Orphans. I started this 6 years ago, in connection with my cookie business, to raise money to help in adoption of orphans. In that short time Team Orphans has raised over $170,000 and contributed to the adoption of 129 special needs children!
2. Are there other highlights of your products? Dairy-free, egg-free, nut-free etc?
Our peanut butter chocolate chip and coconut dark chocolate chip protein cookies also come in a vegan (egg-free & dairy -free) version. We bake our vegan cookies on request, which can be emailed through our website.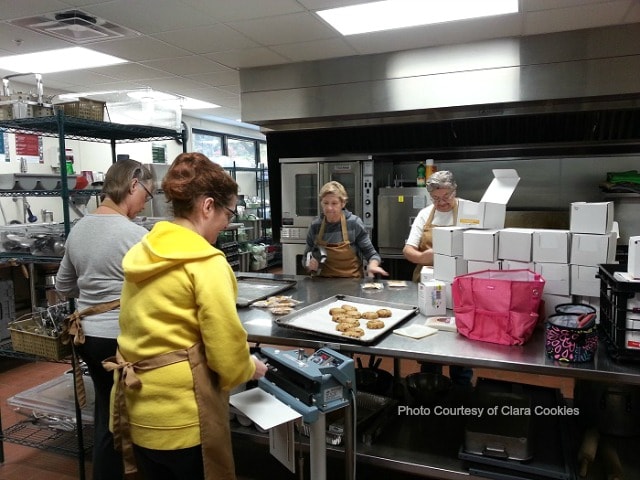 3. What steps do you take to insure that your products are truly gluten-free?
We have had Clara Cookies laboratory tested to meet the "under 20 ppm" definition of gluten-free. Actually, our cookies test for less than 5 ppm of gluten. We also test weekly in our bakery, which is at Camp Roger in Rockford, Michigan. (We have almost exclusive use of their commercial kitchen for 9 months of the year.) Our batch testing shows that our cookies test for under 5 ppm of gluten. We begin each baking session with thorough sanitizing of all equipment and store all of our gluten-free utensils in sealed containers. We use parchment paper on all cookie sheets, to add extra protection.
4. Please share a story of a customer who's been greatly impacted by Clara Cookies.
One of my regular customers is gluten-free and has Type 1 diabetes. She has struggled for years keeping her sugar levels regulated on long bike rides. She does 100 bike races to raise money for JDRF and diabetes research. Quite often she had to stop rides or drop out of races when her levels spiked or fell. Right away she notiecd that eating 1/3 of a Clara Cookie every 30 minutes during her bike rides keeps her levels consistent. She states that because our cookies are high in protein, good carbs, and good fat, they work as a stabilizing factor. My cookies help her unlike any other bars or gels on the market. She never goes biking without them!
5. What would you like consumers to know about Clara Cookies and your business philosophy?
We have great cookies for a GREAT cause. An estimated 153 million children live in orphanages in the world today. Every dollar of profit from our company goes to adoption grants for special needs orphans. We work with 6 different adoption agencies around the country, with Bethany in Grand Rapids as our largest. We are completely volunteer run. I take no salary and all of our baking and packaging is performed by volunteers. We love it when groups of students volunteer with us. Their service allows other kids to come home to a family!
Eager to eat one yourself? Find them at 27 locations across Michigan – in coffee shops, grocery stores, athletic stores, and more! Each cookie sells for approximately $2 at places like Reverence Dance Academy, Gazelle Sports, Baker Book House and more. Visit them online to find a location near you or order directly from their site.
Clara Cookies
Rockford, MI
Ingredient Labels
Website | Facebook | Instagram | Email
While this post has been sponsored by Clara Cookies, all of my personal thoughts are my own. I highly value this company and their mission!