Gluten Free Chocolate Peppermint Crunch Cookies
As an Amazon Associate and member of other affiliate programs, I earn from qualifying purchases.
What are the tips and tricks to the perfect gluten free cookie? What flour should you use, and what type of baking chips? Should you chill the dough? Get all these insights and more in this recipe for Gluten Free Chocolate Peppermint Crunch Cookies.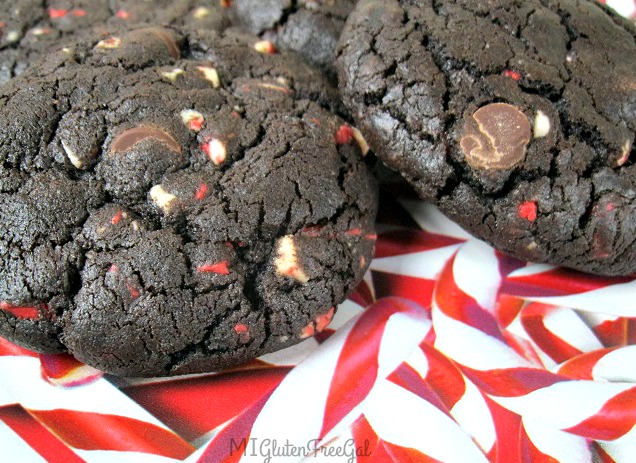 Gluten Free Baking Chips
Do gluten free chocolate chips and other baking chips contain gluten? I've lived with Celiac Disease for almost 20 years, and I don't recall ever seeing gluten as an ingredient in chocolate chips. (Don't forget to check for malt!) That being said, I am always reassured when I find brands that have dedicated gluten free facilities. (Read more on this issue in My Gluten Free Kitchen's post, Best Gluten Free Chocolate & Baking Cocoa.)
These Gluten Free Chocolate Peppermint Crunch Cookies call for two kinds of baking chips. One, is specifically the Andes Mints Peppermint Crunch Baking Chips. These Andes Mints, like all products made by their parent company Tootsie Roll, are made in a dedicated gluten free facility. When it comes to chocolate chips, I prefer Guittard, which are made in a dedicated gluten free and peanut free facility. I also appreciate Guittard's stance on honorable sourcing of cocoa, and their attempts to curb child labor.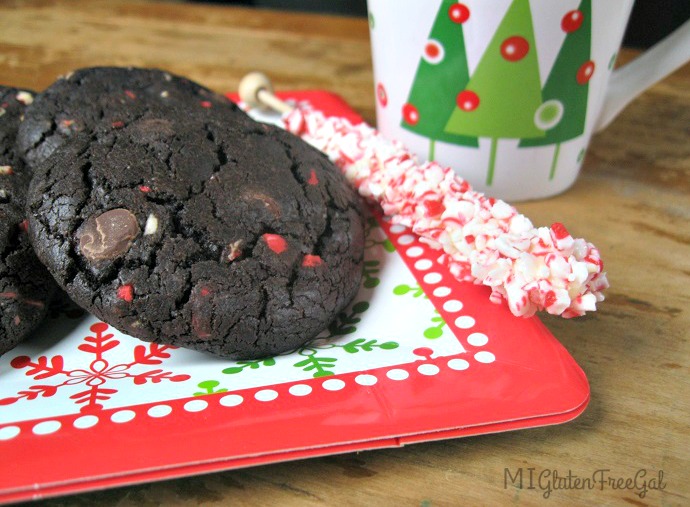 Gluten Free All Purpose Flours
Full confession. I snagged the recipe for theses Chocolate Peppermint Crunch Cookies off the back of the Andes Peppermint Crunch Baking Chips bag. As written, it uses regular wheat flour. When attempting to recreate a recipe, using gluten free flour, I find it best to use a high quality gluten free flour blend. I prefer King Arthur Flour Measure for Measure, or Cup4Cup Multipurpose flour blend.
You are free to use other gluten free flour blends you have on hand. However, you must remember that they all act and absorb moisture differently. For a primer on gluten free flours, and flour blends, I highly recommend this article on Gluten Free Flours from Flippin' Delicious. When baking cookies, I recommend baking 2 or 3 cookies, and then adjusting your batter for moisture.
Should You Refrigerate Cookie Dough Before Baking?
While my recipe for Gluten Free Chocolate Peppermint Crunch Cookies doesn't specify it, all gluten free doughs and batters benefit from a rest. As explained in this article from King Arthur Flour, any dough or batter seems to benefit from 15-30 minutes of rest time. (America's Test Kitchen recommends 30 minutes of rest time for gluten free pancake batter.)
In addition, gluten free cookies benefit from refrigeration. It helps prevent spread, by chilling the fat (butter, etc). As King Arthur Flour explains, chilling cookie dough also helps develop flavor and deepen colors. For more tips, read this article on Gluten Free Cookie Baking Helps from GF Jules. Have an "oops"? Faithfully Gluten Free shares how to correct a Gluten Free Cookie Crisis.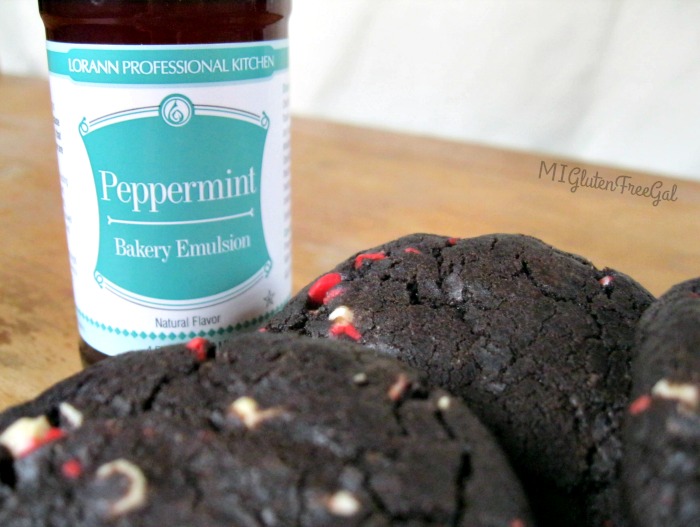 Michigan's Mindo Chocolate & Lorann Oils
As much as possible, I prefer to support local manufacturers. For instance, I've purchased my cocoa from Mindo Chocolate in Dexter, MI. Like Guittard, they place a high value on sourcing their cocoa ethically, and treating farmers fairly. While that means that their products cost more than Hershey or Nestle, I know that my purchase helps treat workers fairly.
In addition, I discovered LorAnn Oils a few years back. What started as a small family business in 1962, has become a major Lansing, MI business that ships all over the world. This recipe for Gluten Free Chocolate Peppermint Crunch Cookies calls for vanilla extract. However, substituted it with LorAnn Oils Peppermint bakery emulsion. You can use mint extract, but the Lorann Oils emulsions impart a much richer flavor.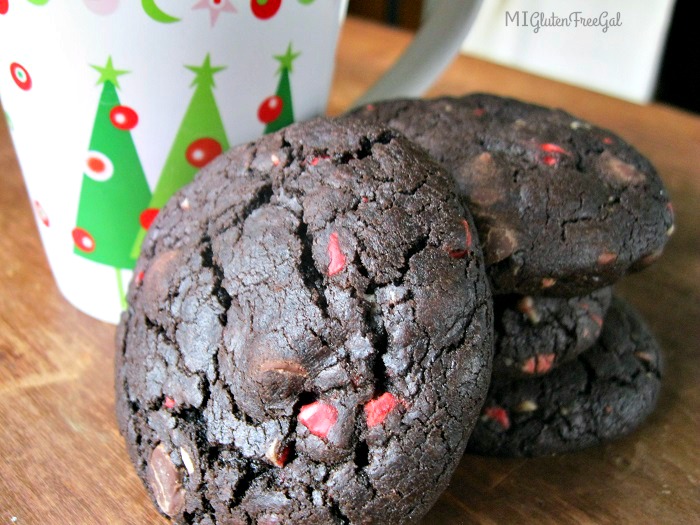 Other Gluten Free Christmas Cookie Recipes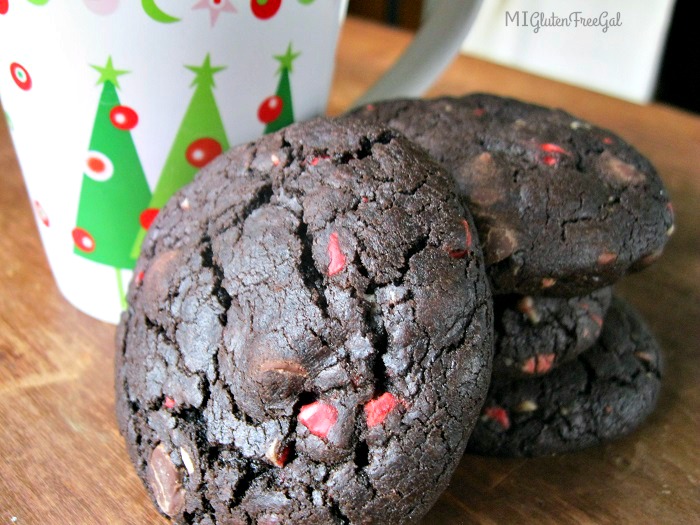 Gluten Free Chocolate Peppermint Crunch Cookies
Ingredients
1 c. unsalted butter
2 tbsp. instant coffee granules
2 c. plus 2 tbsp. all-purpose GF flour
3/4 c. baking cocoa
1/2 tsp. baking soda
1/2 tsp. salt
1 c. brown sugar, firmly packed
1/2 c. granulated sugar
2 large eggs, room temperature
1 tsp. LorAnn Oils Peppermint Emulsion
1 pkg. (10 oz.) Andes Peppermint Crunch Baking Chips
4 oz semi-sweet chocolate chunks
Instructions
Preheat oven to 350 degrees. In a small saucepan melt butter with coffee granules over low heat until completely dissolved. Remove pan from heat and let cool to about room temperature. (Confession - I do this in a microwave safe batter bowl and save myself from having to wash a pot!)
While that is cooling, sift together flour, cocoa, baking soda and salt in a bowl and set aside.
Beat butter mixture, sugar, brown sugar and vanilla in a large bowl. Beat at medium speed with an electric mixer until creamy. Beat in the eggs. Gradually beat in the flour mixture 1/3 at a time, beating at low speed just until blended. Stir in the Andes Peppermint Crunch Baking Chips and semi-sweet chips.
Drop rounded spoonfuls of dough 2 inches apart onto an ungreased or parchment lined baking sheet.
Bake for 10-12 minutes. Let rest on baking sheet for 1 minute then transfer to wire racks to cool completely.
**This recipe and post is not sponsored. It does contain affiliate links. Purchases made through those links help support this blog with no extra expense to you. Thank you for your continued support!**