Celiac Disease Awareness Interview Lineup – 2020
As an Amazon Associate and member of other affiliate programs, I earn from qualifying purchases.
It's May, which means it's Celiac Disease Awareness Month. This year, 2020, finds us social distancing. Therefore, I decided this would be a perfect time to interview some of my friends. After each interview takes place on Instagram live, it will be uploaded onto YouTube, then linked here, for easy viewing.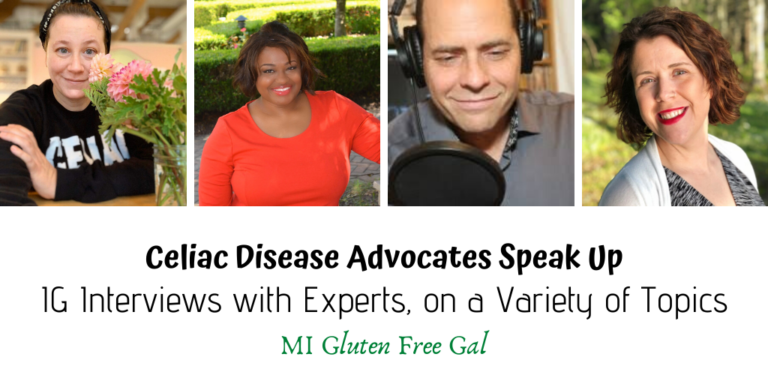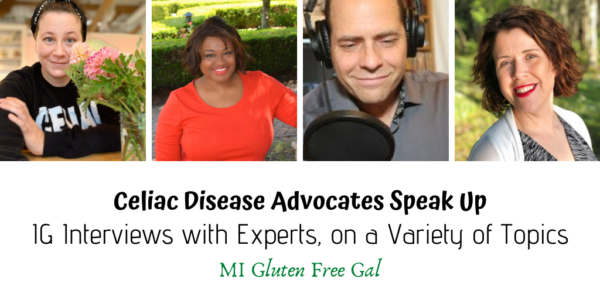 Michael Frolichstein of The Celiac Project
Sunday May 3rd, 1 pm EST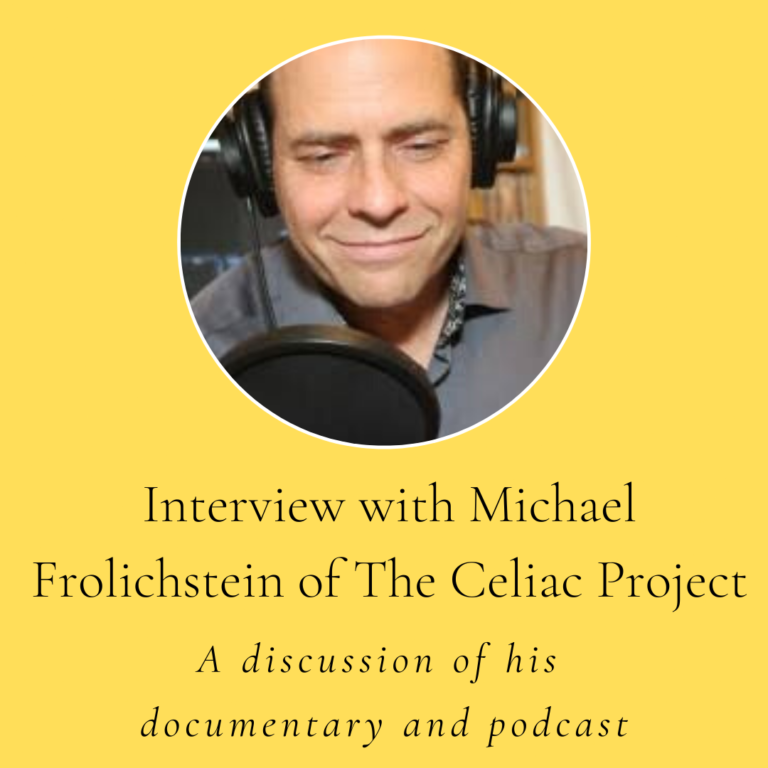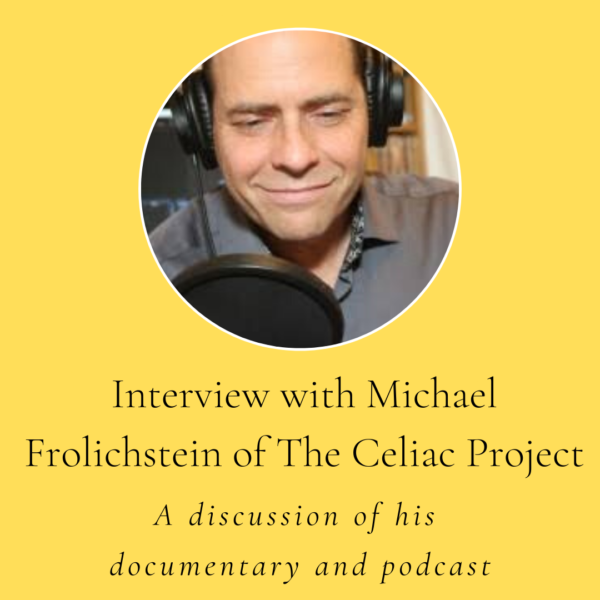 Michael and I discussed his documentary, The Celiac Project. Specifically, what caused him to make the film, and how it has helped him to continue to connect with others. Find our discussion on You Tube.
Amy Keller, R.D.
Monday May 4th, 3 pm EST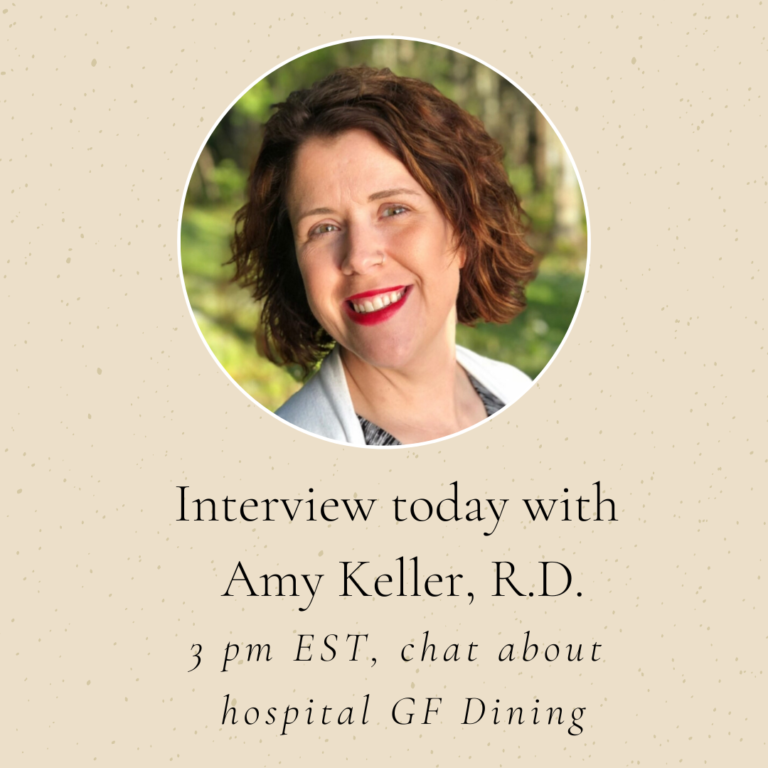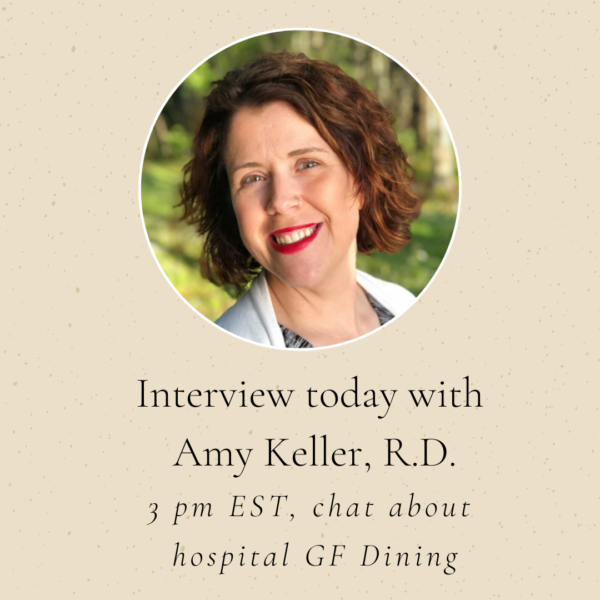 Amy lives in Ohio and works as a hospital dietitian. We discuss her 5 tips on eating gluten free while being a hospital patient. Find our discussion on You Tube. You can also read this post she wrote for Gluten Free Living about eating gluten free in the hospital.
Jereann Zann of Celiac Mama
Wednesday May 6th, 3 pm EST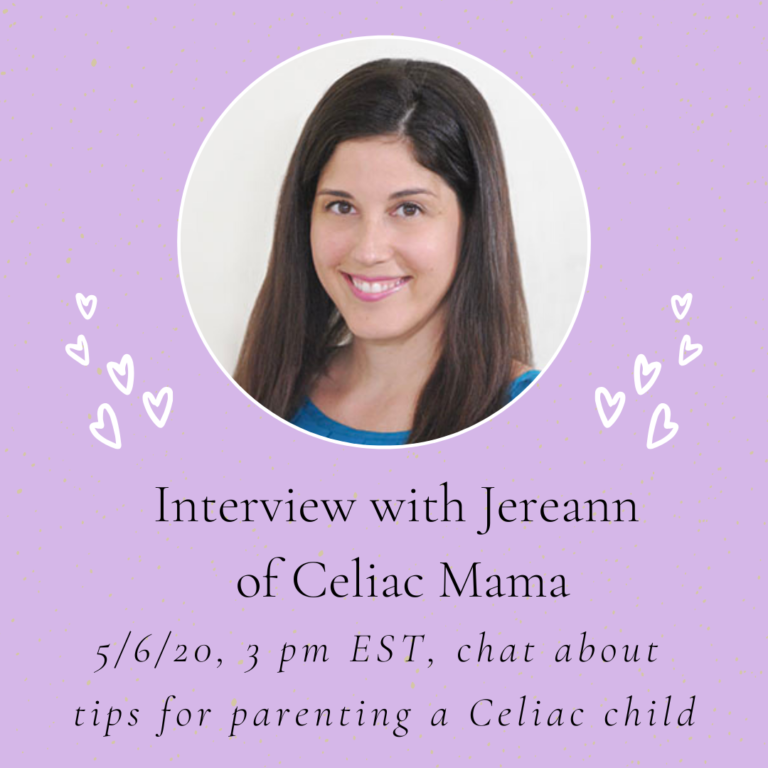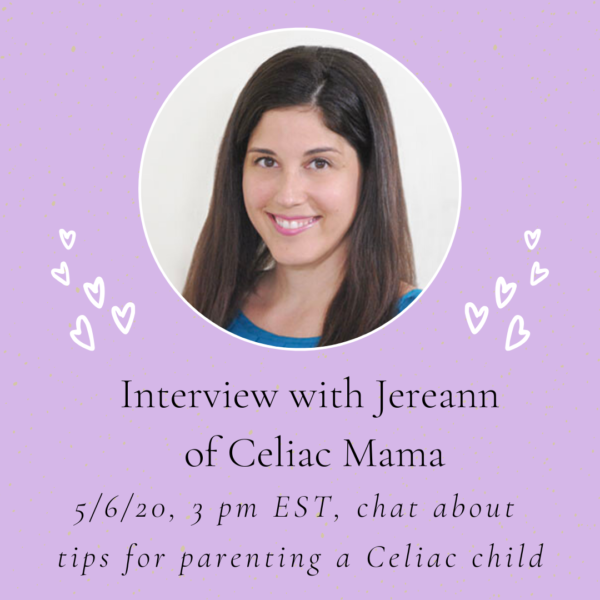 Jereann is the author of the blog Celiac Mama, and the owner of Little GF Chefs. She shares her 5 tips on parenting a child with Celiac Disease. Even if you don't have kids, this a great chat to hear. Find our discussion on You Tube.
Heather Burson of Third Coast Bakery
Wednesday May 6th, 3 pm EST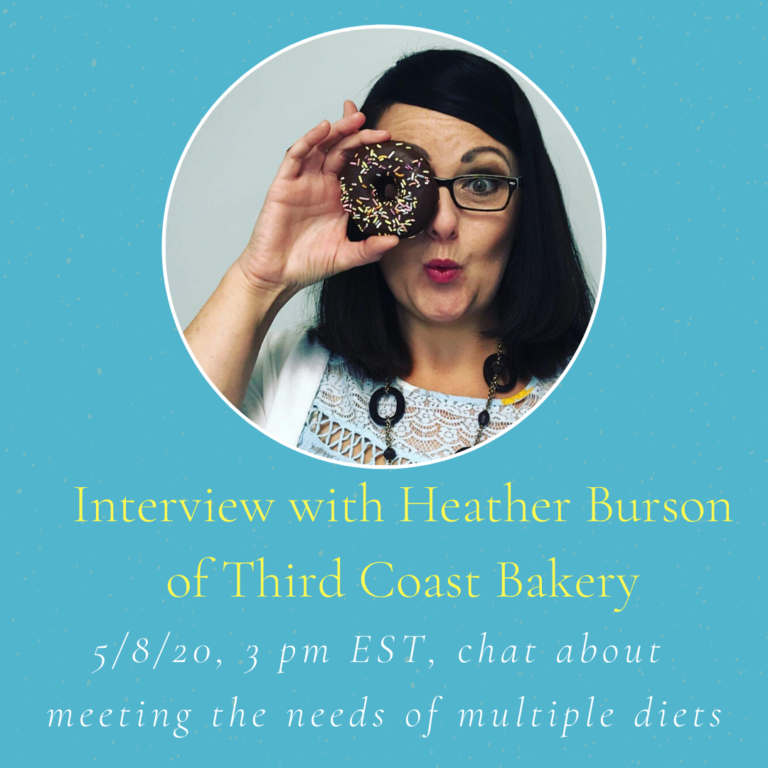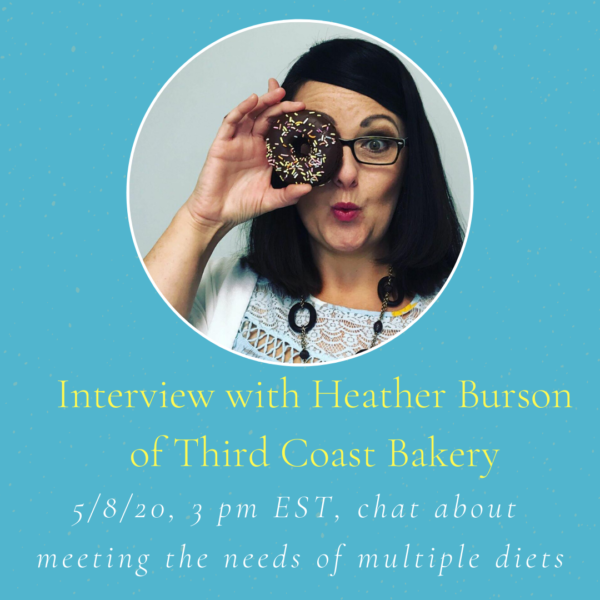 Heather Burson owns (dedicated gluten free) Third Coast Bakery in Traverse City, MI. She creates many special request baked goods, and we chat about keeping a safe kitchen with shared allergens. Find our discussion on You Tube.
Stephanie Lowe of Turn It Teal
Monday May 11th, 7 pm EST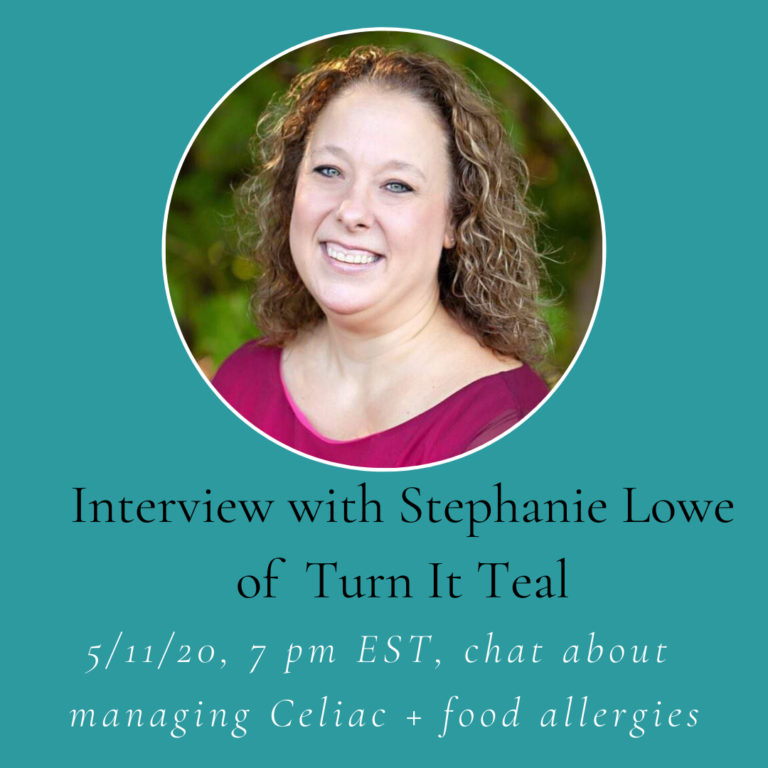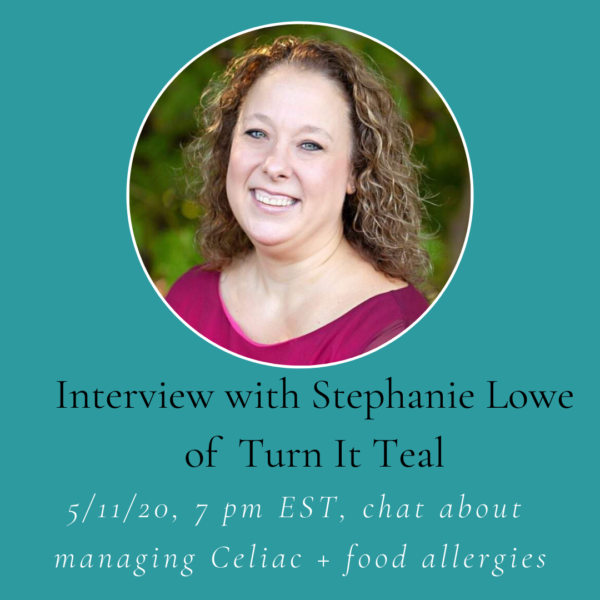 Stephanie Lowe, author of Turn It Teal, shares her expertise on food allergies. She explains how her family navigates both food allergies and Celiac Disease, as well as proper diagnosis of food allergies. Find our discussion on YouTube.
Nicole Dawson of Allergylicious
Wednesday May 13th, 7 pm EST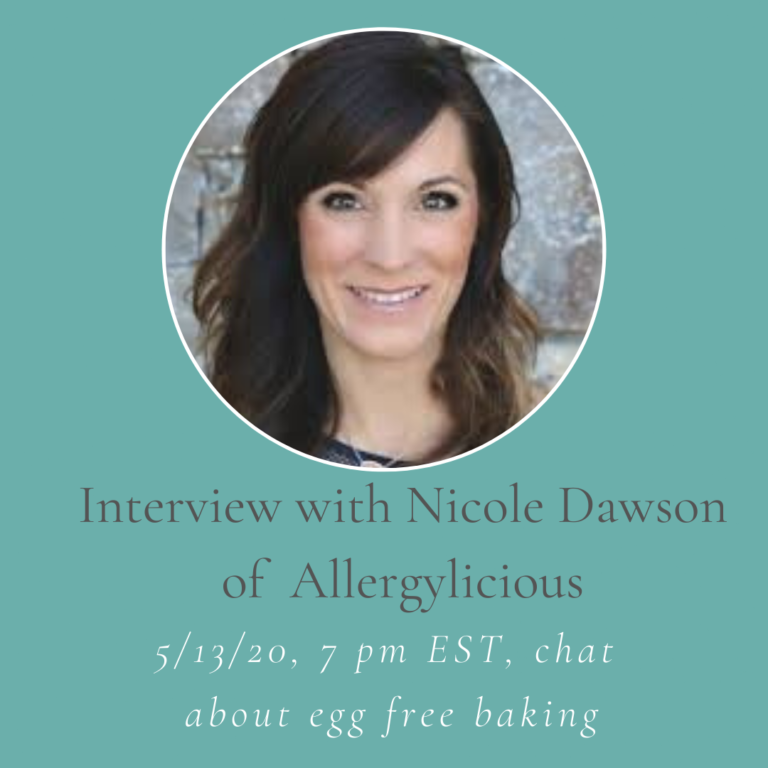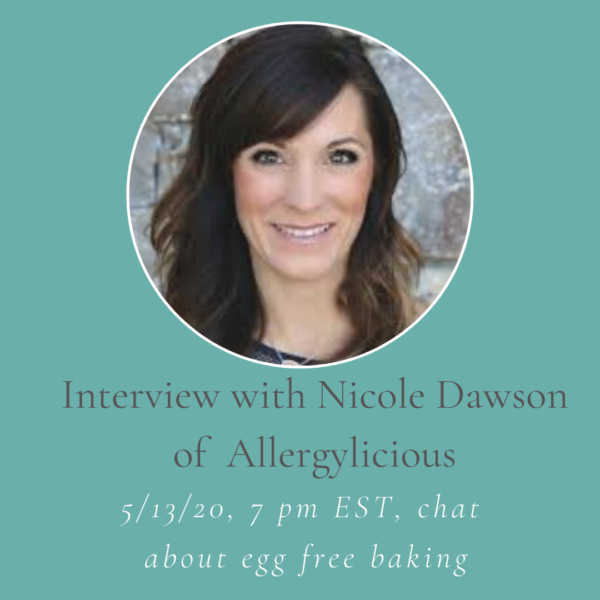 While nixing dairy from your baked goods can be easy, I find replacing eggs a bit trickier. We'll be chatting with Nicole Dawson from Allergylicious about egg replacements.
Unfortunately, Instagram decided to update its app in the middle of our chat, and I was unable to save our video. So sorry. However, here is a direct link to her own Instagram stories highlight that talks about egg replacers. This post on her website also explains egg replacers and egg free baking.
Cindy Gordon of Vegetarian Mamma – POSTPONED
Friday May 15th, 7 pm EST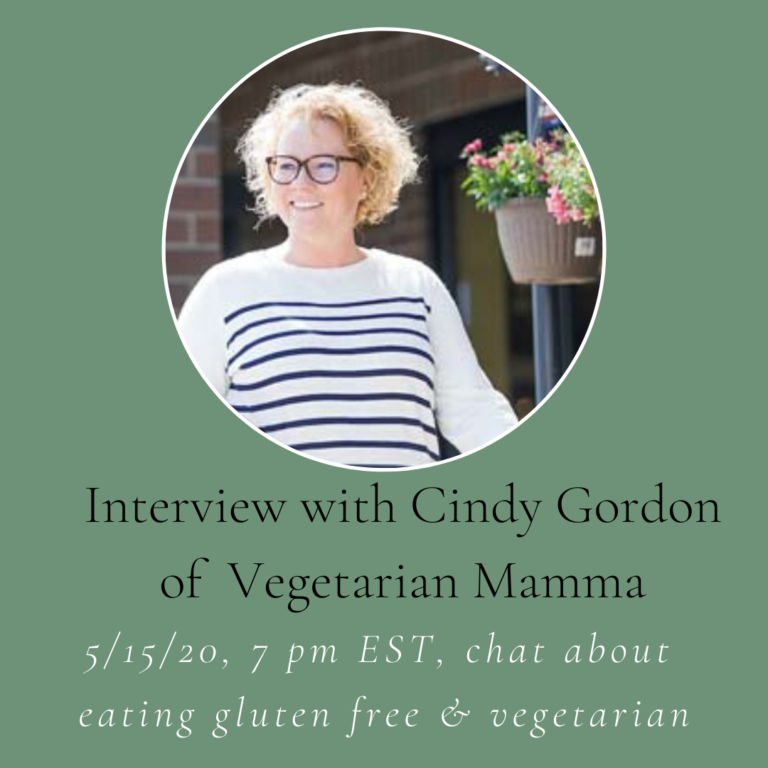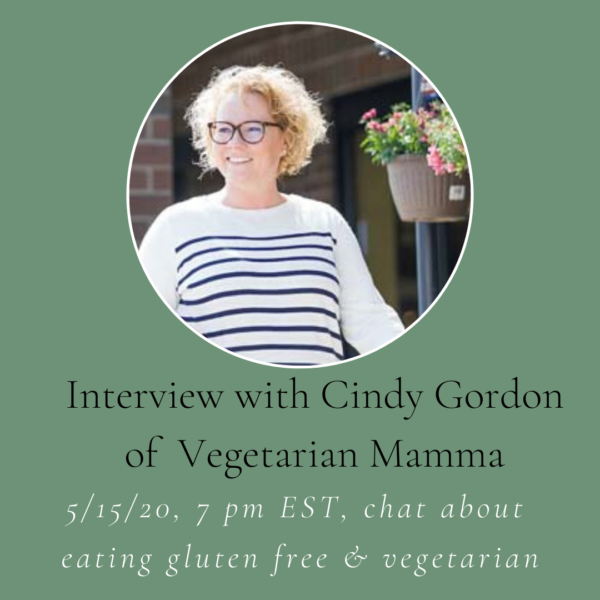 Eating gluten free AND meat free? Cindy from Vegetarian Mamma will share her best tips about navigating both dietary restrictions. She's a whiz at the Air Fryer, too! The video will be uploaded to YouTube within 24 hours of Instagram Live.
Tracy Stuckrath of Thrive Meetings
Monday May 18th, 7 pm EST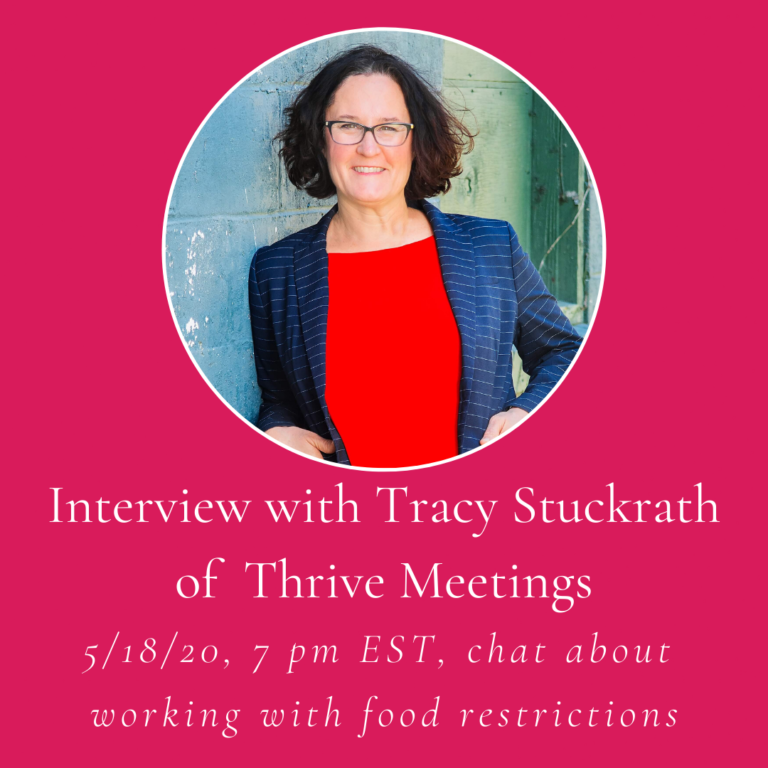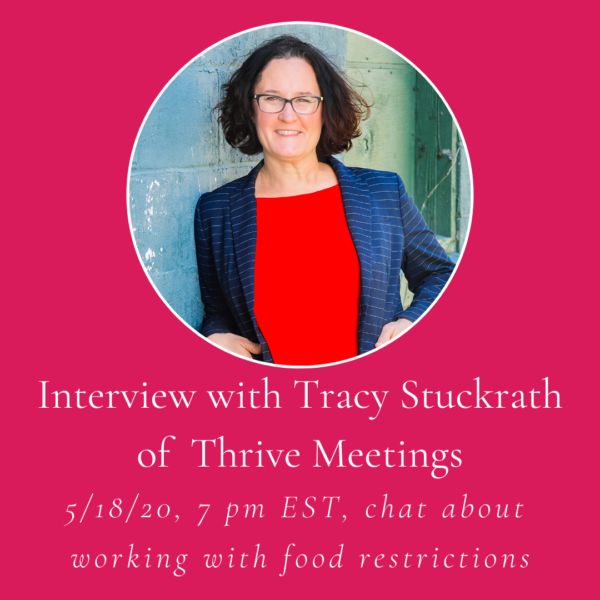 Bosses not understanding your dietary needs? Tracy, of Thrive Meetings, has made it her life's mission to educated businesses and conference centers on the need (and legal precedent) of accommodating special diets in the work world. Find our discussion on YouTube. You can also find her dining cards on her website. (50 to a pack)
Jules Shepard of GF Jules
Tuesday May 19th, 7 pm EST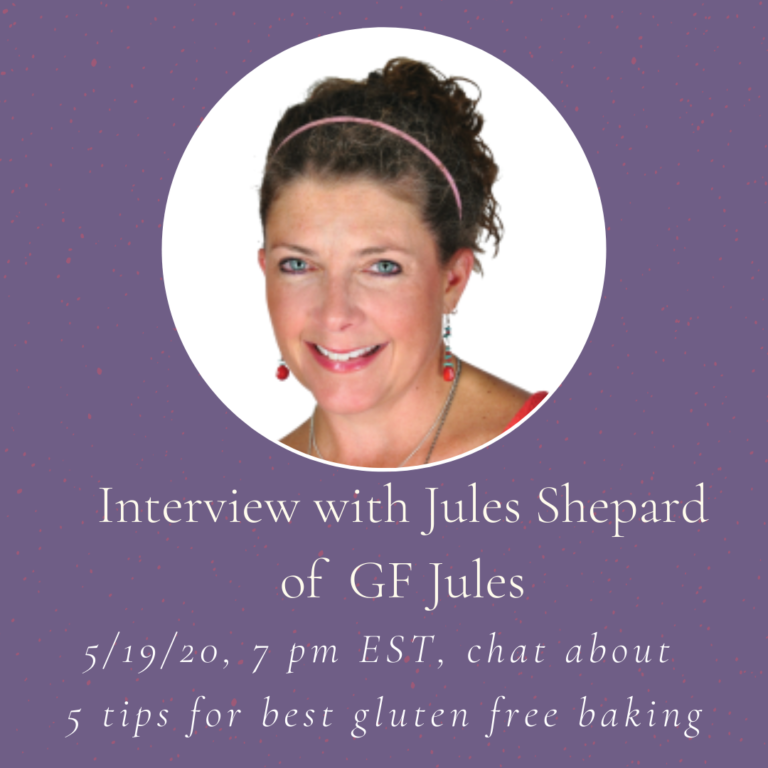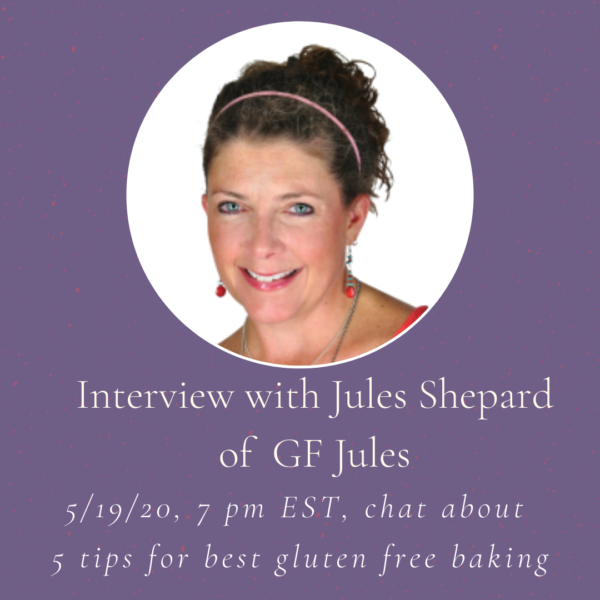 Jules is the creative genius behind GF Jules. Not only does she sell amazing gluten free flour and mixes, she also records cooking videos and podcasts. She'll be sharing some of her favorite baking tips. Find our interview on YouTube. Here is a link to her post about yeast that we discuss in the video.
Christy Pudyk of Pack Your Pixie Dust
Wednesday May 20th, 7 pm EST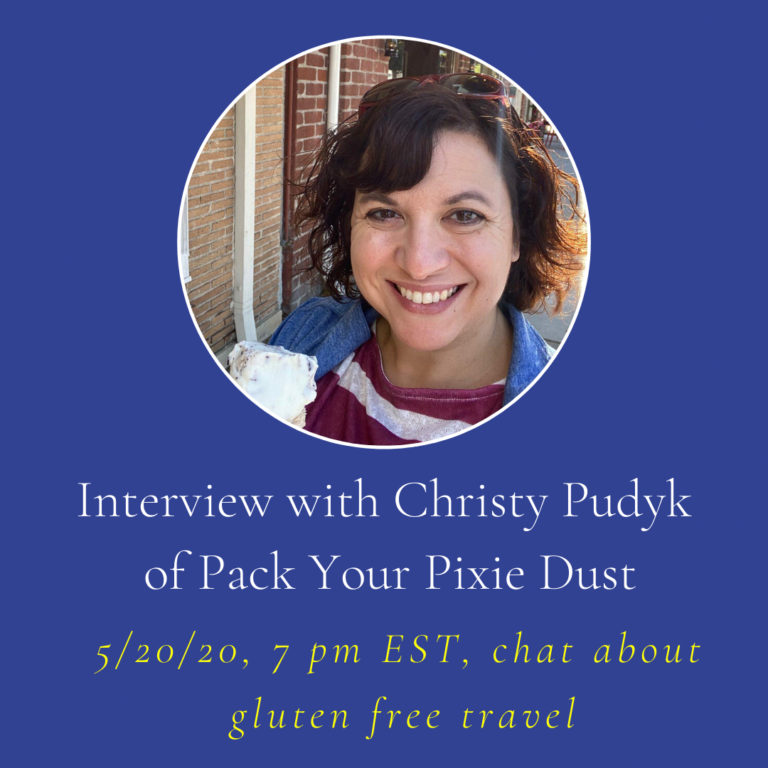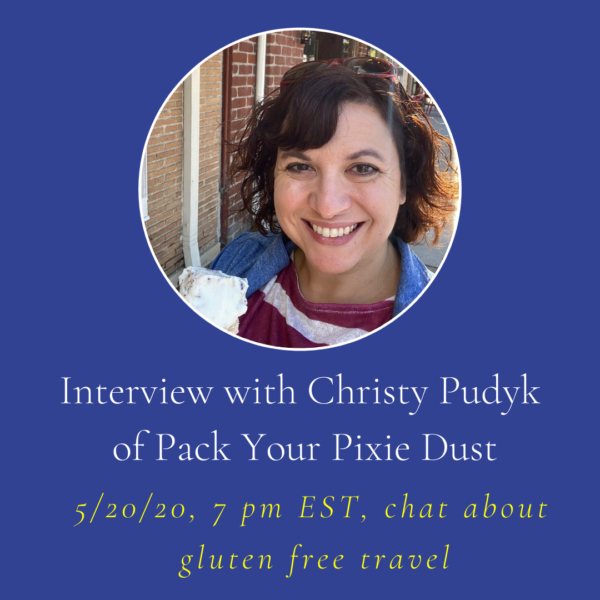 Our Celiac Disease should not prevent us from traveling! Christy, the travel agent behind Pack Your Pixie Dust, will share her 5 tips on traveling while eating gluten free. Find our discussion on YouTube.
Kristin Osborne of The Prioritized Group
Friday May 22nd, 7 pm EST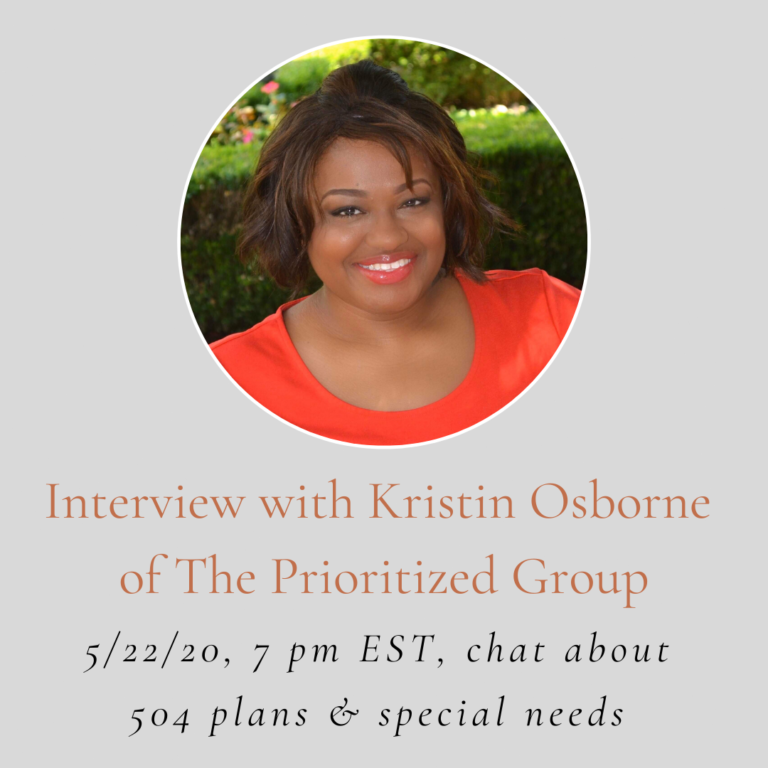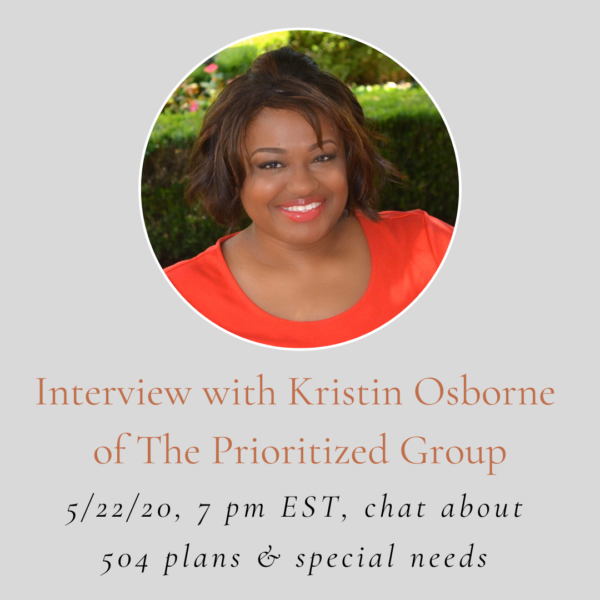 Confused about 504 plans? Unsure what they are or how to write one? Kristin from The Prioritized Group will explain what they are and how they benefit your child. Find the interview on YouTube.
Karen Joseph of Sweeten The Trip
Tuesday May 26th, 7 pm EST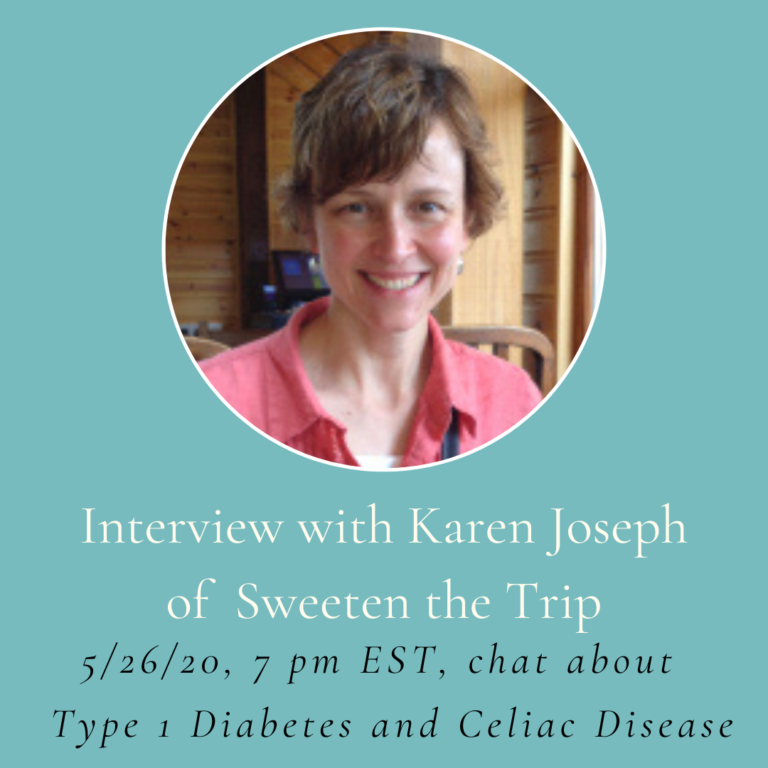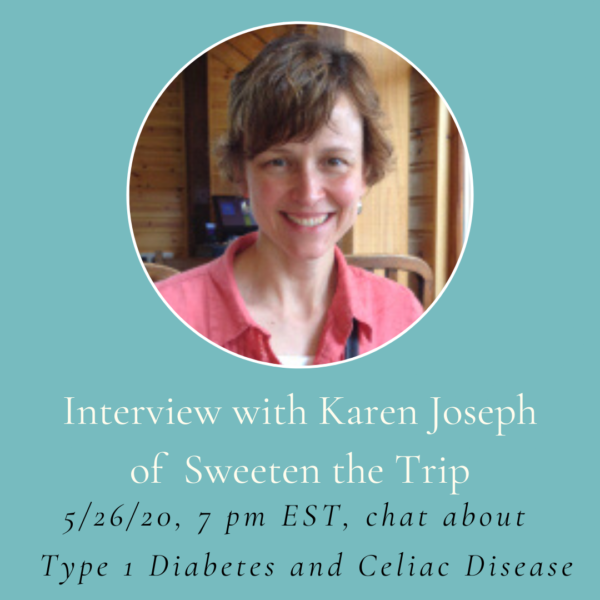 Karen Joseph's son lives with Celiac Disease, Hashimoto's Thyroiditis, Type 1 Diabetes, and a peanut allergy. We'll discuss what it's been like raising a child with Type 1 Diabetes. Watch the full interview on my YouTube channel.
Jessica Hanson of Tasty Meditation
Wednesday May 27th, 7 pm EST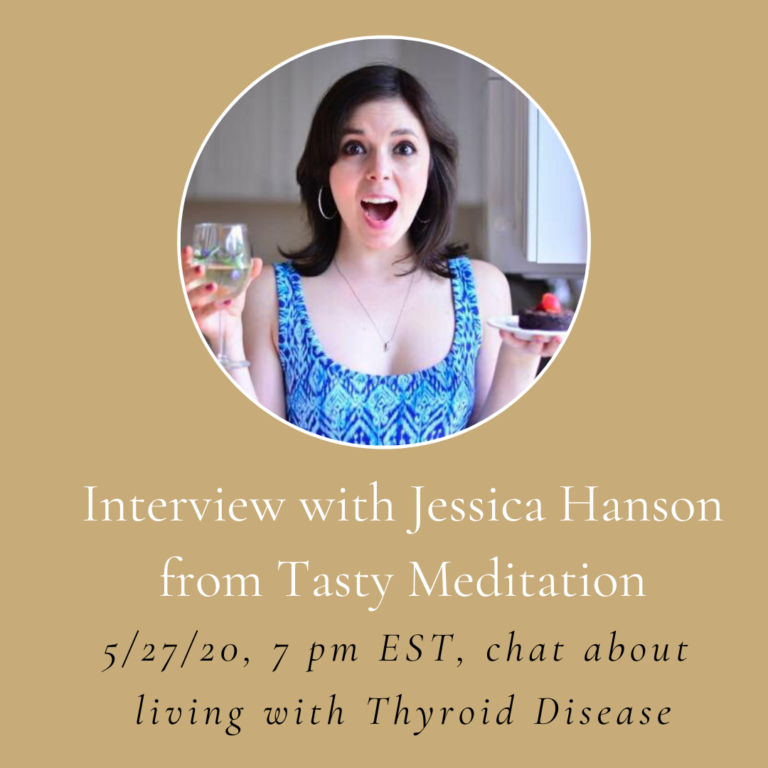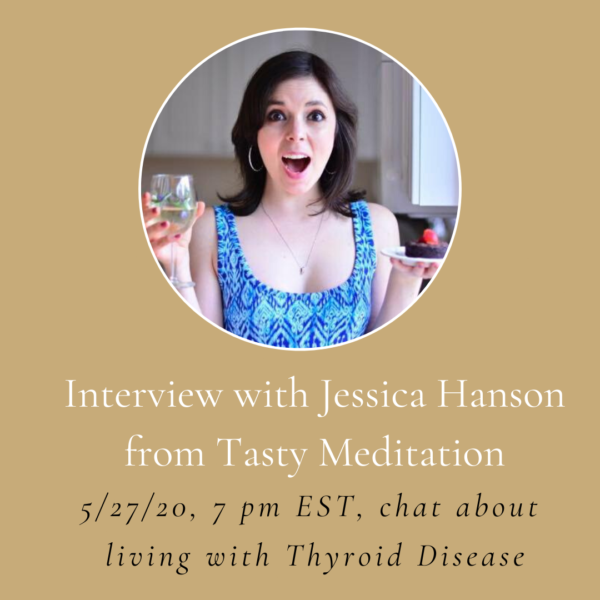 Jessica Hanson from Tasty Meditation has been amazingly transparent about her struggles with Graves Disease. She'll share tips on navigating these, and other thyroid issues. Watch our chat on YouTube. Also, visit Jessica's website for her eye make up tutorial for those with eye manisfestation of Graves Disease.
Erica Dermer of Celiac and the Beast
Friday May 29th, 7 pm EST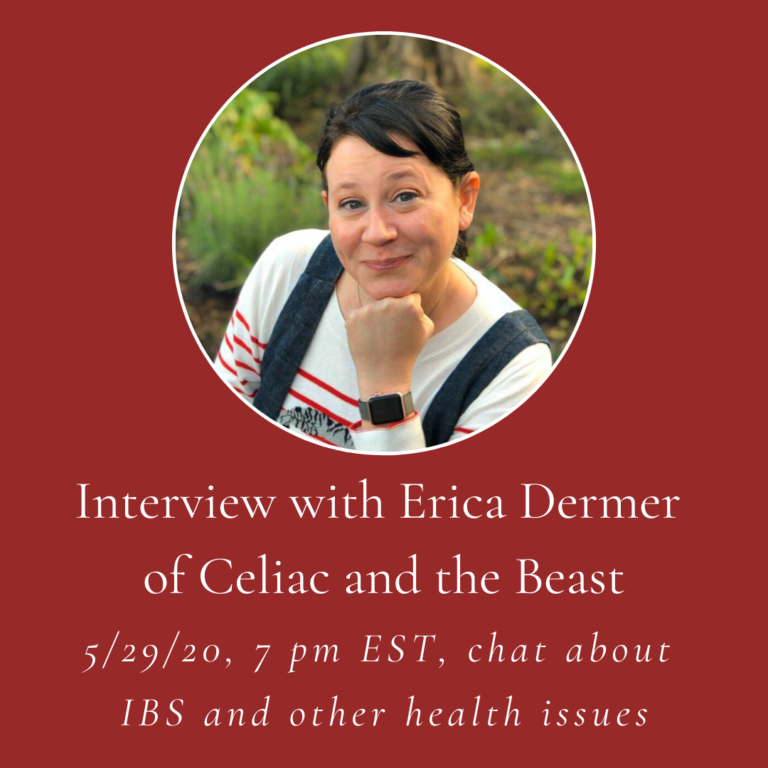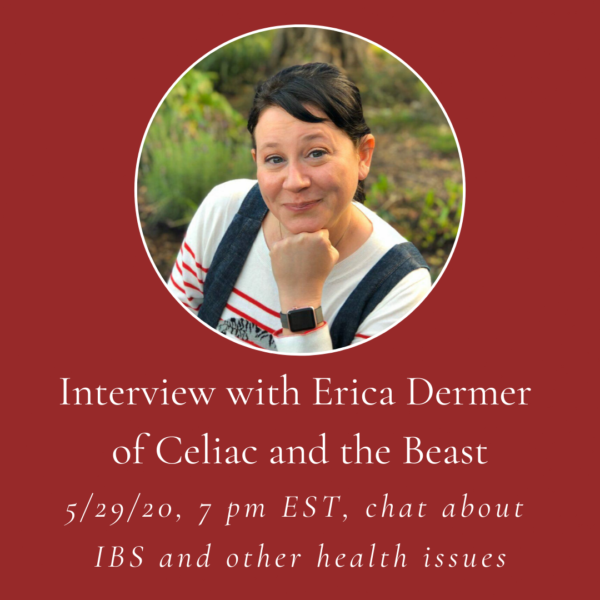 Erica from Celiac and the Beast was the first celiac disease advocate I followed. Not only is she so knowledgeable about Celiac, she also knows so much about other intestinal diseases. We'll chat about that, and other questions that come up. Watch my YouTube video of our chat together, including her journey with gastroparesis.
Who do you wish you could interview? What topic would you like to see covered? Leave me a comment below. Who knows, maybe this will turn into a permanent, once a week thing!
Looking for "easy to read" interviews? Check out my Michigan Gluten Free baker series.