10 Card Games Families Love
As an Amazon Associate and member of other affiliate programs, I earn from qualifying purchases.
With today's technology, people easily disconnect from spending time with one another. Card games become great opportunities for creativity and conversation. Which are your favorite?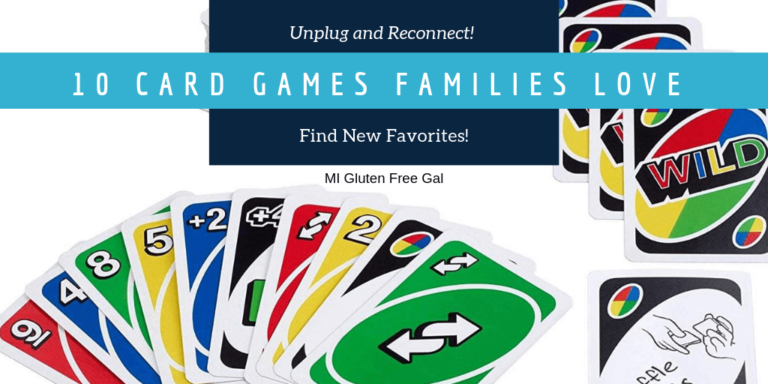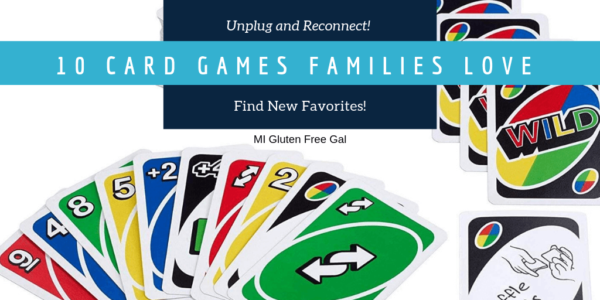 Taking a break from baking today to share some of my favorite card games. I earned a degree in Elementary Education, and worked as a nanny for two years. While I love baking and Celiac Disease advocacy, I miss sharing about educational things, like language arts and mathematics. Many of these games reinforce those skills, while some simply help with coordination, strategy and team building. I hope you'll find some new favorites on this list!
Card Games for Ages 5-85
Happy Salmon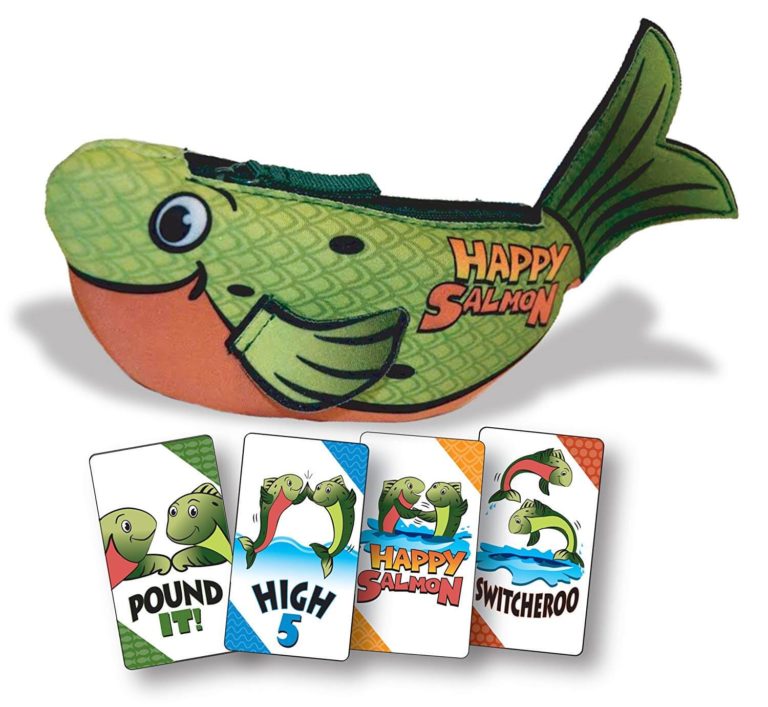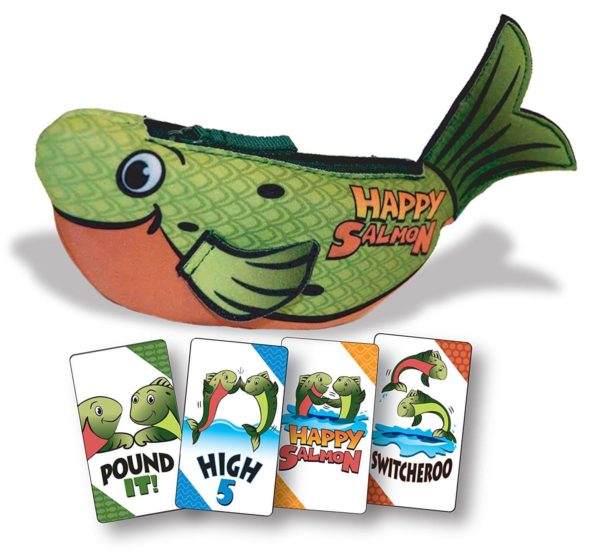 Want to play a card game that also helps to get the wiggles out? This hilarious game keeps kids and adults on their feet, literally and figuratively. Match your card, perform the action, and discard quickly to win the game! Be prepared for lots of laughs! The kids in our after school program ask to play this again and again! Find Happy Salmon and its partner game Funky Chicken on Amazon.
Spot It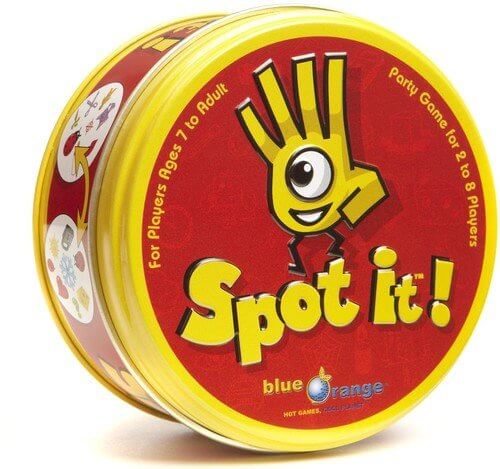 Imagine playing "I Spy," but with a card deck. This fast paced game comes in a tin, and is easy to transport in a purse or bag. Great game when you have time to kill, especially with children ages 5 and up. This games comes in many varieties, including a Spanish and French version. However, the original version still wins the hearts of all ages! Find Spot It on Amazon.
Fast Flip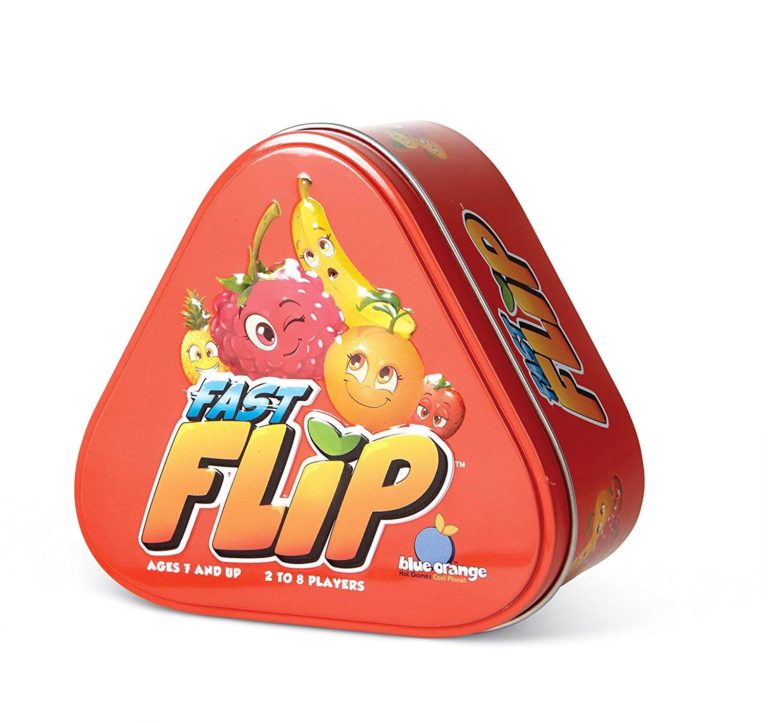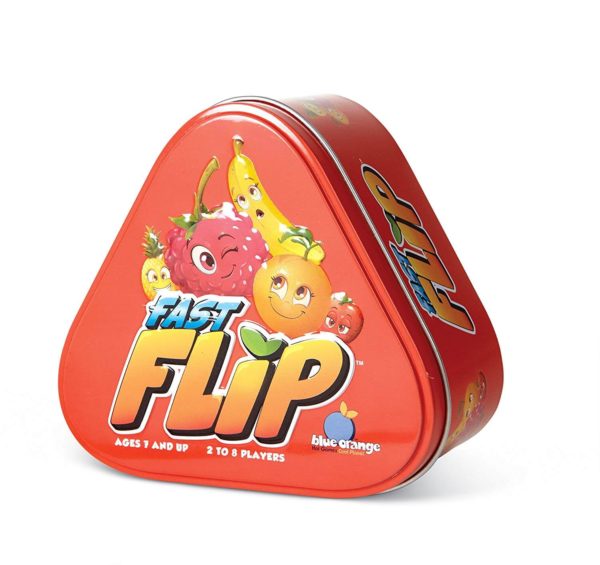 We bought Fast Flip to use in our after school program and the kids LOVE it. Similar to Spot It, you need to find the matches between cards. However, this version adds math to the "equation," getting kids to look for items in multiples. Be the first to find the match for the chip that's flipped, and you win that round. Easily portable to take on vacation or to a sleep over.
Sleeping Queens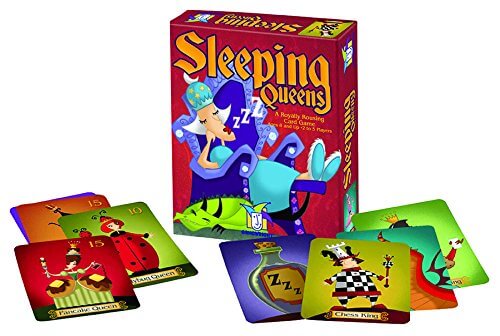 Do your kids wish they could create a game? They can, because a 6 year old invented Sleeping Queens! This game features kings, queens, knights and dragons. Even a queen of pancakes! This game reinforces math skills, which is always a "plus" with me! Even though the box says ages 8 and up, many parents report even their 4 and 5 year olds love playing this game. Find Sleeping Queens on Amazon now!
Games for Ages 8 – 88
Apples to Apples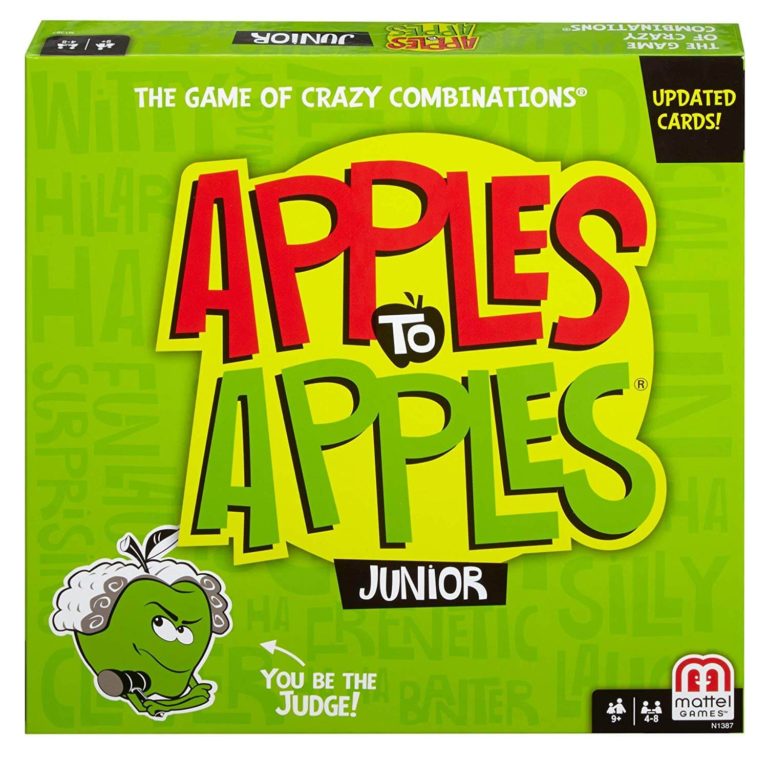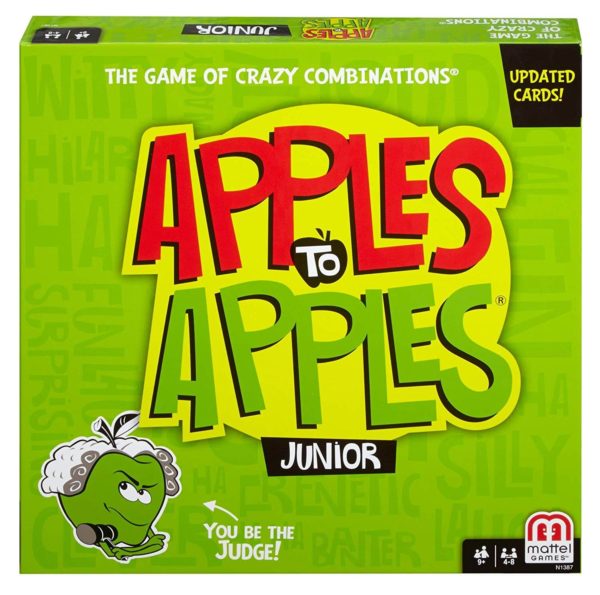 My teenage nephew loves to be on his computer. He rarely even comes to the dinner table. However, if you ask if he'd like to play Apples to Apples, he'll drop what he's doing! I personally own the adult version of Apples to Apples. However, the Junior version ditches the celebrity names and historical dates that can be a hindrance to young players. Don't think for a minute that adults won't love the Apples to Apples Jr version. My 70+ year old mother in law loves it too!
Exploding Kittens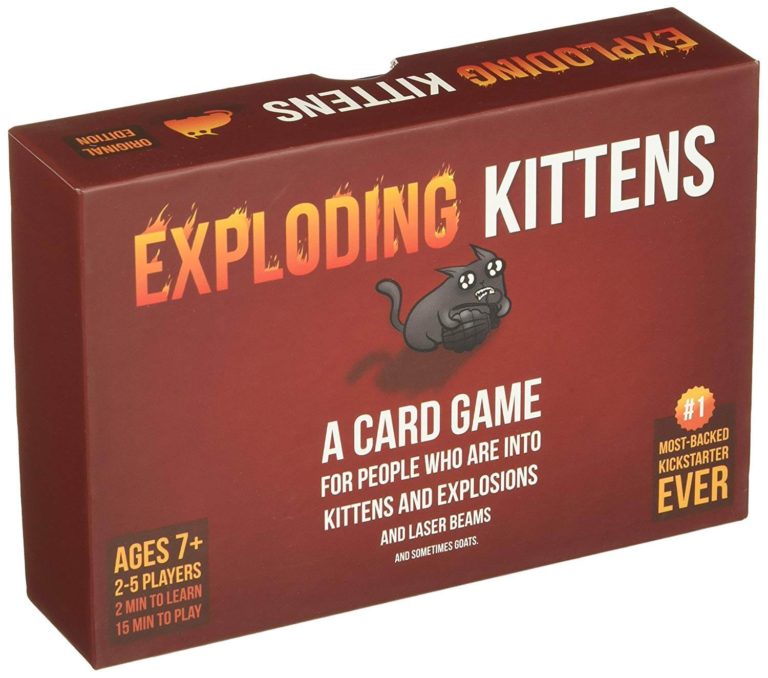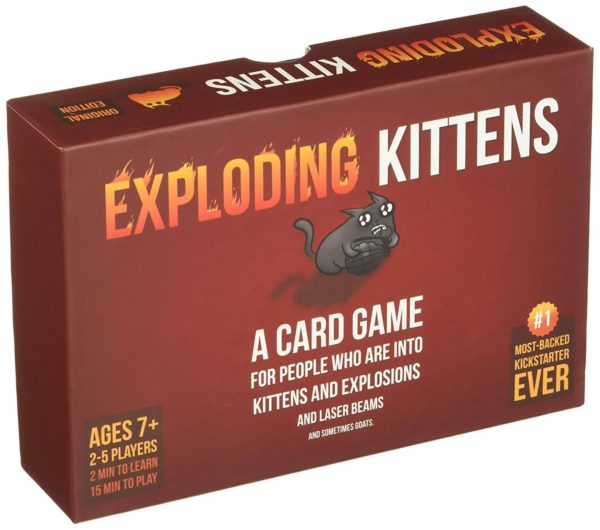 I first played the family friendly version of Exploding Kittens card game with my dear friend Cindy and her family. (There is an adult only version, so be warned.) I will admit I don't remember much about how the game is played, but I do remember we had a HILARIOUS time. Also, I can never think of the word "NOPE" again without thinking of cats. This card game gets rave reviews, and I'm sure your family will love it! (Psst, if you already own it, they have an EXPANSION PACK!)
Fluxx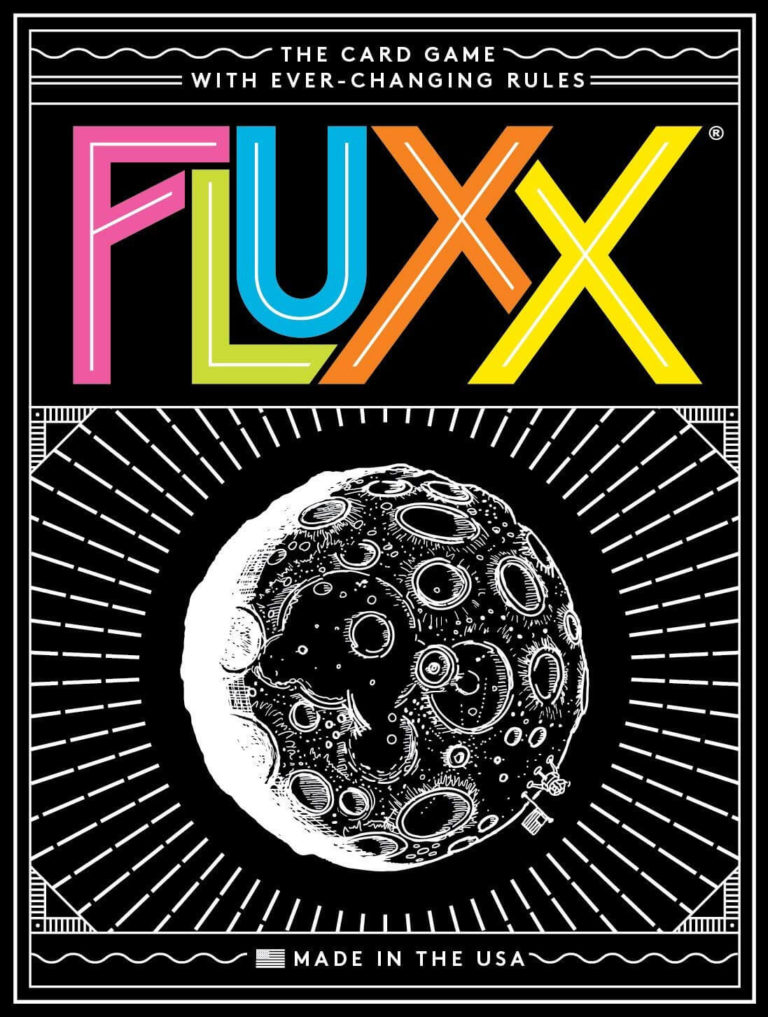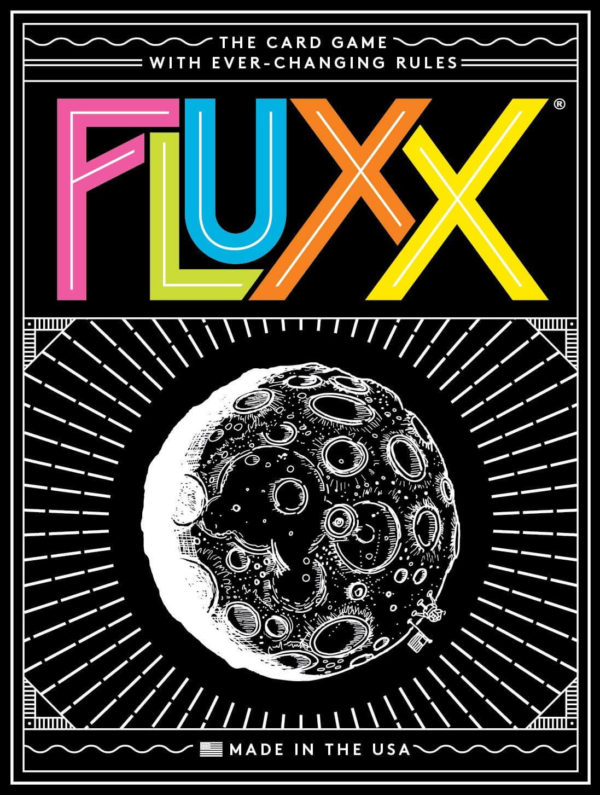 Love being a rebel? Like changing the rules of the game? This card game is for you! Start with simple rules and a simple goal, then switch them out and confound your fellow players. A round of Fluxx can last as short as 5 minutes or as long as 55. Other versions exist, like Star Fluxx and Pirate Fluxx, for a more "themed" game.
Card Games for Ages 13 and Up
Munchkin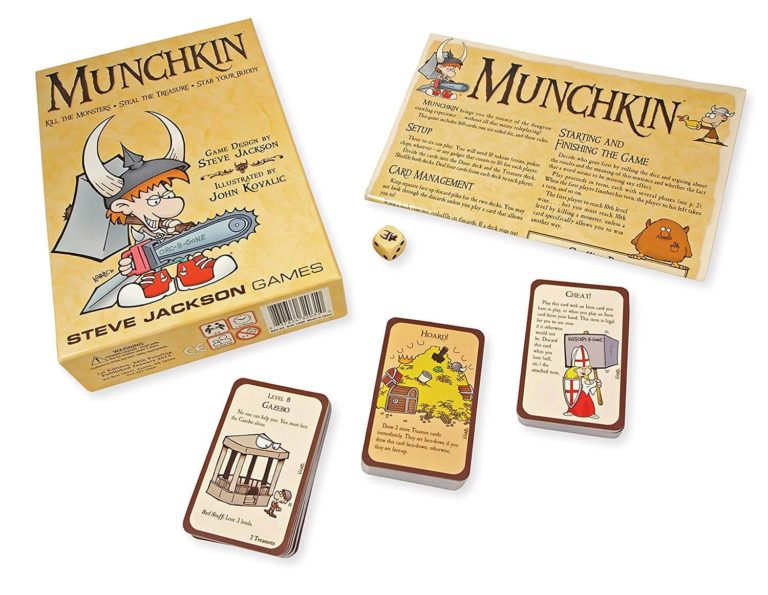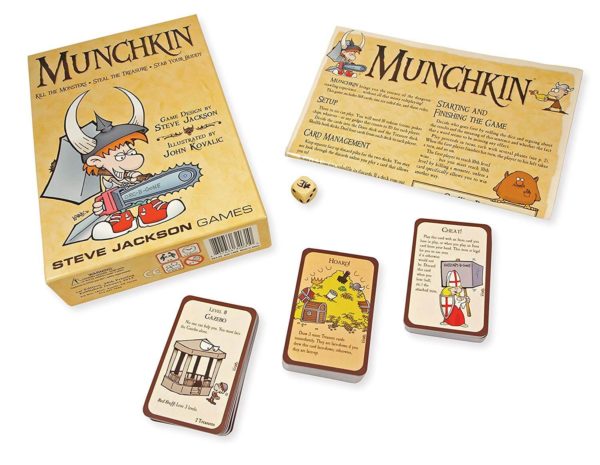 The series of card games from Steve Jackson rank as my favorite of ALL TIME. How much do I love it? I organized an entire Munchkin themed dinner party! If you like the idea of Dungeons and Dragons, but don't want to take role playing quite so seriously, this is the game for you. You build a character with attribute cards, defeat monsters, and steal their treasure. And the puns, oh the puns! You'll be laughing hysterically before the night is over! I link to the original Munchkin game here, but the creators also make other versions. We own the Super Munchkin version, because who DOESN'T want to be their own superhero?!
Once Upon a Time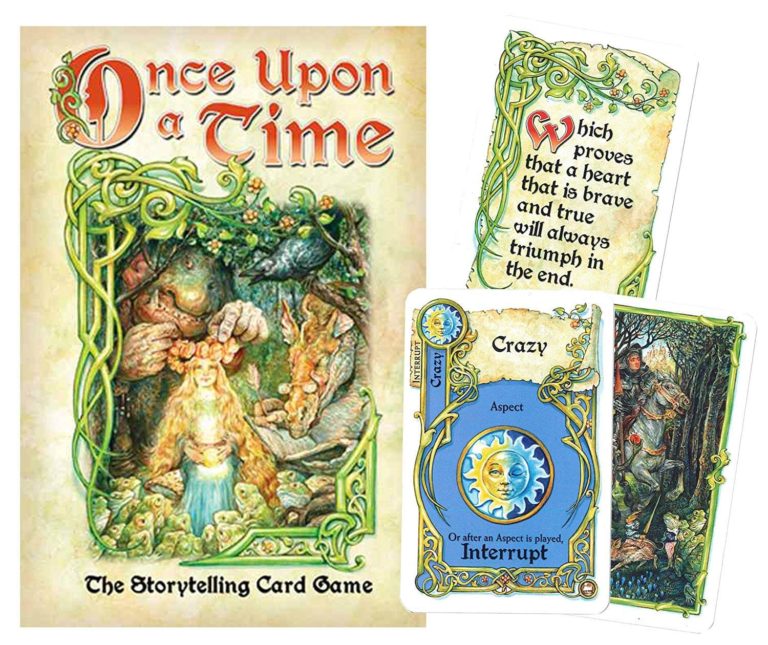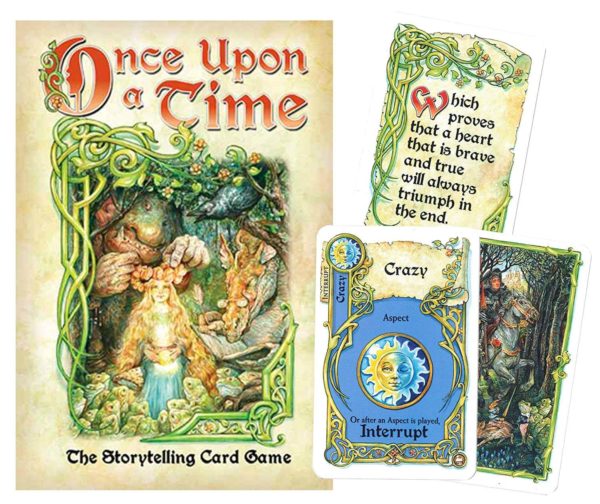 I played this card game once at a friend's house. Since then, it has stood out in my as an amazing night of entertainment. You use cards to build a story, with a goal in mind. However, people can play cards that totally change the direction of your story, as they try to complete their own adventure. The Language Arts teacher in me loves every second of this game. The original Once Upon a Time set contains fairytale elements, but other sets focus on Animal and Seafaring Tales, which may appeal more to boys.
Uno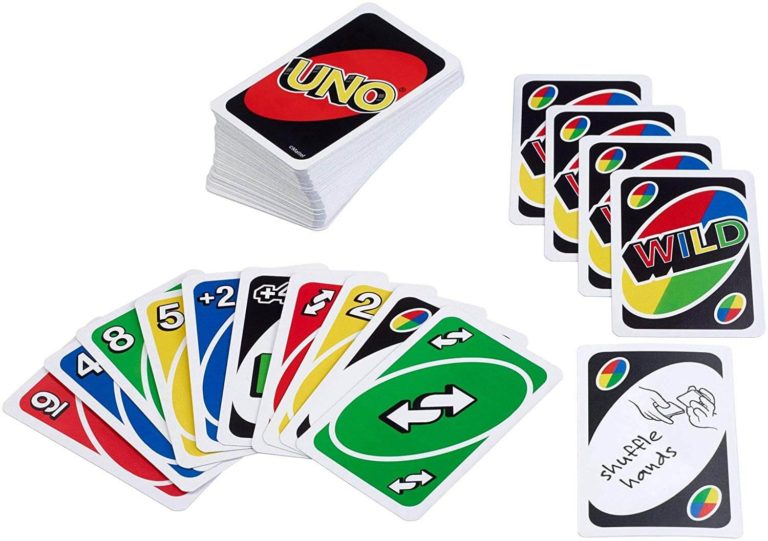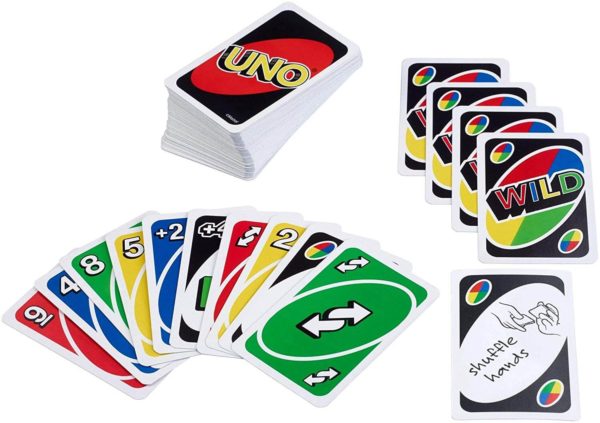 Uno is timeless. I asked my husband, a middle school teacher, what card games his students like. He immediately stated Uno. I mean, it's timeless, right? Anyone can play, it requires very little reading, and you can cause your best friend to lose. While you can find the original version on Amazon, Uno Attack is another fun buy. My young niece and nephew loved pushing the button and watching the cards pop out! (Although the attack version requires batteries.)
What are your favorite family games to play? Feel free to comment below with suggestions!
**Please note that this post contains Amazon Affiliate Links. It in no way impacts the price you pay. It simply helps provide a small source of revenue to add in the running of my website. Thanks for supporting my blog!**