Burger 21 Gluten Free Options
As an Amazon Associate and member of other affiliate programs, I earn from qualifying purchases.
When it comes to enjoying gluten free burgers and fries, my favorite Michigan restaurant is Burger 21. Located in Novi, they use a dedicated fryer for their fries, for both regular and sweet potatoes!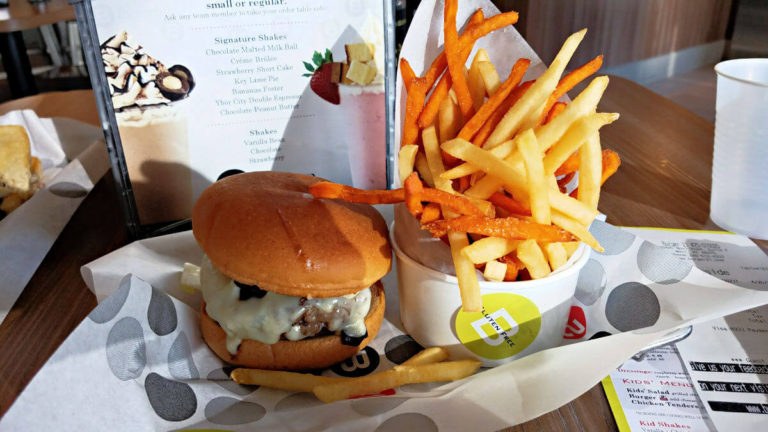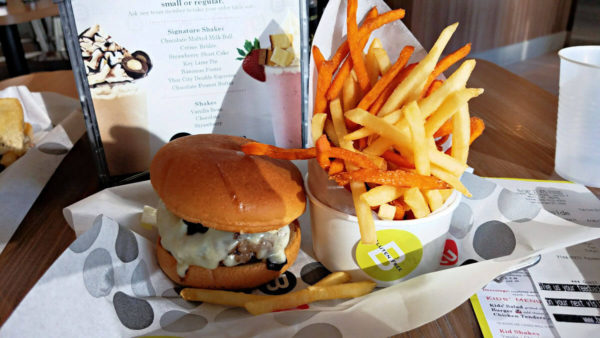 I first learned about Burger 21 through the Tri County Celiac Support Group. Burger 21 frequently hosts fundraiser nights, in connection with local non-profits. After trying their burgers and fries during the Tri County fundraiser, I've been hooked ever since.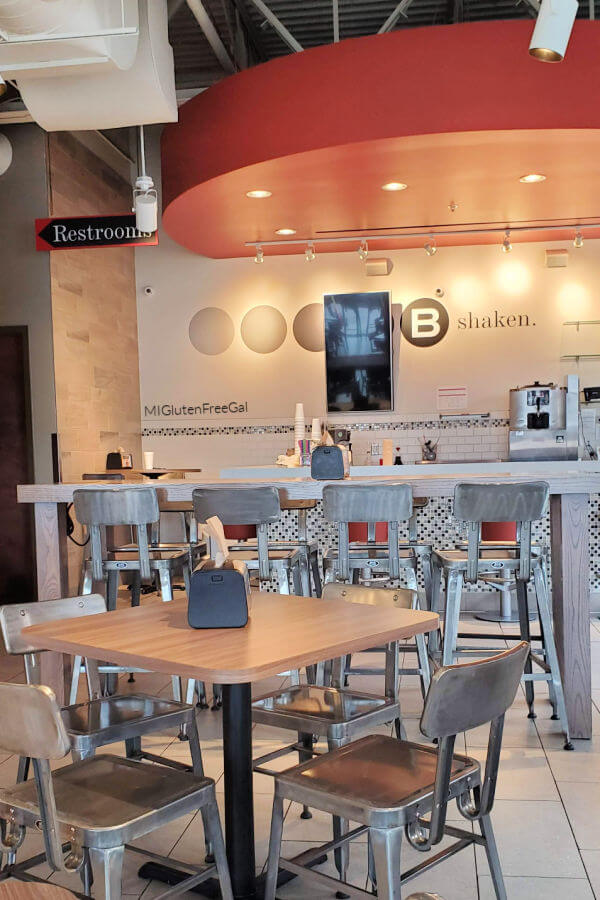 Tell Me About Burger 21's Gluten Free Philosophy
Burger 21 started in 2010, an off shoot of The Melting Pot. The Melting Pot, having been trained by the Gluten Intolerance Group, continued that care for allergens when they started Burger 21. I connected with Cindy Cady, from the Burger 21 corporate office, to ask why offering gluten free options was so important them.
"Burger 21 promises to deliver the best burger experience, ever. This includes guests with dietary preferences, allergens, and sensitivities. The amount of guest requests for GF options were phenomenal! The "no bun" or "lettuce bun" options were not enough for us. Burger 21 sourced an exceptional GF bun that allows our guests to enjoy our Chef crafted burgers the same way our non-GF guests enjoy!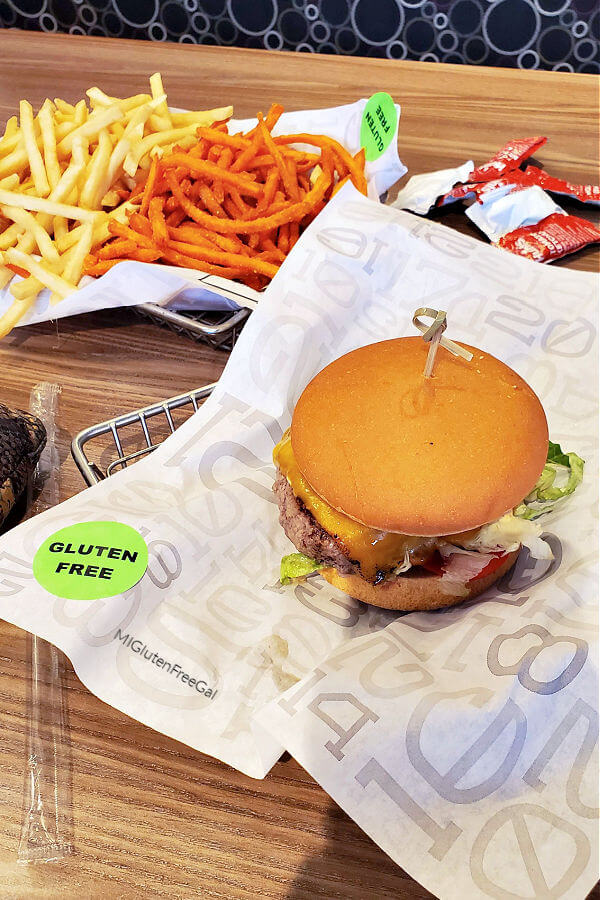 How Does Burger 21 Prevent Crosss Contact? Do You Use Dedicated Fryers?
"To start, let's wash our hands and change our gloves. All areas of the kitchen (grills, fryers, and all other equipment) have specific areas to ensure we are taking all necessary steps to prevent any cross contact. After gluten free items are prepared, they are placed on a separate serving tray or carry-out bag with a bright green "GF" sticker." (Staff cook french fries in soy based oil.)"
What Food Allergen Training Does your Staff Receive?
"Upon being hired, all team members take part in allergen training during their initial training period. We include reading material in the training manuals, but the most important part is the hands-on training; actually seeing how careful menu items are prepared and handled. After the initial training period, from the corporate level, we offer on-going training material to managers and team members, as well as regular communication on proper protocols."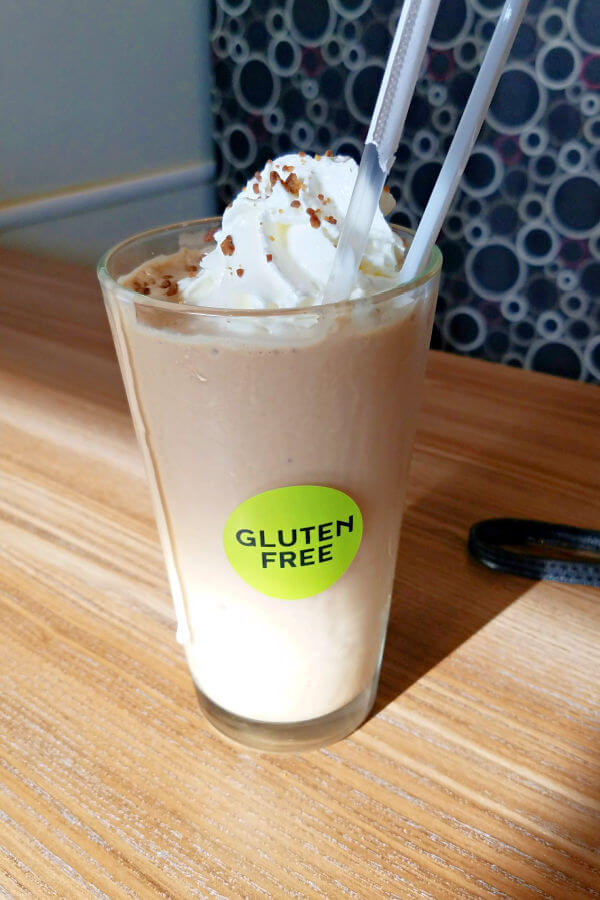 What Gluten Free Options Does Burger 21 Offer? Are There Kids Meals?
As the name suggests, the majority of the menu offers burgers and fries. However, they also offer grilled chicken tenders, Impossible Burger Patties, and salads. (All salad dressings are gluten free.) Check out the Burger 21's Dietary Preferance Guide to see all the available gluten free options. Save room for a tasty milkshake!
Does Burger 21 Offer GF Kid's Meals? Yes! They offer gluten free cheeseburgers, grilled chicken, and grilled cheese upon request. Kids meals include a choice of grapes or french fries, and a kid sized fountain drink, milk, apple juice or lemonade. (Kids meals available for children 10 and under. All items may not be available at all locations.)

What Do You Order? (Fries. Always Fries.)
From the Burger 21 menu, I often order a #2, "cheesy," which is a plain cheeseburger, on a gluten free bun. Since I can't decide whether I want the plain or sweet potato fries, my husband and I order a "half and half" order of fries. These fries are so good, they don't need any dipping sauce. But if you want some, the majority of their sauces are gluten free. (Not the Thai Ketchup or Toasted Marshmallow.)
My husband also likes their beef hot dogs, but they do not have gluten free hot dog buns at this time. On the days when I especially want to treat myself, I order one of the milkshakes. The signature Bananas Foster shake is gluten free. (As are the vanilla, chocolate and strawberry milkshakes.)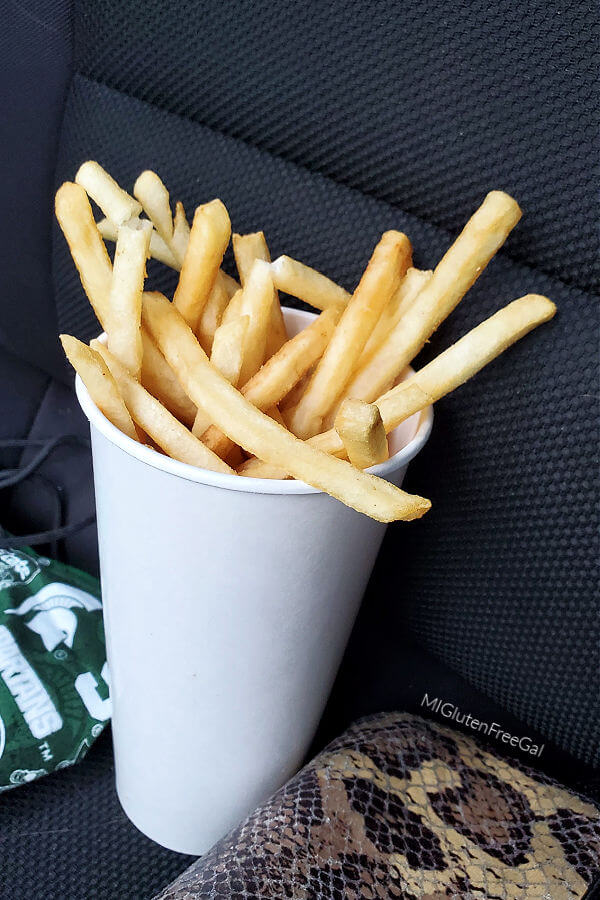 I Don't Live in Michigan. Where Else is Burger 21 Located?
There are 14 locations total. This includes 4 locations in Florida, 2 in Georgia, 1 in Illinois, 1 in Michigan, 1 in New york, 1 in New Mexico, 2 in North Carolina and 2 in Virginia. (Plus 2 in the Tampa, FL airport.) This surprised me, because I feel this amazing concept should be available to more people. (Some locations are franchised, while others are corporate owned and operated.)
I asked Cindy Cady, "what would someone need to do if they wanted to open a Burger 21 location? "A person interested in owning their own Burger 21 would need to contact the corporate office at 813-327-7870 and express their interest. The Burger 21 leadership team meets with all potential candidates, and through much research and discussion, decisions are made!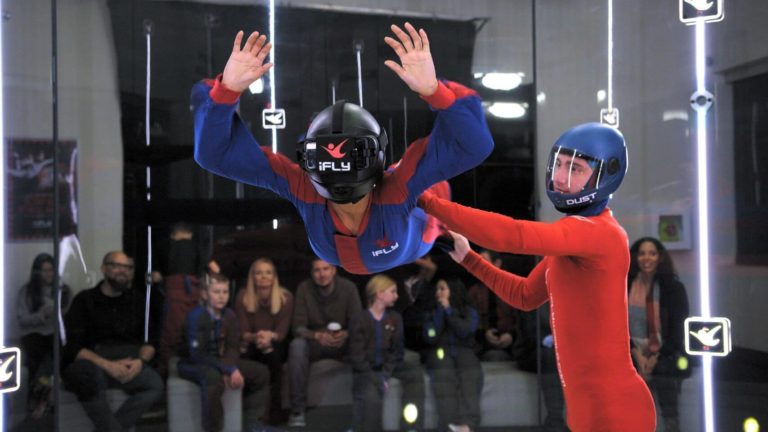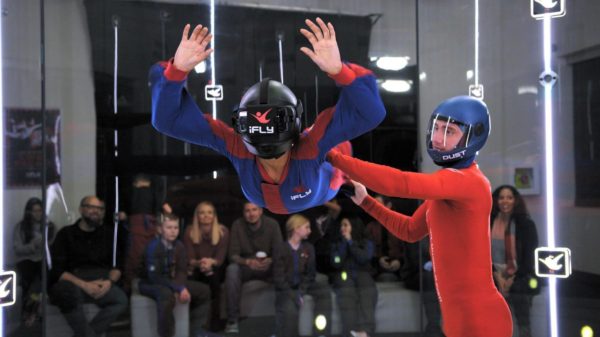 What Else Is There to Do in Novi?
Novi, situated along 1-96, offers many fun opportunities. Near the restaurant sits IFly, an indoor skydiving attraction. Looking to keep your feet on the ground? Novi is home to two great shopping centers; Novi Town Center and Twelve Oaks Mall. Personally, I like to stop at the Better Health Market. You'll find lots of great gluten free groceries there, and the biggest selection of dairy free cheese I've ever seen!
Just down Grand River Ave, you'll find Suburban Showplace Collection, home to the Michigan State Fair and many other events. Want to get outdoors? Kensington Metropark is a 25 minute drive from the restaurant. Enjoy their beach, or use the water slide and splash pad, for an additional fee. One can also play golf, disc golf, and more.
Follow Mrs. Weber's Neighborhood for more Novi and Metro Detroit activity ideas.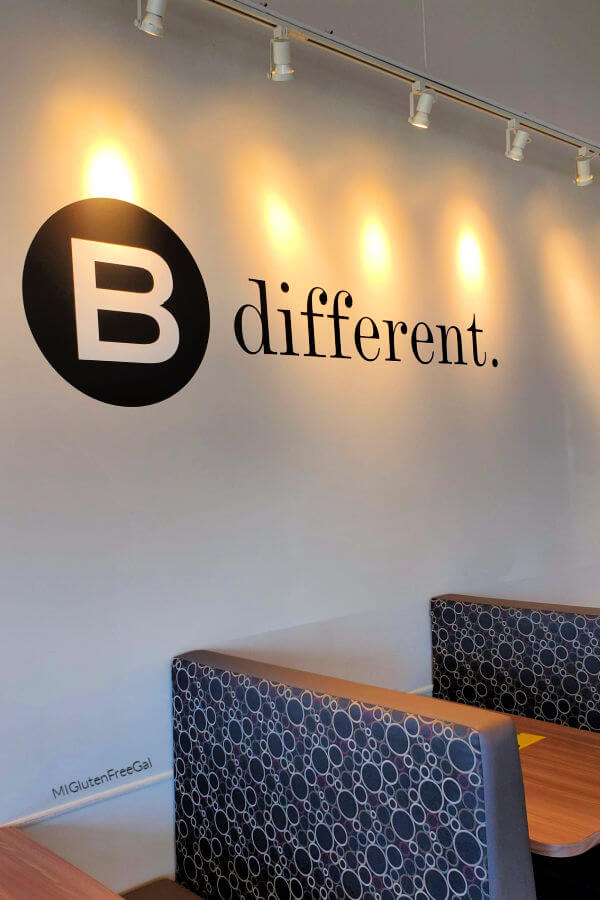 Burger 21
26425 Novi Rd Suite F
Novi, MI 48375
(248) 513-4333
Sun- Wed 11 am – 8 pm, Thurs 11 am – 9 pm, Fri & Sat 11 am – 9:30 pm
Website | Facebook | Instagram
Burger 21 is one of many Michigan restaurants I've visited. You can a list of them on my Michigan gluten free dining post. Please remember to always ask any restaurant about their food preparation practices.
Disclaimer, from Cindy Cady, at the corporate office.
"I would also like to add that while we cannot guarantee that all items served at Burger 21 are Certified Gluten Free, we do our best to take every precaution to make items Gluten Friendly.
Guests with allergies, sensitivities, and dietary preferences can visit out website and see our specific nutrition guidelines that allows a guest to see specifically what menu items contain which allergens. With a changing menu, we do our best to keep these nutrition guidelines up to date, but they could contain some outdated menu items. When in doubt, they can always speak to a manager at any Burger 21 location."