Brown Iron Brewhouse – A Gluten-Free Dream Come True
As an Amazon Associate and member of other affiliate programs, I earn from qualifying purchases.
Have you been to Brown Iron Brewhouse? With an extensive gluten free menu, and gluten free beer options, they are a great place for a wonderful gluten free dinner.
Dedicated Gluten Free Fryer
Say the words "dedicated fryer" and you have my full attention. This is because I'm a total french fry addict. When Brown Iron Brewhouse was listed on Find Me Gluten Free as having a dedicated fryer, I was intrigued. I contacted this new brewhouse through social media, and was quickly answered by Patti the owner. We looked at our calendar and planned a trip as soon as possible.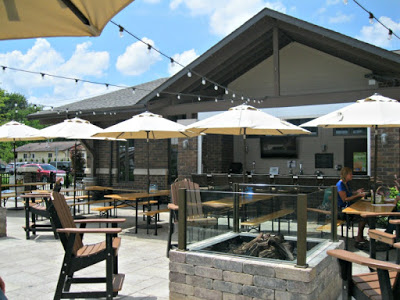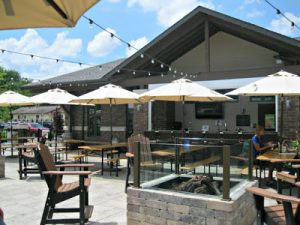 Where is Brown Iron Brewhouse Located?
Brown Iron Brewhouse has two locations. Oneis located in Washington Township, south of Romeo and northeast of Rochester. Washington Township is in Macomb county, which is a treasure trove of gluten-free options. It took us less than an hour from Flint to arrive at this restaurant, and we arrived on a beautiful sunny day. We took advantage of the ample patio seating and enjoyed our time outdoors.
Their other location is located in Royal Oak, on Woodward Avenue.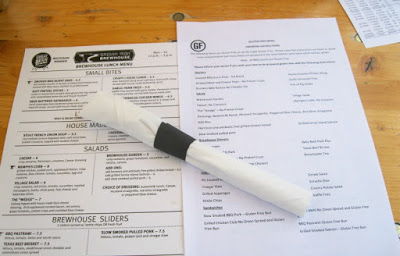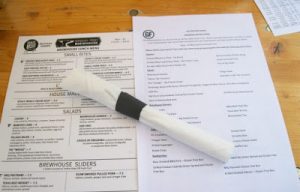 Why Does Brown Iron Brewhouse Offer Gluten Free Options?
After being seated, owner Patti quickly came by to say hello in person. Gluten-free isn't just an option in Patti's eyes. It's an absolute. Patti's daughter has Celiac Disease, so she understands the necessary steps to serve a safe gluten-free meal. Brown Iron Brewhouse has a full -time head chef. Chef Deni prepares practically everything from scratch. Because of this, it's very easy to accommodate multiple food allergens. I was impressed that they had an extensive gluten-free menu – it has two sides!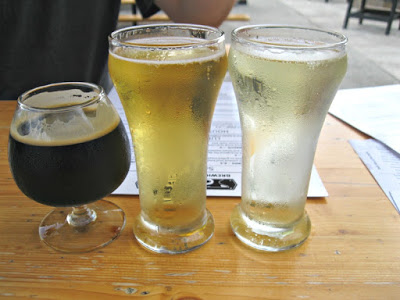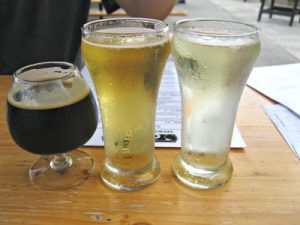 Brown Iron Brewhouse is a dream come true for Patti and her husband. Even though they are first time restaurant owners, the researched and planned this venture for at least a decade. It's paid off. In their very first year they were voted Best Craft Beer Bar in the Michigan by CraftBeer.com. They only have gluten-removed beers on their beer menu, but they always have hard cider and mead on tap, and on dedicated lines. They have over 50 beers and ciders on tap at all times, and a large selection of wine, which is always gluten-free.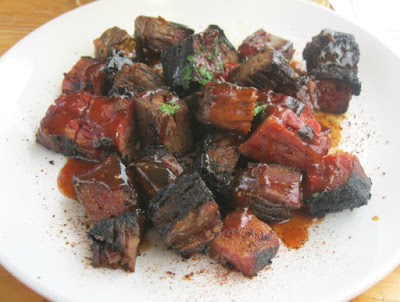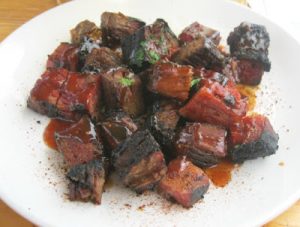 Gluten Free Appetizers and More
After ordering beverages and chatting with Patti, we were ready to eat. I was so excited that they had appetizers that we both could have, including these smoked barbecue burnt ends. They slow roast their own brisket for over 10 hours. Their burgers are ground from brisket meat as well. I can't even begin to tell you how awesome these burnt ends were. Best meat I've ever tasted, that's for sure. They make their own barbecue sauces from scratch. I highly suggest the apple barbecue sauce.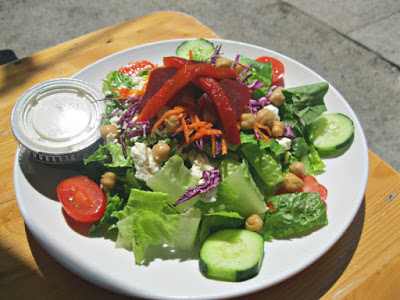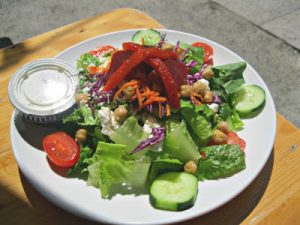 It was hard to pick what to order at Brown Iron Brewhouse with so many great options. I was immediately intrigued when Patti said that they pickle their own beets. I love beets. I could eat whole bowls of them by myself if I was left to it. Due to this, we chose to get their Village Salad. With chickpeas, feta cheese, roasted red peppers and kalamata olives, it was mouthful of happiness in every bite.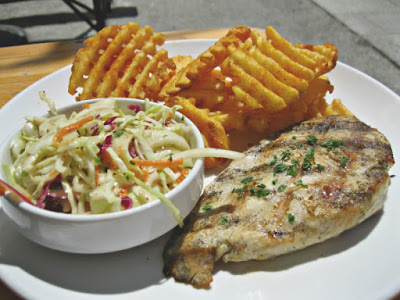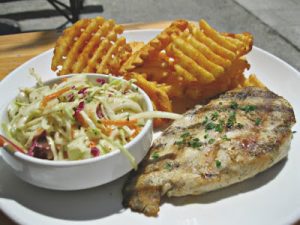 Trying to not go overboard in our eating, we shared the salad and their chicken dinner. It also came with a vinegar slaw, which my husband appreciated. It came with delicious waffle fries. As an appetizer you can get these waffle fries "tossed with garlic butter, Parmesan cheese, and fresh parsley." Then they serve a housemade aioli with it as well, which is pictured below. Their chicken is antibiotic and hormone free too.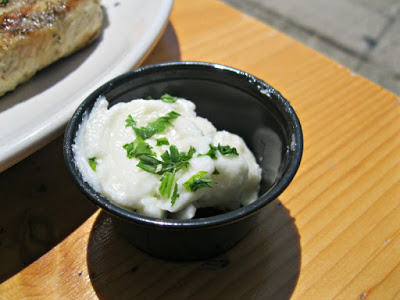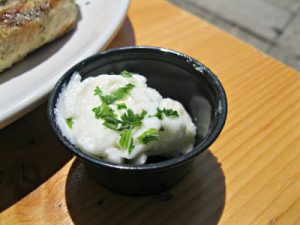 Is Brown Iron Brewhouse Expensive?
Not only is the food here delicious, it's all reasonably priced. Brown Iron Brewhouse has many specials throughout the week to keep bringing you back. On Mondays they have $6 burgers (gluten-free buns are a dollar more) and it is also rare beer release day. (None of these are gluten-free as of yet.) On Tuesdays they have pub trivia nights. Thursdays include ladies night with live music and 50% off all bottles of wine. Since they've opened, they've served over 2,000 different beers.
It's so great to see Patti and her husband successfully living their dream. They are dedicated to giving back to their community and encouraging their staff to follow their own dreams. All I know is that being able to eat here is like a dream come true for me. When living with food allergies or sensitivities, it's scary to trust someone else. Patti and her staff totally gained my trust and I hope you give Brown Iron Brewhouse a chance to gain yours as well.
Brown Iron Brewhouse – Washington
57695 Van Dyke
Washington MI 48094
586-697-3300
Brown Iron Brewhouse – Royal Oak
30955 Woodward Ave Suite 510,
Royal Oak, MI 48073
(248) 951-2659
Website / Facebook/ Twitter / Instagram
**While I was not charged for my meal, all my thoughts and opinions are my own. **
Brown Iron Brewhouse is one of many Michigan restaurants I've visited. You can view a list of them on my Michigan gluten free dining post. Please remember to always ask any restaurant about their food preparation practices.