Brad's Amazing Braised Chicken Thighs
As an Amazon Associate and member of other affiliate programs, I earn from qualifying purchases.
My husband created this recipe for Braised Chicken Thighs in a moment of creativity. Luckily, he wrote down how he made them, so I can pass it along to you!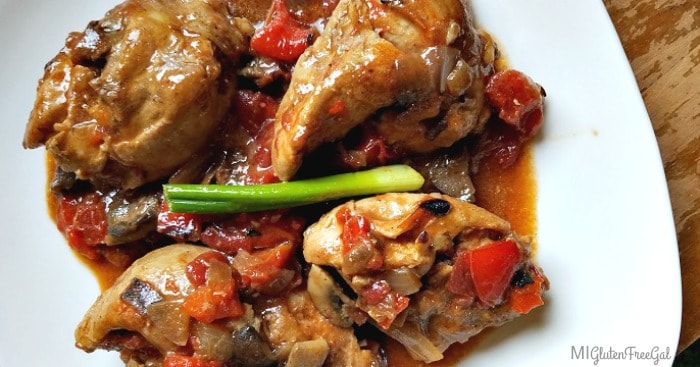 The Best Teacher
My husband is a middle school teacher. After 16 years, he finally believes me when I tell him he's good at it. He never intended to be a teacher. However he comes from a long line of teachers. His grandfather, who made me my first loaf of buckwheat bread, was a school principal. His grandmother, the inspiration behind my peanut butter pie shake, was an elementary school teacher.
However, he's also an amazing cook, and taught my most of what I know to do in the kitchen. While I grew up always needing the security of a cookbook, he has always been the one to throw caution to the wind, add a dash of this, a touch of that, and create the most amazing things.
Cooking as Stress Relief
My husband uses cooking to unwind from a long day of teaching. Keeping 5 separate classes of 30 8th graders inspired, focused and on task can be a bit tiring. (I'm sure parents of 8th graders would say keeping their ONE student focused is challenge enough!)
Therefore, I'm so appreciative when he cooks. I came home from a long day at work, not looking forward to making dinner. However, I came home to the most amazing meal of gluten free braised chicken thighs, mashed potatoes and a medley of vegetables! I told him it may be the best dish he's made in a long time.
More Chicken Thigh Recipes
He usually never writes down anything that he cooks. Therefore, often times his delicious creations can't be replicated. However, this time, he immediately wrote down this recipe for gluten free braised chicken thighs. This means we can have it again and I can share it with you!
Chicken thighs are often cheaper than chicken breasts, and a a great source of protein. Looking for more ways to use them? These Rosemary Ranch Chicken Thighs from There is Life After Wheat look perfect to pair with roasted potatoes. This Pan Roasted Chicken Thighs and Rice dish from Iowa Girl Eats uses only one pan and 30 minutes of cook time!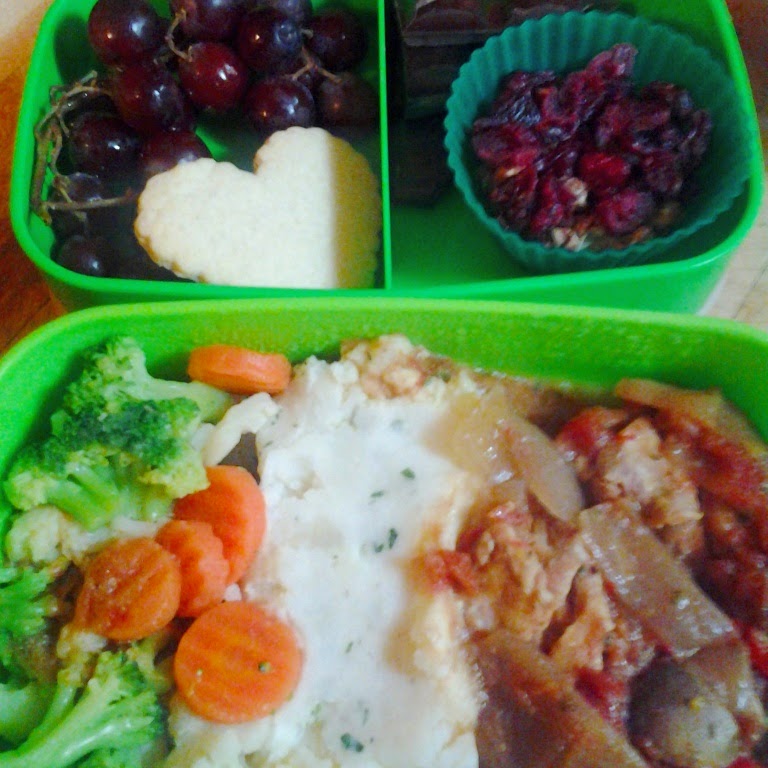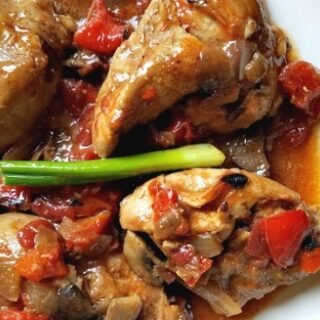 Braised Chicken Thighs
Ingredients
1 ¾ to 2 lbs boneless, skinless chicken thighs
2 tbsp butter
1 red onion, cubed
4 oz fresh mushrooms, roughly chopped
1 roasted red bell pepper
1 can diced tomatoes
1 Tbsp. brown mustard
1 Tbsp. Worcestershire sauce (We use Lea & Perrins)
1 Tbsp. red wine vinegar
1/8 tsp. white pepper
1/8 tsp. cardamom
Instructions
Preheat oven to 350.
Saute onion and mushrooms in a approximately 2 tbsp. of butter, in a cast-iron dutch oven. Cook approx. 3 minutes.
Add chicken to dutch oven. Brown three minutes on each side. Add canned tomatoes.
In a small dish, whisk together mustard, Worcestershire sauce, vinegar, white pepper and cardamom. Pour over chicken thighs.
Cover and bake in oven for 45 minutes. Remove the lid 10 minutes prior to serving to allow some of the liquid to cook off and to allow sauce to thicken. (I added a tbsp. of corn starch, mixed with a tbsp. of water, to the dish to finish, and another tbsp. of butter.)
**I highly suggest serving this dish with mashed potatoes. The sauce this dish creates is AMAZING on potatoes.
What's your favorite way to cook chicken? I'm always eager to read suggestions! Leave me a note below!