Gluten Free Blueberry Muffins Made Four Ways
As an Amazon Associate and member of other affiliate programs, I earn from qualifying purchases.
Those newly diagnosed often ask "What's the best gluten free flour?" Well, that's a tricky question. Scientists estimate that over 1 million live with Celiac Disease. And I guarantee that we all prefer different tastes and textures. So how does one go about deciding which flour they like best? Try various flours in the same recipe, like I did for these Gluten Free Blueberry Muffins.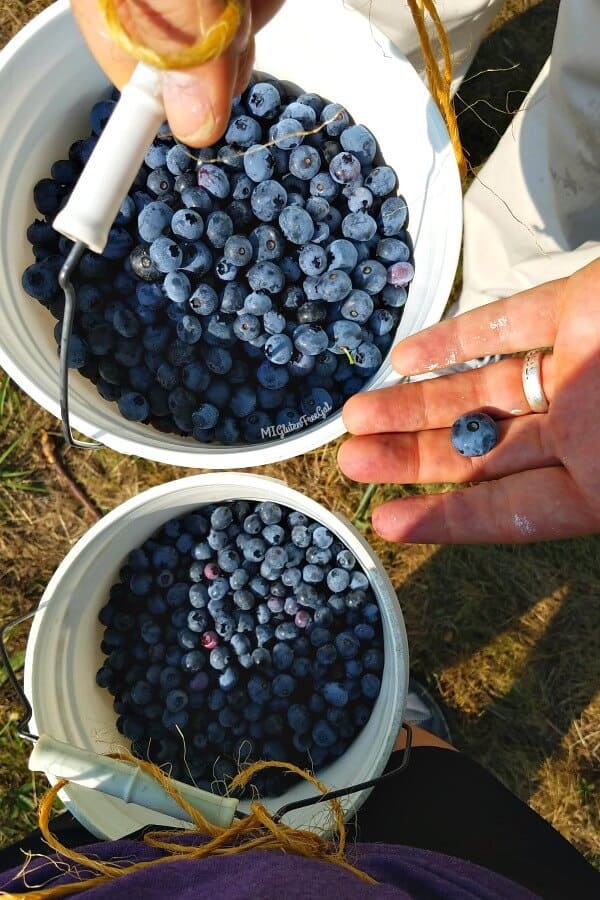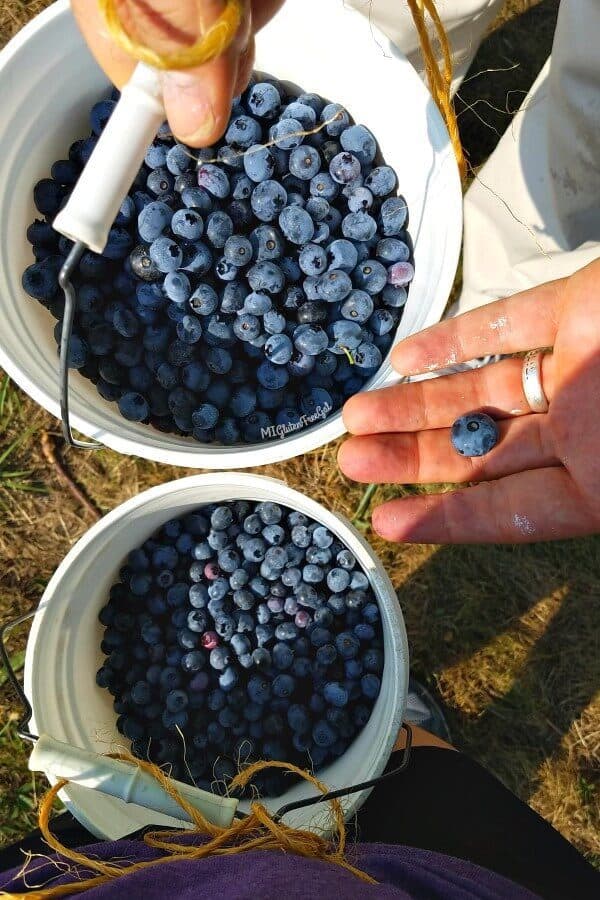 Michigan Blueberries
When it comes to summer months, I love July. Why? Because here in Michigan, it's blueberry picking time! Every year, my husband and I drive 20 miles to Montrose Orchards. We often like to invite friends and family to go, especially those with little kids who get to experience it for the first time. It brings them such joy, well portrayed by my niece Kyra.
While we chat with friends, we stay busy picking these sweet berries. Our record is 10 lbs, although this year (July 2018), we managed to pick 7.5 lbs between us. And what does one do with all those beautiful berries? Make gluten free blueberry muffins, of course!
Nerd Alert
One day I wondered "How do different gluten free flours perform in a recipe?" A bit of background – I'm a bit of a nerd. As a kid, I sometimes took things apart just to see how they worked. I have a degree in Mathematics (for Elementary School Teachers) and I always like geometric proofs because it "proved" why something was true.
When I first tried my "experiment, I used four different flours. I tried GF Jules, Pamela's Baking Mix, Krusteaz, and Bob's Red Mill All Purpose flours. As I update this recipe, I chose four other flours with which to make my gluten free blueberry muffins. flours. My base recipe is the Dessert For Two recipe for Blueberry Muffins.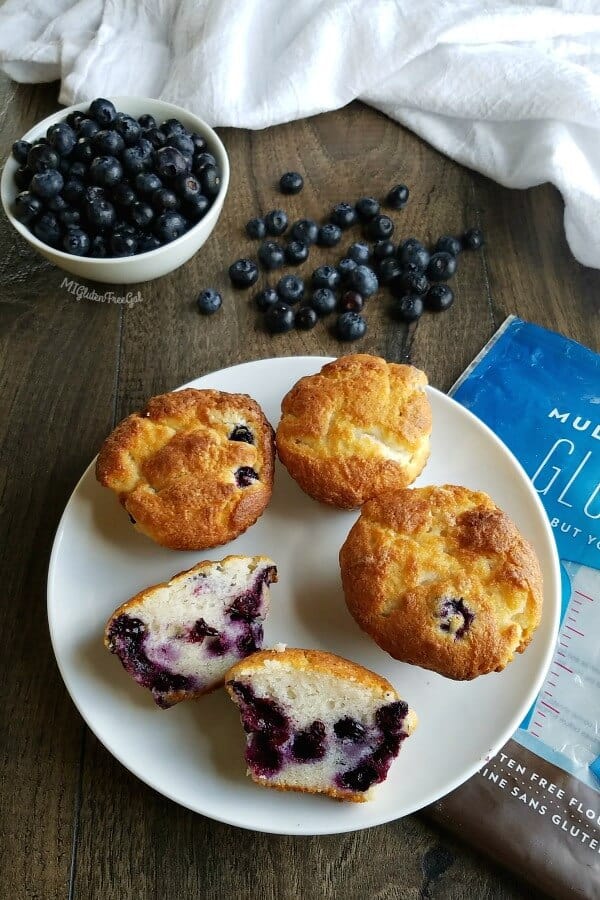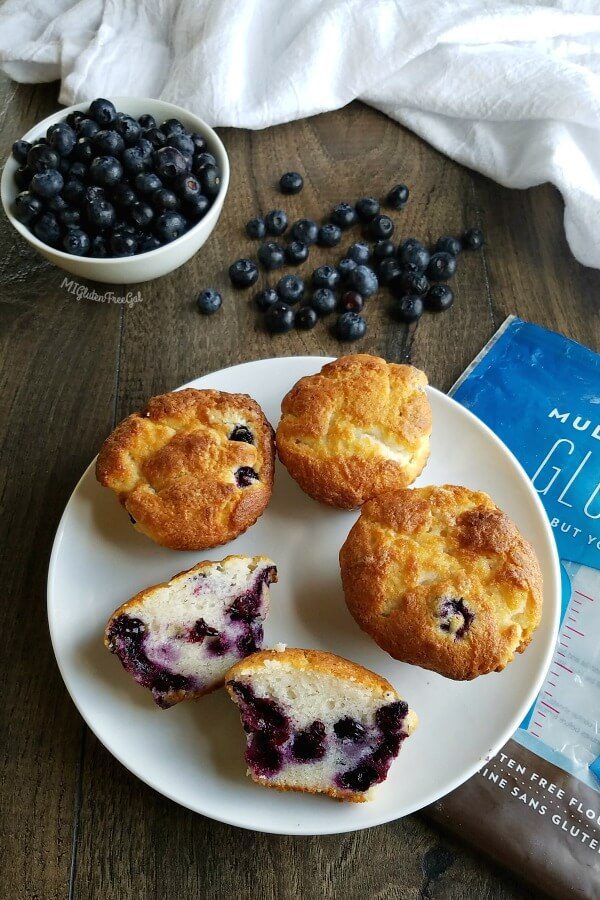 I adore Cup 4 Cup Multipurpose Gluten Free Flour. If I want to make something right out of a "regular cookbook," I prefer this mix every time. (Like these Resurrection Rolls!) Christina's recipe uses only one egg white, which I may have mixed a bit too much. These tasted a bit more like blueberry studded Angel food cake. (Which is still 100% delicious!) One important note. I ran out of Cup 4 Cup and had to use a smidge of another flour to attain the right amount of flour for these gluten free blueberry muffins. I imagine it altered the texture.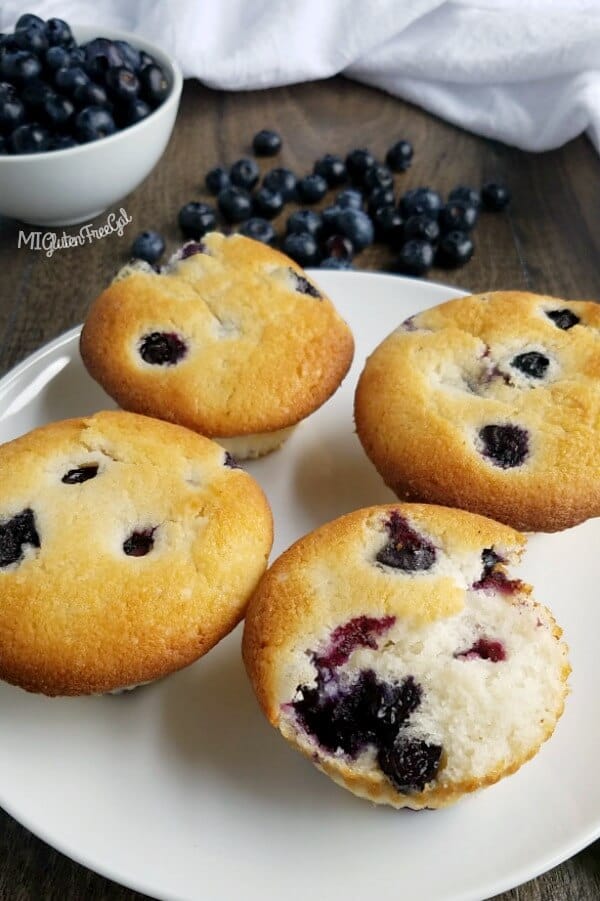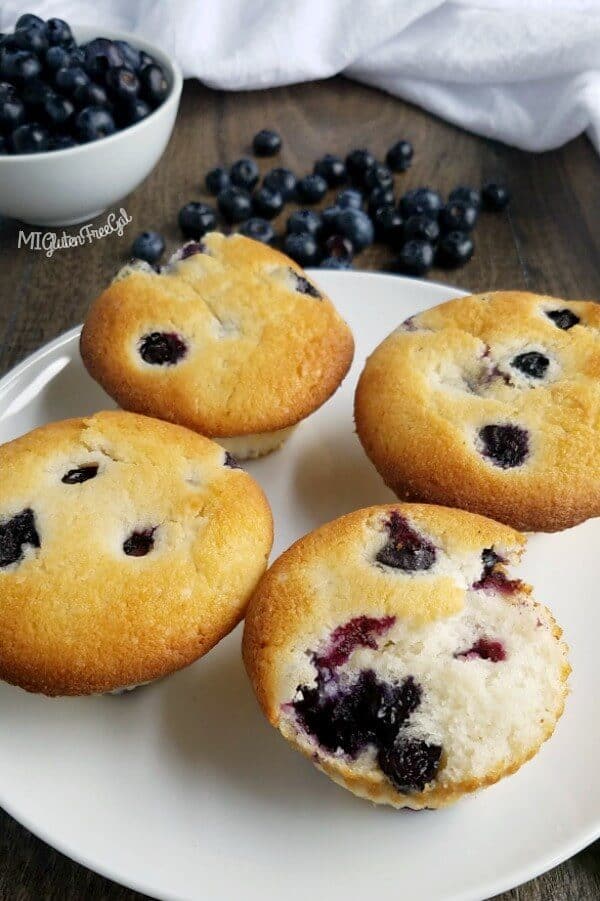 I purchased the Pillsbury gluten free flour for the first time recently. Truth be told, I'm not a huge fan. These gluten free blueberry muffins fell apart and the tops broke off when I removed them from the muffin tin. Now, as mentioned before, Christina's recipe does not use the whole egg. So this may have been part of the cause. However, a gluten free flour blend that states it can be used as an equal replacement should have done better, in my opinion.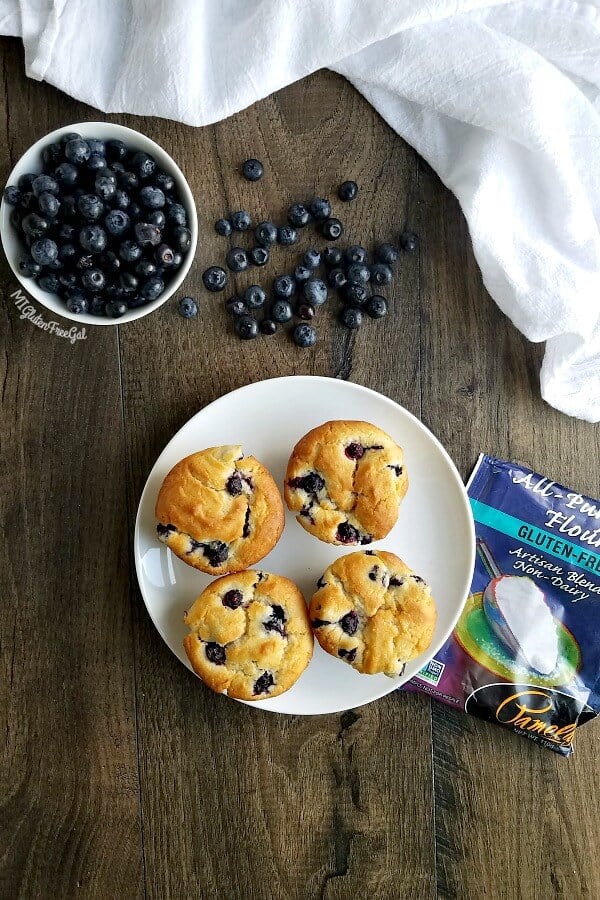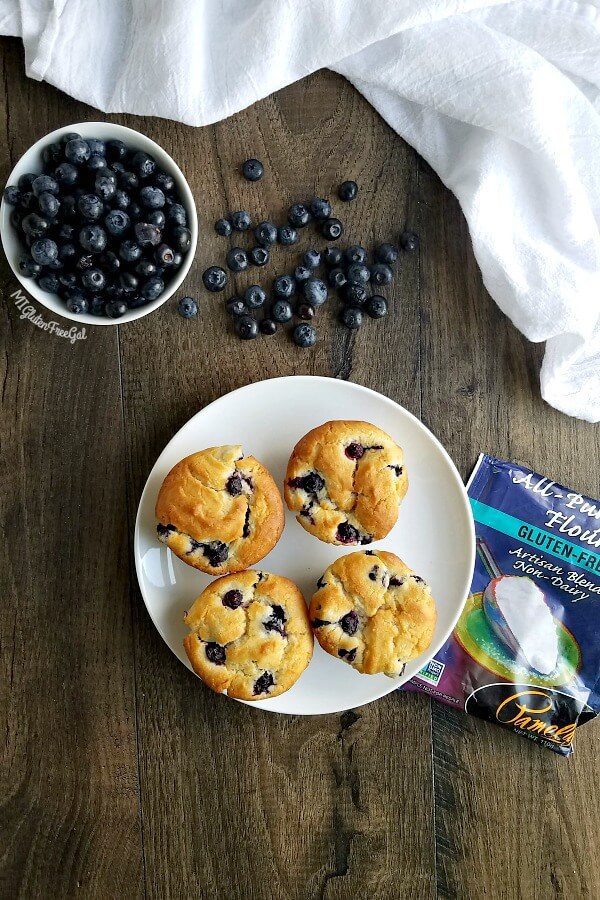 These. This batch of gluten free blueberry muffins using Pamela's Artisan blend turned into a pleasant surprise. The package stated that it may need more liquid than other recipes, but I used the same base recipe as the other two. They baked up beautifully, although sunk a bit as they cooled. My husband tried one, and stated these reminded him of muffins you'd get from a bakery. Therefore, I'd call that a win, wouldn't you? Also try her bread flour to make these delicious gluten free bagels!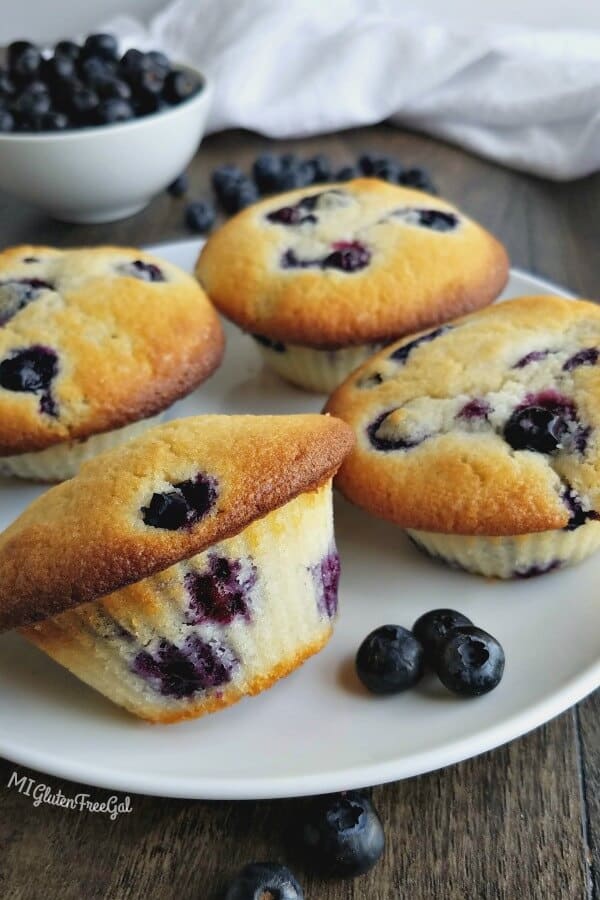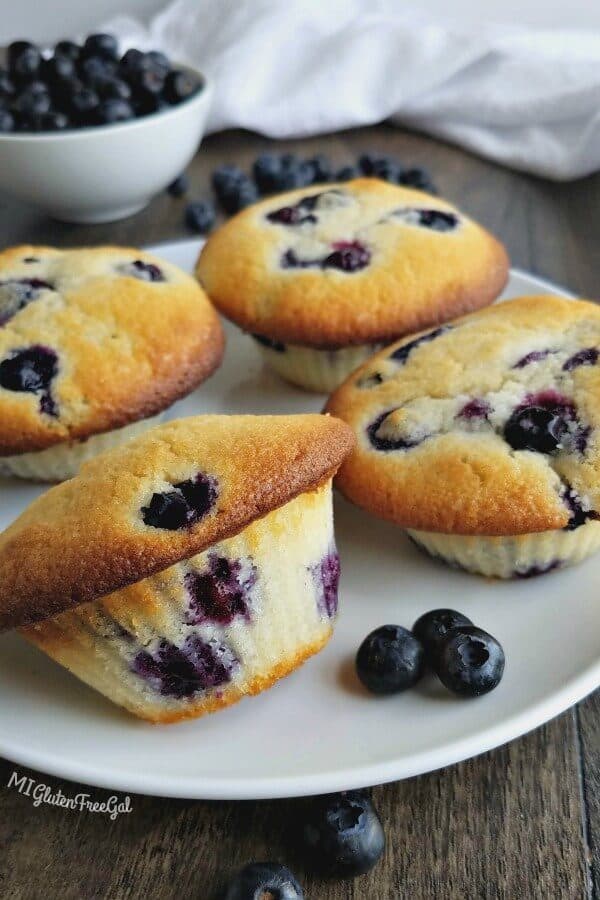 The three other flour blends included xanthan gum. King Arthur Flour All Purpose Gluten Free Flour does not. Therefore, I added 1/4 tsp of xanthan gum to the gluten free blueberry muffins recipe.
What is xanthan gum and what does it do? I explained it in my gluten free vegan chocolate cake post, so pop over there to read more in depth on it.
Like the other gluten free blueberry muffins, they rose well but flattened out once they reached over the muffin tin. However, they held together much better than the Pillsbury ones. In truth, I would suggest just buying their (AMAZING) gluten free muffin mix than making these from scratch.
In Conclusion
As I stated above, no two "tasters" are alike. We all like certain products more than others for a reason. And you know what, that's okay! It's great that there is so much safe, gluten free diversity out there. As Celiac Disease and culinary techniques improve, we have a lot of options.
As far as I'm concerned, if there is a product you use that helps you feel like a successful gluten free baker, that's great! Now pardon me as I go enjoy another one of these gluten free blueberry muffins. Anyone want to come over and help me get rid of these?!
For a simliar review in a chocolate chip cookie recipe, check out this post, "What's the Best Gluten Free Flour?" from The Gluten Free Austrian.
**I was not paid or compensated in any way by any of the names brands. This post does include Amazon affiliate links. My affiliate link directs a small portion of the sale back to me, while not changing the price you pay in any way. Thanks for helping support my blog!**