reallGet in the Halloween spirit with these super easy Gluten-Free Halloween Cut Out Cookies.
Use a bag a GF Jules Cookie mix (graciously given to me), add a few ingredients, and unleash your cookie creativity!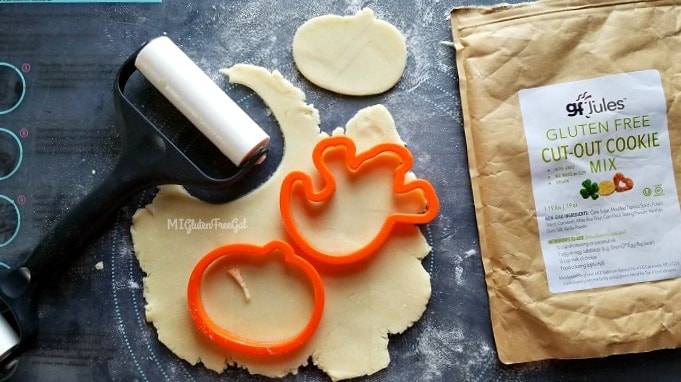 I love cookies. I would eat them all day, every day if I could. While I will never turn down a chocolate chip cookie, I do have a fondness for a good sugar cookie. These gluten-free Halloween cut out cookies are so easy to make, they will fulfill any cookie craving. I won a bag of GF Jules (a.k.a Jules Shepard) Gluten Free Cut-Out Cookie Mix months ago through a Twitter party. Jules and my other pals Cindy and Erica spent a weekend retreat and this delightful mix came in a box with other items from #GfBloggerRetreat sponsors.
You know what I love about GF Jules? (Besides her great mixes, like the one that made these awesome Gluten-Free S'mores bars?)  She's so REAL. She's down to earth and totally approachable. She answers her own e-mail and Facebook messages. She's been an encouragement to me and so many others. Did you know that she was involved in the mission of getting congress to improve gluten-free food labeling laws? All through persistence and the world's tallest gluten-free cake. But I digress.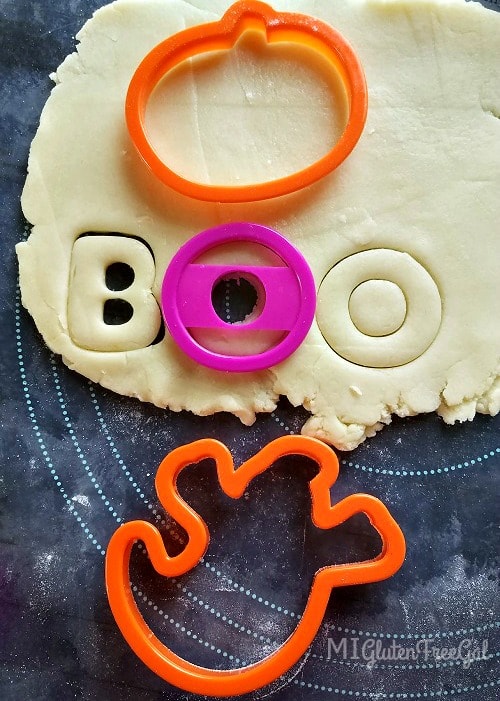 So back to these gluten-free Halloween cut out cookies. Even if you're not a master cake decorator of baker like GF Jules, you can easily make these cookies. First, work with a good sugar cookie recipe. Next, work with good tools. I have quickly become a Wilton addict convert. I bought their 101 Cookie Cutter Set over a decade ago. It costs less than $20 and  the cookie cutters are made of durable plastic. More than ten years later, they still are cutting through dough, bread and any other soft items I want to get creative with. I LOVE that this particular set is color coded for holidays and themes. Orange for Halloween, green for Christmas, yellow for Easter and so forth. I couldn't make these gluten-free Halloween cut out cookies without them!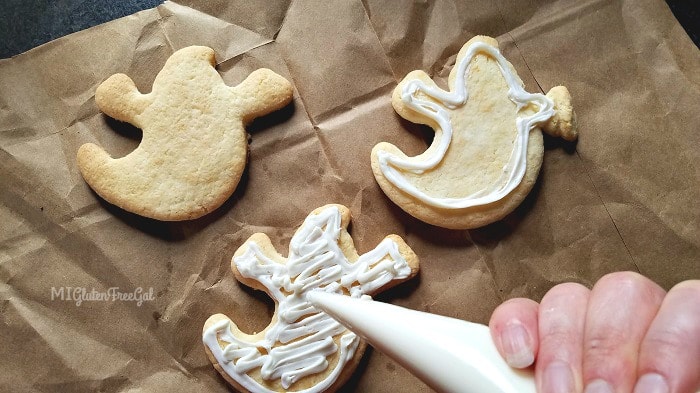 Aren't these ghost gluten-free Halloween cut out cookies just the cutest? Just a little bit of white frosting (I used Duncan Hines) and they pop. (I'd say "come alive," but they are ghosts after all.) While one can use a sandwich bag in a pinch, I really prefer these Wilton Disposable Decorating Bags. These bags are much thicker than a sandwich bag and withstand much more hand pressure. They are easier to refill as well. I usually use one of my Wilton decorating tips for this, but accidentally forgot to put the coupler in the bag. Know what? It was so much easier to handle without the tips!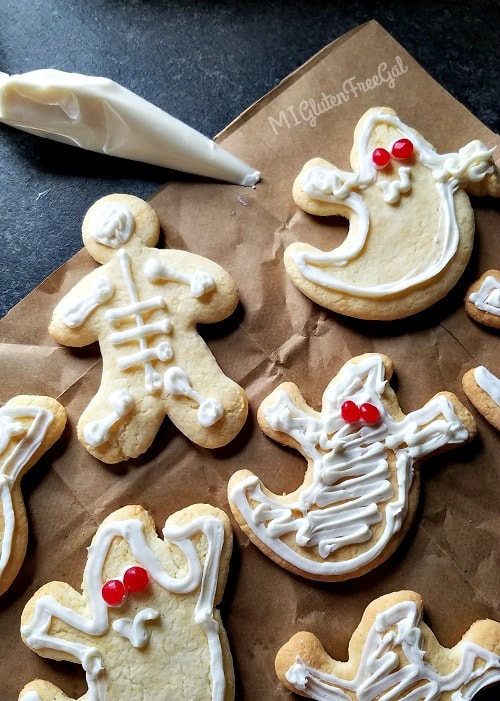 Now I know what you're thinking. You're a terrible decorator. Frosting these gluten-free Halloween cut out cookies really IS easy. If you can draw a straight line (or even if you can't), you can do this. My biggest "tip" is to allow the point of the bag just barely touch the cookie. Pipe the frosting slowly until you get the hang of it. For these gluten-free Halloween cut out cookies, I focused on outlining the cookies. Then I simply added frosting in the center of the cookie with a back and forth motion. Not sure how you want to decorate them? I'll let you in on a blogger secret. Go look at Pinterest or do a Google image search of what you want to make. Look at images that seem doable for you and then HAVE FUN! Cookies should be fun!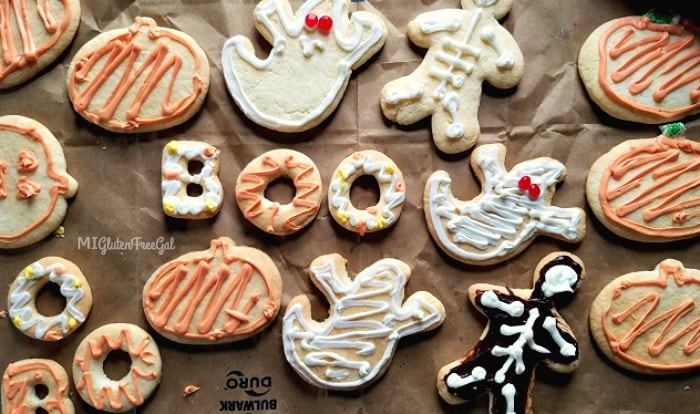 So here are my gluten-free Halloween cut out cookies, all finished. Some of them were just how I envisioned, some are not. But that's the beauty of making sugar cookies and frosting them. It's the experience, the uniqueness. And no matter what they look like, they still taste delicious! So grab a bag of GF Jules cookie mix (or your favorite sugar cookie recipe), hang out with loved ones, and make some sweet memories. Needing a recipe that's egg and dairy free? Try this great recipe from Sarah Bakes Gluten Free for her gluten free vegan Halloween chocolate sugar cookies! Now GO HAVE FUN!
Save 20% off an order of $30 or more in GF Jules products through this coupon on GF Living Magazine.
This page contains Amazon affiliate links for Wilton baking products. It does not raise your price, but simply sends a portion to helping keep this site operational. Thank you for supporting my website!