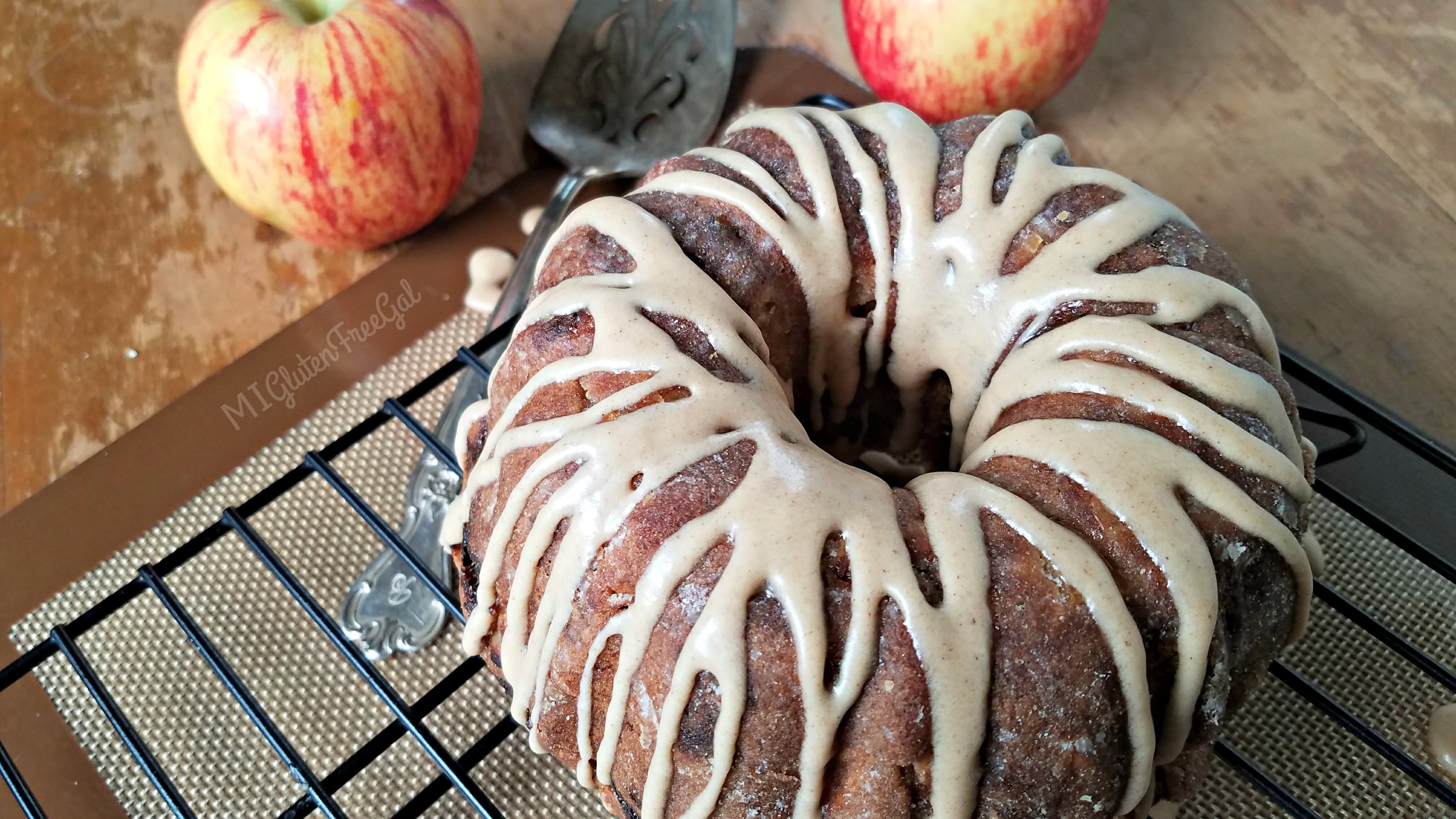 No matter how old I get, I love applesauce. I eat it plan, on top of cottage cheese, or often with a bit of peanut butter mixed in. Of course, there's nothing better than fresh made applesauce in the fall. However, one of my favorite ways to use applesauce is in gluten-free cooking and baking. When I saw my friend VegetarianMamma's Easy Apple Cake, my first thought was to make it, but substitute half of the oil with natural applesauce. Henceforth, I share with you my gluten-free Applesauce Bundt Cake.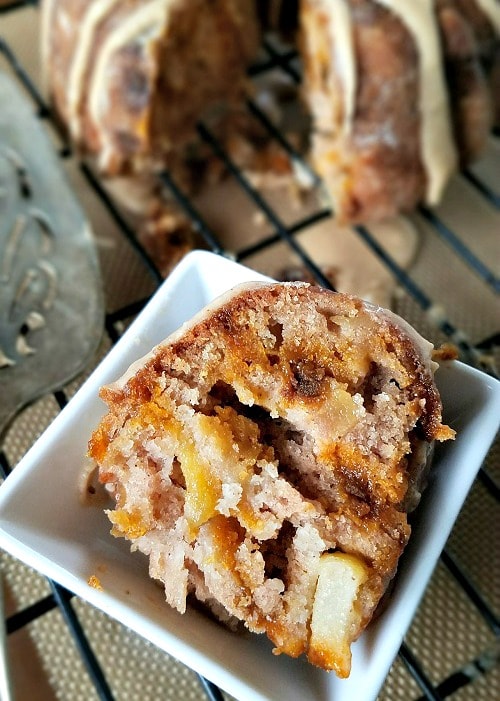 This gluten-free Applesauce Bundt Cake has less fat and sugar and than the original recipe. There are loads of suggestions on the internet about substituting applesauce for oil in baked goods. (However, some sites suggest not replacing butter with applesauce. I still do it, though.) While Musselman's suggests a 1:1 substitution, I prefer a 50/50 swap. I do this in my buckwheat pancakes and my gluten-free chickpea flour brownies, and have used it in zucchini bread as well. Since applesauce is naturally sweet, I often reduce the sugar too. This is key as it is often suggested to reduce the liquid in a recipe when baking with applesauce. (Sugar turns to a liquid when baking, therefore is often referred to as a "wet ingredient.")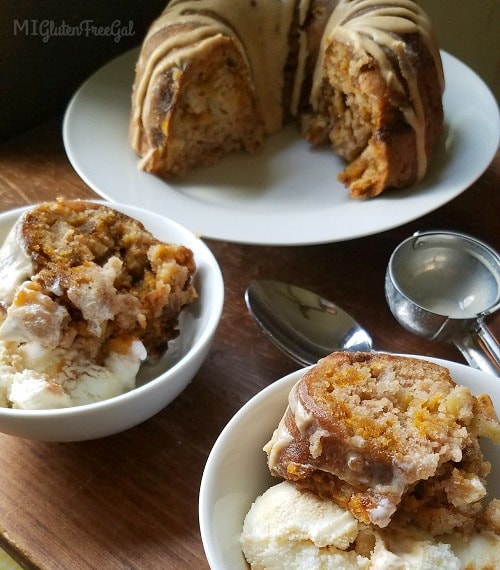 Another benefit of substituting applesauce for this gluten-free Applesauce Bundt cake recipe is that it provides lift. Applesauce is considered slightly acidic. When that combines with the baking soda in the recipe, it produces carbon dioxide, which allows baked goods to rise. This is ideal in gluten-free baked goods which tend to be more flat and dense than its gluten-filled counterparts. The pectin in applesauce also acts like a binder. Due to this, many vegan cooks will use applesauce instead of eggs. (For a great scientific article about replacing eggs, read this from Science and Food.) Suffice it to say, applesauce is a good substitution in baking. Just try small batches first before trying to make enough to feed a crowd!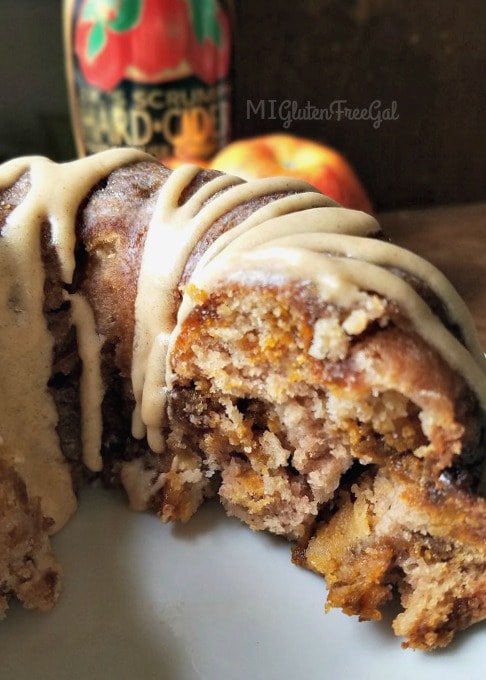 I wanted to try one other change when I created this gluten-free Applesauce Bundt Cake. Well, two. One, I cut the recipe in half because heaven knows I don't need all this cake in my house. The other change I yearned to make was to add a glaze. Not just any glaze, but one made with JK's Farmhouse Cider. This isn't cider for kids though. This is grown-up, organic hard cider made right here in Michigan. The JK stands for "Jim Koan," owner and operator of Almar Orchard's. I followed a boiled glaze recipe on Buns in My Oven, but I don't think I reduced the liquid down enough. It was too thin and I needed to add extra butter and lots of extra powdered sugar to get the desired consistency. It is however downright delicious!
So there you have it. A delicious gluten-free Applesauce Bundt Cake, inspired by my bestest friend VegetarianMamma. In addition, the science behind substituting oil and eggs and a recipe, served with a side of sweet, organic hard apple cider. Now who's ready for cake?
Gluten-Free Applesauce Bundt Cake
6 tbsp oil
6 tbsp applesauce
1 egg
3/4 c. sugar
1 1/2 c. flour (I used Better Batter for this recipe.)
1/2 tsp baking soda
1/2 tsp salt
1/2 tbsp cinnamon
1 1/2 c. thinly sliced apples, cut in quarters
1/2 to 1 cup cinnamon chips (I used these instead of the butterscotch chips Cindy used.)
1. Preheat oven to 350 degrees and oil your bundt pan. This recipe is 1/2 of VegetarianMamma's original. I used a Wilton's Copper Retro Round Fluted Pan, which is only 2 1/2 in. deep and holds half of a cake mix recipe. If doubling to create a larger cake, use a standard 9 3/4 in bundt pan. While I have not tried it, I imagine this would work in a springform pan as well.
2. In a large batter bowl, combine oil, applesauce, egg and sugar. Whisk together. Allow to rest for 5 minutes while combining dry ingredients.
3. In a small bowl, combine flour, baking soda, salt and cinnamon. Whisk to fully blend. Add dry ingredients to wet and thoroughly combine. The batter will be very thick. Allow to rest while cutting apples.
4. Thinly slice and quarter apples of your choice. VegetarianMamma prefers Granny Smith while I prefer Gala apples. The apples do not need to be peeled, but you may do so if you wish. Add sliced and quartered apples and cinnamon chips to batter.
5. Bake at 350 degrees for 55 minutes. (This is shorter than VegetarianMamma's recipe as I'm using a smaller pan. Allow cake to cool before removing from pan. Serve with a coating of powdered sugar or a simple glaze of your preference. It's tasty with ice cream too!
What's your favorite cake recipe? What recipes have you converted by substituting applesauce? Please share your tips with me below!