Chicago is like the New York City of the Midwest. Huge buildings, big attractions, and throngs of visitors. One of its nicknames is actually the "Heart of America," because it is one of the biggest transportation centers in the country, as well as being near the geographic center of the U.S.
Traveling when you have Celiac Disease can seem a bit daunting, but Chicago is FULL of unique gluten-free options. This city will surely win over your gluten-free heart! Here are some of my tips of places to eat and things to do while you're on a GF getaway to Chicago!
Gluten-Free Chicago Eats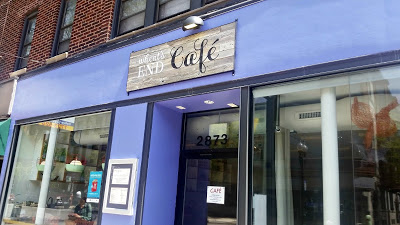 Wheat's End Cafe
This 100% gluten-free restaurant is just lovely. With zero concern that my meal could possibly make me sick from ingesting gluten, I wholeheartedly ate without abandon. Lamb meatloaf, English muffins, and more. It was so amazing I wrote an entire article about it. Read it here!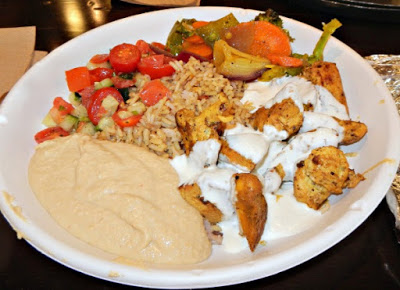 My first date with a Roti. It's been true love ever since.
Roti Mediterranean Grill
I first fell in love with Roti in 2014 during our very first trip to Chicago. How can one NOT love Roti, when they offer delicious gluten-free Mediterranean food AND gluten-free pita bread?! This fast casual restaurant is like Chipotle, only with chicken kabobs instead of pork and hummus instead of salsa. They also have gluten-free falafel and just started offering a tabbouleh made with quinoa instead of cracked wheat. Since they're basically only in Chicago, you'll have to make sure to visit multiple times when you're there!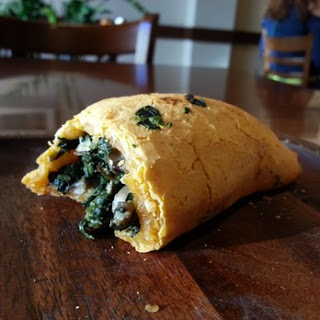 Photo Credit – Yelp
Cassava
I'll be totally honest – I haven't been to Cassava yet. I ran out of time on my most recent trip to Chicago, but it's definitely on my to-do list next time I go back. This 100 % gluten-free restaurant makes empanadas out of cassava flour. You may be more familiar with cassava's other names, such as tapioca. (Which is what Chebe is made from!) What started as a small business making pao de quejo, now serves empanadas, chili and other items. They've been highlighted by the University of Chicago Celiac Disease Center and their dough has been sent for independent testing and tests below 10 ppm. The more I learn about this amazing place the more I kick myself for not having visited. Make sure that you don't make the same mistake I did and eat to your hearts content.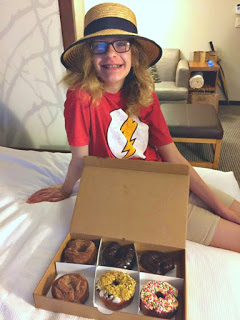 Photo Credit- Sarah Dymond
Do-Rite Donuts
Every single gluten-free Chicago friend I know sings the praises of Do-Rite Donuts. While Do-Rite is not a 100% dedicated bakery, they do use a separate, dedicated fryer for their gluten-free donuts. All gluten-free dough is prepped in the morning. They take special care to keep preparation separate from their regular donuts. Their normal gluten-free donut flavors include Cinnamon & Sugar, Maple Bacon, Pistachio Meyer Lemon, and Valhrona Chocolate Glazed. I've tasted the Maple Bacon, and it was tasty!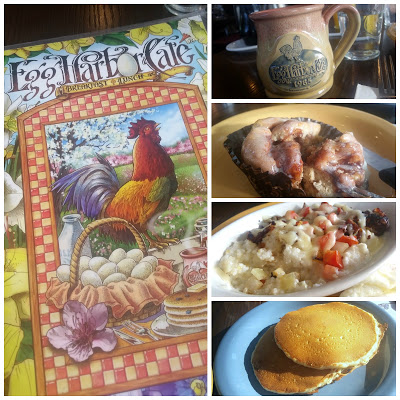 I now want to eat breakfast every day at Egg Harbor Cafe.


Egg Harbor Cafe
It's taken me a few trips to Chicago to finally make it here, and it was everything I dreamed it would be. Egg Harbor Cafe has multiple locations throughout Chicagoland, although there is not a location downtown. They have an extensive gluten-free menu and they serve Sweet Ali's pancakes and cinnamon rolls. Every bite of that cinnamon roll was like heaven. There is an Egg Harbor Cafe location in Schaumburg just down from where the GFAF Expo is held, so be sure to get breakfast there when you come for the expo!
There are lots of other great restaurants to eat at. I was incredibly amazed by my dinner at Weber Grill, and I hear that Marcello's Father and Son has gluten-free deep dish pizza! But there's more to do in Chicago than just eat. Here are some attractions you HAVE to visit!
Must-Visit Chicago Landmarks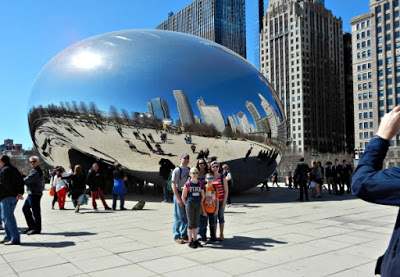 Millenium Park
Millenium Park is home to sculptures, water fountains, gardens, outdoor pavilions and more. The most famous attraction is probably the Cloud Gate. It's often referred to as the Bean, because it's shaped like a kidney bean. This polished stainless steel structure reflects the city skyline. True tory, the person at the edge of the photo in the blue shirt is my husband. He was taking a picture of a family on vacation, using their camera. When he was done, we realized they lived in a city less than 20 miles from our house in Flint. Small world, huh? My friend (and comedian) Blake Grigsby did a great video where he managed to convince 150 strangers to take a group photo together there.
Chase Auditorium
Confession – I'm a NPR junkie. My favorite show is Wait, Wait Don't Tell Me, and it is taped weekly at the Chase Auditorim inside the Chicago Theater. The theater has many other shows (obviously) that you can take in. If theater is your thing, Chicago is the place to be. Check out Chicago Shakes at Navy Pier and the Goodman. If you're in the mood for a good laugh, check out the many improv shows, including IO Chicago, Second City and Comedy Sportz. Use the site GoldStar or Hot Tix to find tickets to all of these shows and more.
Of course there are many other famous places to visit. Shedd's Aquarium, the Field Museum of Natural History, Navy Pier, and so much more. You can take in a baseball game at Wrigley Field (which serves Gilbert's gluten-free sausages!) or simply take in the beauty of the coastline.
As downtown Chicago is a busy place, I HIGHLY suggest getting a Ventra Card. This multi-use transportation card gets you on all the bus lines and some of the trains. The rates are very affordable and it makes getting around the city SO much easier.
A quick note of thanks to my Chicagoland friends who helped answer some additional questions. You can follow Colie, Brianna, Mel and Julie on Twitter and I'm sure they'll gladly answer a question or two for you. Otherwise, have FUN on your Chicago adventure and report back to me on any new finds!