I love gluten free pasta. But one thing that I don't love is that sometimes it tends to fall apart when you boil it. That's why I've been on a mission to make baked dishes in which you don't need to boil the pasta first. This gluten free no boil baked ziti fits the bill perfectly. That's right, no boiling the pasta first. Just put it in raw.
Trust me on this.
I had some
Schar Bonta D'Italia Penne
sample packs leftover from the Lansing Gluten Free Fair. They had a case left over and were nice enough to give them to me. They enouraged me to pass out to support group members, to give to those newly diagnosed, and to create recipes. Like this recipe for gluten free no boil baked ziti!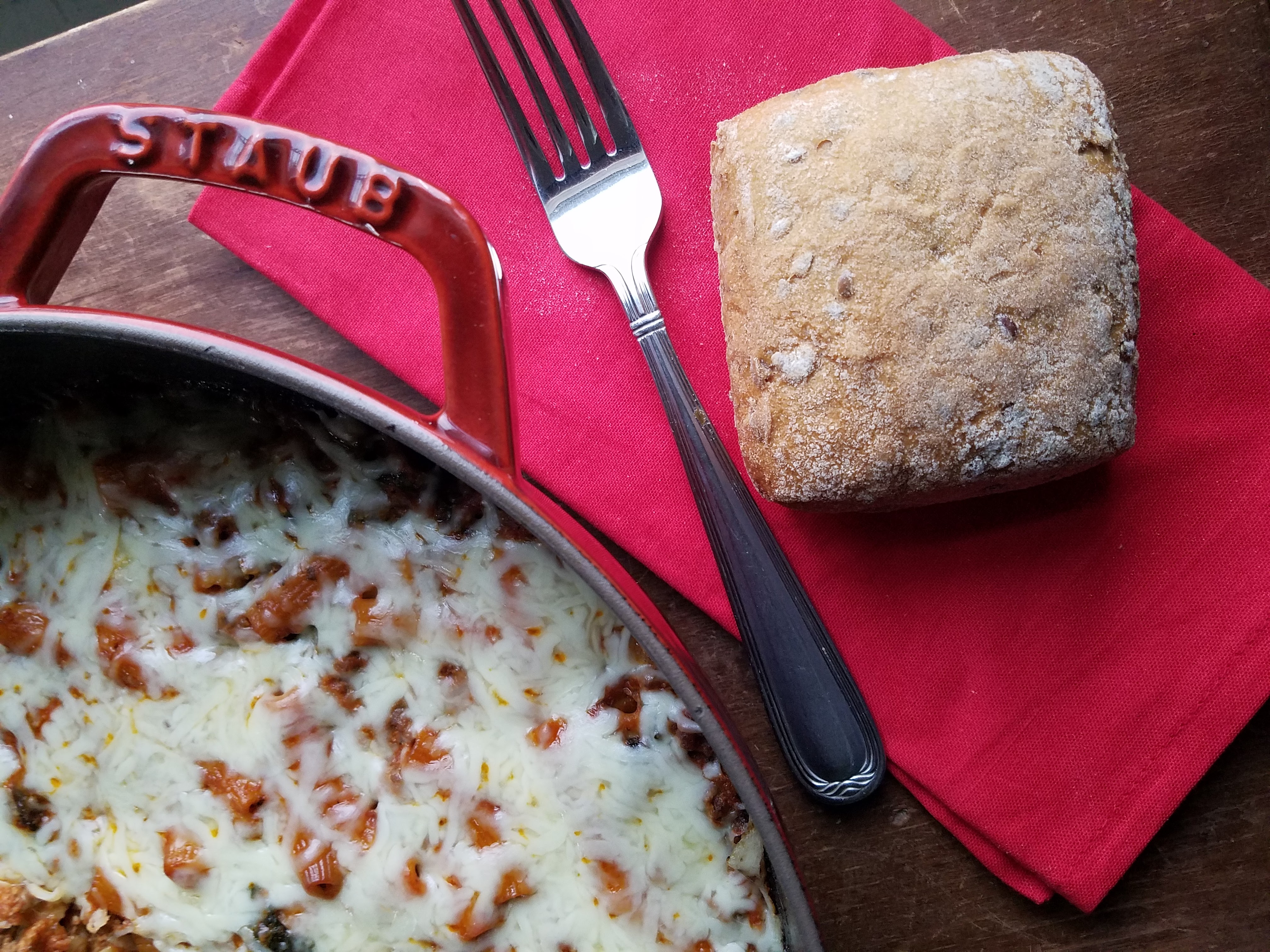 The original recipe didn't call for any vegetables, but I added sauteed onion, red pepper and spinach. When the gluten free no boil baked ziti first came out of the oven, it was a bit loose. Regardless. it was super delicious and it had set up beautifully once it had cooled a bit. The pasta was cooked perfectly and even tasted amazing reheated the next day when we had it for leftovers.
Made this again with Delallo gluten-free pasta. Best pasta ever!
1 jar (1 lb. 8 oz.) spaghetti sauce (I used Prego)
1 1/2 cups water
1 container (15 oz.) ricotta cheese (I used Daisy cottage cheese)
2 cups shredded mozzarella cheese (about 8 oz.), separated
1/4 cup grated Parmesan cheese
12 ounces uncooked gluten-free penne
The original recipe is meatless. If you want to use ground beef or sausage, use 1 1/2 pounds ground meat and reduce the cottage cheese to one cup. Increase the water to 2 cups.
Preheat oven to 400°.
The original recipe for this gluten free no boil baked ziti calls for using all sorts of bowls and steps. Now that I have my
4 qt. Staub cast universal pan
, it's even easier. If I'm using meat, I brown the ground beef in the pot first. While that is cooking, I chop onions, peppers, mushrooms and/ or any other vegetables I feel like adding. When the beef is fully browned, I remove it from the pan, leaving behind the fat. I then saute the vegetables in the meat fat and juices, until onions are soft and transparent. I'm guessing 5 minutes.
When all of the vegetables are cooked, I return the meat to the pan and add the dry pasta. Stir the pasta to evenly coat it in any remaining oil in the pan.
Next, add the jar of spaghetti sauce. Because I'm incredibly frugal, I then add one cup of water to the empty jar to get all the last bits of tomato-y goodness out of of it. Waste not, want not, right? Add the rest of the water and stir together. Add the cottage (or ricotta) cheese and Parmesan cheese and stir together. Place the lid on the pot and put the whole gluten free no boil baked ziti in the oven. If you don't own a cast-iron pot/ dutch oven, you can use a 9×13 dish and cover it with foil
Bake for 55 minutes.  Remove the gluten free no boil baked ziti from the oven and top with mozzarella cheese. Bake, uncovered, for an additional 5 minutes. Remove from oven and let set for 10 minutes before serving.
This makes 6-8 servings in my pot. It depends on who's eating and what else I'm serving.