Gluten Free Gingerbread House Kits & Advent Calendars
As an Amazon Associate and member of other affiliate programs, I earn from qualifying purchases.
Tis the season! Kick off the holiday season with one of these gluten free gingerbread house kits or advent calendars. Most contain no dairy, eggs, nuts or soy, as well.
Gluten Free Gingerbread House Kits
Michigan Businesses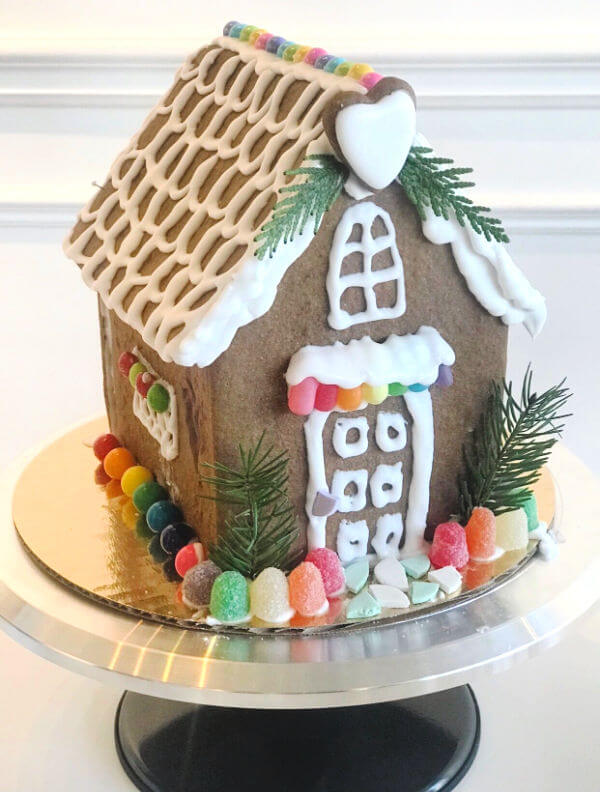 Sweet Bree's – $50.
Since in person workshops are not possible in 2021, Sweet Bree's is offering gluten free gingerbread kits this year. She does not ship, so they are only available for pick up. Click here to order. (Shipping not available)
Sweet Encounter – $36. Shipping available for an additional $10.
The kit comes with all pieces to assemble the house, two gingerbread people. candies, and royal icing. Kits are gluten, dairy, egg, soy and and peanut free. Click here to order. Deadline to order is December 17th.
Storefront -112 S. Washington Square Lansing, MI 48933 Mon- Fri 11 am – 6 pm, Saturday 11 am – 4 pm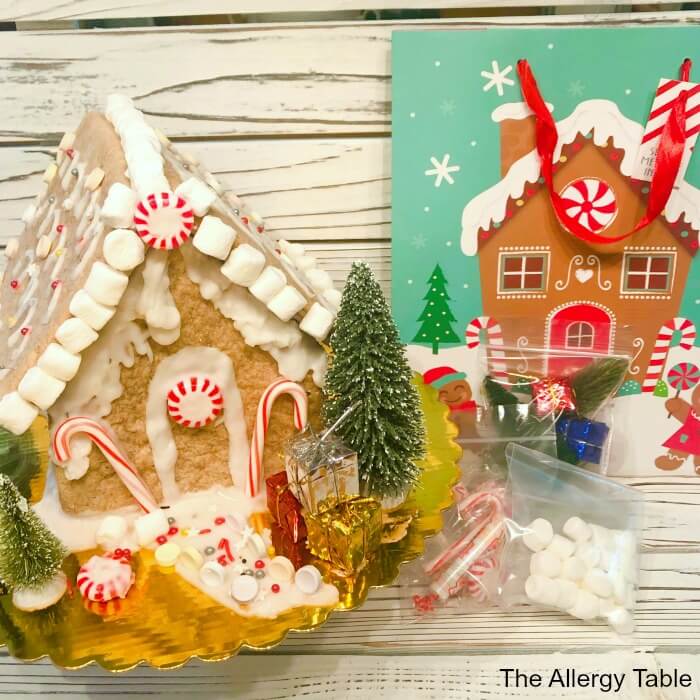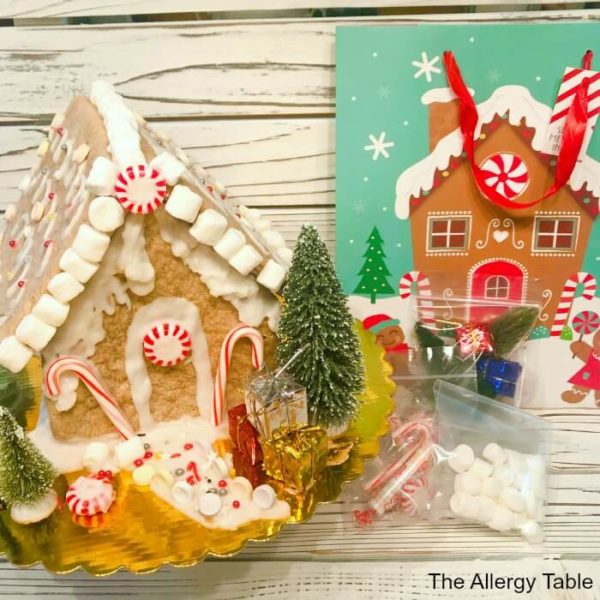 The Allergy Table – $55 *Top 8 Allergen Free
The Allergy Table is the only Michigan gluten free baker I know selling top 8 allergen free gingerbread house kits, in Michigan. Click here to order. (Shipping not available)
Businesses Outside Michigan That Offer Nationwide Shipping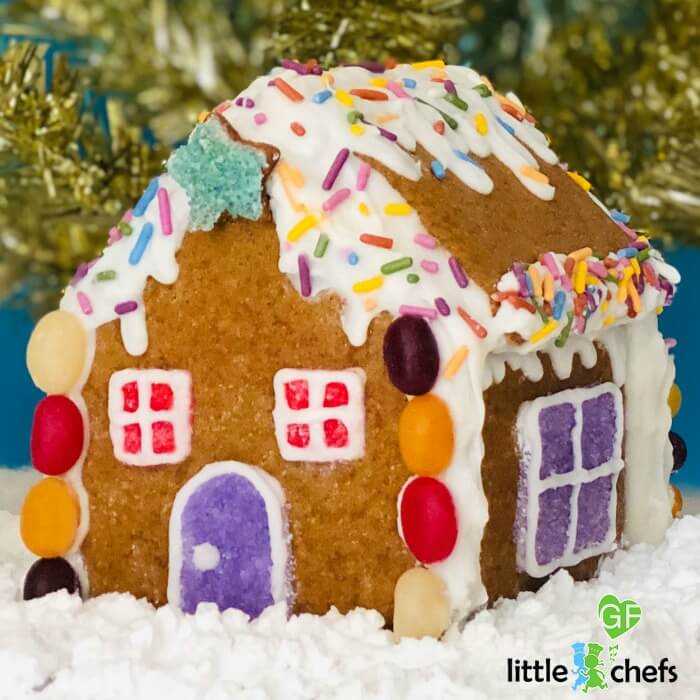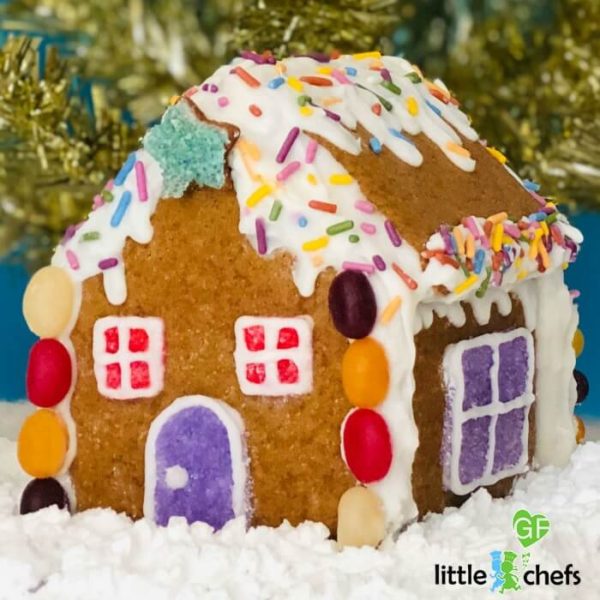 Little GF Chefs – $45 *Top 8 Allergen Free
This kit from Little GF Chefs includes gingerbread mix, cookie cutters for 2 mini houses, 1 bag of icing and candies. This gluten free gingerbread house kit is free from the top 8 allergens, sesame, and contains no artificial dyes. Click here to order their gingerbread house kit, and also take a look at their monthly baking club for other kits they have to offer! (Gingerbread House Kits will not ship until December 10th. Last day to order, December 13th.) SAVE 10% WITH THE CODE MIGFGAL.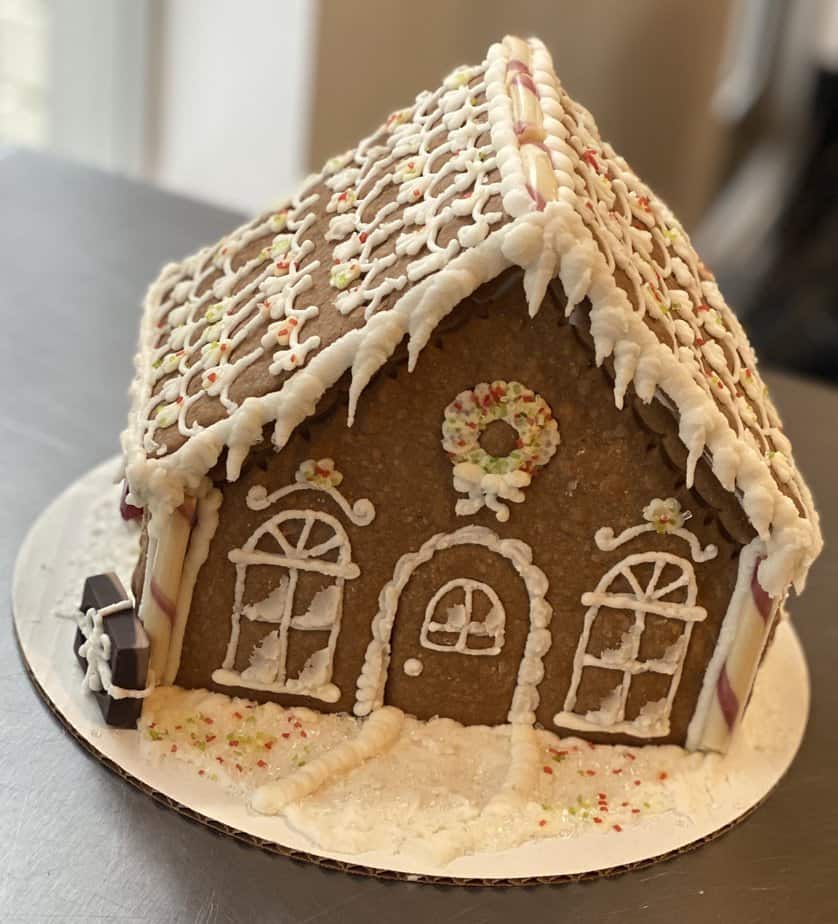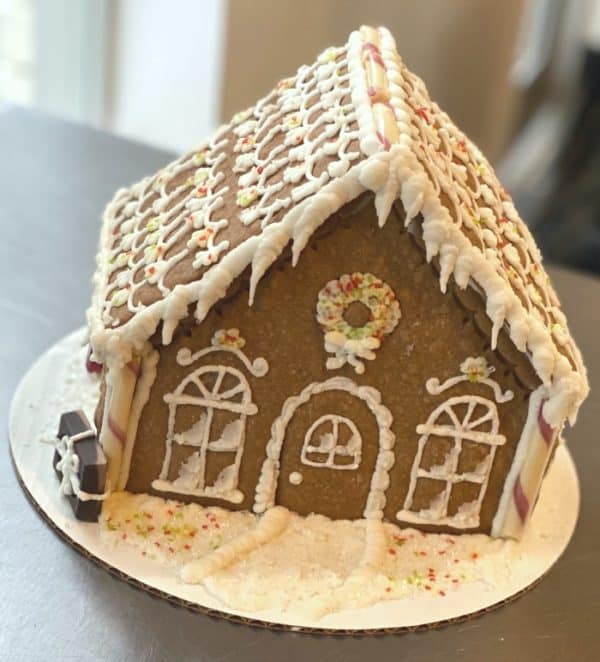 Annie May's Sweet Cafe – $53 (includes shipping from KY) *Top 8 Allergen Free
Annie May's kit is free from the top 9 allergens, and corn. It includes pieces for one house, one bag of white frosting, the decorating board and candy. I've tried her baked goods and their amazing! Click here to order.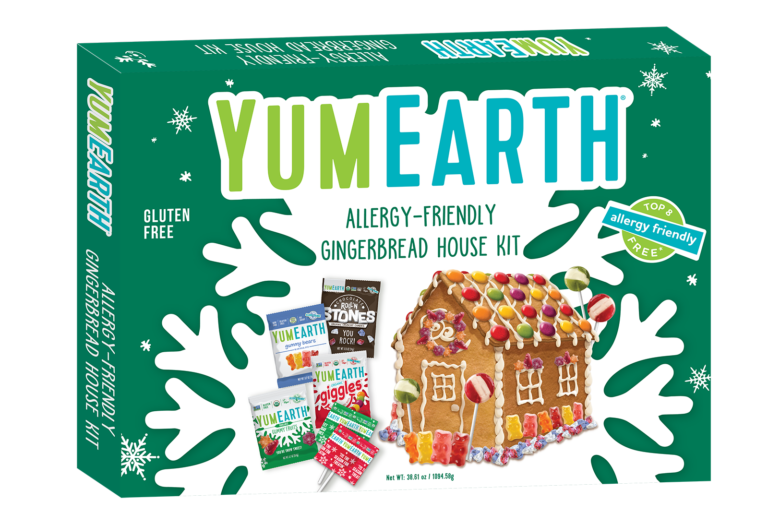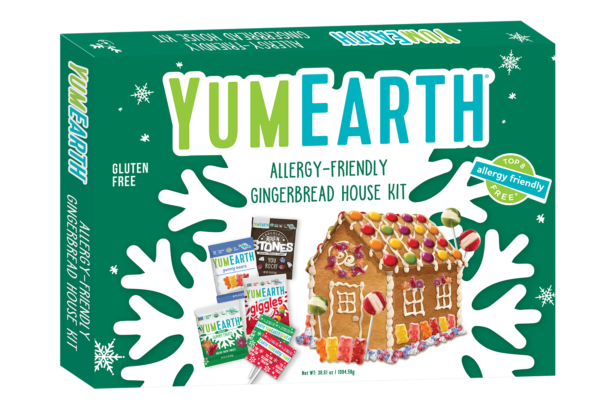 Yum Earth – $39.99 Click here to order *Top 8 Allergen Free
2021 marks the first year that Yum Earth has offered their Allergy Friendly Gingerbread House Kit. It contains gluten free gingerbread house pieces, and decorating candies that are free from the top 8 allergens. It also contains no high fructose corn syrup or artificial dyes. Order directly from their website.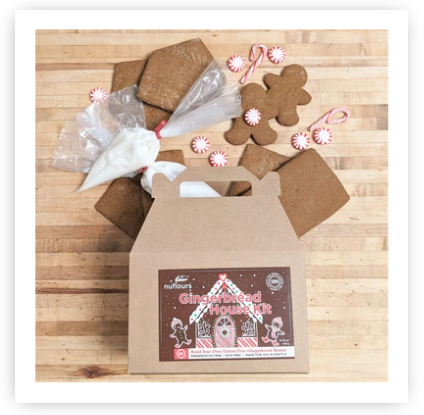 Nu Flours – $29.99
This certified gluten free bakery in Seattle sells a gluten free gingerbread house kit that is also vegan. Kit includes instruction, house pieces, gingerbread people, frosting and candies. Click here to order.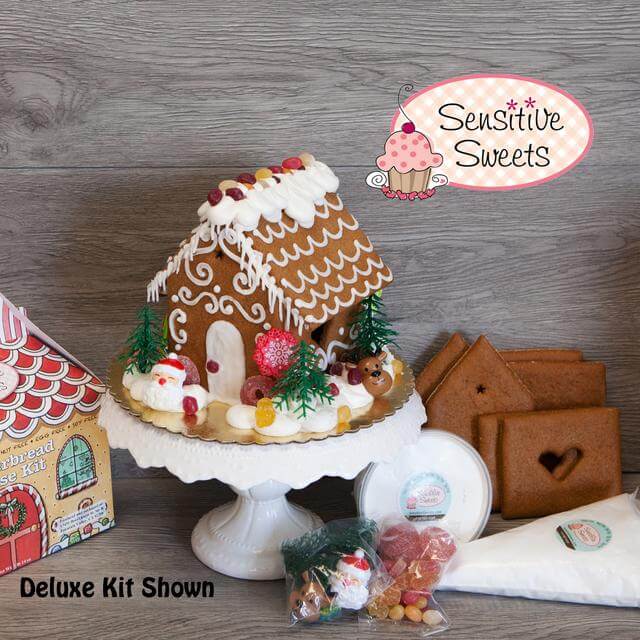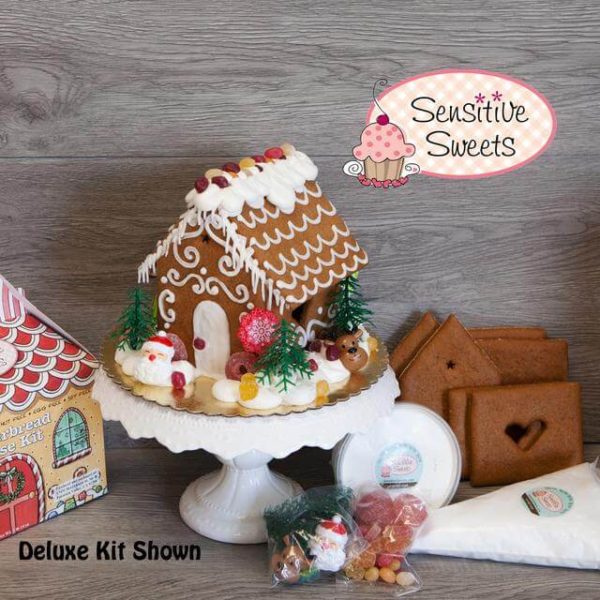 Sensitive Sweets – $36.95
Sensitive Sweets Bakery offers gluten free gingerbread house kits free from gluten, as well as eggs, dairy, nuts and soy. Candies only included in deluxe set. Click here to order.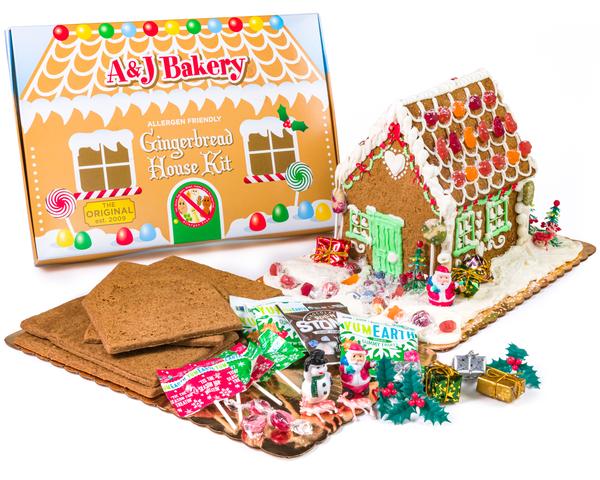 A & J Bakery – $49.95 (currently on sale for $39.95)
A & J Bakery makes many holiday gluten free treats. Their gluten free Gingerbread House kits includes pre baked walls, but does not include frosting. Click here for more information.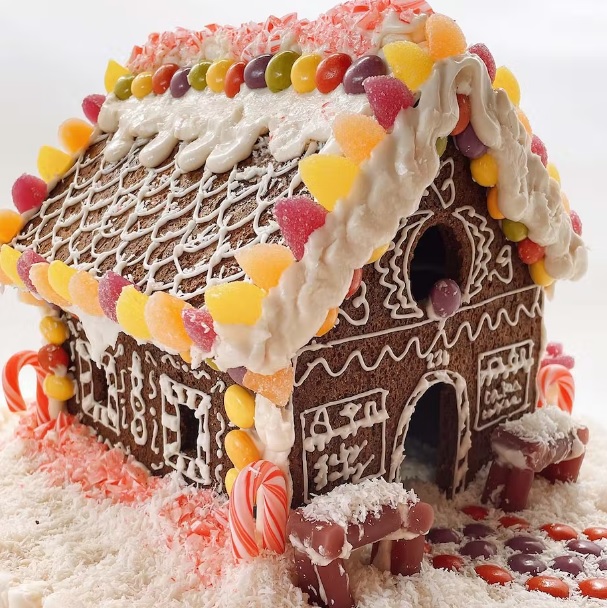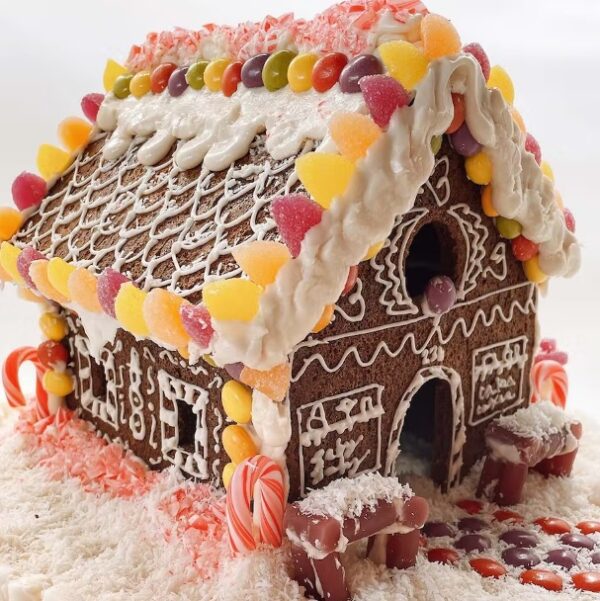 BabyCakes/ Erin McKenna- $129.95 (Yes, $129.95)
Erin McKenna's gluten free bakery, BabyCakes, is the stuff of legend. If you'd like to have one of their gluten free gingerbread house kits, you can order them through GoldBelly.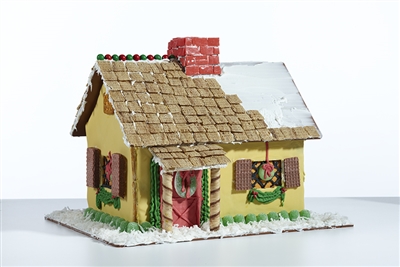 The Candy Cottage $29.99
This reusable plastic set allows you to build your house, and decorate it with your own candy. When the season is over, remove the candy, stick the plastic housing in warm soapy water, and clean it up for the following year! Amazon Affiliate Link. (Big thanks to a reader who told me about this!)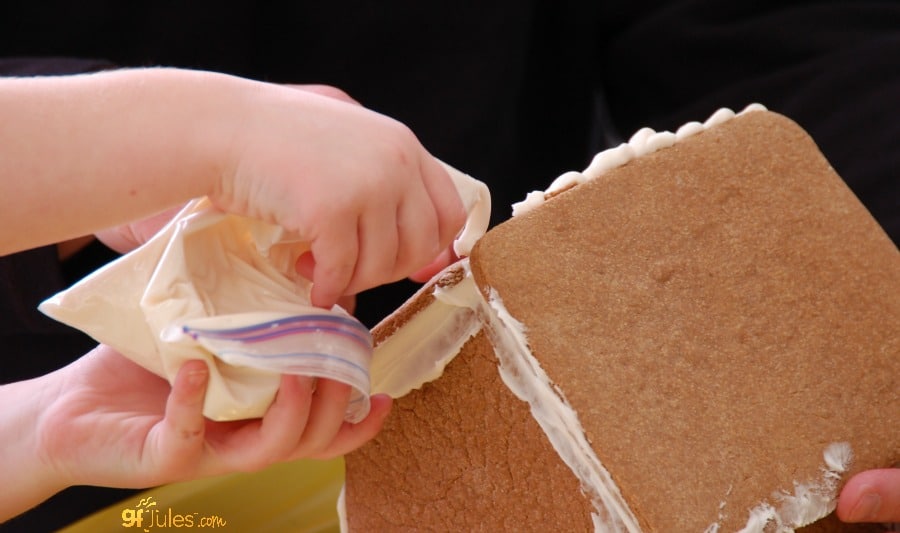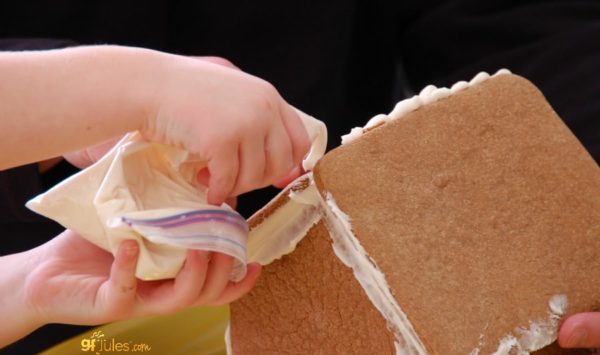 GF Jules Graham Cracker / Gingerbread Mix – $9.99
GF Jules doesn't sell gluten free gingerbread house kits with premade walls. However, she does explain how to make a gluten free gingerbread house with her gingerbread mix. Her website shares templates for cutting the walls and making the frosting.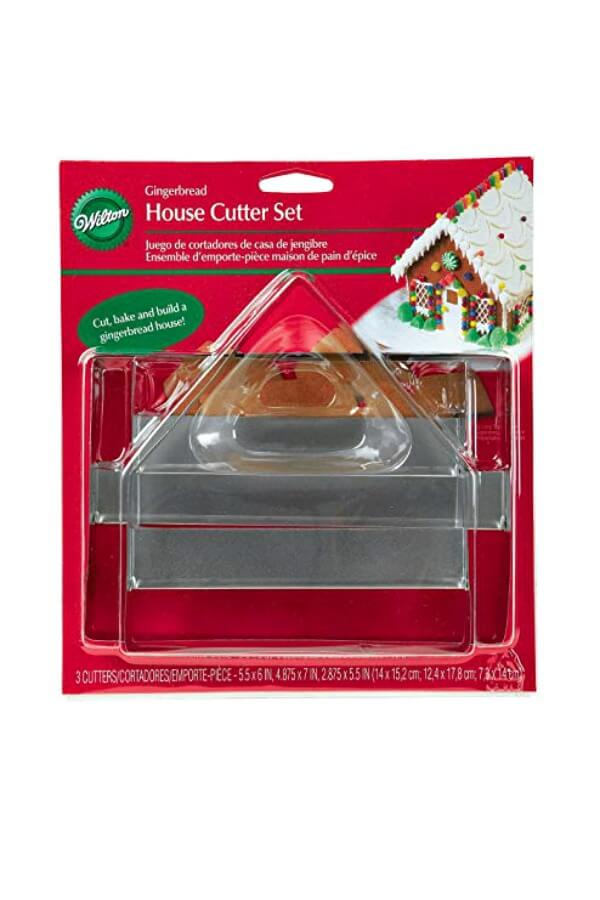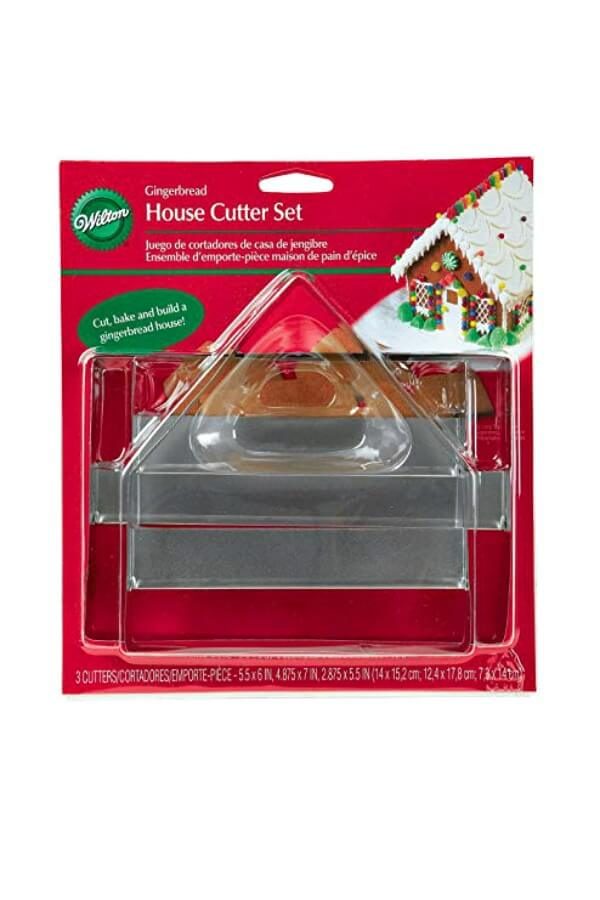 Wilton Cookie Cutter Set
Don't want to fuss with templates? This Wilton Gingerbread House Cutter set (affiliate link) allows you to easily create the walls of your gingerbread house. Use GF Jules mix, or my gluten free Gingerbread Cookie Recipe. Or try this with peppermint candies! Get a guide from Sugartown Sweets.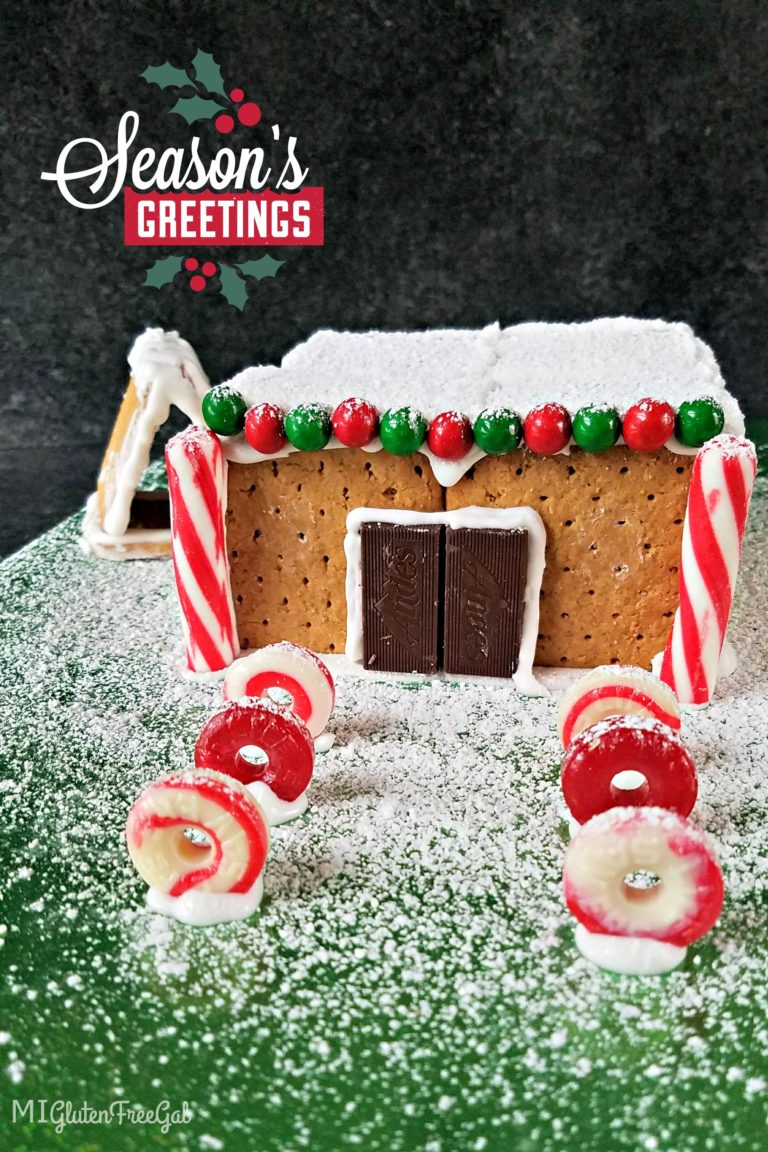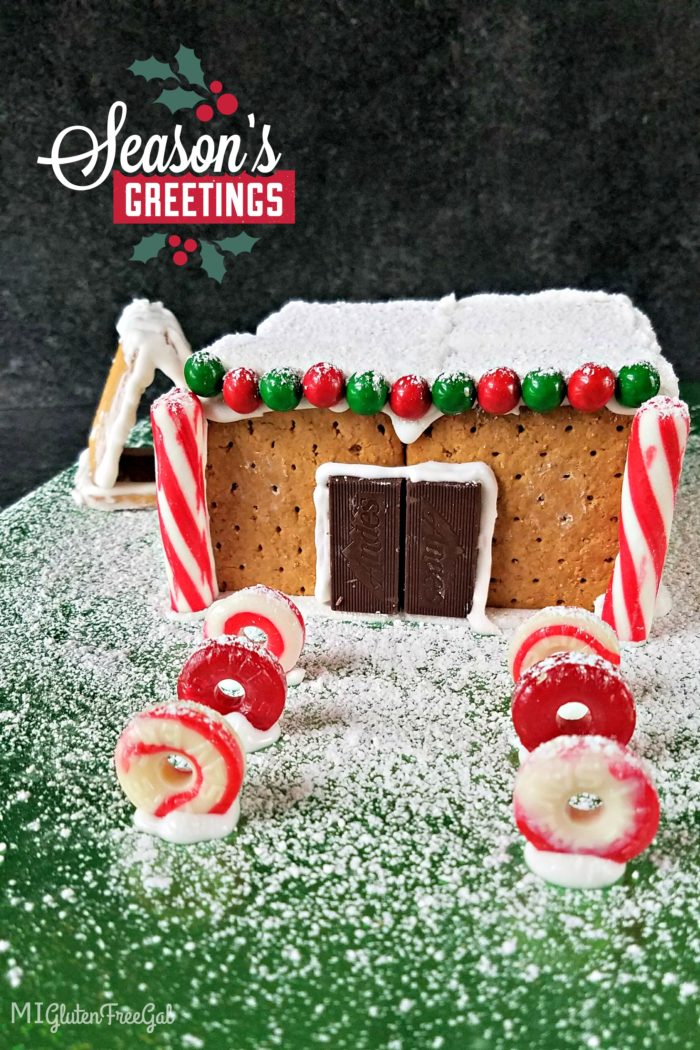 Gluten Free Graham Cracker Gingerbread House
Of course, you can also make a gingerbread house out of graham crackers. Grab decoration instructions on my blog or from Eat At Our Table's Easy Gluten Free Gingerbread Houses blog post. Can't find gluten free graham crackers in your local store? You can now order them online thru the Schar website!
Gluten Free Advent Calendars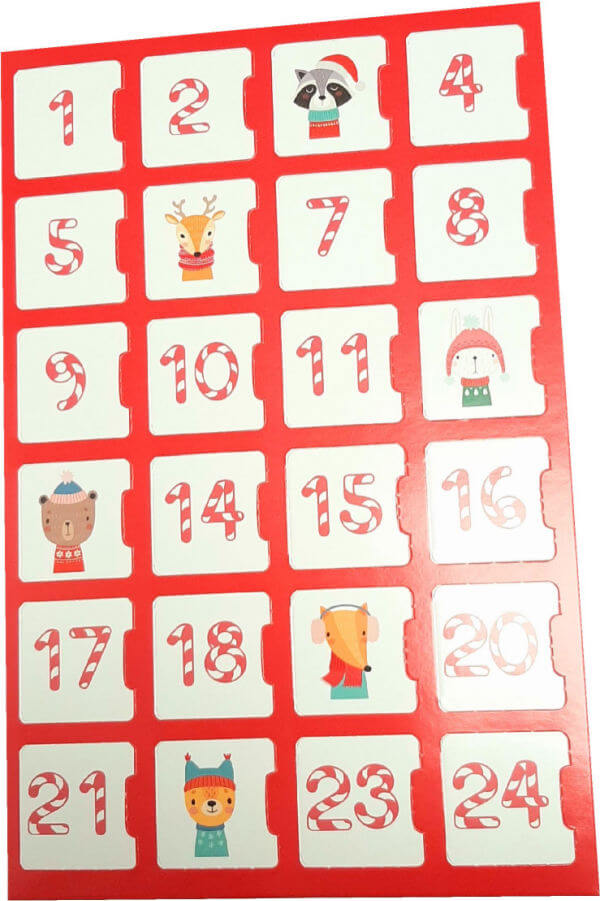 Oh MI Organics – $35
This will be the first year that Michigan based Oh MI Organics will be offering an advent calendar. All of their handmade chocolate is created in a gluten free facility. In addition, all chocolates in this advent calendar are vegan, and free of the top 9 allergens. (Contains coconut) Contains 24 different flavors of chocolates.
PICK UP in St. Johns, ONLY. Click here to order online.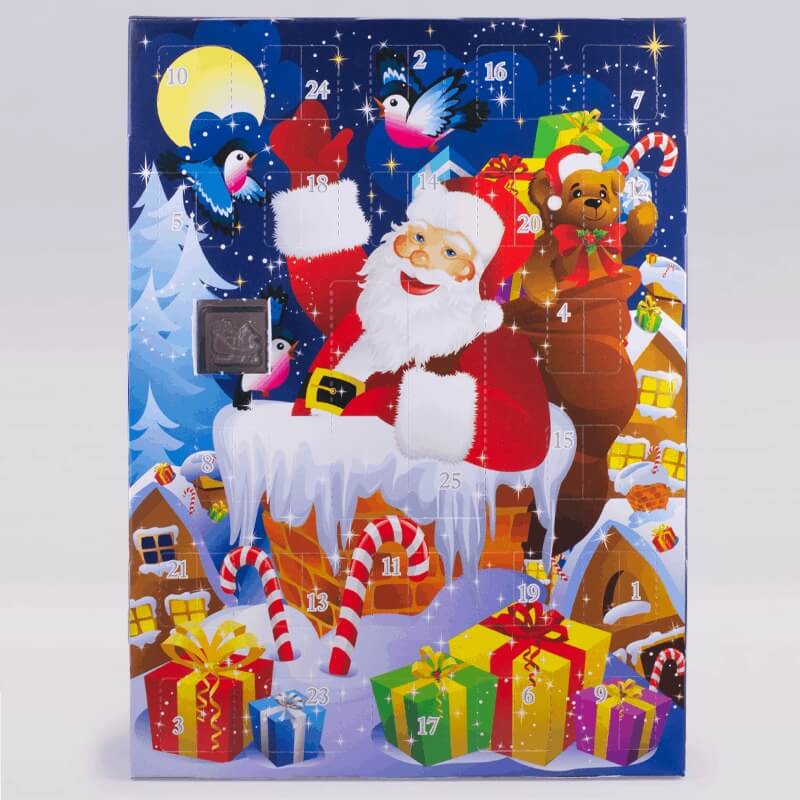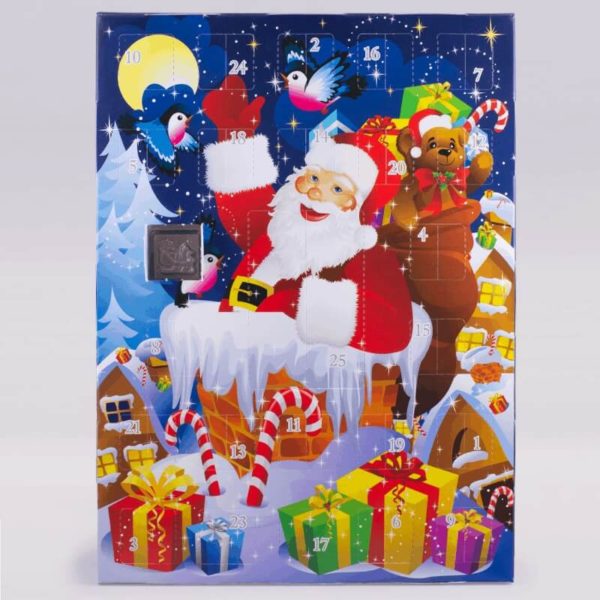 Amanda's Own Confections – $13.50
I previously wrote about Ohio- Based Amanda's Own Confections in my Easter Candy blog post. This chocolate in this advent calendar contains no gluten, dairy, eggs, soy, corn or nuts. Visit Amanda's Own to order.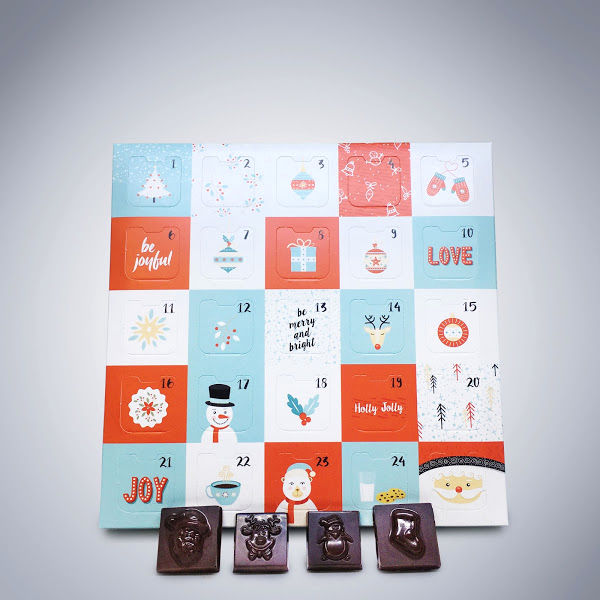 Safe Sweets – $16.99
Safe Sweets, also made in Ohio, makes an advent calendar that is also free from the 8 most common allergens. Weighs 7 oz and certified kosher. Click here to order.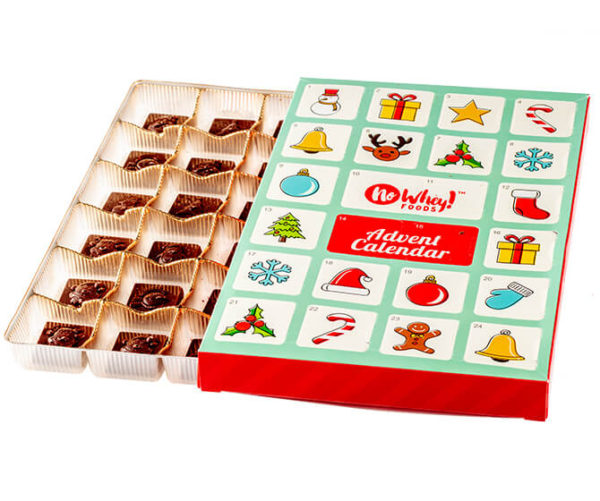 No Whey Chocolates – $14.95
No Whey Chocolates makes a large assortment of holiday chocolates. They all contain no gluten, dairy, eggs, soy or nuts. Find this, other Christmas chocolates, and top 8 allergen free Hanukkah gelt on their website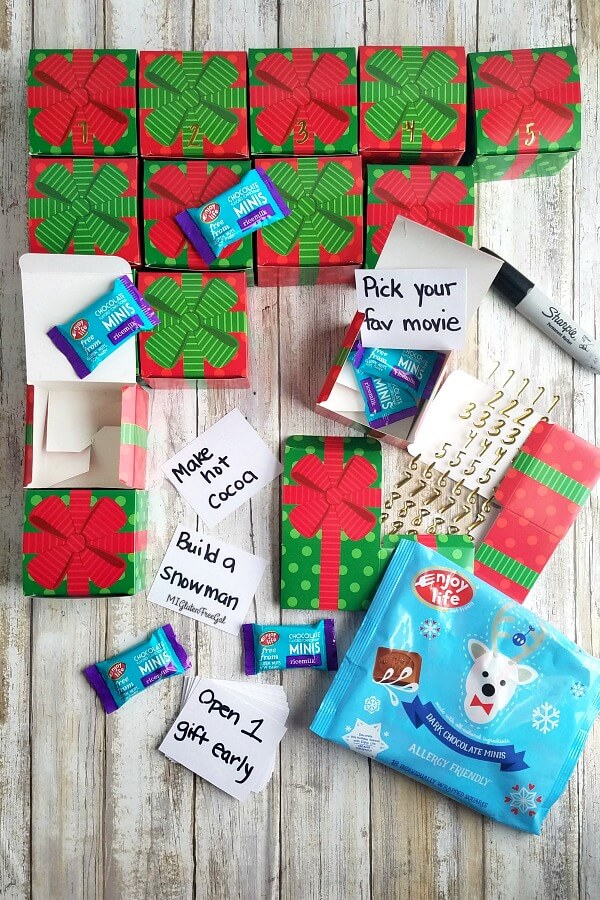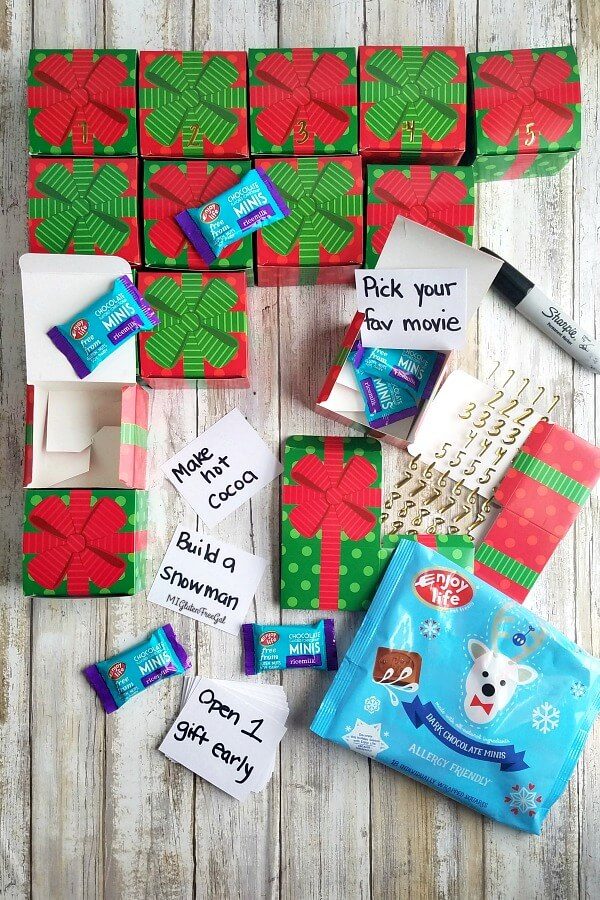 Make Your Own Chocolate Advent Calendar With Enjoy Life Chocolates
The older I get, the more I want to spend time making memories with those I love. I bought these small paper gift boxes at the dollar store. Fill them with candy, or slips of paper with fun activities, and make the holidays something to remember. Read my blog post to find out more.
Other Advent Calendar Options
For those in the UK, Moo Free also makes gluten and dairy free organic advent calendars. Also check out CNN's list of the Best Advent Calendars. Some aren't just for kids!
**This post is not sponsored. However, it does contain affiliate links. Purchases made through those links, or the Amazon search bar above, help support this blog with no extra expense to you. (There are SO many non-food advent calendars on Amazon right now that are amazing! Find more using the Amazon search bar above.) Thank you for your continued support!**