Living with Celiac Disease can sometimes feel lonely and frustrating. Having to eat a restricted gluten-free diet can seem daunting and frustrating. I hear ya. Let's get through this journey together. Here's some info about me.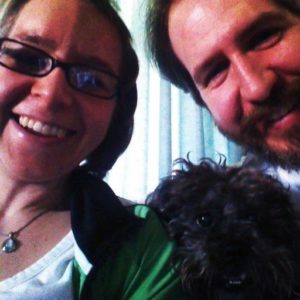 Hi. My name is Margaret Clegg and I am the author of MI Gluten Free Gal. I've been living with Celiac Disease for over a decade. Some days have been easier that others, but it's always been the support of those around me that has pulled me through. And I want to pay it forward. Not only do I write about Celiac Disease news and gluten-free foods, but I also am the chairperson of our local Celiac Support Group as well as an organizer of the Lansing Gluten Free Fair.
Often our journeys to a Celiac Disease diagnosis are different. The symptoms I remember started with exhaustion in high school. I was so blessed to have a high school teacher who wasn't furious with me for falling asleep after lunch almost every day. Symptoms continued into college, with embarrassing trips to the bathroom and daily naps to make it through 20 college credit hours and a job.
Through the blessing of a major panic attack (strange phrase, I know), a caring physician's assistant finally discovered my drastic anemia and connected me with a hematologist. It was only after a semester of daily iron injections that I finally was connected with a gastroenterologist. When I finally received my Celiac Disease diagnosis in 2001, I learned that my dad and grandmother both had the disease. Neither of them had been following the diet. Both of them were killing themselves slowly. I encouraged them to change their diets. My family was too important to let them suffer eating the wrong things.
You're too important to suffer from eating the wrong things.
I've been blessed to hear from readers and support group members that I've given them hope for the first time in their life. It's a humbling experience. Honestly. I don't think of myself as someone grand, just a gal that wants to prevent others from suffering. This is why I push for greater Celiac Disease awareness, better testing and better treatment for all of us.
Please know if you're eating gluten-free for other reasons, you're welcome here as well. We need better research for non-celiac gluten sensitivity. It's becoming more widely known that other auto-immune diseases such as MS, Sjoegren's, and Rheumatoid Arthritis easing the symptoms for sufferers. Furthermore, we also need to respect the anecdotal evidence that a gluten-free and casein-free diet MAY help some children on the autistic spectrum.
So let's become a community. Let's all be advocates for those needing our help. Be someone's cheerleader.
My husband is my biggest cheerleader. Without him none of this is possible. He's an amazing Middle School teacher, and loves every crazy moment of it. We were never able to get pregnant, so our dogs Midnight (a peek-a-poo) and Jasmine ( a stray who's mixed with God knows what) our are children. I'm  heavily involved with children's ministry at our church. We followed Christ's call to move into Flint, Michigan and find ourselves mentoring children in our neighborhood. Sometimes even getting knocks on the door at 10 pm at night. Never a dull moment. I wouldn't have it any other way.