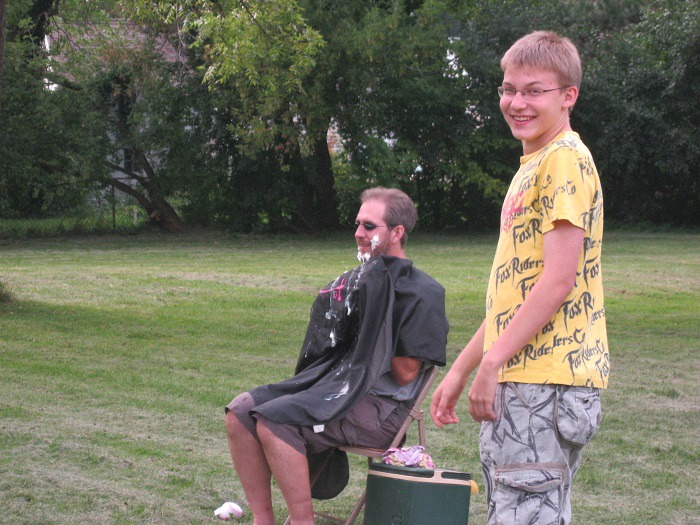 Living with Celiac Disease is hard, especially as a kid. Living with Type 1 Diabetes AND Celiac Disease is even harder. Outside of genetics, people with these two diseases have a lot in common. Neither person did anything to "cause" their disease. Each has to pay attention to what they eat. Both have difficulty in social situations, which can increase feelings of depression. Left untreated, those with each disease can have serious long lasting complications. Even death.
I really didn't know much about Type 1 Diabetes until we had a foreign exchange student. That's Daniel, above. I think he's smiling so widely because my husband is covered in shaving cream. My feeling is that Daniel single-handedly covered him in it. I wish I could say all of my pictures of Daniel have wide smiles. Living with these two diseases took its toll on him. We received quite a crash course in the disease. While here, Daniel landed in the hospital with ketoacidosis. I learned that these two diseases have quite a bit in common.
Patients diagnosed with both diseases under the age of 2o most commonly are diagnosed with Type 1 Diabetes first. Typically, an additional Celiac Disease diagnosis occurs within four years. Living with Type 1 Diabetes involves constant blood sugar monitoring and daily injections. (That being said, recent Swedish research revealed "a two- to threefold risk increase for type 1 diabetes in individuals with a PRIOR celiac disease diagnosis.") Some of the symptoms of these two diseases can overlap, so it can be hard to pinpoint one prior to the other. Living with either disease should encourage us to know more about the other.
Recognizable symptoms of Type 1 Diabetes include: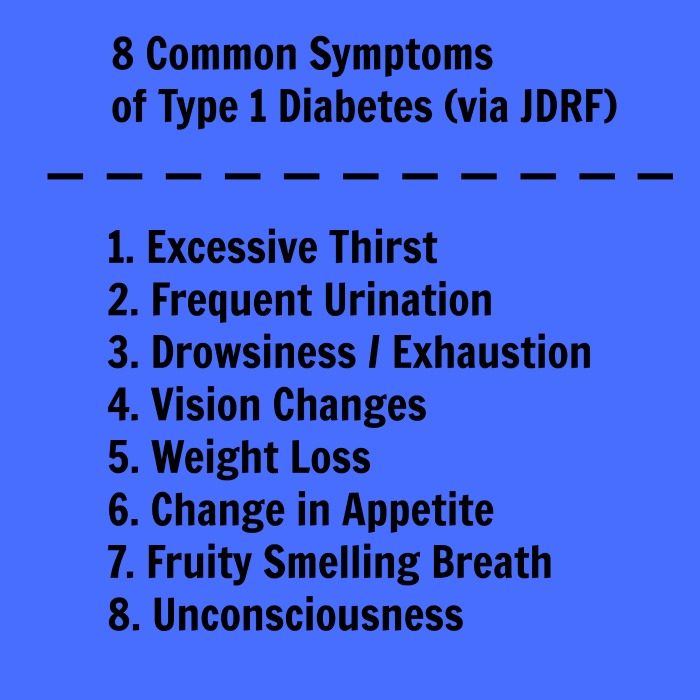 Having Type 1 Diabetes and Celiac Disease poses interesting challenges. So much of monitoring Type 1 Diabetes is keeping blood glucose levels. Eating whole grains greatly helps with this. Of course, those on a gluten-free diet often consume fewer whole grains. Gluten-free foods are highly processed and are higher in carbohydrates. As children with these diseases get older, they are sometimes tempted to "cheat." In a online Juvenile Diabetes Support Group I'm connected to, comments often include children who don't take testing supplies or insulin with them. We see that same teenage "rebellion" in in the Celiac Disease community sometimes. The Dr. Schar Institute research indicates that 11% of teens knowingly ate wheat-based foods due to awkward social situations.
However, for a child with Celiac Disease and Type 1 Diabetes to knowingly (and continually) ingest gluten is a dangerous thing. The damage gluten causes to the intestine affects the absorption of carbohydrates and insulin. This can lead to wildly varying blood glucose levels. It is these wildly varying glucose levels that so often lead to a Celiac Disease diagnosis. Below is a story to illustrate how untreated Celiac Disease affects the diabetic body. (This is a story of a young child, pre-diagnosis. Names are removed to protect anonymity.)
How Gluten Affects the Blood Glucose of a Child with Type 1 Diabetes
"Before her Celiac diagnosis our daughter would have wild rises or falls in her Blood Glucose. The worst instance was when we did a finger poke test and her Blood Glucose. It was over 300. We gave her some insulin and sent her out to jump on the trampoline to try to bring that number down. About 30 minutes later, we tested her again – 34. It was crazy! It made it completely impossible to control her diabetes. Because her intestines were damaged by Celiac, she wasn't absorbing the carbs we gave her at meal time like she should. But her body sometimes accepted the insulin fine. So we would have terrible lows and then have ridiculous highs when the food finally reached a healthy part of her intestines and was able to absorb the nutrients. Then we would give more insulin to treat the high and the cycle would continue. It was the wild fluctuations that led her endocrinologist to have her tested for Celiac. 
A Blood Glucose under 40 is at risk of coma. With sugar dropping that fast, we could have lost her. Thank God she was still awake and able to swallow. Many people cannot swallow or function, really, at that low of a Blood Glucose. We have gel we can rub into her gums in that case or we can give her the big shot – Glucagon. But she was able to drink some juice and we got her sugar back up to a healthy level. Since removing gluten from her diet, we have not had near as many lows and certainly not as severe.
Type 1 Diabetes' Impact on My Celiac Disease Advocacy
Our time with Daniel and learning about Type 1 Diabetes has had a profound impact on me. I stay connected with the local Juvenile Diabetes Research Foundation (JDRF) group to provide support for those newly diagnosed with Celiac Disease. I keep myself abreast of Type 1 Diabetes research, hoping with these parents for a cure. Watching the struggle these parents go through, I was so thankful that we didn't see wild blood glucose levels while Daniel was here.
Sadly, Daniel died a few weeks ago. He returned to Finland 5 years ago, but he was still on our hearts. While we cannot say for certain at this moment the exact cause of his death, I know the toll this disease took on him emotionally. I can't go to Finland for the funeral. I can't go hug his family. However, I can use my platform as a blogger to honor his memory by bringing awareness to the disease he struggled with daily. After all, the Celiac Disease community knows what it is to live with an "invisible" disease. We have to look out for one another.
For more information on Type 1 Diabetes, visit JDRF.