Michigan Gluten Free Beers and Brews
As an Amazon Associate and member of other affiliate programs, I earn from qualifying purchases.
Beer. When switching to a gluten free diet, this may be one of the hardest items to replicate. This questions seems to appear more and more frequently. Since many nickname Michigan as the "Beer State," I decided to seek out Michigan gluten free beers, made by brewers using 100% gluten free grains. (Please note, that none of the first three brewers are 100% gluten free dedicated facilities.) Here's what I came up with!
Arclight Brewing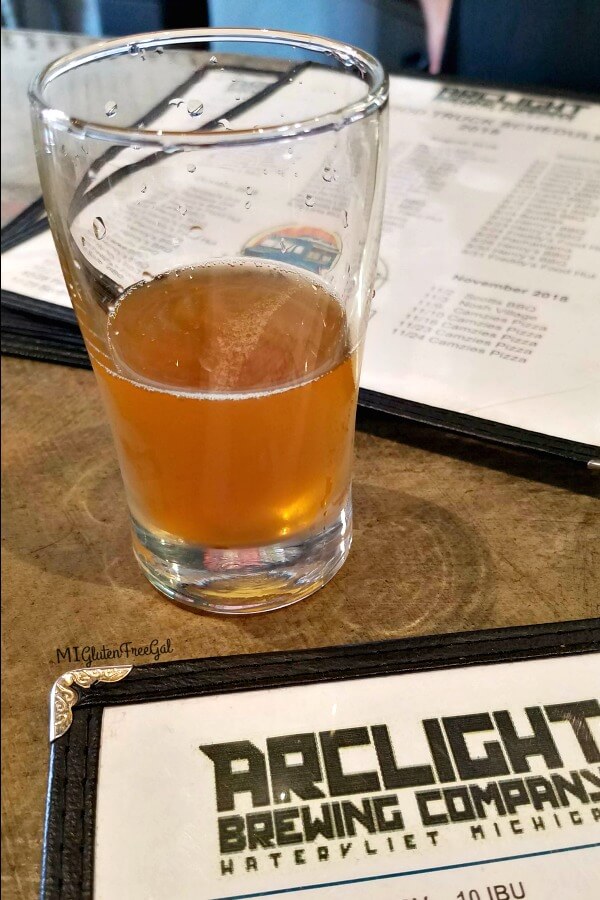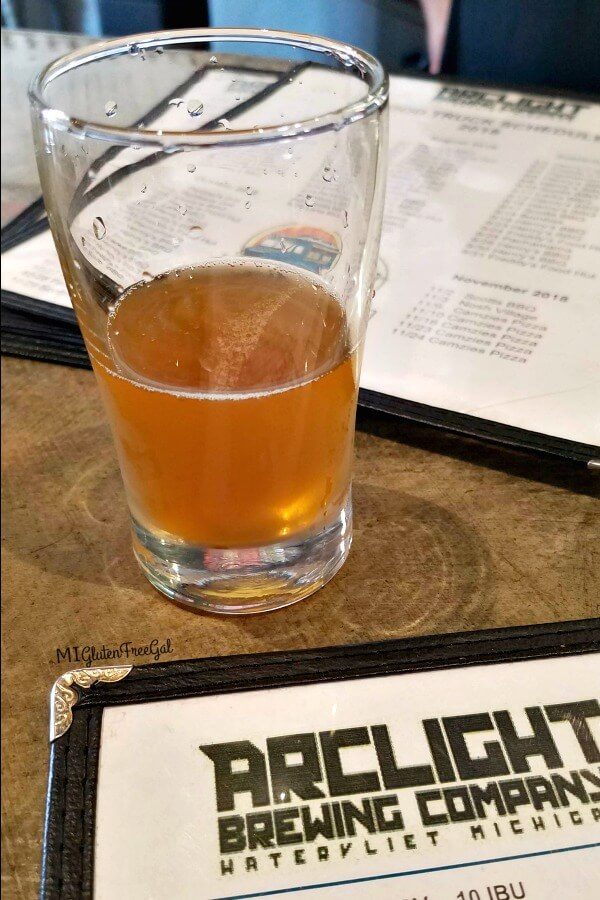 Of all the Michigan gluten free beers on this list, the Silly Maniac Gluten Free APA by Arclight Brewing was my favorite. While not a beer fan, I preferred its less hoppy taste. However, what truly won me over is Arclight's attention to detail.
We visited Arclight while on vacation for our anniversary. The owners invited me into the brewing room, to see for myself the care they take in cleaning the vats. They are completely deconstructed, down to the gaskets. Staff even climb into the vat, cleaning every nook and cranny. Next, they commence a thorough chemical wash, which includes two caustic cleaning cycles, a double with an acid wash, and finally another sanitation cycle. This whole process, which takes over 6 hours, goes through their transfer tubes and fermenter as well. Staff wash the exteriors of all machines involved as well.
The wort, which is the mixture of grains and water, tests to under 10 ppm. They utilize millet and buckwheat, and they add Belgian candy sugar for the fermentation process. f you find yourself on Michigan's west side, I highly suggest stopping in. They also have ciders on tap, if you're not a huge beer fan. This beer is a new venture for them. Depending on demand, it may or may not be available year round.
Jolly Pumpkin Belipago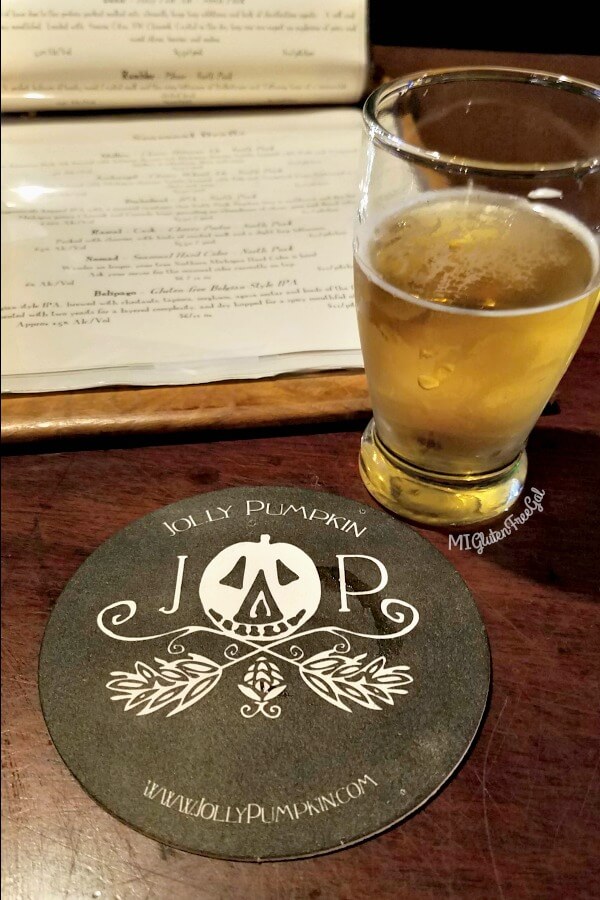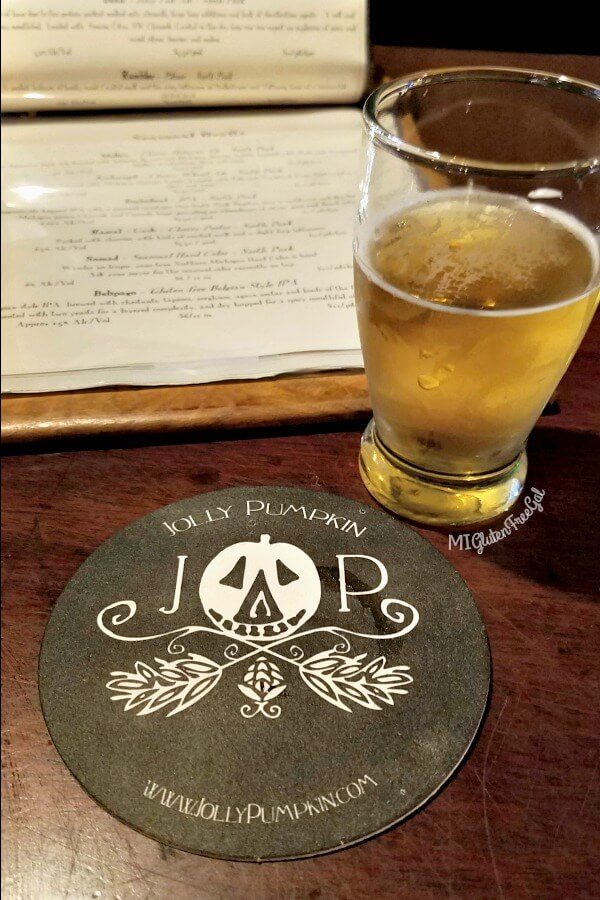 The gluten free Belipago at Jolly Pumpkin may be the most well known of all the Michigan gluten free beers. Brewers utilize sorghum and tapioca to make this beer. It received a gold medal at the GABF in a regular beer (Experimental Beer) category a few years back. Patrons should be able to find this at all Jolly Pumpkin locations, with the exception of Royal Oak.
I asked Ron, one of the Jolly Pumpkin brewers, how they clean their tanks. As evidenced above, brewery clean is different from kitchen clean. He explained that it's much more thorough as they can't have off flavors from random yeast and or other microbes. Therefore, what leaves here is created in a fairly gluten free environment. At least as much as can be in a non gluten free facility.
Our Brewing (seasonal)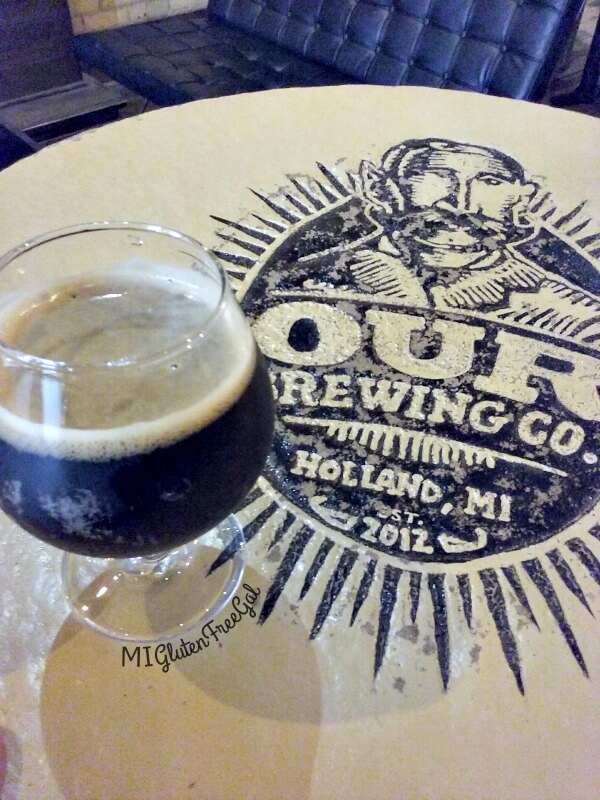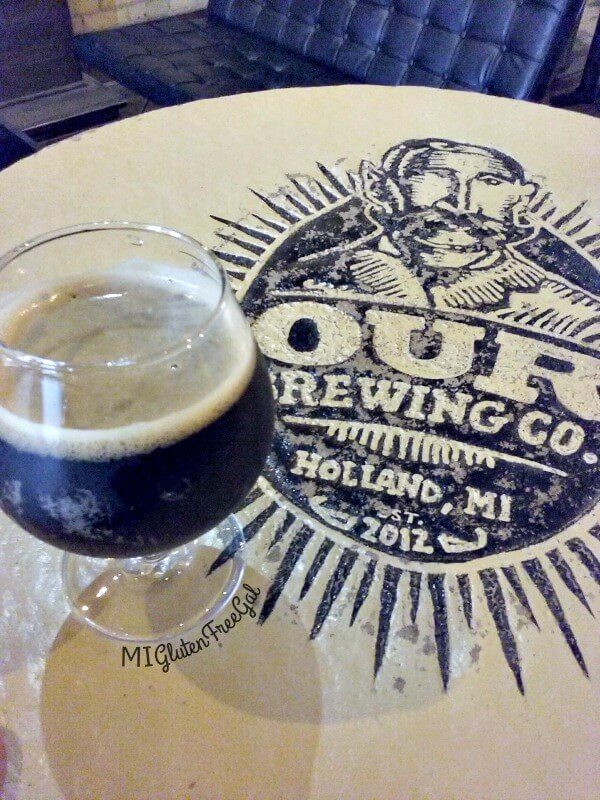 Our Brewing Company in Holland recently started offering gluten free options. Momma Needs a Beer stated Our Brewing Company offers two Michigan gluten free beers. Currently their Facebook page shows their gluten free IPA is on tap. In the past, they offered St. Celiac's GF Trippel. Therefore, Our Brewing Company offers the only non- pale ale I know of in Michigan. However, both of these brews are seasonal. Therefore, make sure to call before heading over. In addition, they have ciders available all the time.
I sent a message to the brewery asking about their production methods. I will update this post when I hear back from them.
Unity Vibration Kombucha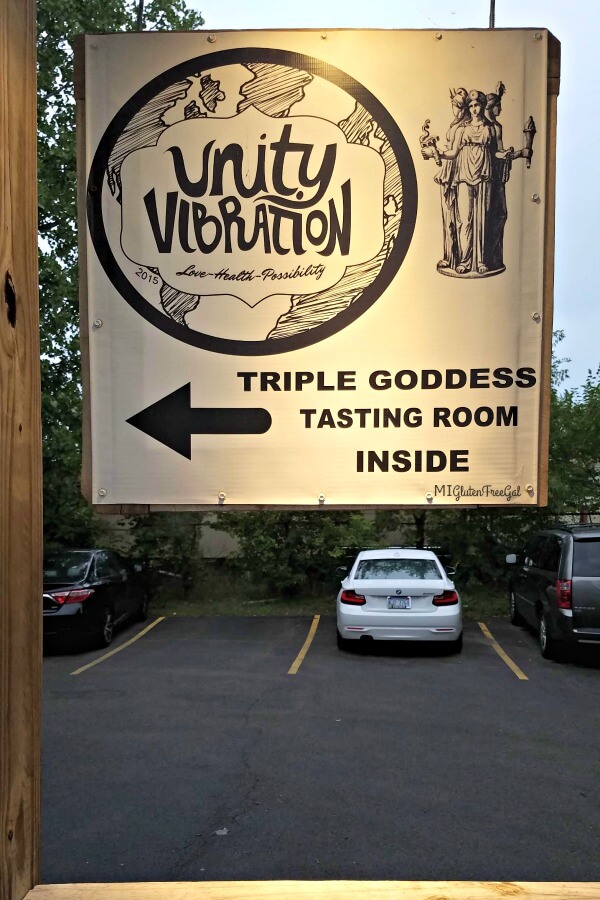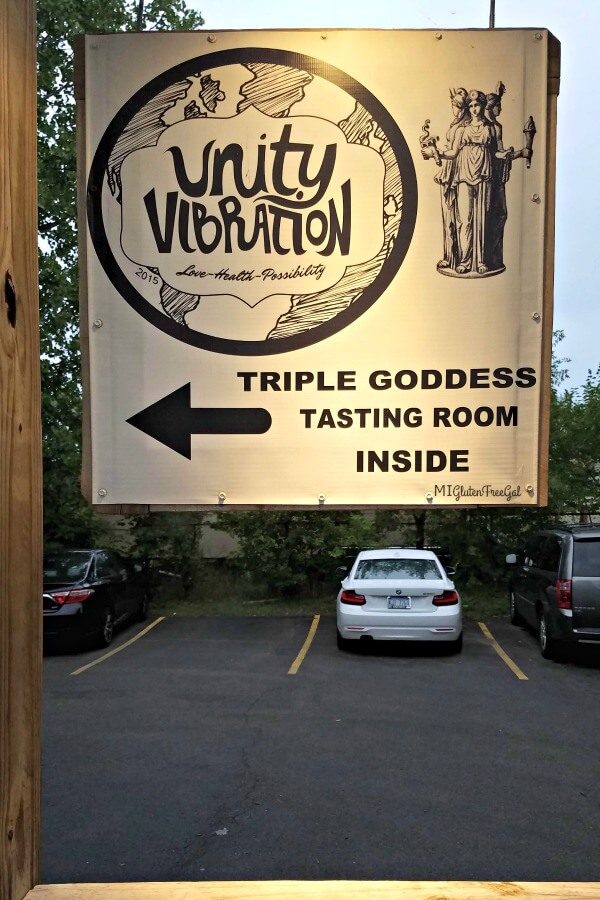 If you are looking for a flight of truly 100% Michigan gluten free beers, Unity Vibration is the place for you. However, these are not traditional beers. Unity Vibration beers contain no grains. They are hopped, alcoholic versions of kombucha. Definitely unique, which my husband really enjoyed. I don't like beer, so I tried their non-alcoholic Blackberry Grape and Root Beer kombuchas. My husband felt that those who like IPA's would enjoy their KPA.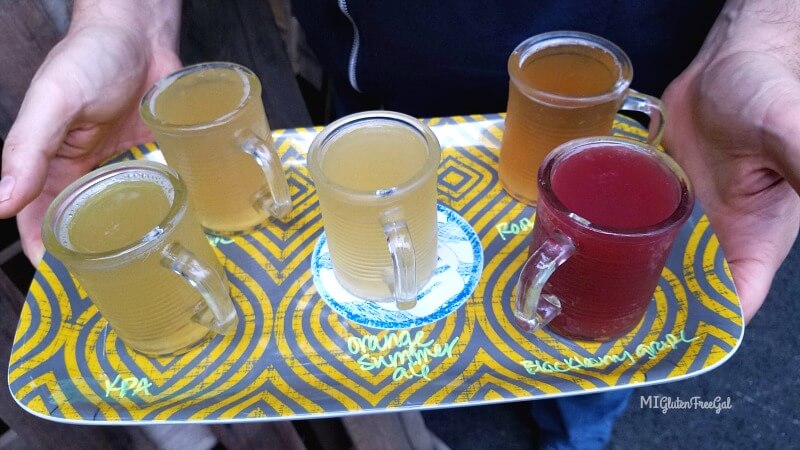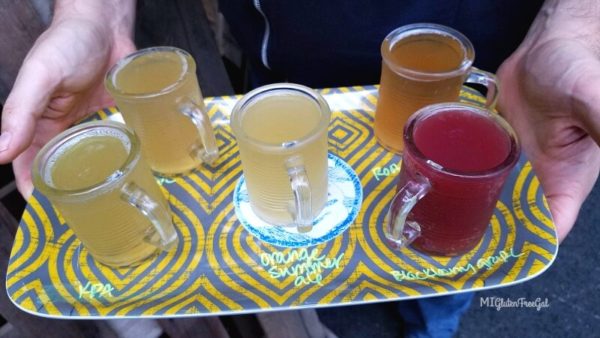 Their tasting room may be a tad hard to find at first. We drove past it at first and had to turn around. It's located in the back of their warehouse. The small tasting room feels cozy and has an eclectic feel. My only suggestion for improvement would be better lighting. The staff freely engage in conversation, and bands sometimes play there on the weekend. Definitely a unique experience. You can find Unity Vibration kombucha beers in bottles in stores throughout Michigan.
Alternatives to Michigan Gluten Free Beers
JK's Farmhouse Ciders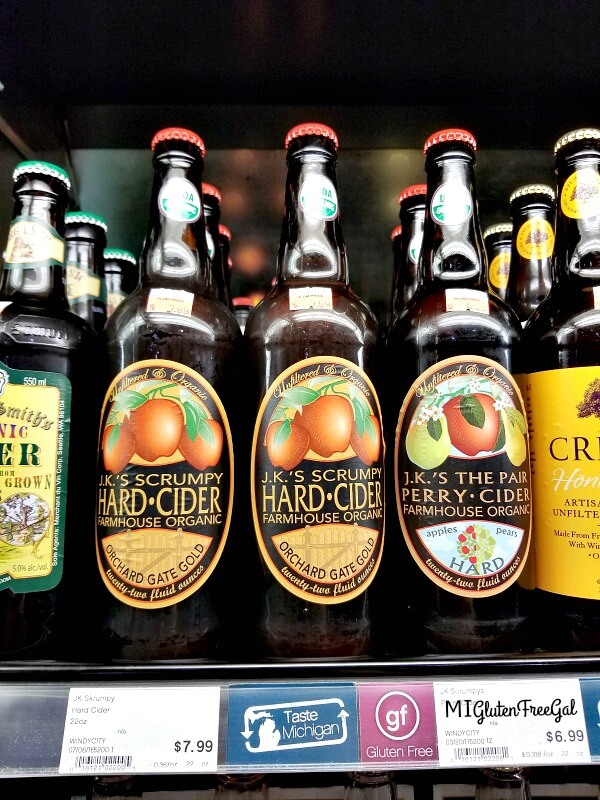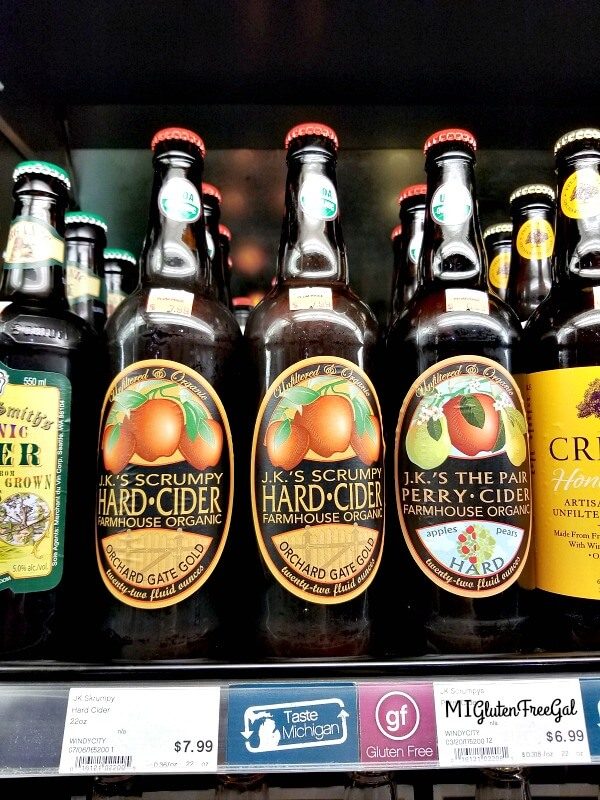 Confession. I am a JK's Farmhouse Ciders FANATIC. Seriously, when people start talking about hard cider in Michigan (or anywhere, really) I ask if they've tried JK's. People have honestly asked if I work for them. (To be clear, I do not, and am not sponsored by them in any way. Yet, lol.) Each time I start talking about JK's, my husband just chuckles and smiles. What can I say? I'm hooked!
Why? Because it's smooth and delicious and organic and charming and simply WONDERFUL! Now, if you like a dry cider, JK's is not for you. But if you like a pleasant drink that goes down smooth and tastes truly refreshing, you need to try this! Jim Koan is the cultivator of JK's Farmhouse. He's practically the real life version of Johnny Appleseed. The research done on their organic farm is just phenomenal. JK's Farmhouse Ciders are pressed and fermented at Almar Orchards. Find them, and other Michigan cideries, on this Michigan Cider Map.
Bløm Meadworks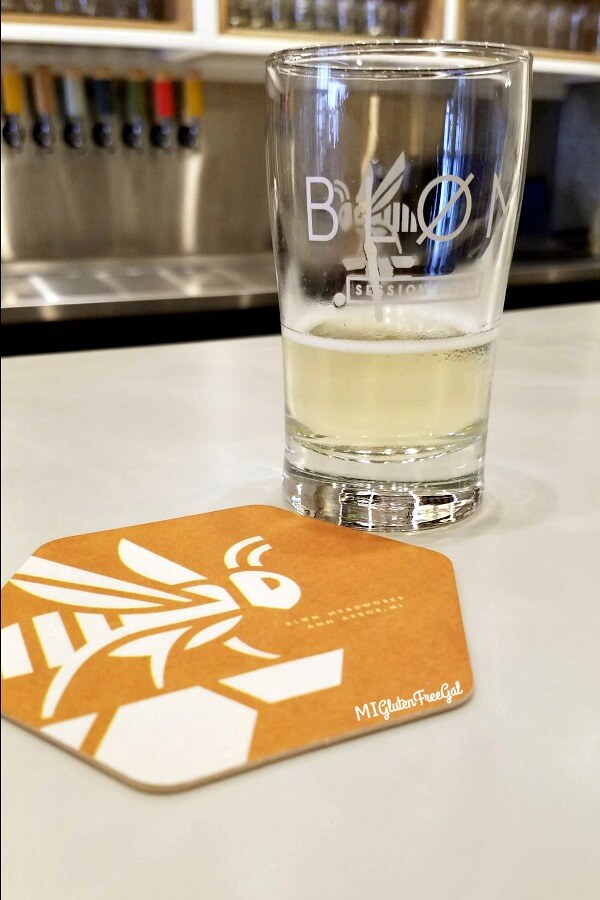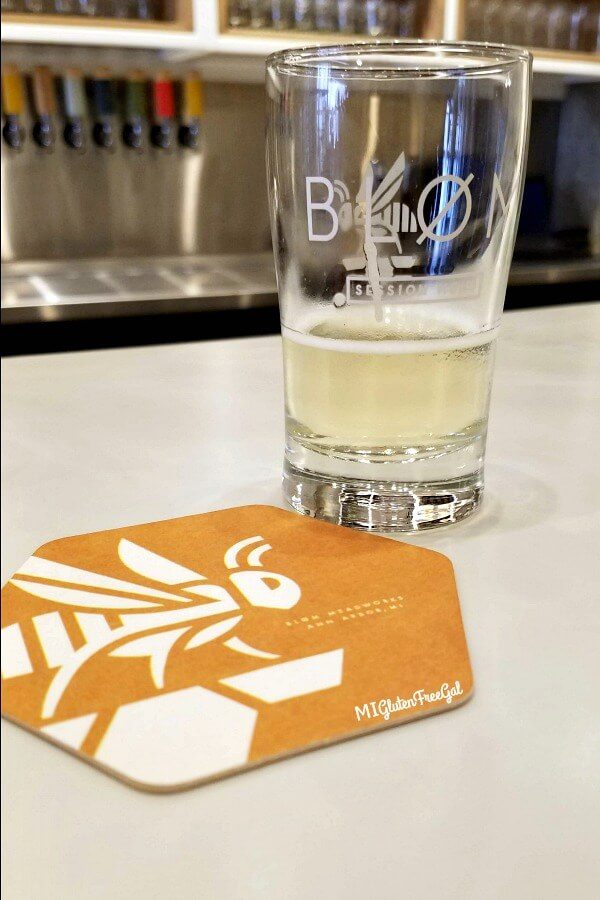 Here in the Great Lakes state, we have Michigan gluten free beers, ciders, wines and MEAD. What's that you say? What's mead? Well, mead "brewers" create it from fermented honey. It's not smooth like a cider, and to me tastes "thick," while not really being so. However the mead at Bløm Meadworks is different. While made with honey, water and yeast, they produce it more like a dry cider. Therefore, it tastes slightly less "thick." They explain it here on their website better than I do.
Therefore, I suggest taking a trip to Bløm Meadworks for yourself. The staff surely can explain better how they make their 100% gluten free beverages. Heck, they even have a fermenter named Maggie, so they have to be super awesome, right? In addition, all of their in house snacks are also gluten free! More of a beer fan? They offer a hopped mead that may be more of your preference. Personally, I'm a huge fan of their switchel soda. (They're located in Ann Arbor, not far from Zingerman's Roadhouse amazing gluten free fried chicken!)
Gluten Free Beers Around the United States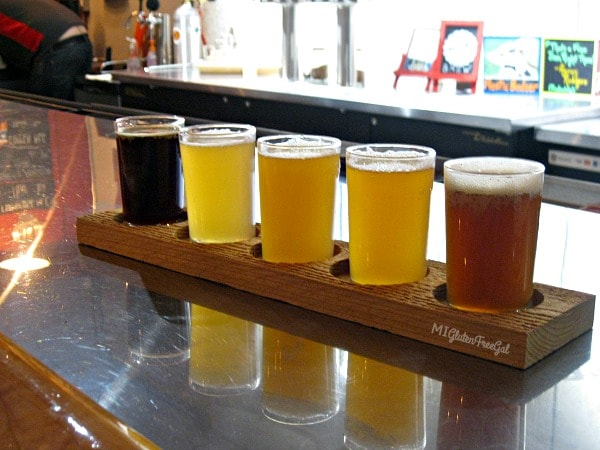 So there you have it. There exist other Michigan brewers who have crafted beers made from gluten free grains in the past. Tilted Axis, Eternity Brewing, Witch's Hat and Liberty Brewing used to have them on their menu. However, a lack of interest took it off their menus. They may return someday, so keep your eyes peeled!
There are lots of great craft beers from 100% gluten free brewers across the country. Places like Alt Brew excel at not just making gluten free beer, but good beer. Find them and other in this round up of 10 Dedicated Gluten Free Breweries. Hopefully someday, someone in Michigan will open up a 100% dedicated gluten free brewery with a gluten free menu. Now THAT's a place I think everyone would love!
Know of any other Michigan gluten free beers that I missed? Let me know in the comments below. Again, they must be Michigan gluten free beers made from 100% gluten free grains! (No gluten-removed beers!)