Homegrown Minestrone Soup
As an Amazon Associate and member of other affiliate programs, I earn from qualifying purchases.
This recipe for minestrone soup provides a unique twist on the original. Instead of adding beans to the soup, I instead added bean based pasta. This soup will leave you feeling satisfied for hours. Plus, it's loaded with vegetables you can easily grow right in your back yard.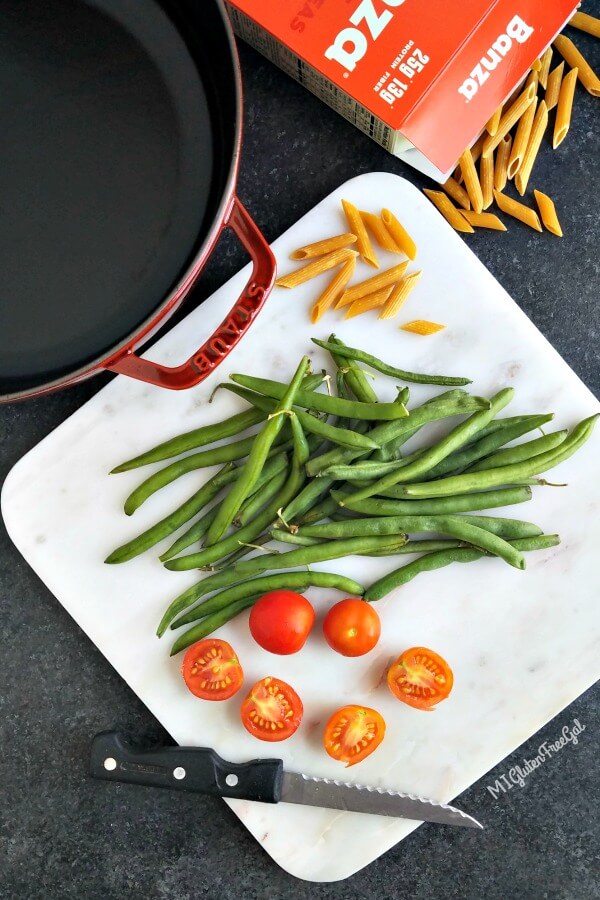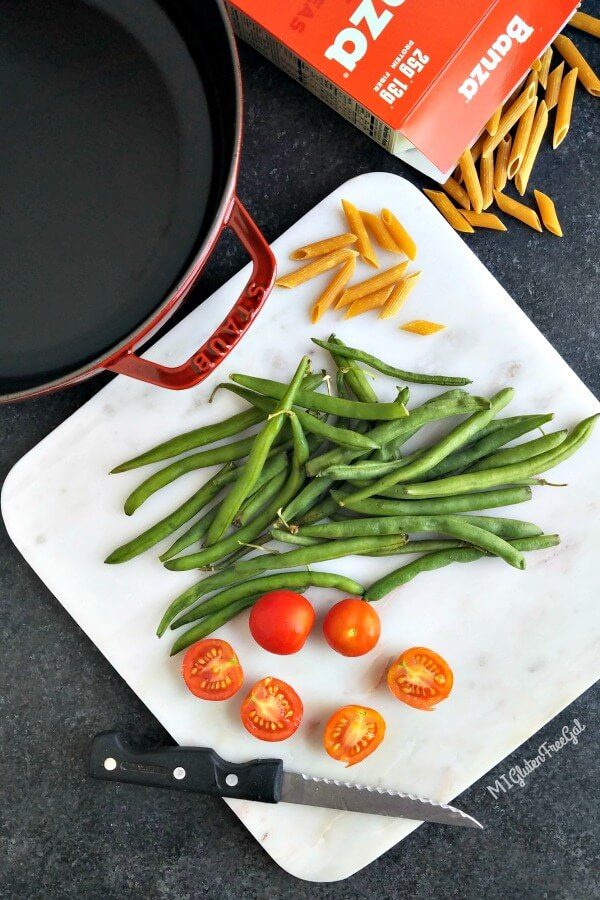 Minestrone Soup for the Soul
My husband first made this soup for me in 2014. I had one of "those" headaches. You know them. So bad you refuse to get out of bed. The pain leaving you with a sick feeling in your stomach. You vacillate between wanting food and not even wanting to smell a thing. Nobody talk.
Therefore, my husband chose to make me soup. Not just any soup, but minestrone soup with the tomatoes, zucchini and green beans fresh from our garden. He even agreed to use the Banza pasta I was recently sent to try. It was a balm for all that ailed me. It opened my clogged sinus passages and quelled the icky feeling in my stomach, too.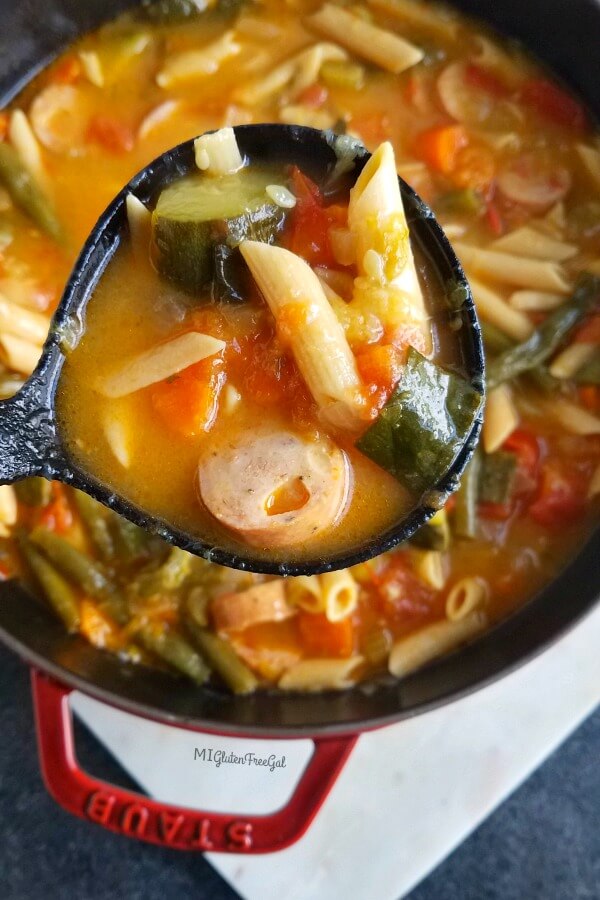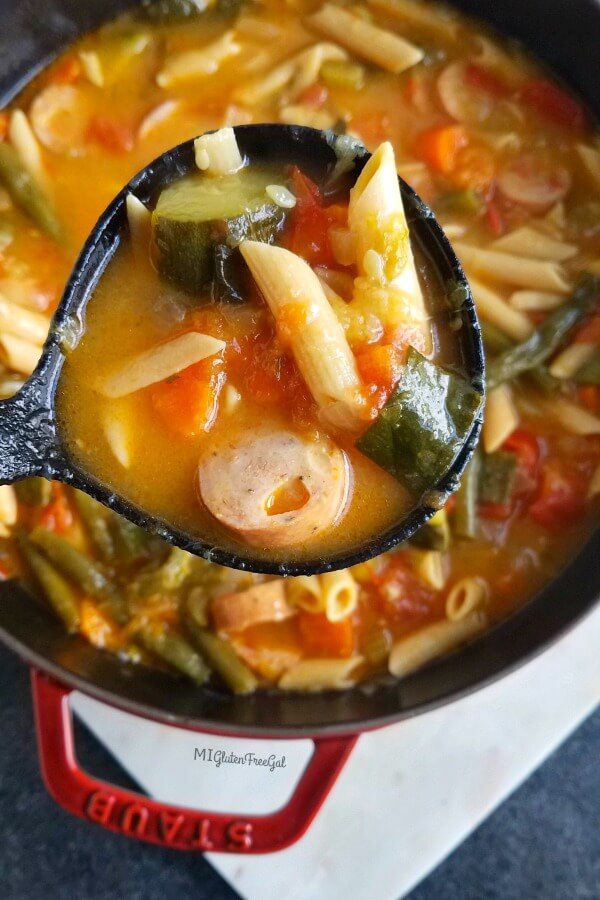 Truly Michigan Made
Beyond the vegetables from my garden, other ingredients got their start in Michigan. As mentioned, I used Banza chickpea pasta in this minestrone soup. As I previously wrote, they launched their company in Detroit. Banza pasta contains 25 grams of protein & 13 grams of fiber per serving. It also contains almost half the carbs as regular pasta.
In addition, I used Full Flavor Foods chicken stock mix for the soup base. Each packet makes 4 cups of stock. Simply add water! I love that it takes up less space in my cupboard. If their name sounds familiar, I used their cheese sauce for my soft pretzels bites, and their Alfredo sauce mix in my Chicken Alfredo Spaghetti Squash recipe.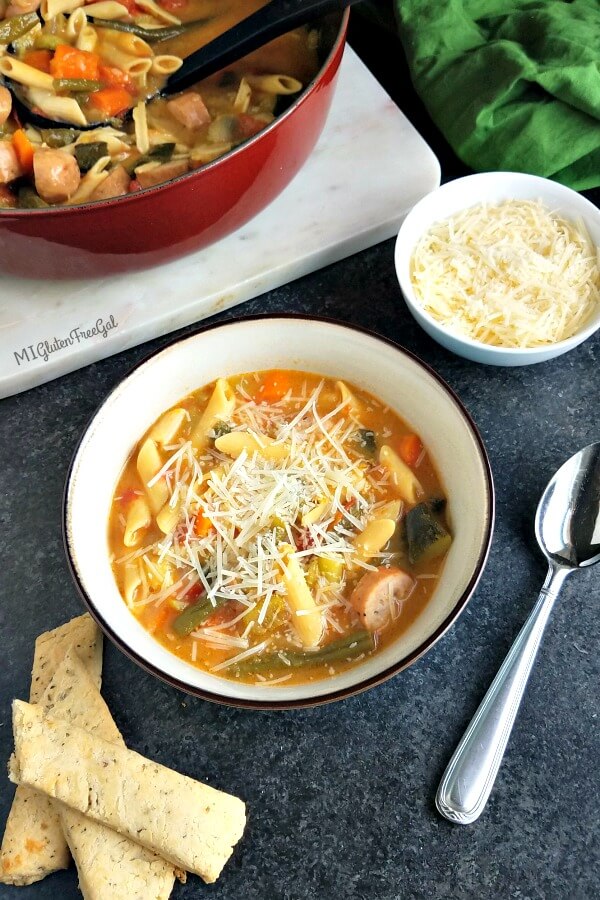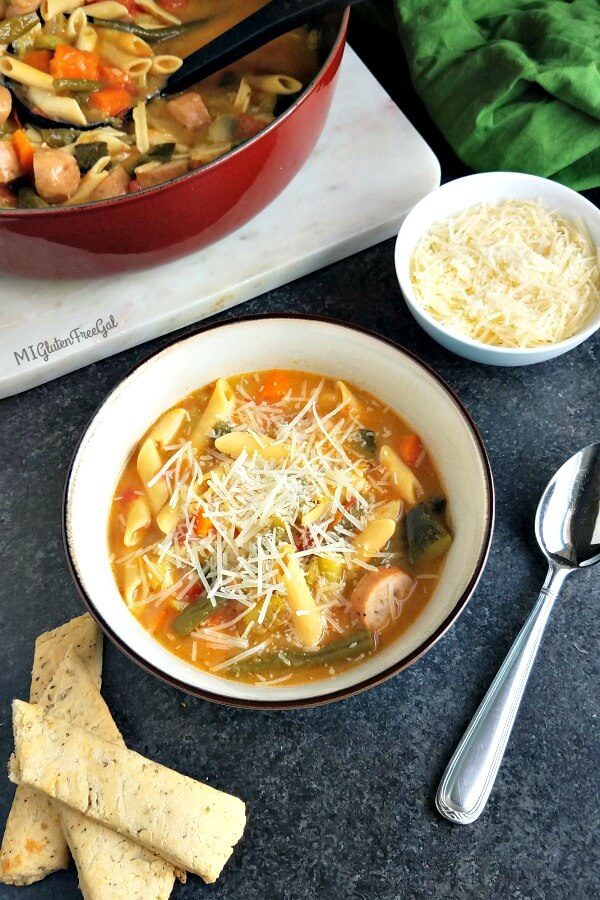 A Slight Recipe Alteration
My husband originally discovered this Classic Minestrone recipe on AllRecipes.com. I love this site, because you can plug in ingredients you have in the house, and it searches for dishes you can make. My other favorite soup recipe, Golden Potato Soup, is on this site as well. (Simply sub rice flour for the regular flour in that recipe.)
However, we are avid "tweakers" in this house. Since we used the chickpea pasta, I left the cannellini beans out of this minestrone soup. To increase the protein, I added chicken sausage to the pot. Of course, you can leave it out if you're following a vegetarian diet. Also, I used two zucchinis. Because as anyone with a vegetable garden knows, you ALWAYS have more zucchini you can add.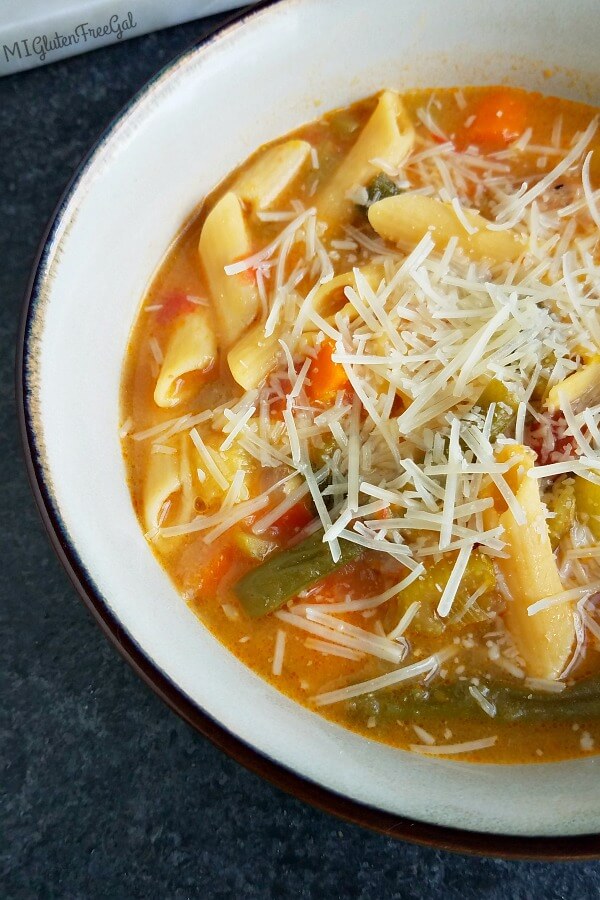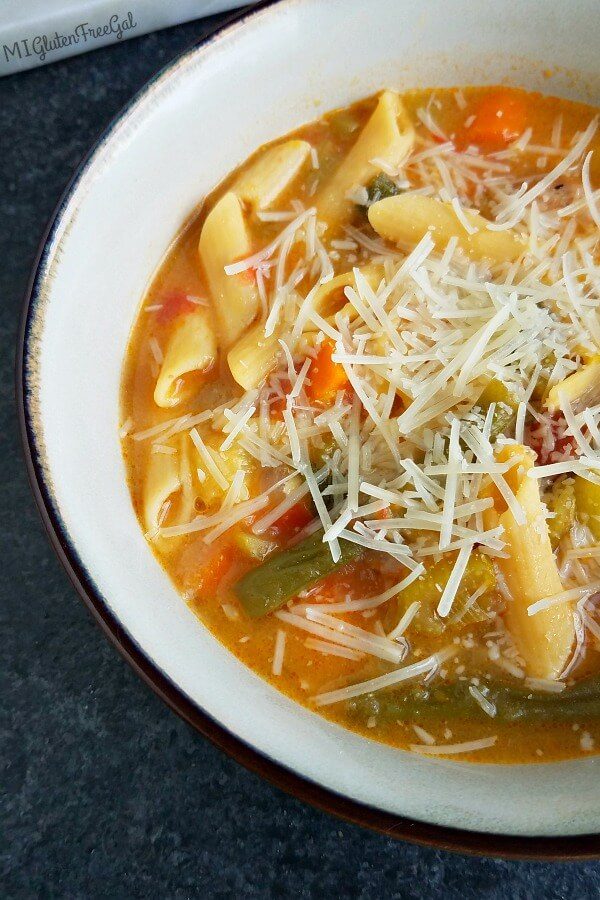 What Should I Serve with Minestrone Soup?
This gluten free minestrone soup is pretty hearty on its own. We topped ours with a bit of Parmesan cheese. Wanting some fresh made bread? These Gluten Free Garlic Parmesan Dinner Rolls from My Gluten-Free Kitchen would be a fantastic addition.
Looking for something more traditional? My gluten free crescent rolls would be fantastic with this! Looking for something grain free and yeast free? Try these Garlic and Onion Shamrock Rolls made with Chebe. And keep your spoon, for there's pudding! Finish your meal with this creamy Tres Leche Rice Pudding. Comfort food at its finest!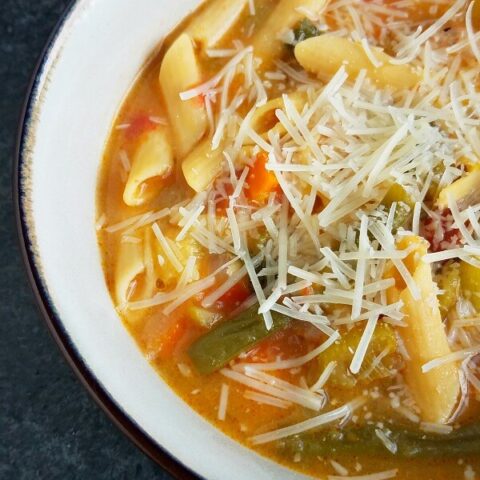 Gluten Free Minestrone Soup
Ingredients
3 tbsp olive oil
1 onion, diced
2 carrots, peeled and chopped
2 zucchini, cubed
4 oz fresh green beans, stems removed
2 stalks of celery, chopped
1-1/5 quarts vegetable or chicken stock (I used Full Flavor Foods chicken stock + water)
3/4 lb (12 oz) fresh tomatoes, chopped
15 oz can cannellini beans (optional)
6 oz chicken sausage, cut into 1 inch sections
4 oz gluten free pasta (I used Banza)
salt and pepper to taste
Instructions
Heat 3 tbsp oil in a 4 qt pot. (I highly recommend the Staub Universal pot. I received it as a gift years ago, and it is a workhorse in my kitchen!)
Add chopped onion, carrots, zucchini, green beans and celery and saute, with lid on, for 15 minutes. Stir occasionally to prevent sticking.
Next, add stock, tomatoes, and beans if using. Bring to a boil and simmer for 30 minutes.
Finally, add pasta and sausage and cook, uncovered for 10 minutes. If soup seems too thick for your preference, add additional water.
Add salt and pepper to taste and enjoy!
What's your favorite soup recipe? Do you love Banza pasta? What's your favorite way to use it? I find this pasta tends to fall apart when reheated. If using this recipe for prepping meals later in the week, I would use Barilla instead.
**Banza provided the ingredients for this post. I was not otherwise paid or compensated for my time. This post does contain affiliate links. Purchases made through those links help support this blog with no extra expense to you. Thank you for your continued support!**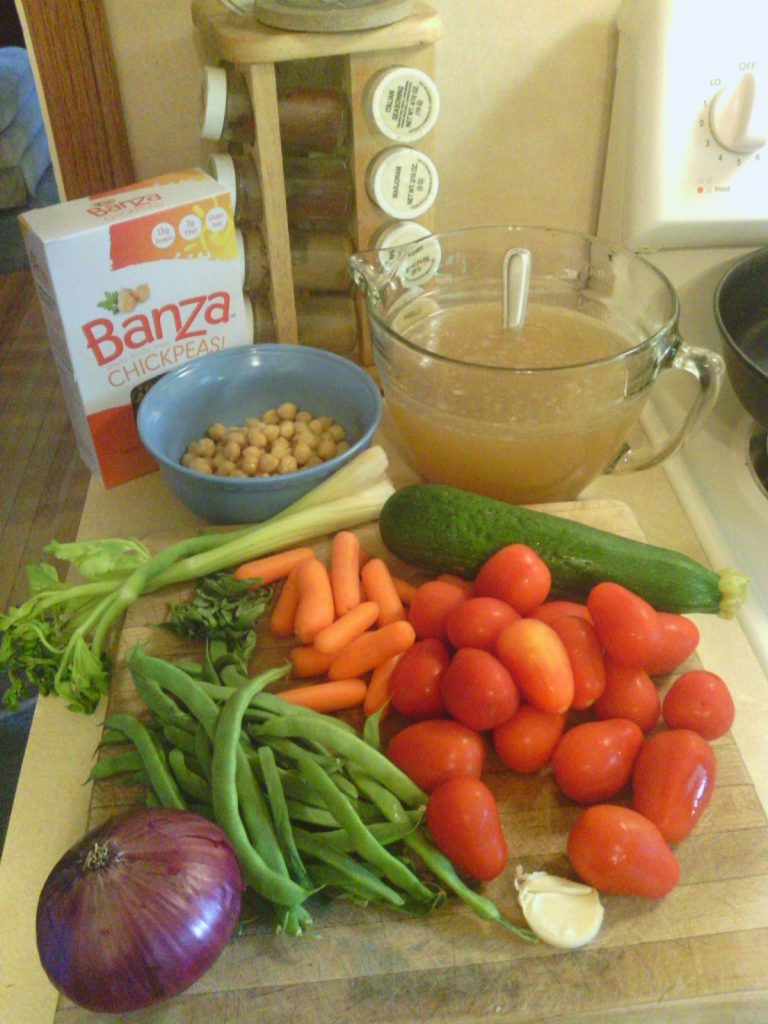 Original Photo from 2014. Thank you, honey. 🙂