Gluten-Free, Pork-Free Grits and Bits Waffles
As an Amazon Associate and member of other affiliate programs, I earn from qualifying purchases.
Do you love waffles? Do you prefer them plain, or loaded with berries or chocolate chips? I suggest these bacon and cheese stuffed Bits and Grits Waffles for your next Waffled Wednessay meal, or Saturday brunch.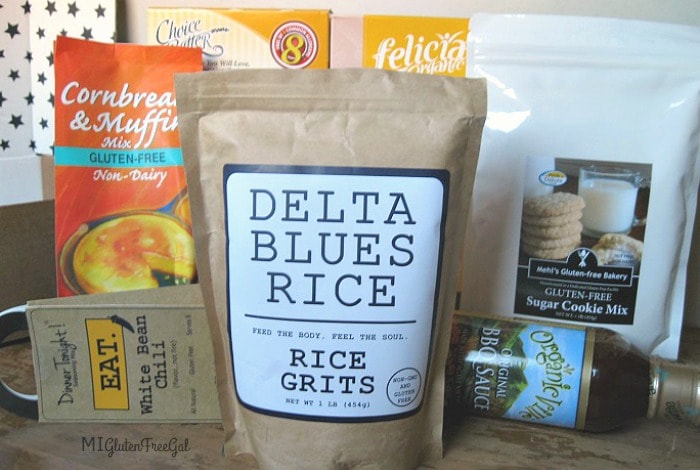 Dinner Inspiration
Have you ever been in a culinary rut? You know, the feeling where you look in the fridge and still have no idea what to make for dinner? Maybe you're like me as of late and want to throw your hands in the air and say "screw it, we're going out for dinner." Of course, that gets a bit tricky when you have Celiac Disease and your husband is intolerant to pork and shellfish.
That's why I'm thankful for the American Gluten-Free box that shows up on my front porch every month. It sends me new ingredients that get me creative juices flowing. This month's box had me thinking of one dish I was dying to recreate – Zingerman's Roadhouse's Grits and Bits waffles. (American Gluten Free is no longer in business.)
Zingerman's Roadhouse Specialty
Did you read my restaurant review of Zingerman's Roadhouse? This restaurant in Ann Arbor makes the most amazing gluten-free Grits and Bits waffles. They're crunchy on the outside and creamy on the inside. Unfortunately, my husband wasn't able to try them, due to his pork intolerance.
Therefore, when I opened my AGF box and saw these Delta Blues Rice Grits staring back at me, I knew that was the first thing I wanted to make! After a quick trip to the store to buy some Al Fresco chicken bacon, I got to work on these amazing waffles. Please note that this is not a "quick" recipe. One must cook the grits first, and let them cool. In addition, the batter must refrigerate for an hour. Plan ahead!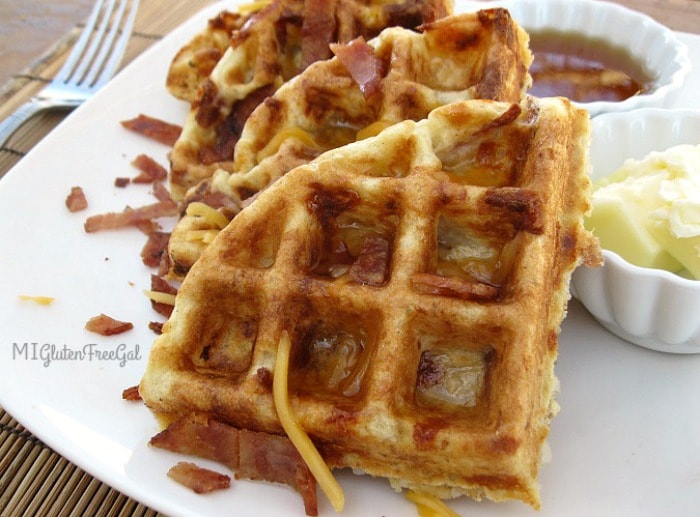 A Few Simple Substitutions
I'm so thankful that Zingerman's placed the recipe for these Grits and Bits Waffles on their website. I only made a few changes, such as using Bob's Red Mill Gluten-Free 1-to-1 flour, so it would be gluten-free. We didn't have the fancy white cheddar that it called for. Therefore, I simply substituted shredded cheddar cheese from my local grocery store!
I would make one "preparation" change to the recipe. I cooked the grits for 30 minutes as directed in the recipe. They were definitely dry. However, I noticed on the back of the Delta Blues Rice Grits bag that their rice grits should be cooked for only 2o minutes. I'm sharing the Grits and Bits waffles recipe below, with a few substitutions, with permission from Zingerman's Roadhouse. You must try this recipe. My husband says they're the best waffles he's EVER eaten!
What's your favorite waffle recipe? I highly recommend using your waffle maker for more than just breafkast waffles. Try my waffled chicken and waffle sandwich , or corn dog waffles. At Thanksgiving, your waffle maker becomes the perfect technique to use up leftover stuffing!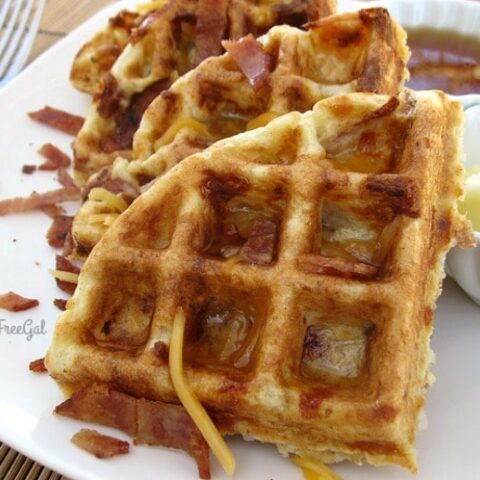 Gluten-Free Grits and Bits Waffles
Ingredients
1 cups Bob's Red Mill Gluten-Free 1 to 1 Baking Flour
1 tablespoon sugar
½ teaspoons baking powder
1 cup water
3 tablespoons unsalted butter
1/2 cup Delta Blues Rice Grits
½ teaspoon coarse sea salt
2 eggs, separated
¾ cups skim milk
6-8 slices Al Fresco chicken bacon, cooked and coarsely chopped
1 cup shredded cheddar cheese
Maple syrup and butter to taste for serving
Instructions
In a mixing bowl, combine the Bob's Red Mill flour, sugar and baking powder. Set aside.
In a saucepot, bring the water and butter to a simmer. Before the water comes to a boil start adding the grits, stirring steadily until incorporated. Add the salt and stir well. Reduce heat to low, cover and continue to simmer for 20 minutes, stirring occasionally. Add more water if needed. (My recipe definitely needed it!)
While the grits are cooking, separate the eggs. Set the yolks aside in a dish, and refrigerate the whites.
When the grits are done, remove them from the heat; transfer to a large mixing bowl and let cool to 110°F. (I used a thermometer to test the temperature. You want it cool enough so the grits don't cook the egg yolks.) Stir the egg yolks into the grits one at a time, mixing well after each addition.
Add the milk and mix well.
Add the flour mixture, mixing until just combined.
Beat the cold egg whites in a mixer or with a hand beater to medium peaks. Gently fold the whites into the batter and mix gently. Chill for at least 1 hour prior to cooking. (Note: the batter can be made the night before and stored in the refrigerator until you're ready to start cooking.)
When you're ready to eat, pour the batter into a preheated and well-oiled Belgian-style waffle iron, and add a generous bit of chopped bacon and shredded cheddar. (We use 1 cup of batter with ¼ cup each of bacon and cheddar.) Close the waffle iron and cook until golden brown. [ I cooked mine approximately 5 minutes.] Remove the waffles from the iron and place on warm plates. Sprinkle more chopped bacon and shredded cheddar over the top of the Grits and Bits waffles. Serve with good butter and real maple syrup.
Repeat until all the batter, chopped bacon and grated cheddar have been used. [ I halved their original recipe. This made 2 full waffles, and an extra half of a waffle.]
**American Gluten Free provided the ingredients for this post. I was not otherwise paid or compensated for my time. This post does contain affiliate links.
Purchases made through those links help support this blog with no extra expense to you. Thank you for your continued support!**