Gluten-Free Fruit Pizza: Fast and Easy!
As an Amazon Associate and member of other affiliate programs, I earn from qualifying purchases.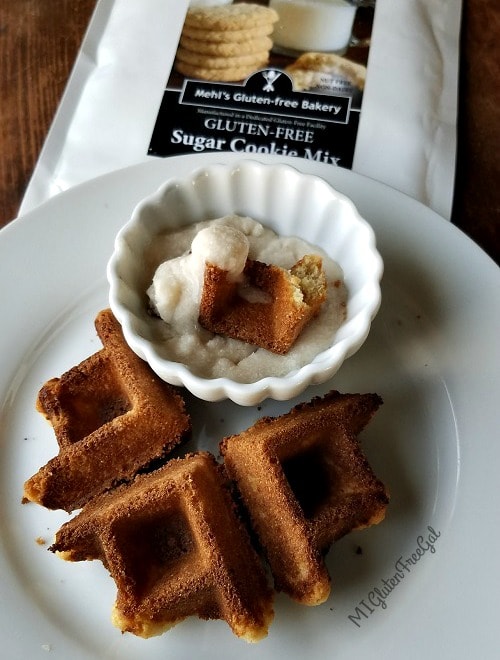 Gluten Free Sugar Cookies: A Base for Creativity
There's some personal background to share before I tell ya about the gluten-free fruit pizzas below. First, I've never been a huge sugar cookie fan. Sure, I'll eat one, but I prefer one loaded with chocolate chunks or my friend Mary's Sea Salt Butterscotch Chip Cookies. Sugar cookies have always just been "okay. When I received a cookie mix in a past subscription box, I tried to think of a more creative way to use it.
Second thing you should know about me, I have a small obsession with my waffle iron. I've always wanted to see if I could make cookies in my waffle iron. From the photo evidence above, I'm glad to report that it can be done! I suggest dipping those waffled sugar cookies in frosting. (You can also cook stuffing in your waffle maker. True story.)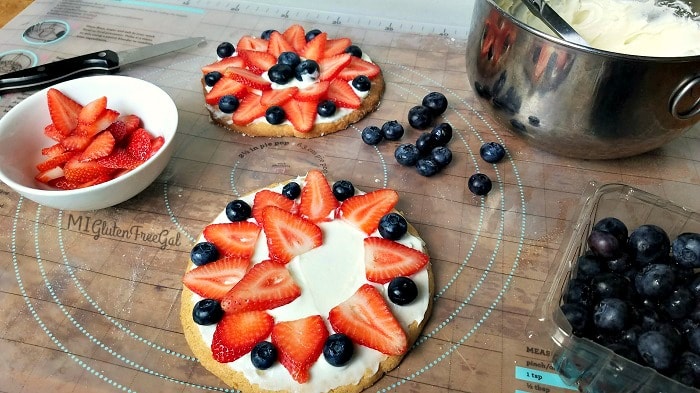 Fruit Pizza: Easier Than You Think
Third, I've never made a fruit pizza in my life. This blog has inspired me to do a bunch of firsts. Like traveling to Denver for the first time, or learning about how to take better pictures, and for sure trying my hand at my first ever blueberry pie. (Did you see that post? I'll admit, those pictures are breathtaking!) This probably sounds silly, but I always thought fruit pizza looked so fancy. For sure it must take a lot of time, right? Wrong. It's so easy that you're going to want to go make one when you finish reading this.
While the Mehl's Gluten Free Bakery Sugar Cookie Mix is what I used for this fruit pizza, you could use any sugar cookie recipe. Heck, you could even use Enjoy Life's Sugar Crisp cookies and make a mini fruit pizza! This sugar cookie mix is very moist, so I actually rolled the bases for my individual fruit pizzas on the actual cookie sheet. I found that baking them on a silicone mat provided the best browning without burning.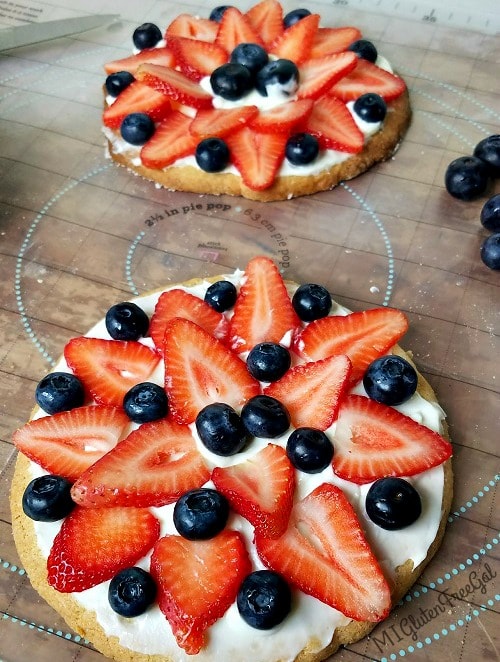 How to Build a Gluten Free Fruit Pizza
So when it comes to actually building a fruit pizza, I have one important tip. Slice your fruit ahead of time. Why? Because otherwise your sweet juicy strawberries will weep right into your frosting and create a mess. So while your cookies are baking, slice those strawberries, lay them flat on paper towel, and let them rest. Next make your frosting. You could probably use any frosting you like, but I like this one from Pillsbury. Why? Because it has only three ingredients and no powdered sugar. (Not a fan of it. Gets everywhere, including my pants and on the floor. However, that is the EXACT reason my dog likes it.)
The last step to building a beautiful gluten-free fruit pizza is to layer those gorgeous berries like above. Truth be told, I had to look up other recipes on Pinterest simply so I could figure out to do this. (Anyone else here a visual learner? Don't give me directions verbally, just give me a map!) Just like that, you have a simple, beautiful fruit pizza for your next barbecue or cookout. These are perfect for Memorial Day or the Fourth of July due to the patriotic colors. You can also add other fruit such as kiwi, oranges or grapes if you like.
Chocolate fan? Try this Fresh Fruit Pie with a raw Brownie Crust from Valerie's Recipes.
Easy Frosting for a Gluten-Free Fruit Pizza
(from Pillsbury)
1 pkg cream cheese, softened
1/3 c white sugar
1/2 tsp vanilla
1 lb strawberries
1 pint blueberries
1. Place all ingredients in a bowl. Using a hand mixer, whip the frosting. Whip it. Whip it good.
2. Spread frosting on cookie base. Next, adhere sliced strawberries and blueberries to frosting.
3. Enjoy!
What's your favorite fruit to place on a fruit pizza? What's a dish you've finally tried for the first time? I'd love to hear your feedback below!