Fresh Forage : Gluten Free & Locally Sourced
As an Amazon Associate and member of other affiliate programs, I earn from qualifying purchases.
Opened in 2018, Fresh Forage offers diners gluten free meals made from locally sourced ingredients. Choose one of their bowl creations, or build your own. They even have gluten free cookies for dessert!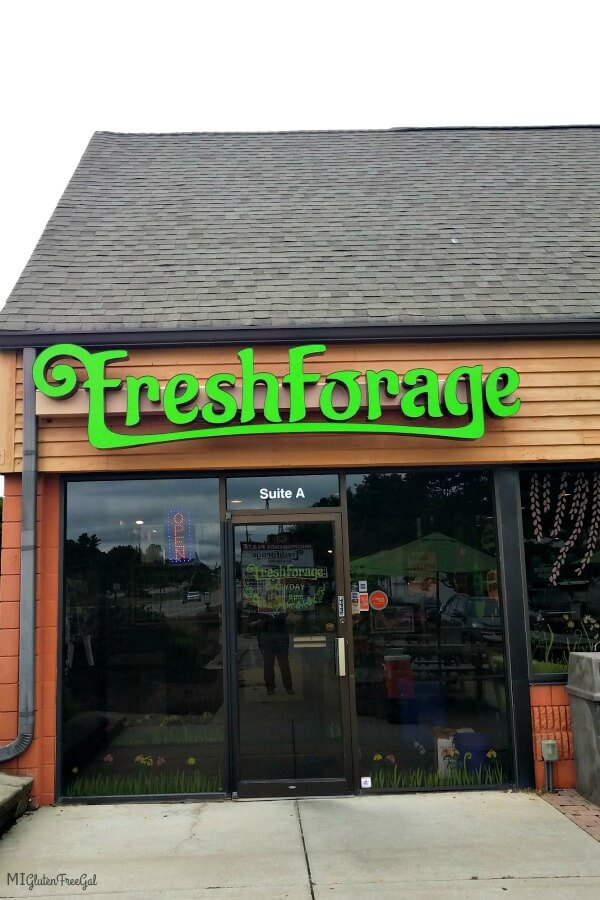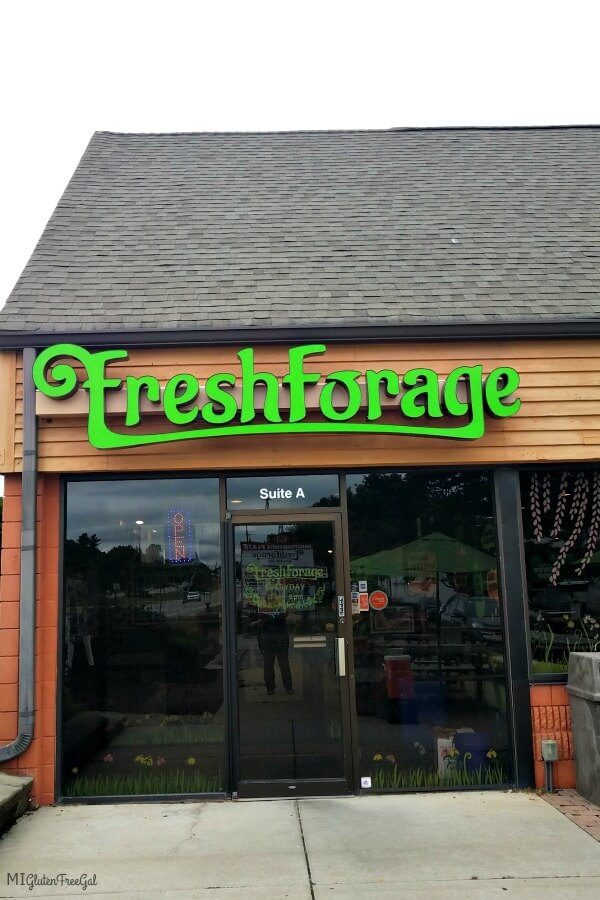 Where is Fresh Forage?
While Fresh Forage lists an Ann Arbor address, they're closest to Scio Township, in a small strip mall. This restaurant is located not too far from I-94, off of exit 169. For those driving from inside Ann Arbor, it's located 2.5 miles west of Zingerman's Roadhouse, on Jackson Rd. They offer ample parking.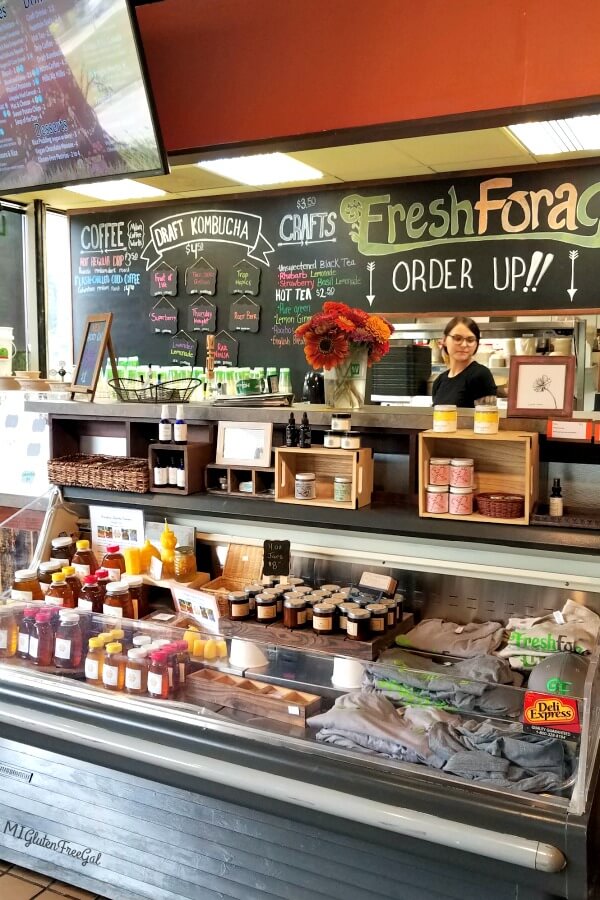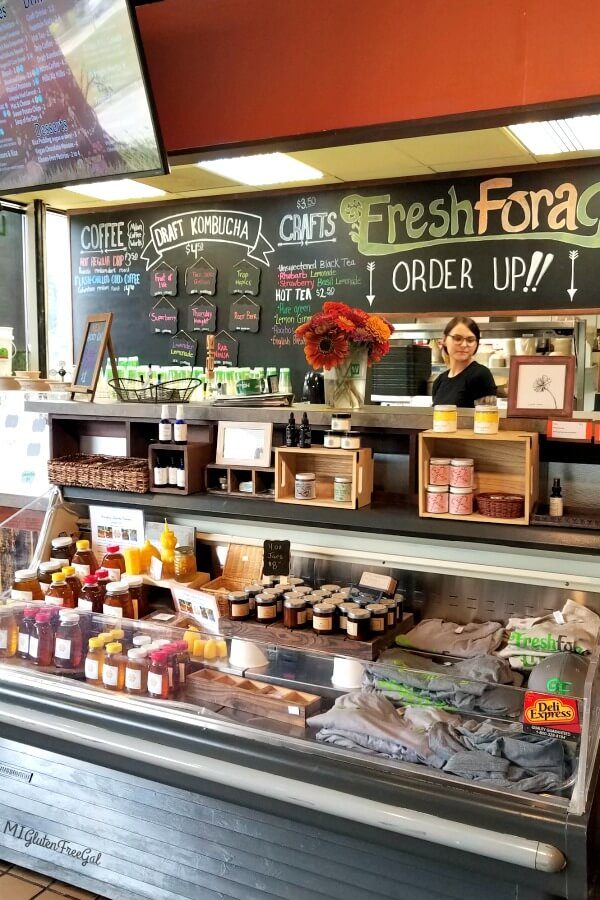 What is Fresh Forage's Mission?
They strive to utilize as many local and ethically sourced ingredients as possible. As their "Forage" name may imply, they based their menu on what's seasonally available at the time. Therefore, their menu changes every few months. Their menu focuses on customizable bowls. However, they feature a few "in house inspired" bowls on their menu as well. They offer three serving sizes – kid's, regular and large.
Their staff shared the following with me. "Our menu offers a huge variety of choices that meet the dietary needs of many people! I think every person either deals with or knows somebody struggling to find food that is safe for them to eat, especially when they eat out. We offer many items that are free of the big eight allergens. One of the co-owners is gluten and dairy intolerant, so having safe options is important to us."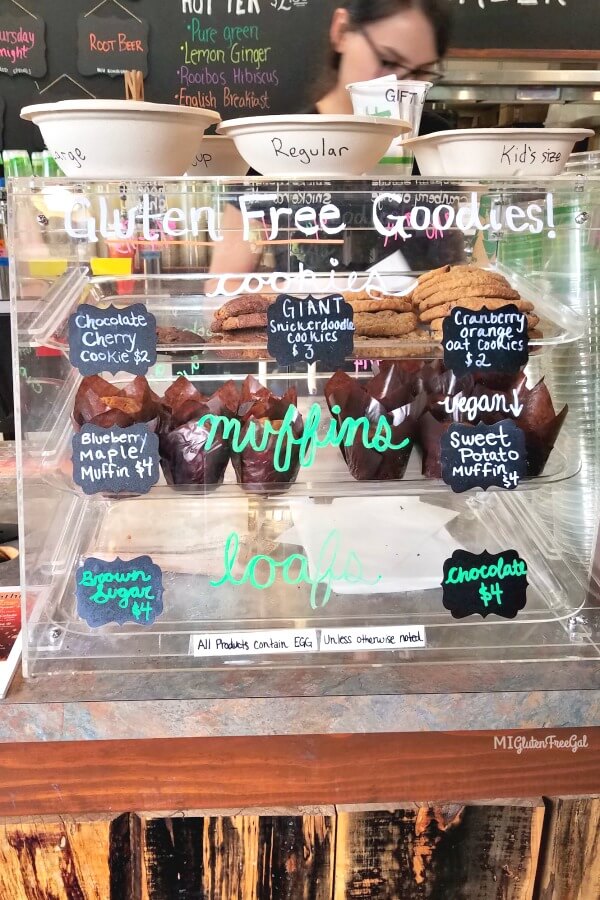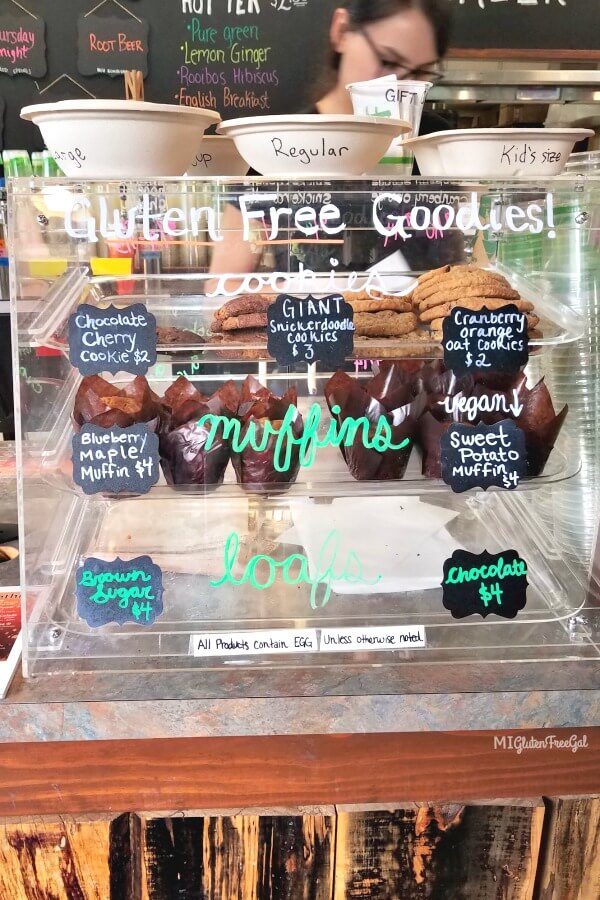 What Gluten Free Options do they Offer?
The majority of the menu contains no gluten. (Pasta and seitan being the most consistent non gluten free options.) The menu is clearly labeled for which items contain gluten. They also offer gluten free dessert! (Note that most contain egg.)
They make sure to prepare gluten free meals on separate surfaces than those used with gluten. Staff are trained to change gloves any time one of the major 8 allergens or any meat is touched. However, still remember to self advocate and state that you have Celiac Disease and need your meal to be gluten free, when ordering.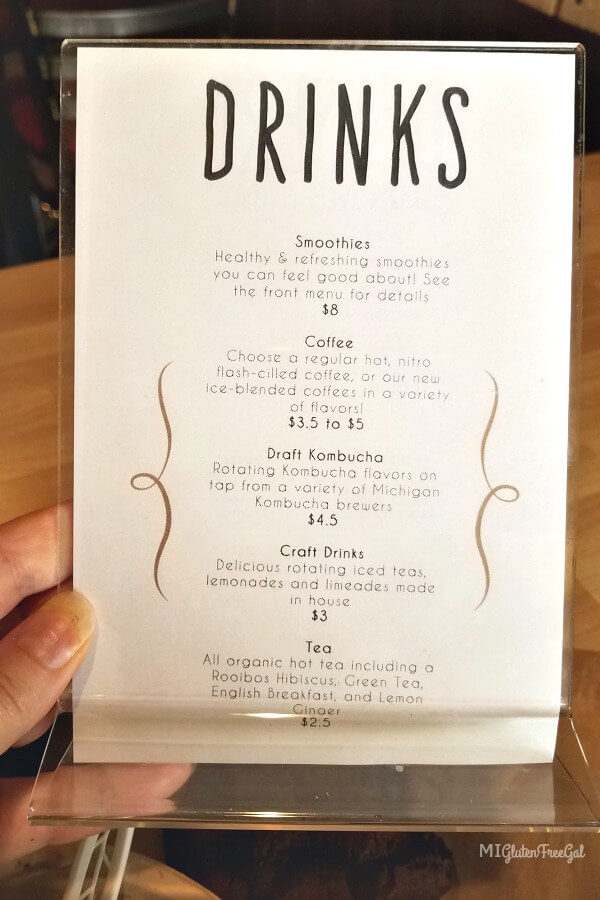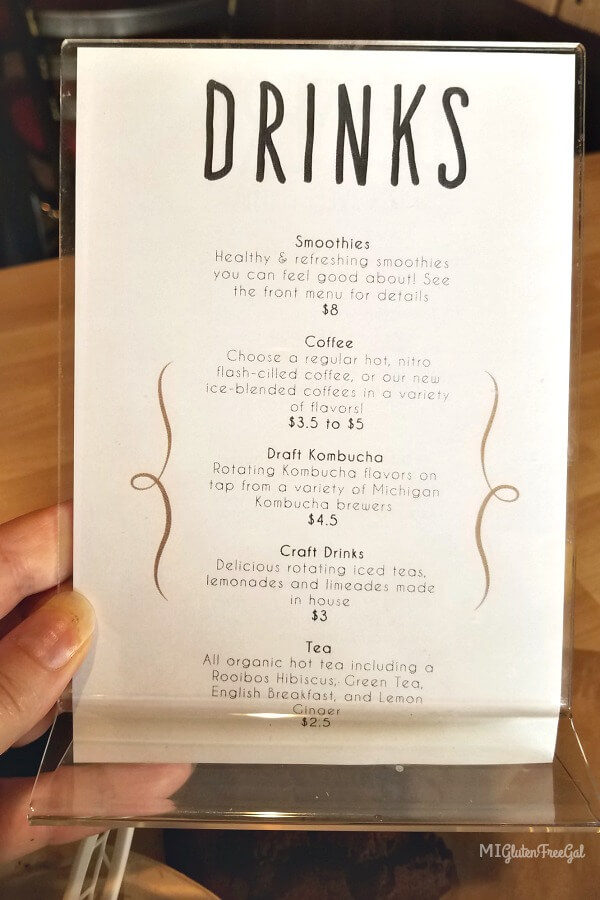 What Drinks do they Offer?
In addition to an extensive food menu, Fresh Forage serves many beverage options. In addition to Puck's Pure Cane Sugar Soda, they also make fresh smoothies, tea, and other craft drinks. (I need to go back to try their many lemonandes!) For smoothies and coffee, they offer whole milk, almond milk, coconut milk, or soy milk.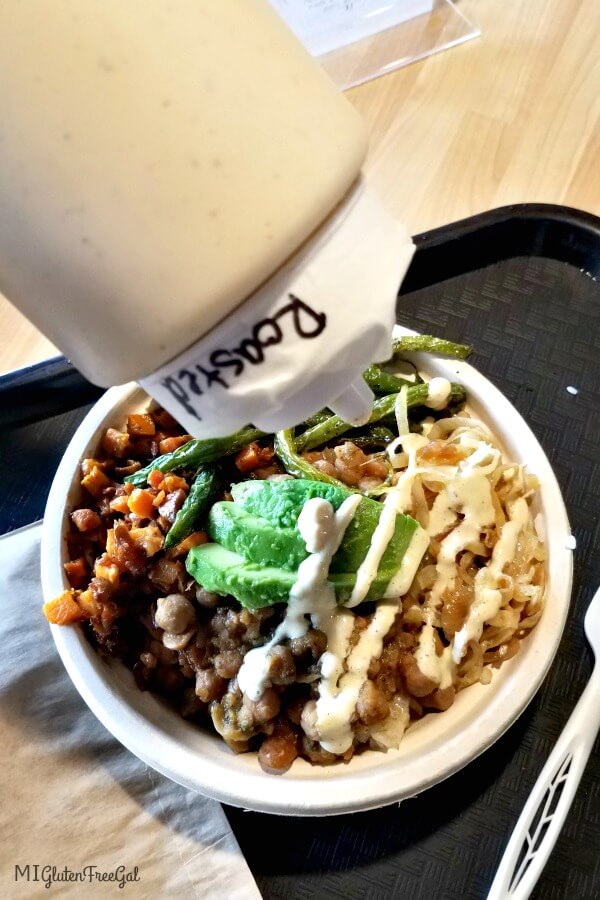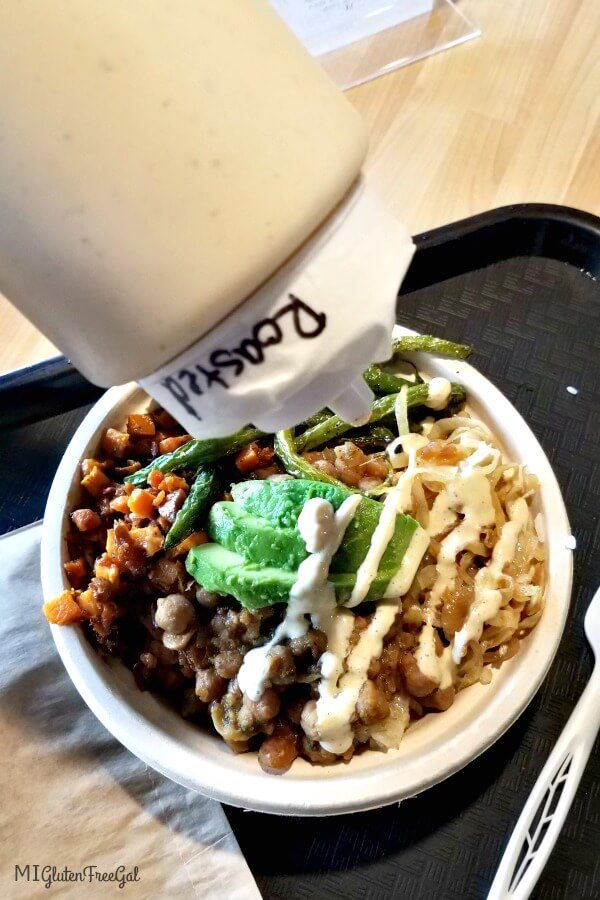 Self Serve Sauces
Part of the rotating menu includes different sauces to partner with your meal. Fresh Forage stocks them in a small fridge next to the soda machine. This allows you to take as little or as much as you want. (Or go back for more!) Please note the sign (which I first failed to notice) asking you to not take the bottles back to your seat.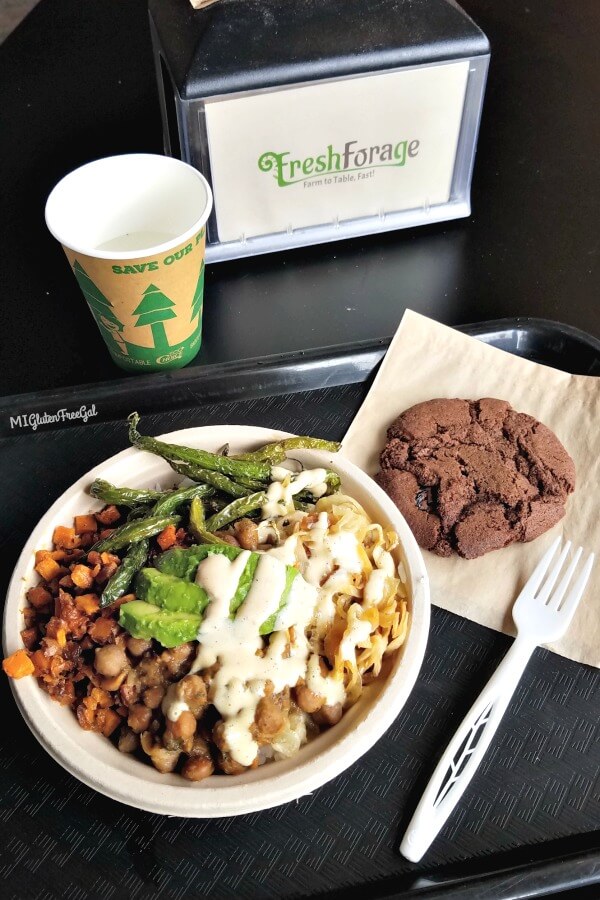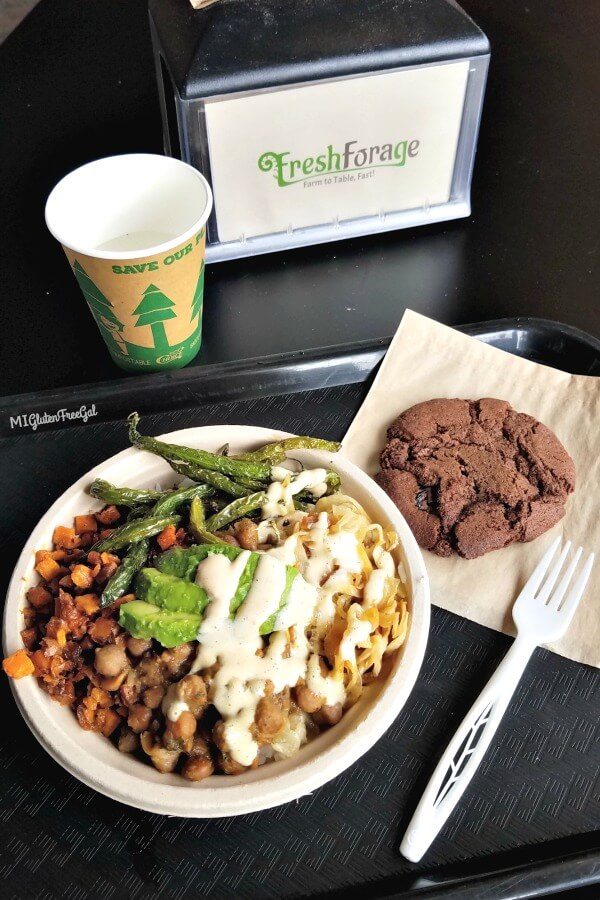 The Verdict? DELICIOUS!
I ordered a regular size bowl with rice, chicken, chickpeas, caramelized onions, sweet potatoes and green beans. Of course, I had to order a chocolate cherry cookie, too. 🙂 As mentioned, they clearly mark on their menu which items contain gluten. I also appreciate that they mark items that are spicy, as I have a sensitive stomach.
My meal tasted fantastic. I honestly feel they may have been the best green beans I've ever tasted. The cookie combined the perfect amount of cherry with chocolate. I definitely see myself ordering one of those again! In addition, I appreciate they offer a variety of seating, including high tops, booths, and tables. They even have benches along the front of the store, lined with pillows!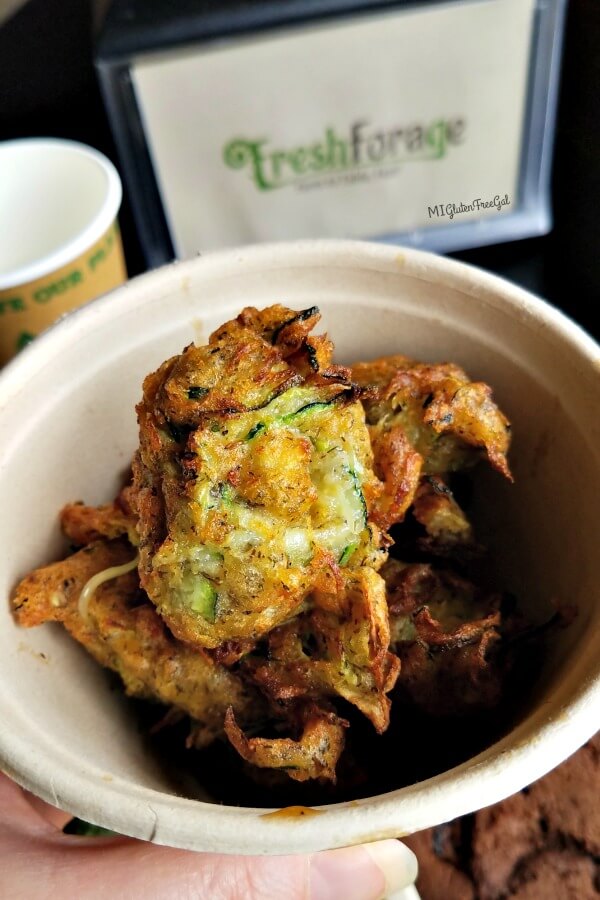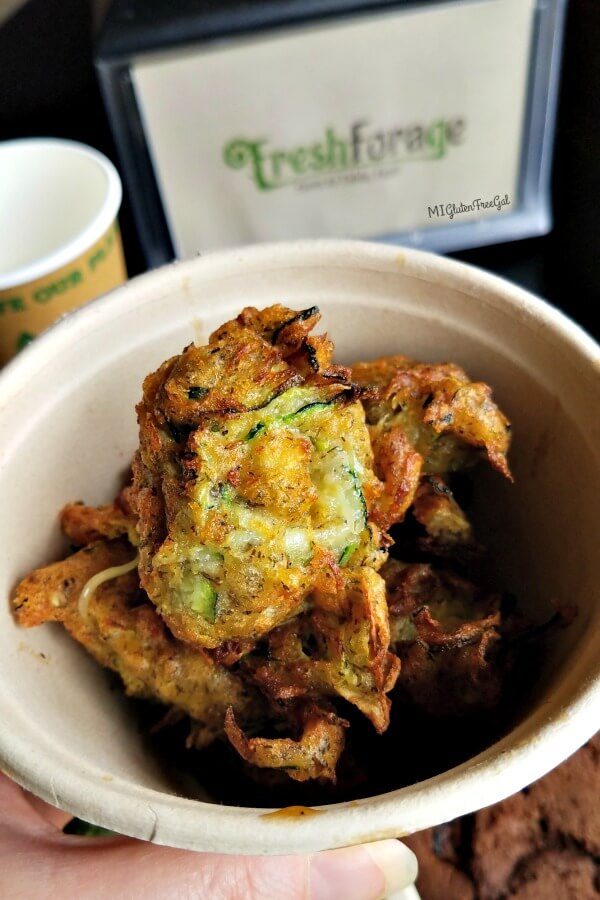 Did I Mention Their Dedicated Fryer?
But wait, there's more! I also ordered their deep fried zucchini fritters. Last time I talked with staff, they use a vegan gluten free tempura batter, which would make things safe for those who can't do eggs or dairy. However, this could change based on the seasonal menu they are offering, so make sure to check.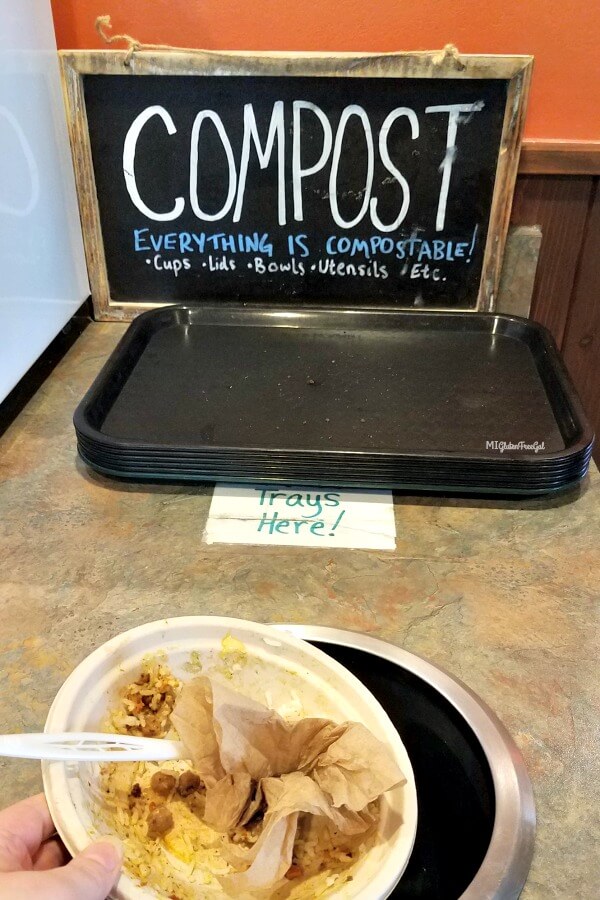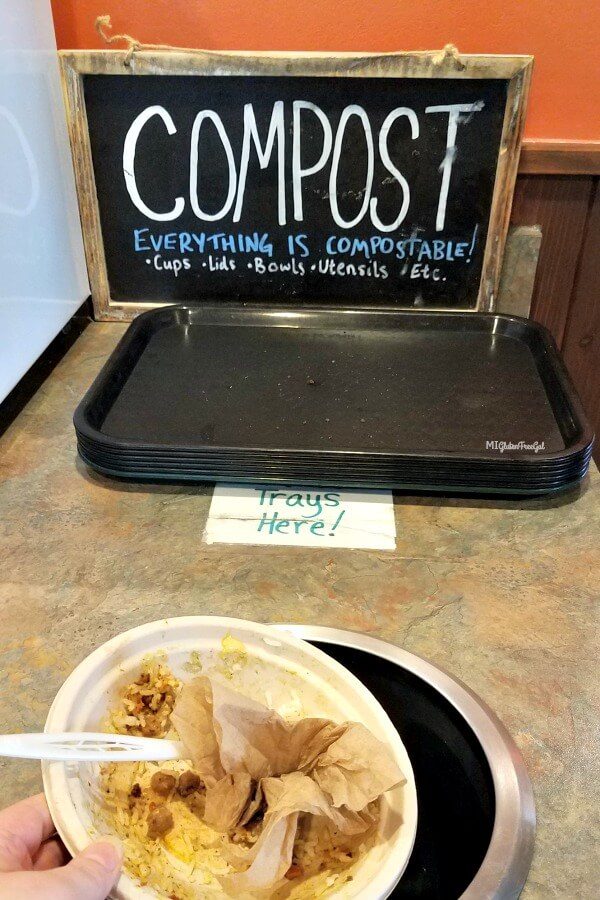 Earth Conscious
All bowls, cups, napkins and silverware at Fresh Forage can be composted. Good food for us, and good compost for the Earth! Speaking of the outdoors, they also offer outdoor seating, which is also pet friendly. They try to be a community meeting place as well, so check out their calendar of events when you visit.
Don't just take my word for it. Go Dairy Free also shared about Fresh Forage with her readers.
Fresh Forage
5060 Jackson Rd suite A
Ann Arbor, MI 48103
(734) 887-6655
Open Daily 11am – 8 pm
Website | Facebook | Instagram | Twitter
What are your other favorite eateries in Ann Arbor? Please take a peek of other Ann Arbor gluten free dining options to enjoy while you're in town. You may also find my post on other Michigan gluten free dining options to be helpful.
**My stepmom purchased my meal in return for taking my parents to the airport. 🙂 I was not otherwise compensated for my time. All thoughts and opinions are my own. *