Grain Free Cherry Hand Pies
As an Amazon Associate and member of other affiliate programs, I earn from qualifying purchases.
I cannot tell a lie. I didn't like cherries until I became an adult. Weird for a girl who grows up in the same state that hosts the National Cherry Festival. However, these grain free cherry hand pies changed all that!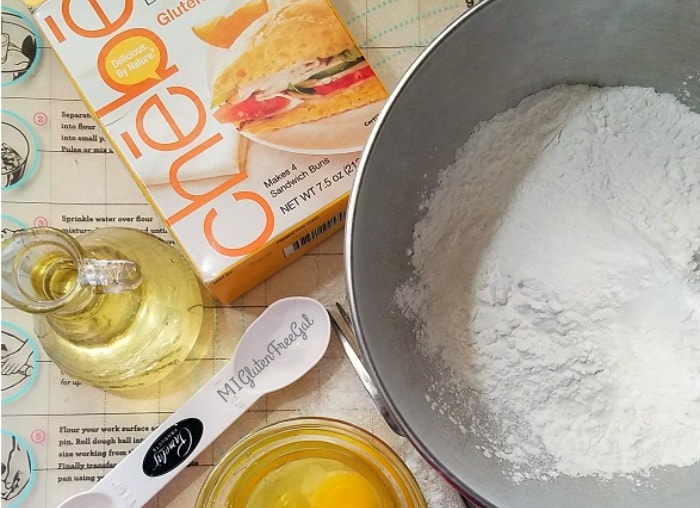 Pre Made Pie Crust
My first attempt at grain free cherry hand pies back in 2013 was a pit of a mess. However, I'm not a woman that's easily defeated. Fast forward to 2017. After spending some time in the kitchen perfecting a blueberry pie, I was ready to attempt these hand pies again. My biggest excitement? That I could pre-roll a Chebe pie crust, freeze it, and have it work just as well as if it was fresh!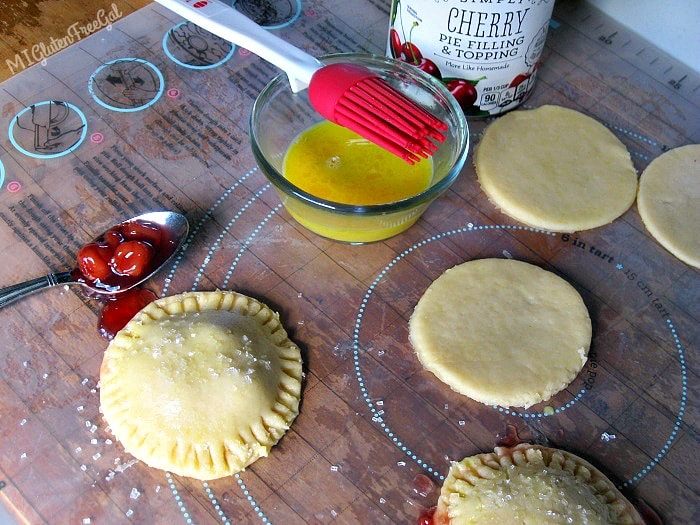 Homemade or Canned Filling
Making the bases for these grain free cherry hand pies was SO simple! I have a 1 cup measuring cup whose handle broke some time ago. Turn that baby upside down and it's a perfect biscuit cutter! The cut out 10 circles originally, but then felt they were too thin. Therefore, I recombined the dough and rolled it again. It handled so beautifully!
So I cut 8 thicker circles and brushed the bottoms lightly with beaten egg. Then I added two tablespoons of canned cherry pie filling. Next, I grabbed another circle of crust, brushed that lightly with beaten egg, and placed on top of my domed cherries. All that was left was to give it a sprinkle of sugar and close them with a fork.
Brown Bagging It
Just like my blueberry pie, I baked these gluten-free cherry hand pies covered with a brown paper bag. Having the protective paper covering helps to keep the top crust from getting too hard. I baked these grain free cherry hand pies at 400 degrees for 25 minutes. I love the way some of the cherry juice oozed out of the top. The India Tree India Tree sugar crystals from a previous American Gluten Free box added a lovely texture to the outside. The smell of these hand pies when they came out of the oven had me jumping for joy!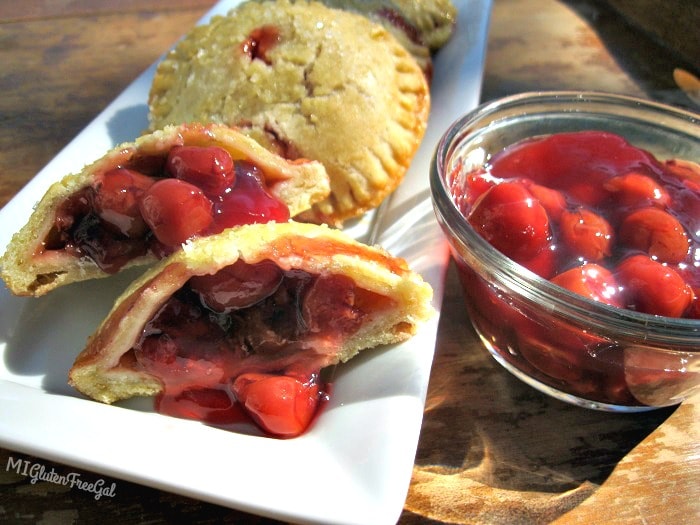 Perfect On the Go Treat
These grain free cherry hand pies would be a great addition to any lunch box of afternoon tea. Going camping? These would be perfect for an on-the-go breakfast treat. Not a fan of cherries? You could use any filling you desire. I can see these stuffed with blueberry filling or apple pie filling or whatever fruit you enjoy. They're so easy, they'd be a fun treat to make with your children or grand-children. It's a good thing, because they're so delicious they won't last long!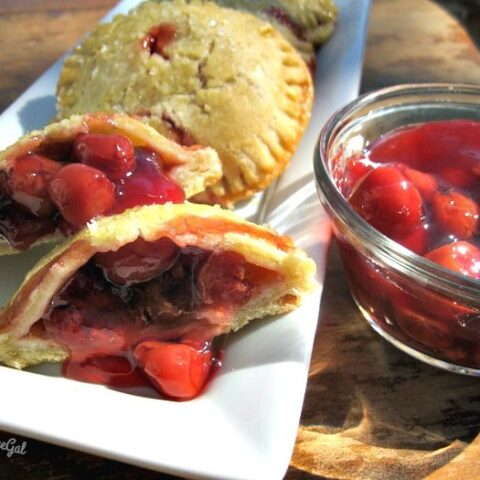 Grain Free Cherry Hand Pies
Ingredients
Prepared Pie Crusts
Canned Cherry Pie Filling
1 beaten egg
Course sugar crystals for decoration
Instructions
Use Chebe All Purpose Bread Mix to make two pie crusts. (See the recipe on my blueberry pie post. Basically add 4 tbsp cold butter to the rest of the ingredients required on the box. I use a food processor to cut in the butter an and make the dough.)
Roll the dough out to make two 9-inch crusts. You can use them both now, or freeze one for later. I laid my extra pie crust flat in the freezer and covered it with plastic wrap and aluminum foil. Thawed perfectly!
Preheat oven to 400 degrees.
Cut out 3 1/2" round circles. I used only one pie crust, which resulted in 8 circles.
Brush bottom crust with beaten egg. Then, top with 2-3 tbsp cherry pie filling.
Take another circle of crust and lightly brush with beaten egg. Place egg side down on top of cherry filling. Using fork, crimp edges of the gluten-free cherry hand pie closed.
Brush top of hand pie with beaten egg and sprinkle with sugar crystals.
Repeat steps with additional pie crust dough.
Bake gluten-free cherry hand pies covered with brown paper bag for 25 minutes. You can remove bag during last three minutes of baking to achieve a darker crust.

Have you used Chebe products? What's your favorite mix and what is your favorite way to use it? Have you come up with some recipes using Chebe that you would be willing to share?
**This post contains affiliate links. Purchases made through those links help support this blog with no extra expense to you. Thank you for your continued support!**