Cafe Avalaun – Dedicated to a Gluten-Free Cleveland
As an Amazon Associate and member of other affiliate programs, I earn from qualifying purchases.
Cafe Avalaun in greater Cleveland, Ohio is a dedicated gluten-free restaurant. They're dedicated not only to preparing delicious and safe gluten-free food, they're dedicated to spreading awareness of Celiac Disease and food-related illnesses across greater Cleveland. Chef Brian Doyle and his family have personally experienced the drastic improvement in their health since going gluten-free. Therefore, he takes your dining safety as an utmost importance.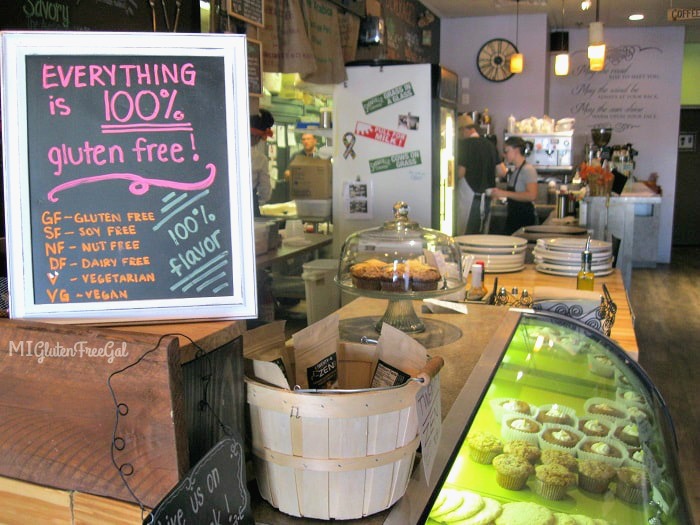 Cafe Avalaun is an anomaly in greater Cleveland. They are the ONLY 100% gluten-free restaurant in the area. He knew when he opened that it would be a bit of a gamble. However, he also knew that there was a population that was being under served. Yet, Cafe Avalaun isn't just for those who eat gluten-free. In fact, 60% of his clientele don't even have to eat a restricted diet. His restaurant and menu is about helping those with food sensitivities feel included without excluding anyone. For Chef Brian this is more than just a business, this is a mission.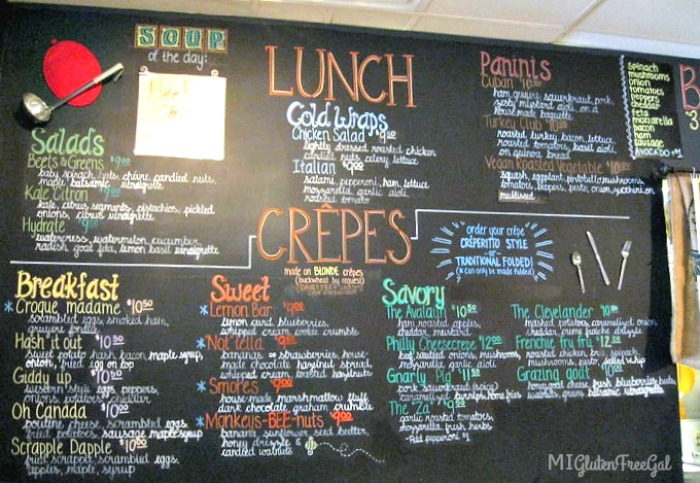 Cafe Avalaun is has an eclectic menu. They are primarily known for their crepes, and have a signature Creperitto. (Think burrito made in a savory crepe.) You can see the variety of offerings here on their menu board. I love the real hardware accents on the wall! When I walked in, it was hard to choose what to order. Everything looked so amazing! Next to the crepe griddle was a small sign that said "It's Back! Chicken and Waffles!" That sealed the deal, and I waited for my order.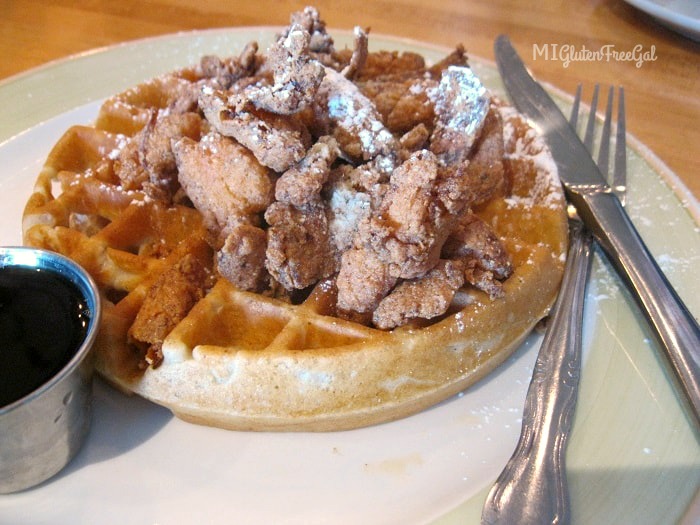 Now as you know, I live in Michigan. I was in town with my dad, who has routine check-ups at Cleveland Clinic. The Northeast Ohio Celiac Network has been singing Chef Brian's praises for some time. So when my dad asked me to accompany him on a doctor's appointment, I suggested that we come here. Added bonus? We were able to meet up with my amazing friend Stephanie of Turn It Teal. After a long drive and doctor's visits, the meal and company were a well received. And it was delicious. The waffle was crisp on the outside yet soft on the inside. Perfect!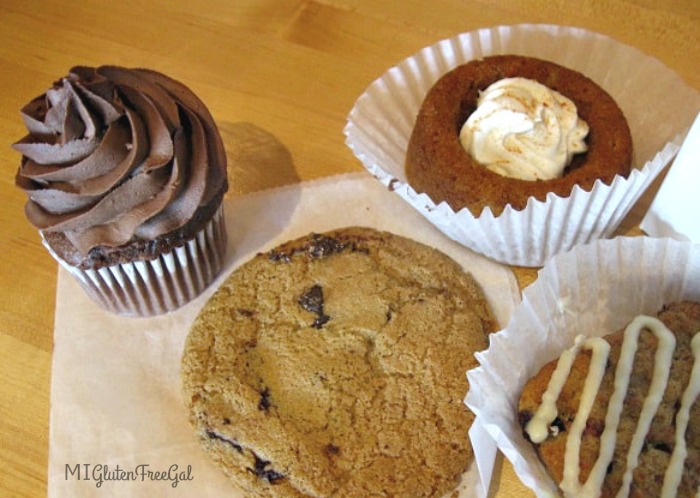 Cafe Avalaun is more than just a crepe shop. They also have a selection of delicious gluten-free baked goods. I highly suggest the chocolate cupcake and the chocolate chip cookie. Because one can never go wrong with chocolate! That small round delicacy in the top right corner? VEGAN carrot cake! Don't have time for a sit down meal? You can order take-out and grab a cup of their local coffee to go. Stay tuned to their Facebook for their special pop-up dinner nights. Special menus range from Greek night to Asian and more!
Cafe Avalaun
4640 Richmond Rd Suite 200
Warrensville Heights, Ohio 44128
(216) 245-6666
Hours
Facebook / Instagram / Twitter
Cafe Avalaun is one of many restaurants I've visited. You can view a list more dining options on my Michigan gluten free dining post. Please remember to always ask any restaurant about their food preparation practices.