Christmas and the One Gift We All Should Give
As an Amazon Associate and member of other affiliate programs, I earn from qualifying purchases.
Life is not always rose petals and sugar plums. However, my Christmas tree always reminds me of how blessed I am.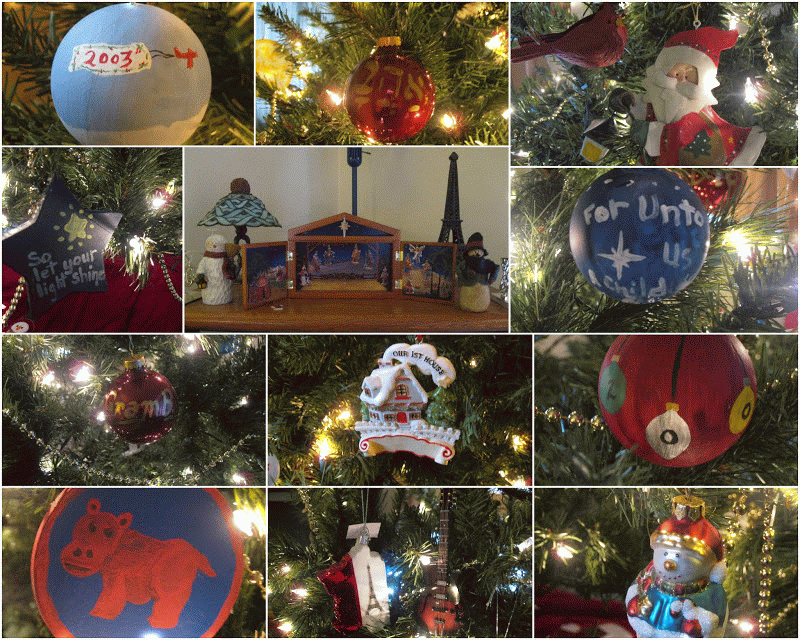 In all honesty, most of the Christmas ornaments on our tree are not purchased. We made them with friends or they were given to us. The only ornament on our tree that we purchased together is the "Our 1st house" ornament.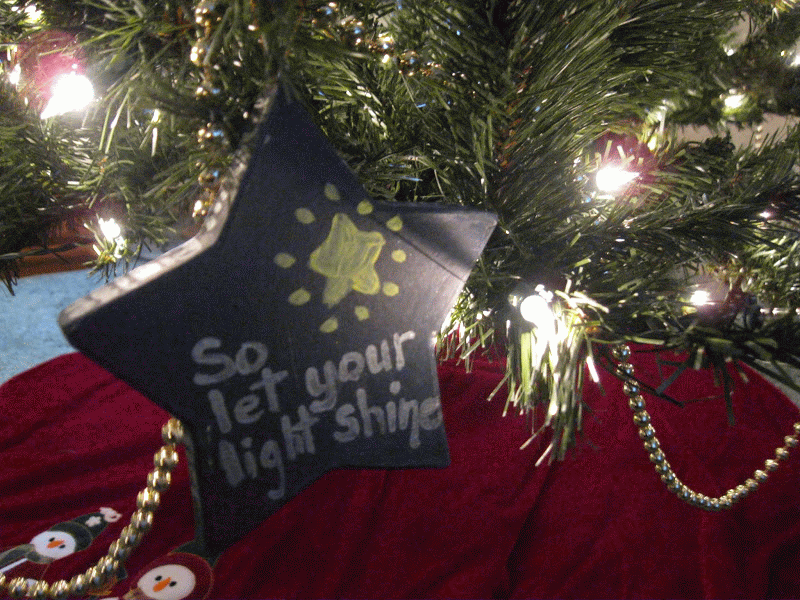 Memories Made
I have this "really cool friend" named Sarah. (She is cool. The quotes denote our inside joke.) We've been friends since the 4th grade, and she probably knows me better than I know myself. We had a long standing tradition of having Christmas parties at her home for over a decade. In the very beginning, we helped her make ornaments to pass out to others, like the 2003 ornament at the very top. (My husband says he thinks that's the best ornament he has ever made.)
In later years, party guests made their own. I probably have over a dozen of these that Brad and I have decorated over the years. They really are my favorite and always go on the tree first. The blue "Let Your Light Shine" star pictured immediately above is a favorite because of its simple message. My husband's Pinball Pete/ "I want a Hippopotamus for Christmas" ornament always makes me smile too.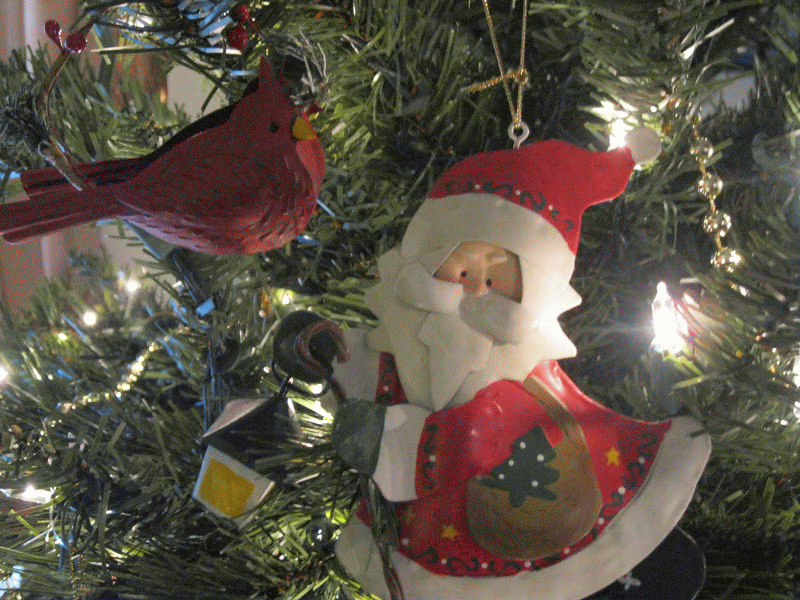 Family and Friends
The Santa and the cardinal are both gifts from my husband's students. I look forward to placing those every year, as we are reminded how blessed my husband is to work in Davison. Parents in that community support what he does. I know other teachers who are not that lucky.
The snowman in the bottom right hand corner of the collage at the top is from a "Christmas in a Box" set that I received from our sister-in-law. She gave it to us when we bought our house. In it is the tree skirt that we use every year. We're blessed to have those that wanted to make our Christmas celebrations special every year.
One year, my brother-in-law was short on funds. Therefore, he simply decorated burgundy glass ornaments with gold paint. He made one set for my husband's grandmother with family names. After she passed, the set found its way to our home. Another set he made for Brad had various words of faith, written in Hebrew.

Pictured above is one of those ornaments. The word "love" is written in Hebrew. Which in my opinion, is what Christmas is really about. This set is quite honestly dear to my heart. Sometimes the most simple gifts, that are obviously from the heart, are the best.
Christmas = LOVE
But lately it seems some, especially those in the church, have taken a defensive stand about Christmas. While it's true we celebrate the birth of Jesus at Christmas, it is more than that. Christmas holds the possibility of peace, hope and reconciliation.
John 3:16 says, that "God so loves the world that he sent His only begotten Son." So many times it seems that Christians are better about saying what we are against, than what we are for. We've drawn a line in the sand, creating an "us vs. them" atmosphere. In all honesty, the only time Jesus drew a line in the sand was to separate the religious leaders from the prostitute needing to be shown love and grace.
Compassion, Not Condemnation
God says that he is patient with us, not wanting anyone to perish, but everyone to come to repentance. The Bible also says God "did not send his Son into the world to condemn the world, but to save the world through him." Jesus says that the world will know His followers by the way that we love one another. If Jesus is not called to condemn, but to love, then our calling should be the same.
Christmas is a time to exercise patience and celebrate the potential others have inside them. It is a time to encourage others to be the best they can be, not tear them down. Christmas is a time to celebrate and practice LOVE.
So at a time when so many feel that there is a "war on Christmas," it's time for some of us to be peacemakers. It's time for us to say Happy Hanukkah or Salaam to those who celebrate a different faith. It's time for us to extend love to those who have been wronged by those in religious (and non-religious) power.
So let's not get our panties in a bunch is someone says "Happy Holidays" instead of "Merry Christmas." Maybe all we really need to say during this holiday season, with patience, is "I love you."
Because love is the one gift we all want and need.