Crusted Cod Taco Bowls with Tostones
As an Amazon Associate and member of other affiliate programs, I earn from qualifying purchases.
These gluten free black bean crusted cod taco bowls come together quick and easy for a flavorful dinner for two. Cook all components in 30 minutes or less, with minimal prep time. That even includes dessert! Thank you to Hook Line and Savor for sponsoring this post and making meals so easy!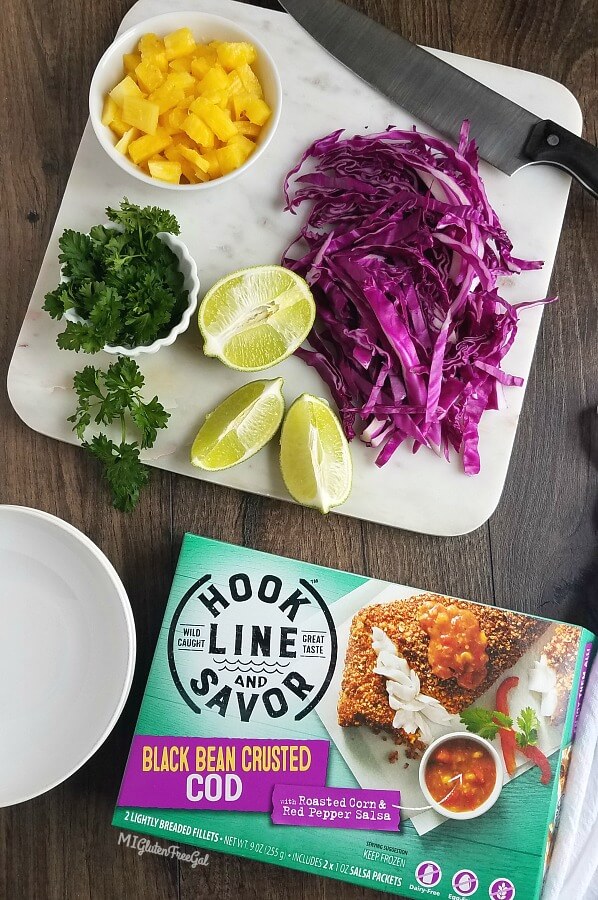 Hook Line and Savor
Since December, I've had the pleasure of introducing you to Hook Line and Savor. This sustainably sourced fish company focuses on food allergy friendly fish fillets, while using the highest quality of seafood possible. Their products include NO gluten, dairy, eggs or soy. So far, I tried their Gluten Free Beer Battered Haddock and their Citrus Ginger Salmon. Finally, I tried their third flavor, Black Bean Crusted Cod.
Like the other two flavors, this box of fish comes with two fillets and two sauce packets. Since you, my faithful friends, asked for dinners for two, I chose to turn these fillets into a taco bowl. Prior to compiling this recipe, my husband and I did make tacos with these fillets. However, if I do tacos, I make homemade tortillas. That takes a while, and I wanted to do something that was quick and easy. Because let's face it, you start thinking about what to make for dinner after you walk in the door, and you're ready to collapse.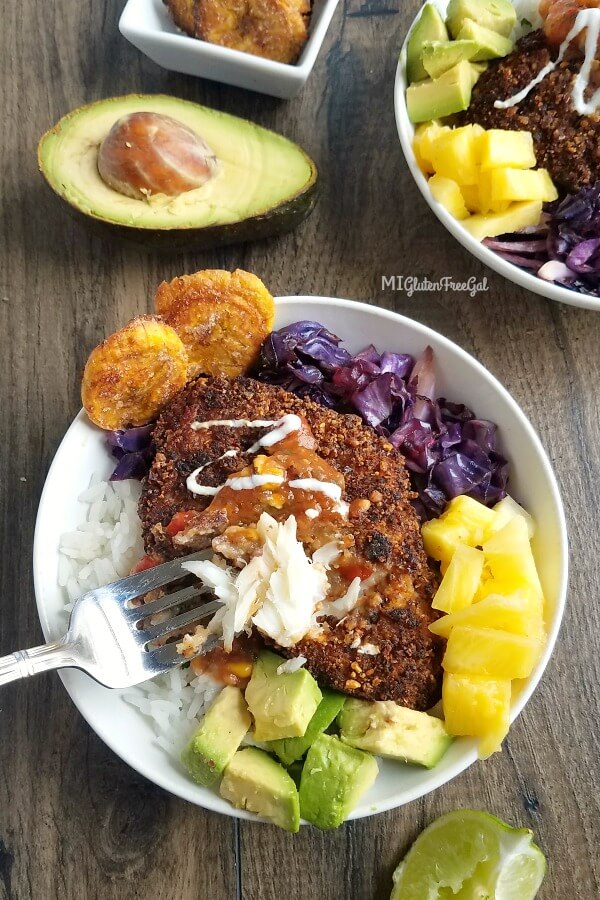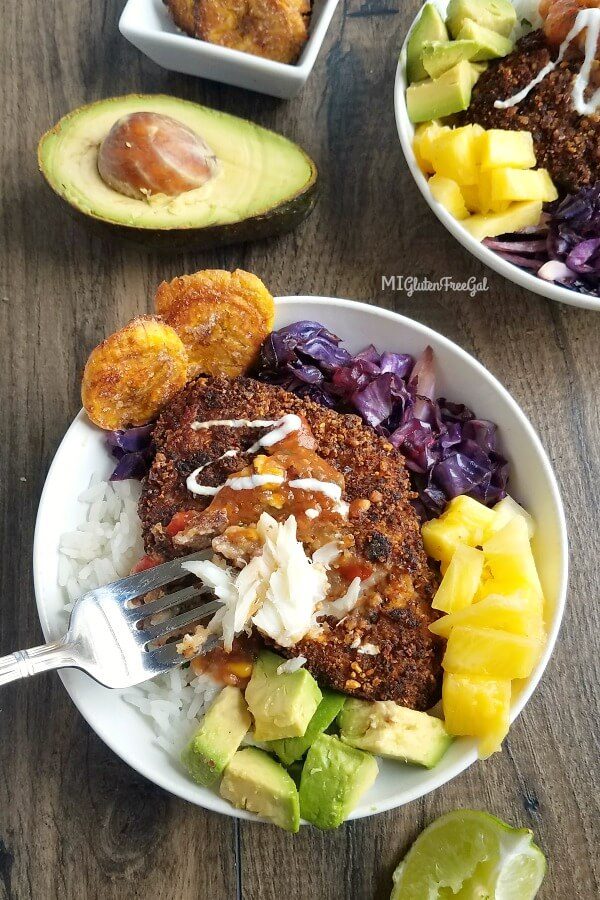 Turn Down the Heat
Unlike the other Hook Line and Savor flavors, these Black Bean Crusted Cod fillets pack a bit of a bite. We're not talking dragon spicy. Just a bit of a kick, plus Cuban spices to inspire a taste of the tropics. Therefore, I wanted to add components to my Black Bean Crusted Cod taco bowls that tame the heat. I followed some of the guidelines from the Kitchn on toning down a spicy dish. Therefore, I added citric acid (pineapple), fat (avocado) and rice (starchy foods) to balance the spice.
In addition to turning down the heat, the addition of these items helps create a balance meal. Each bowl contains protein, starch, fruit, and vegetables. Should you choose to add a drizzle of sour cream or yogurt, then you have all five food groups! In my black bean crusted taco bowls, each bowl contains 2 servings of grains, for those looking to watch their carbohydrate intake.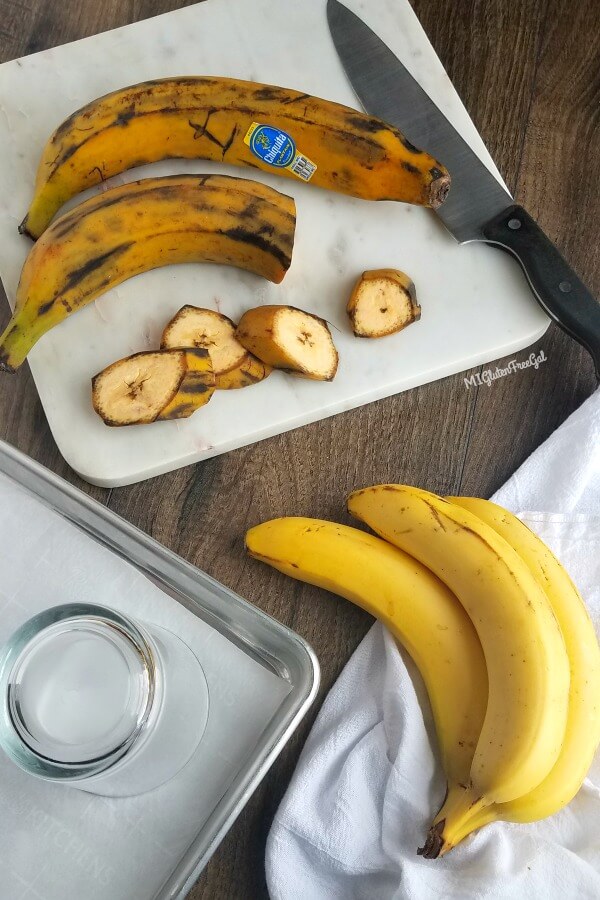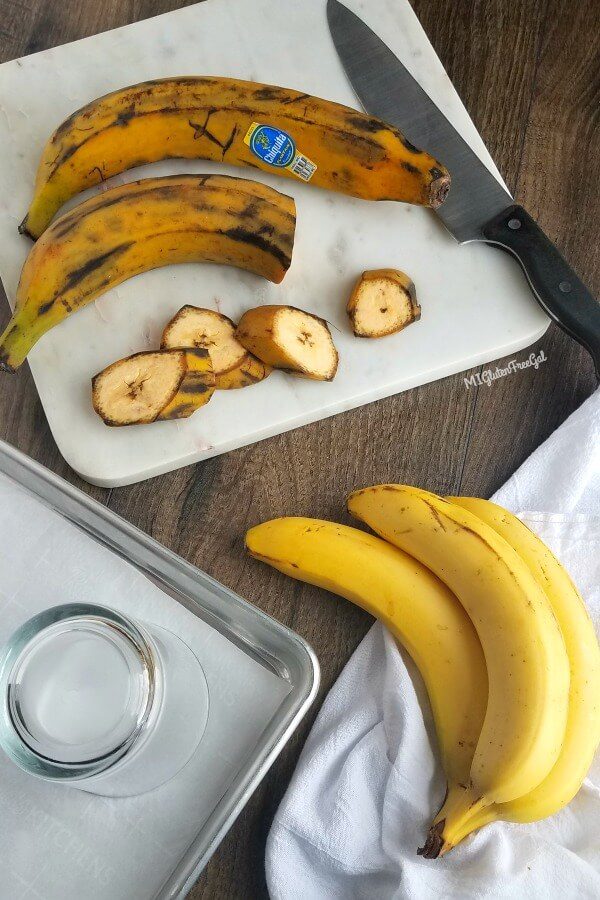 Plantains vs. Bananas
Another site suggested pairing spicy meals with dessert. When I thought about the Cuban influence of my Black Bean Crusted Cod Taco Bowls, I immediately thought of plantains. I enjoyed them so much when I visited Frita Batidos in Ann Arbor. Therefore, I decided it was high time I made some myself. After some research, I discovered they're not as hard to make as I had first thought. (** Some households may also call these maduros. Check out this post from My Big Fat Cuban Family regarding the difference between tostones and maduros. )
If you're not familiar with plantains, they are similar to bananas. Just different. As explained in this article about plantains vs bananas from Healthline, plantains are starchier and require cooking prior to eating. You may see them in the store with big brown spots, and think they need to be pitched. Au contraire! The more spotted they are, the sweeter they taste. It is at that point they become a perfect side to our gluten free Black Bean Crusted Cod Taco Bowls.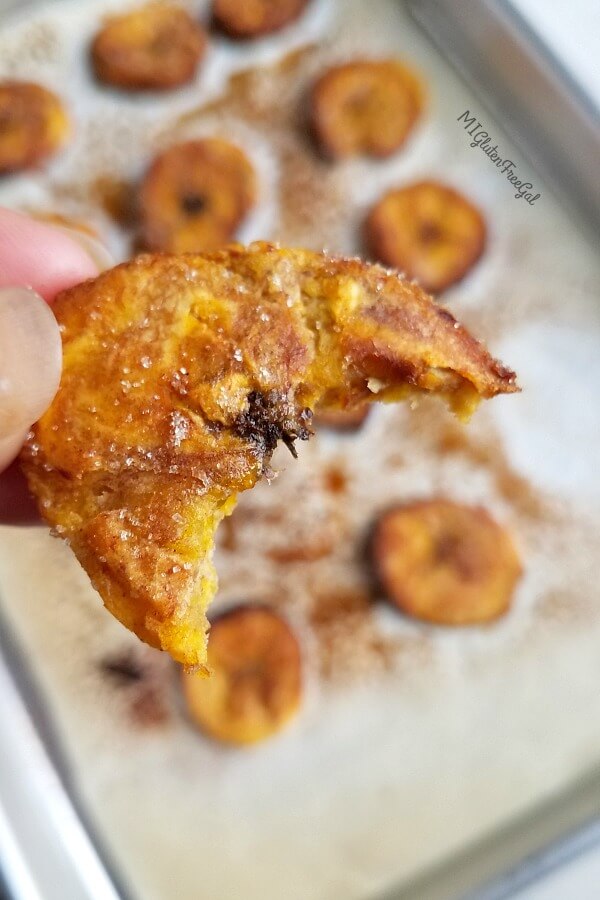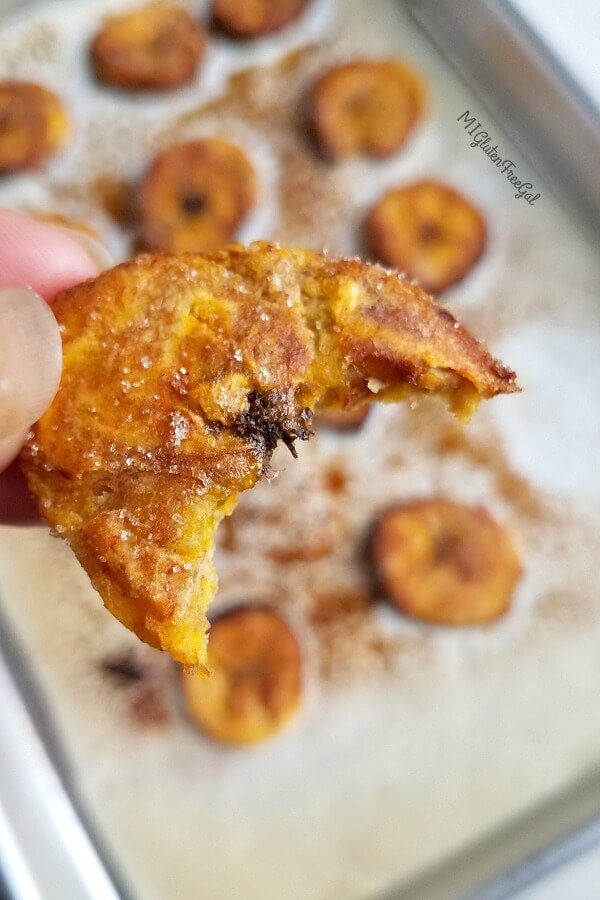 Sweet and Salty
I made multiple batches of tostones to get the right flavor. Some recipes call for simply salting them. Others recommend coating them in a mixture of cinnamon and sugar. I found that doing both actually created the tastiest baked tostones. Part of the fun of baking tostones is squashing the plantain after the first round of baking. Therefore, I highly recommend it on days you need to work out some frustration!
You can enjoy them right from the oven as is. However, if you can find "cajeta," which is caramel made from goat's milk, I HIGHLY recommend dipping them in that!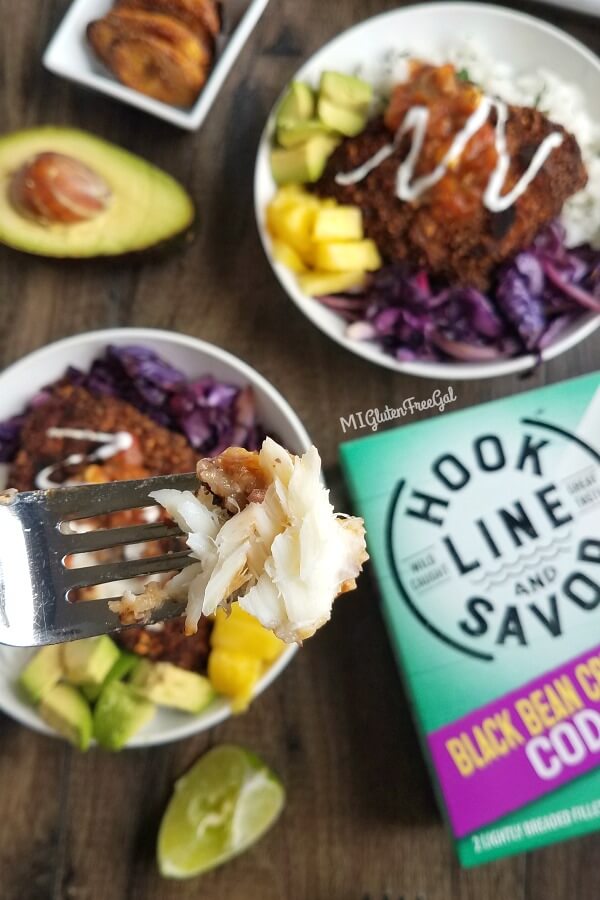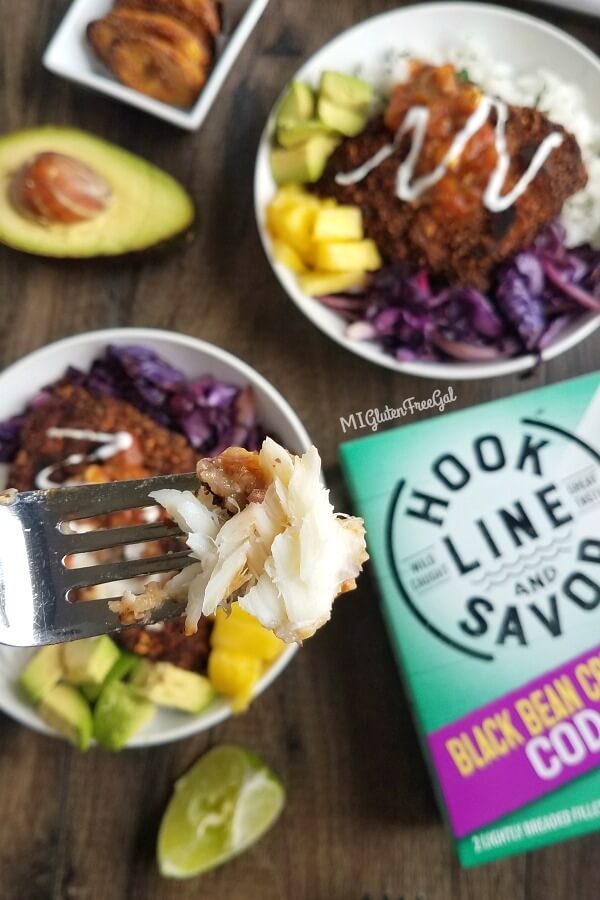 Fish Friday and Lent
Not only are these Black Bean Crusted Cod Taco Bowls perfect for a quick meal, they are perfect for lent! Those who observe lent, especially in the Catholic tradition, eat fish on Fridays. This, or any of the other two Hook Line and Savor products help observing lenten practices easy and delicious!
Looking for more side dishes to pair with Hook Line and Savor's gluten free Black Bean Crusted Cod? Check out this recipe from Fervent Foodie Mama for her tasty chimichurri dressing. The Fit Foodie Mama paired hers with some impressive grilled maple chili sweet potatoes, and Lauren's Latest created a scrumptious vegetable rice pilaf. What would you make to go with this flavorful fish?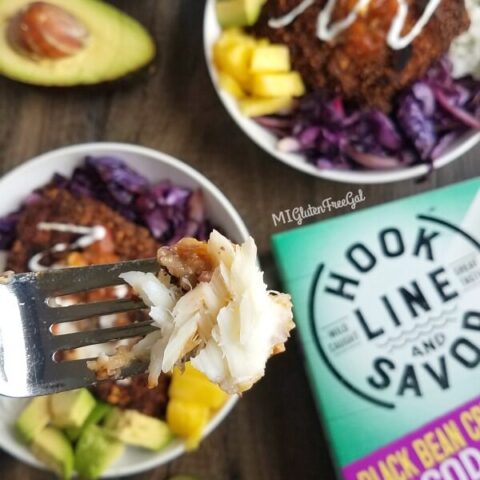 Black Bean Crusted Cod Taco Bowls with Tostones
Ingredients
1 box Hook Line and Savor Black Bean Cod Fillets
For the Rice
1/2 c uncooked jasmine rice
1 cup water
1/2 tsp salt
1 tsp lime juice
1-2 tbsp chopped fresh parsley
For the Sides
1/2 had of red cabbage
Sauteed in 2 tbsp oil
Seasoned with 1/2 tsp of salt
1/2 c. chopped pineapple
1/2 avocado, chopped into cubes
Yogurt or sour cream for garnish
For the Tostones
I plantain, with slices cut on an angle
1 tbsp oil
salt for sprinkling
cinnamon + sugar blend for sprinkling
Instructions
Preheat oven to 425.
Slice red cabbage into thin strips and saute in frying pan until soft.
Meanwhile, slice tostones rounds and dip in oil, and place on a parchment lined baking sheet. Sprinkle one side with salt. Set aside. Meanwhile, place fish fillets on a separate baking sheet and set aside.
Bring small pot, containing one cup water, to boil. Add rice, reduce to low (simmer) and cook for 15 minutes. Turn off heat, add lime, salt and parsley, and allow to set for 10 minutes.
Meanwhile, place fish and tostones in oven and bake for 15 minutes also. After minutes are up, remove fish from oven and flip.
Remove tostones from oven and flip. Using the bottom edge of a flat glass, press the cooked tostones until they flatten. Sprinkle with cinnamon and sugar and return to the oven for another 10 minutes. Once the 10 minutes are up, remove from oven.
While tostones and fish continue cooking, cut up fresh pineapple and avocado for garnish.
In a dish, layer half rice and half red cabbage side by side. Top with cooked Black Bean Crusted Cod, the accompanying salsa packets, and a drizzle of yogurt or sour cream. Add fresh (or canned) pineapple and cubed avocado on the side for garnish. Repeat with second bowl. Serve with warm tostones.
**Hook Line and Savor compensated me for my time and recipe creation, as well as free product coupons to try their products. However, I'm just excited to tell you about this line even if I were not compensated. I LOVE products which accommodate as many different food allergies as possible.**