Gluten Free Chicken Noodle Soup
As an Amazon Associate and member of other affiliate programs, I earn from qualifying purchases.
Looking for comfort food and to balance carbohydrates? This 400 calorie gluten free chicken noodle soup made with Banza pasta adds fiber and protein with their chickpea based pasta. This post is sponsored by Banza.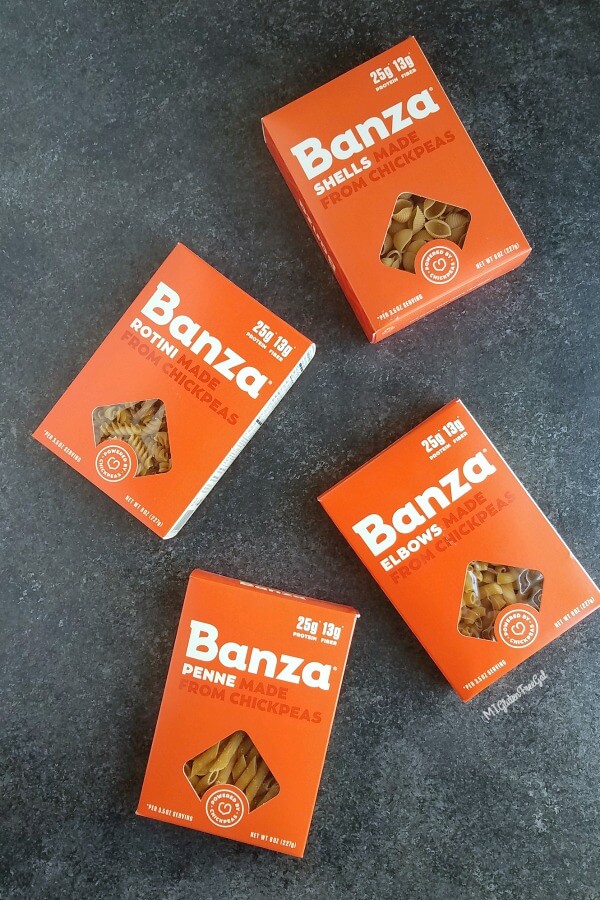 What is Banza pasta?
Banza pasta is made from chickpeas. It contains 13 grams of protein and 7g of fiber per 2 oz. serving. As an added bonus, it has HALF the amount of net carbs and three times the fiber of regular pasta. Banza successfully made a pasta that's gluten-free, grain-free, non-gmo and manufactured in a facility free of the most common allergens.
Banza started in Detroit, Michigan. Since then, the company has grown, both in product offerings and staff. While the corporate office no longer resides in the Great Lake State, Michiganders love this pasta. They now offer gluten free macaroni and cheese, and "rice" made from chickpeas.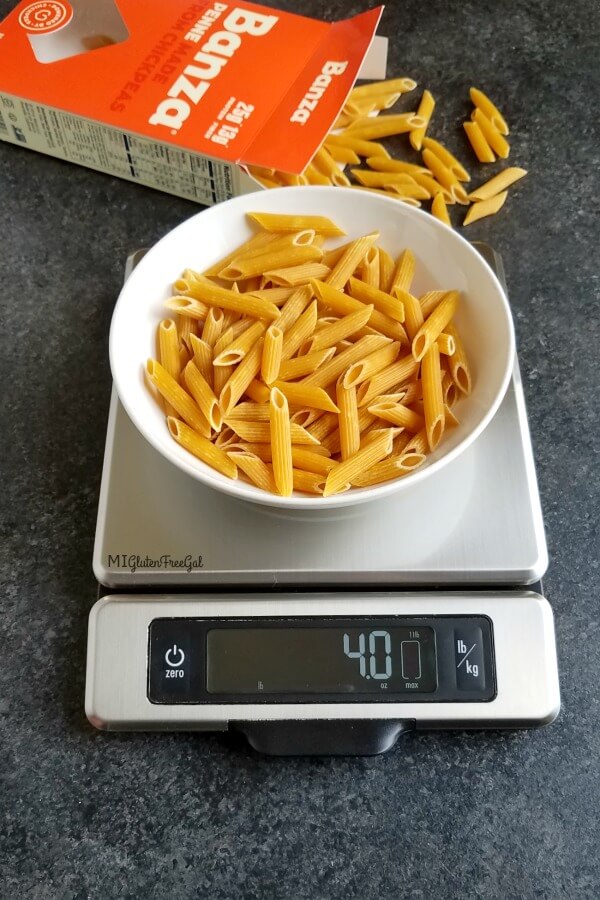 How Much is a Serving of Pasta?
Lets talk carbohydrates. A serving of carbohydrates is 15 grams and approximately 80 calories. This is because carbohydrates provide 4 calories per gram. For comparison, protein also provides 4 calories per gram, while fat provides 9 calories per gram. However , all of these are essential to a healthy diet.
Traditionally, one serving size of pasta equals 2 ounces. Two ounces of Banza pasta contains 190 calories and 32 grams of carbohydrate. So just a touch over two servings of carbohydrates. Because Banza chicken pasta also contains fiber and protein, it will bump up the nutrition of this soup, while helping to balance a rise in blood sugar.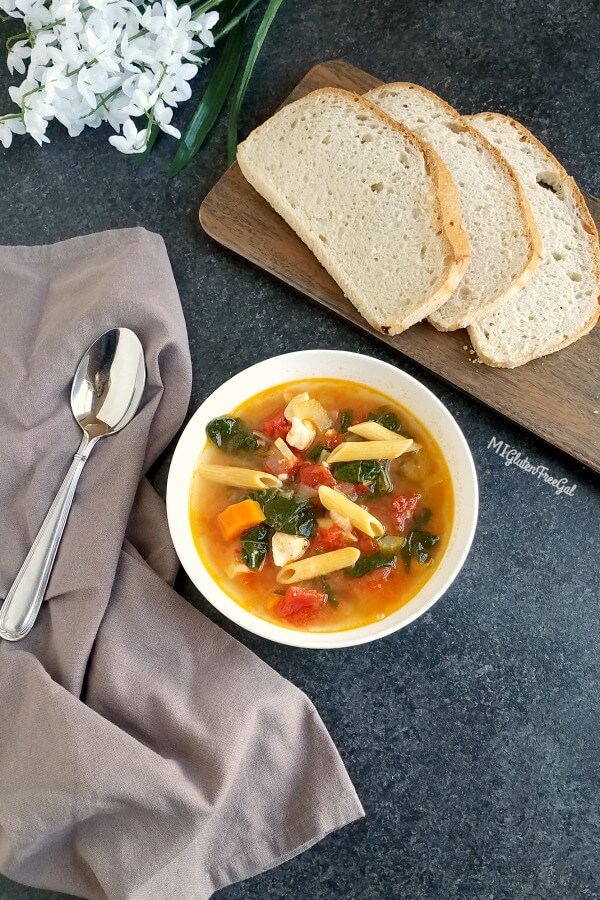 What to Serve With Chicken Noodle Soup
This recipe originated from the Curves Complete diet plan. (I used to work at Curves.) Each meal in the plan contains 400 calories. This gluten free chicken noodle soup would pair great with a small side salad. However, if you're not counting calories, or are looking to stretch the meal, feel free to pair with rolls or bread.
My heart healthy (and egg free!) buckwheat bread would compliment this soup nicely. Looking for biscuits or rolls? My gluten free biscuits would pair with it nicely. For those wanting rolls, these Gluten Free Pull Apart Dinner Rolls from My Gluten-Free Kitchen are also popular.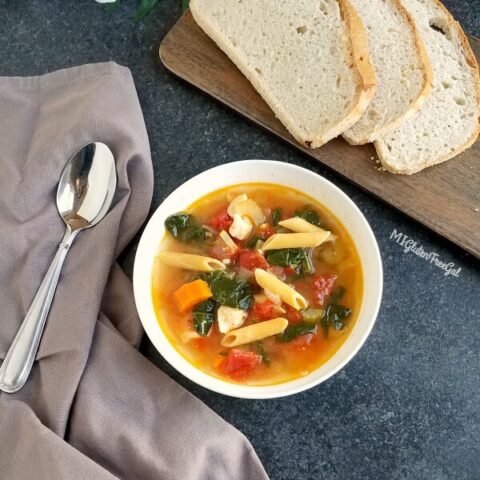 Gluten Free Chicken Noodle Soup
Ingredients
4 tsp Olive Oil
4 clove Garlic, minced fine (or 2 tsp)
2 tsp Rosemary, Fresh
1/2 cup Onions, chopped
4 stalk celery, chopped
2 med Carrots, chopped
7 oz Diced Tomatoes, Canned
2 cups Vegetable Broth, Low Sodium
4 cups Water
16 oz (1lb) Chicken Breast, Boneless/Skinless, Raw
4 oz gluten free pasta
4 oz Spinach, Raw
Instructions
Mince garlic and rosemary. Chop onion, celery and carrots.
Heat oil in a large pot over medium heat. Add onion and cook for 5 minutes or until golden. Stir in rosemary and cover, stirring occasionally until onions are translucent- about 5 minutes. Add minced garlic to the pot. Cook for 1 minute.
Add carrots and celery to the pot, stirring occasionally, and cook for 3 minutes.
Add tomatoes, broth, water, and chicken and simmer for 20 minutes. (If using whole chicken breast, shred chicken breast once it is cooked through.)
Add pasta and spinach. Cook until pasta is tender and spinach is wilted, 4-9 minutes.
Serve hot.
What's your favorite way to use Banza pasta? Leave me a note below!
**Banza provided the ingredients for this post. I was not otherwise paid or compensated for my time. This post does contain affiliate links. Purchases made through those links help support this blog with no extra expense to you. Thank you for your continued support!**