Back To School Snacks Kids and Teachers Love
As an Amazon Associate and member of other affiliate programs, I earn from qualifying purchases.
When you live with food restrictions, "Back to School" means "Snack to School," when you have to pack your own lunch. I love the entire line of Enjoy Life Foods snacks. We've enjoyed their mini cookies, their snack bars, and their Lentil chips. However, my absolutely favorite back to school snacks are their Seed and Fruit Mixes. Thank you Enjoy Life Foods for making such delicious snacks and for sponsoring this post!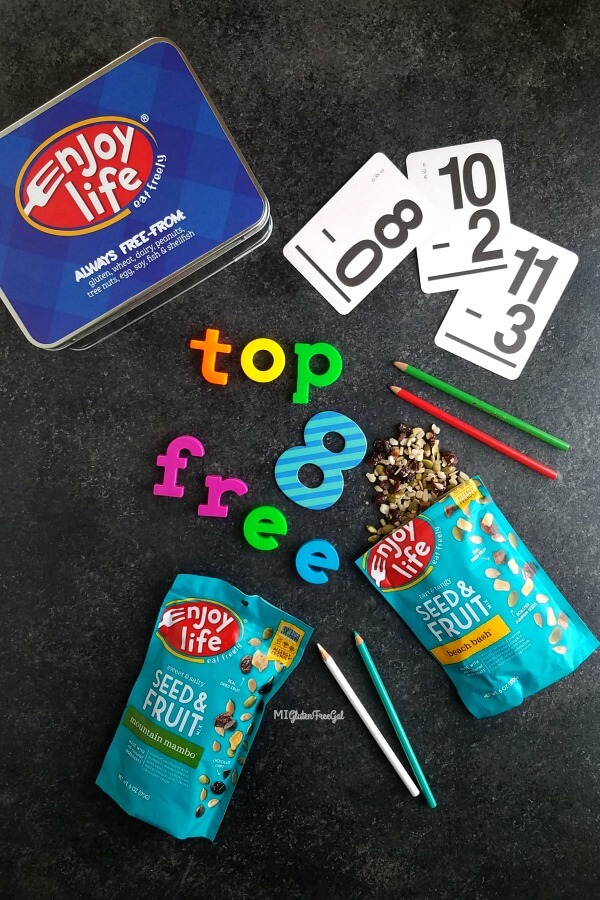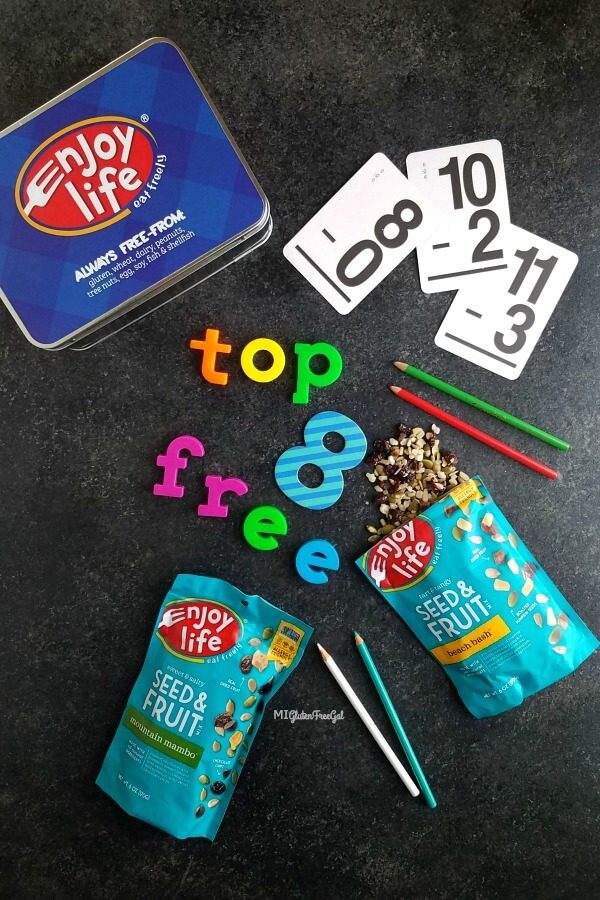 Adding Delicious Food Back into a Gluten Free Diet
So often, living with a food restriction constantly feels like a subtracting yourself from fun and deliciousness. NOT so with Enjoy Life Foods! Their products, which are great to include in back to school snacks, are free of the top 8 allergens! 90% of food allergies stem from 8 foods. Their cookies, bars, as well as the Seed and Fruit Mixes, contain none of those 8, making them likely safe to share with new classmates and friends. The Seed and Fruit Mixes are my favorite. Not only do they add a dose of sweet to my day, they also add a dose of healthy antioxidants and fiber!
Enjoy Life Foods Seed and Fruit Mix Flavors
The Enjoy Life Foods Seed and Fruit Mixes come in two flavors – Beach Bash and Mountain Mambo. Check out the tasty and simple ingredients in each blend! I LOVE products where I know and can pronounce all of the ingredients!
Beach Bash – Sunflower Seeds, Dried Pineapple (pineapple, sugar, citric acid), Roasted Pumpkin Seeds (pumpkin seeds, safflower oil, salt), Dried Cranberries (cranberries, sugar, sunflower oil), Dried Apricots
Mountain Mambo – Sunflower Kernels, Roasted Pumpkin Seeds (pumpkin seeds, safflower oil, salt), Raisins, Dried Cranberries (cranberries, cane sugar, sunflower oil), Semi-sweet Chocolate Chips (cane sugar, unsweetened chocolate, cocoa butter), Dried Apples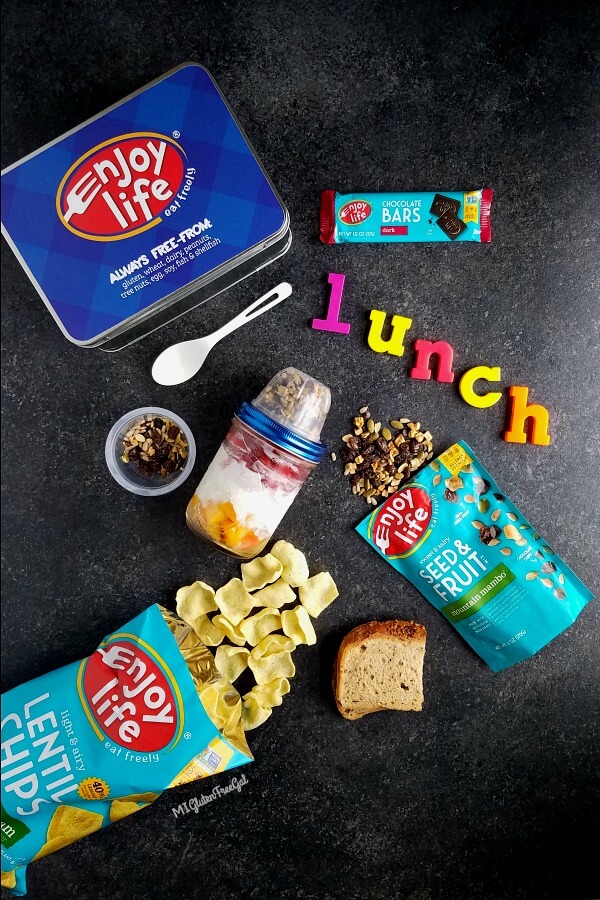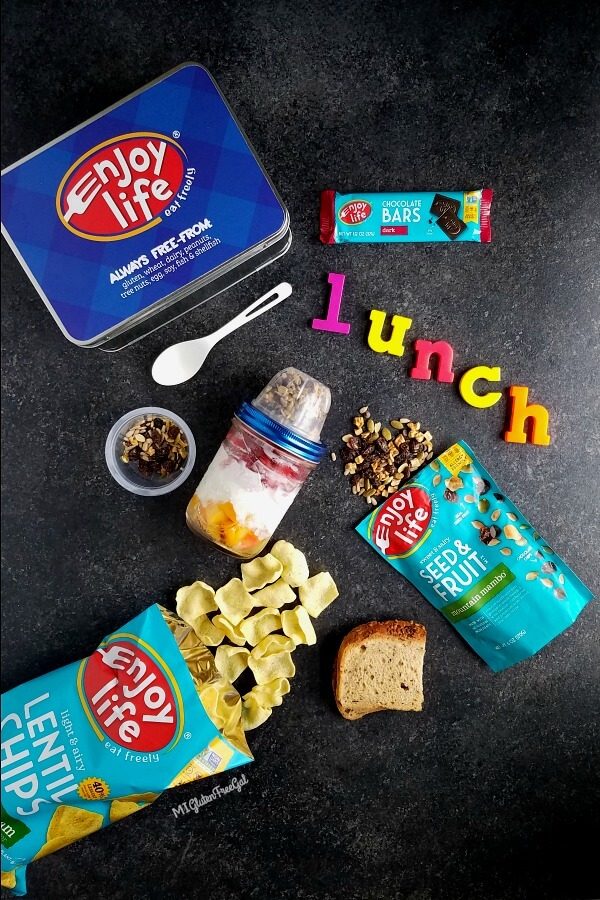 My Husband's Favorite Back to School Snacks
While I may not have kids, I do have a husband who (joyously) teaches 8th grade. I find one comfort at back to school season as I pack his lunches. Mr Clegg is a total creature of habit. He wants yogurt in his lunch, with trail mix, every day. In the past I used to send a mix of Cheerios, peanuts and raisins.
However, now that all classrooms at his school are 100% peanut and tree nut free, I send a mix made with sunflower seeds. When I'm in a sharing mood, he gets the Enjoy Life Seed and Fruit Mix. He loves it as much as I do!
Repurpose Those Empty Plastic Fruit Cups
Did you know that you can repurpose old fruit cups and old applesauce cups to hold other back to school snacks? I layered plain Greek yogurt between chopped frozen peaches and chopped frozen strawberries in a wide mouth Mason jar. (I find the frozen fruit helps keep the yogurt cold!) Then, I fill the old (washed) fruit cup with Seed and Fruit Mix, place against the top of the mason jar lid, then flip it over. Screw on the ring and you have a handy to-go container for any type of fun food! (Please, note, this only works with a wide mouth jar. Not a small mouth jar. Take it from one who has learned from experience!)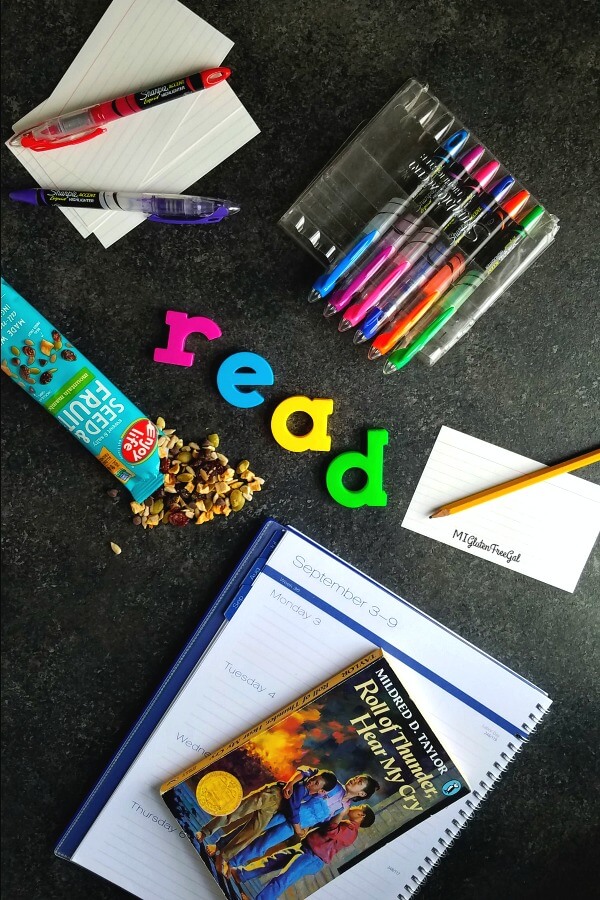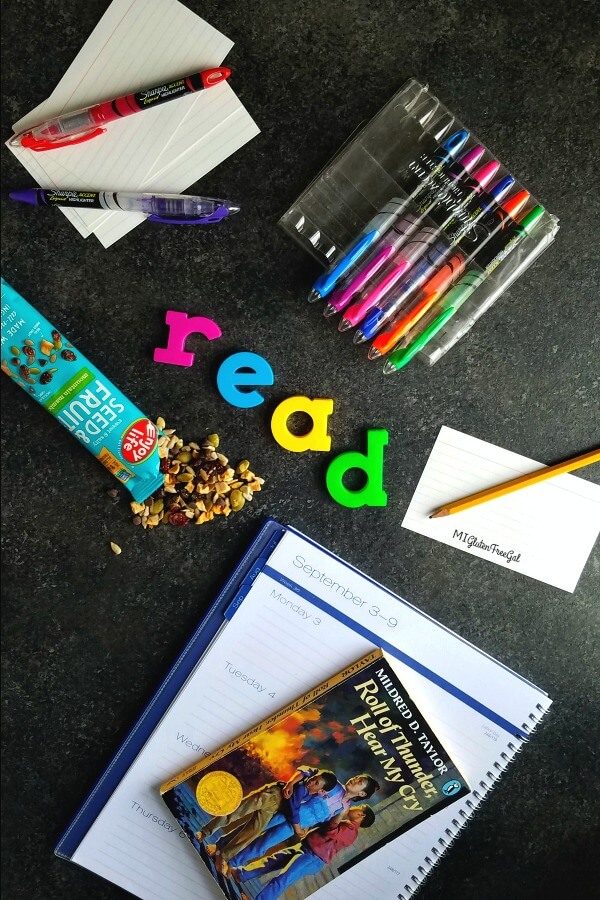 Health Benefits of Seeds
Not only do these Seed and Fruit Mixes add a touch of sweet to any back to school lunch, they have added health benefits too! Both the Mountain Mambo and Beach Bash mixes list sunflower seeds as a first ingredient. Sunflower seeds are high in Vitamin E, which is a natural antioxidant. Vitamin E prevents the build up of plaque in arteries. In addition, sunflower seeds contain a significant source of magnesium. Magnesium controls muscle contraction, therefore helping to prevent muscle cramps and possibly migraines.
Both Fruit and Seed Mixes contain pumpkin seeds as well. Pumpkin seeds contain a significant source of zinc. Know what zinc is good for? THE IMMUNE SYSTEM! Let's be honest, our kids (and spouses) spend their day in a giant germ incubator. And what happens? They go back to school, then come back to home and spread those germs! So by adding this snack to their lunch, you help them AND you have a healthy school year!
Other Gluten Free Snack Ideas
Looking for other ideas for healthy back to school snacks? Check out these tips from Eat At Our Table for Back to School Lunches. Not sure what to send for lunch? This Mess is Ours wrote a fantastic post with 100 Gluten Free Lunchbox Recipes! Even though we may have food restrictions, we sure are blessed to have a great community of supportive moms and friends!
**This post has been sponsored by Enjoy Life Foods. They have given me free product, and compensated me for my time and talents. I have been a faithful fan of Enjoy Life Foods and their staff for over a decade, and all thoughts and opinions are completely my own.**