Annie May's Sweet Cafe Removes Bitterness of Food Allergies
As an Amazon Associate and member of other affiliate programs, I earn from qualifying purchases.
Living with Celiac Disease or other food allergies can make life difficult, especially when traveling. I'm always asking questions- "Do you have a dedicated gluten-free fryer? Do you use a separate prep station for your gluten-free pizza? Do you use soy sauce in your products?" Sometimes I feel like the gluten-free gestapo. Luckily, all that worry and concern eases away at Annie May's Sweet Cafe.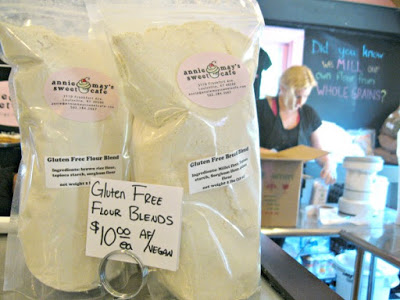 Luckily, all that worry and concern eases away at Annie May's Sweet Cafe. Everything at this bakery is 100% free from gluten, and free from the top 8 allergens. It's such a relief to be able to walk in and let your guard down, to just be a "normal" person and order off the menu like everyone else.
And that's exactly why owner Annie May McGill opened this business. Having to deal with food allergies herself, she knew the struggle and wanted to open a place where everyone can eat safely.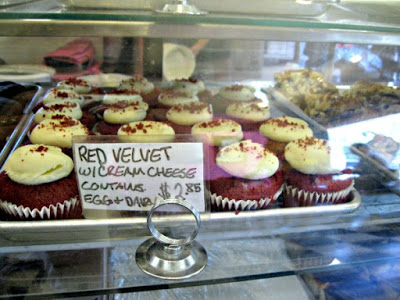 Annie May's Sweet Cafe Baked Goods
Cupcakes, cookies, and cheesecake, oh my! Plus there are brownies and a specialty called a Chewy Louie. This is a mixture of cake and cookie pieces stuck together with sweet ooey, gooey goodness. To see more of their delicious baked goods, check out this news interview they did with KET.
After much deliberate thought, we left with the Neapolitan Chewy Louie and the Classic cupcake. The classic is a throwback to the Hostess cupcakes that many of us might miss from our childhood. With a rich chocolate cake, chocolate ganache topping, creamy filling and that distinctive white swirl, it definitely makes you feel like a (very happy) kid again.
Annie May's Sweet Cafe
3110 Frankfort Avenue
Louisville Kentucky 40206
502-384-2667
Hours – WED – FRI 10am-6pm, SAT 9am-2pm (CLOSED SUN-TUES)