. These Gluten Free Valentine Snack Cakes will make you the star of the classroom.  Thank you to Free Love Bakery for sponsoring this post and helping me make this amazing treat!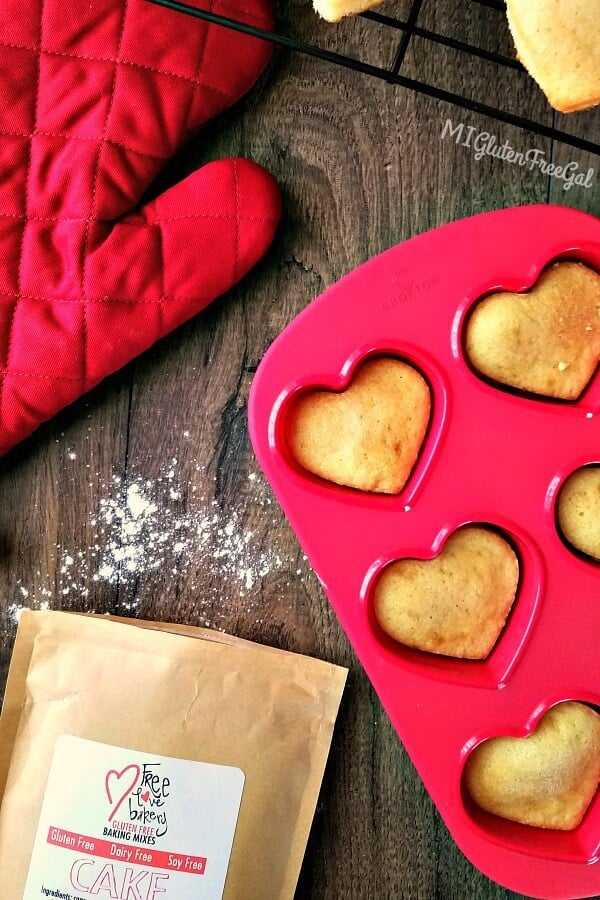 Which product do you miss most since starting a gluten-free diet? I asked this question on my Facebook page, and received lots of comments and answers from our community. Know what I miss? Little Debbie's. Yeah, I know. Not healthy. However, Little Debbie snack cakes evoke a sense of my childhood. So today, I'm making adorable gluten free valentine snack cakes, reminiscent of those sweet treats wrapped in cellophane. I can still hear the crinkling of that wrapper, can't you?
You can use any gluten free cake mi to make these gluten free valentine snack cakes. For this recipe, I chose to use the new cake mix from Free Love Bakery. You may be familiar with them from my dedicated Michigan gluten free bakery list. Sadly, owner Julie Fox chose to close her storefront. However, now she is selling all of her created mixes from the bakery to you directly! All of her mixes are free of gluten, dairy, and soy. Julie sent me this cake mix, as well as the muffin and bread mix. I'm looking forward to that bread mix. I'm hoping to recreate the amazing egg salad sandwiches she had at Free Love Bakery. Who knew dill could dramatically change a sandwich?!?!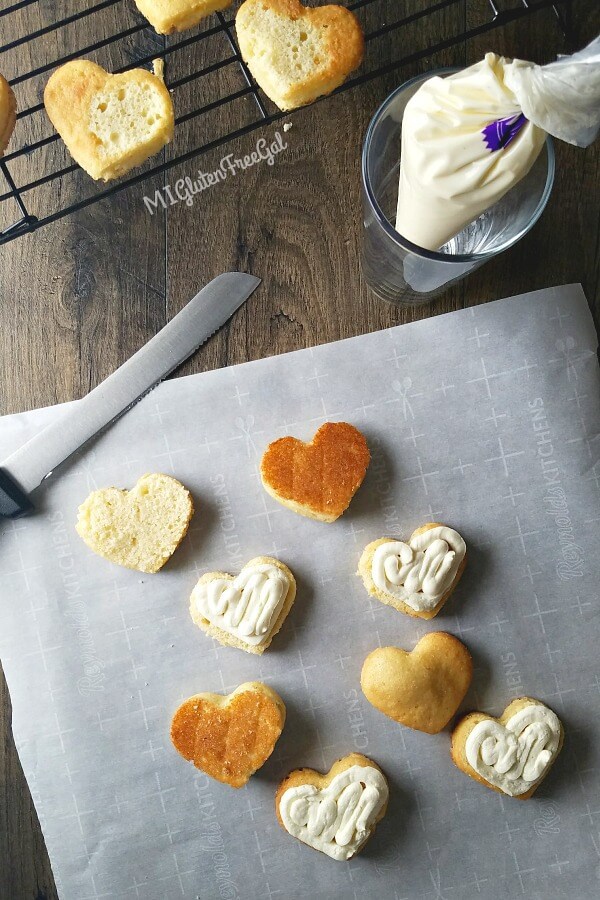 So, there are multiple ways you can go about making the cake for these gluten free valentine snack cakes. I have a silicone pan with heart-shaped well. I filled each well with one ounce of batter, and baked them for 15 minutes. If you lack a pan like mine, you can bake the cake in a jelly roll pan. I suggest lining it with parchment paper first to make removal easier. Then, simply use a heart cookie cutter to cut out heart shapes. If you bake the Free Love Bakery cake mix in a jelly roll pan, you will need to slice the shapes in half. I suggest using a bread knife for this.
What's the best part of a Little Debbie snack cake? Is the the cake? The coating? Or is the creamy filling what awakens my feelings of carefree childhood days? This filling uses a creative, miraculous ingredient. Marshmallow fluff. Did you know that marshmallow fluff makes the easiest buttercream frosting? Wish I could say this was my brain child. Nope. Just another wonderful recipe from The Kitchn. If you are curious on how to cook everything from spaghetti squash to authentic curry, I guarantee they have a recipe for it. Know what they don't have? A recipe for gluten free valentine snack cakes. So I guess that makes me a genius. 😉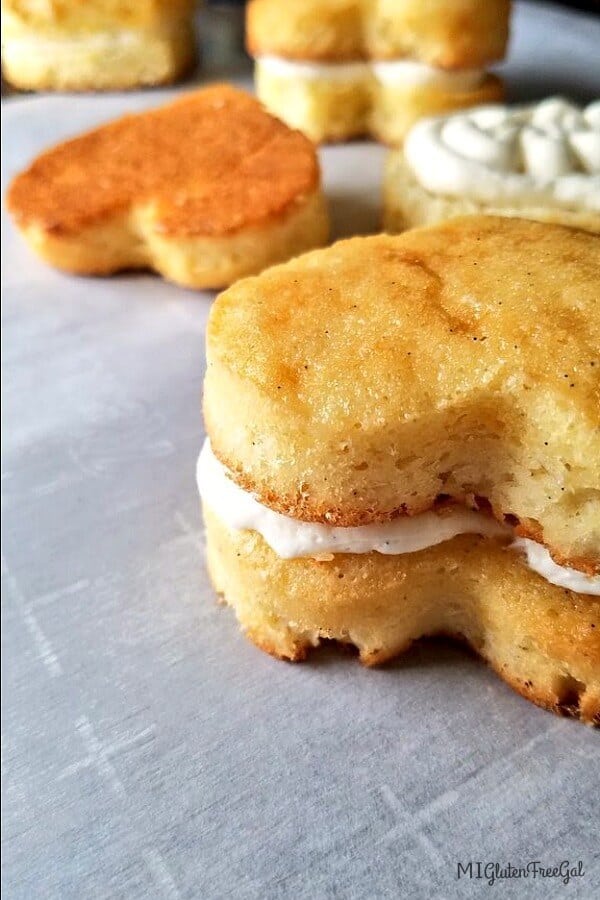 this cake is ready for its close-up, Mr. Demille. Seriously, aren't these gluten free valentine snack cakes stunning? Despite being gluten-free, this cake mix from Free Love Bakery bakes up really fluffy. They rose so nicely I even had to trim the tops with a flat knife to level them. Which means there was leftover cake bits that needed to be eaten. Which I eagerly and gladly ate. If you ever need a friend to eat your leftover bits of gluten-free cake, I'm your gal. That's a cross I'll gladly bear for ya.
The cake and the filling for these gluten free valentine snack cakes are pretty simple. The chocolate coating can be a bit more tricky. Full confession? I used ganache to top these, just like my gluten free mocha donuts. However, that ganache is still pretty soft. These two below were the most photogenic of the bunch. Instead of using ganache, I would suggest a mixture of melted chocolate and shortening. (Don't worry, I included a ratio for that in the recipe below.) They still taste great with ganache, but they lack that hand held capability that makes every school lunch and classroom party fantastic.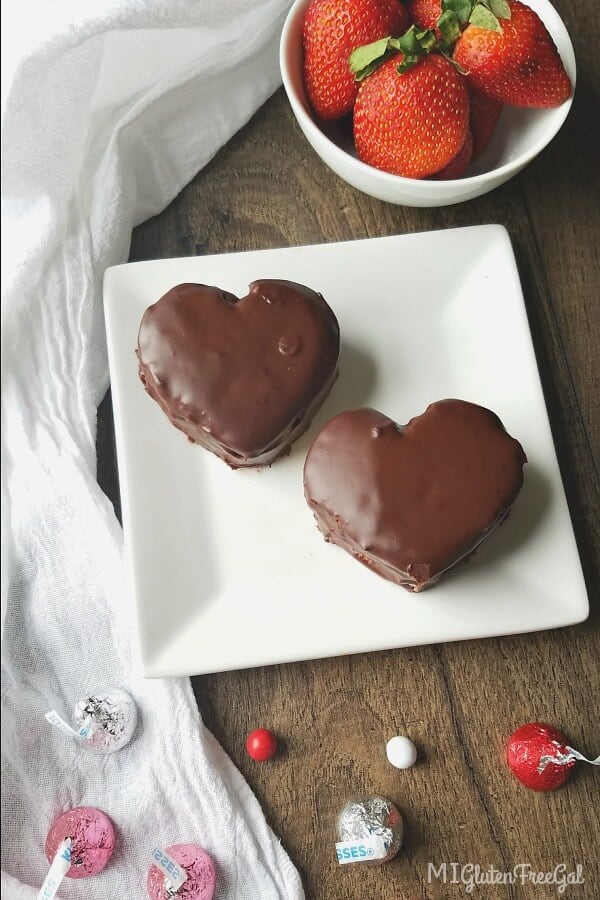 Not only are these gluten free valentine snack cakes fairy simple to make, Free Love Bakery wants to make it easier for you. How? They are offering one of my readers the chance to win their mixes of their choosing, from their website. In addition to making a gluten-free cake mix, Free Love Bakery also makes seven other mixes. They include a bread mix, a pizza mix, a pie crust mix, a cookie mix, a tortilla mix, a muffin mix and a biscuit mix. As a reminder, all mixes are gluten, dairy and soy-free! Enter the rafflecopter giveaway below for your chance to win one of these tasty mixes from Free Love Bakery!
**I received product and was monetarily compensated for this post. I had already fallen in love with baked goods at Free Love Bakery prior to this post. I'm excited that I can make Julie's baked goods here at my home now! Support local!**
Gluten Free Little Debbie Valentine Cakes
Ingredients
For the Cake

1 Cake Mix, prepared according to directions

For the Filling

4 oz butter (or Earth Balance Buttery Sticks), softened
4 oz Marshmallow Fluff
2 oz powdered sugar (approx. 1/2 cup)

For the Glaze

16 oz almond bark or chocolate chips
6-8 tbsp shortening
Instructions
Preheat oven to 350 degrees.
Prepare cake mix according to direction. Bake in pan with heart-shaped wells. Another option is to bake the cake in a jelly roll pan, on top of parchment paper. When the cake is cooled, remove and cut heart shapes out of the cooled cake with a cookie cutter.
If baking batter in heart-shaped wells, use an 1 oz scoop to fill heart form. Bake for 15 minutes, turning 180 degrees halfway through baking.
Allow cakes to completely cool on a wire rack.
Meanwhile, prepare filling. Combine softened butter and marshmallow fluff in a stand mixer, fitted with the paddle attachment. Whip butter and fluff together, while slowly adding powdered sugar. Whip to desired consistency.
Fill a disposable piping bag or gallon-sized ziploc bag with the filling mixture. A good way to accomplish is the stretch the bag opening over a tall drinking glass to provide stability.
If you baked your cake mix in a jelly roll pan, you will have to slice your hearts in half, carefully. Do so with a bread knife.
Pipe filling onto one half of heart and top with remaining cake. Place cakes in freezer to solidify while melting your chocolate.
In a large microwave safe dish, melt chocolate and shortening, in 30 second intervals. Stir after each interval, continuing until completely melted and smooth.
Remove cakes from freezer and place in bowl, one at a time. Spoon chocolate glaze over top. Then carefully remove with a fork, lifting from underneath. Place carefully on parchment paper to set up.
7.6.7
32
http://miglutenfreegal.com/2018/02/09/gluten-free-valentine-snack-cakes/
What's your favorite Valentine's treat? What family recipes do you make for your kiddos every February? Share your recipe ideas with me below!