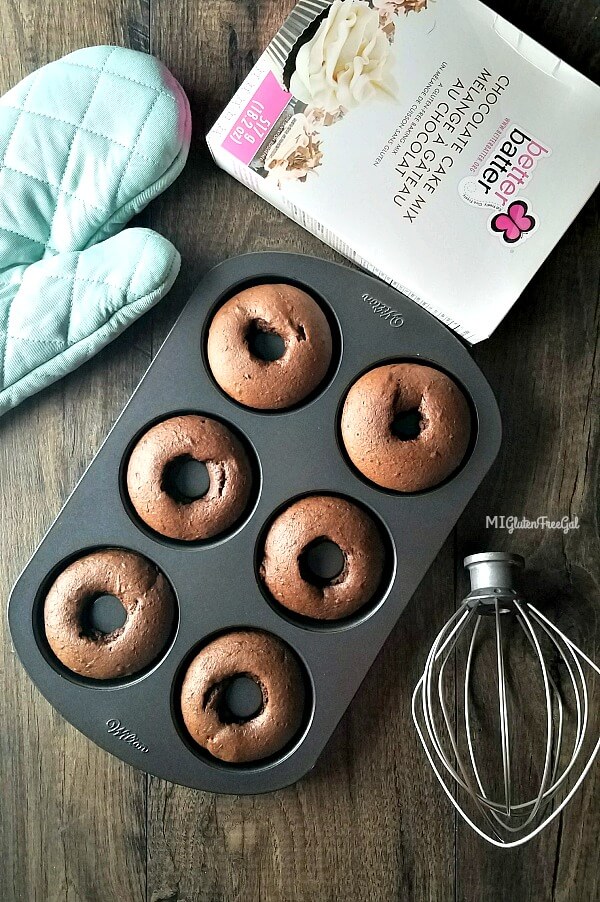 So my aunt messaged me on Instagram wanting the recipe for these gluten-free mocha donuts. The thing is, this recipe is incredibly easy. So easy, I imagine I could teach my niece how to make them. If you count this Better Batter Chocolate Cake mix as one ingredient, this recipe has 8 ingredients total. No dairy. Zero soy. No nuts.  So only 8 ingredients stand between you and delicious tasting gluten-free mocha donuts. So let's get started, shall we?
The trick from turning this chocolate cake mix into gluten-free mocha donuts is one special ingredient. Coffee.(Duh, right?) You can use any coffee you like. Espresso. Dark Roast. Breakfast Blend. I used the Simple Truth Dark Roast Cold Brew Coffee my husband bought at our local Kroger. (Wow, that was a mouthful.) The Better Batter Chocolate Cake mix calls for 1 and 1/2 cups of water. Instead, I used 3/4 cup of Cold Brew and 3/4 cup of water. Then I added the rest of the ingredients as directed, and mixed it in my stand mixer. Easy Peasy. Dump the batter into a gallon-sized plastic bag, snip the tip, pipe into a donut pan, and you're in business. Cha-ching.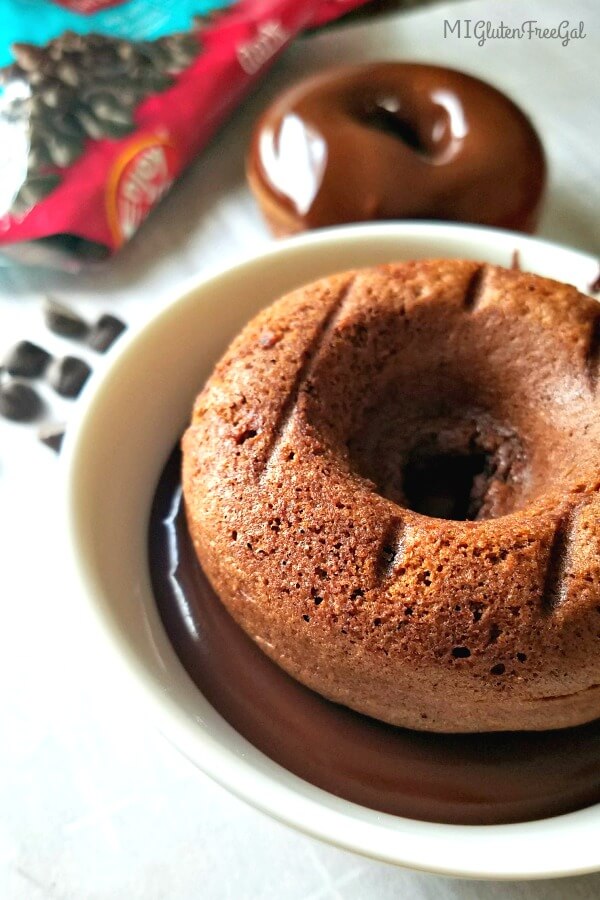 As you may have read in my Gluten-Free Mocha Cake with Dark Chocolate Ganache recipe, my husband loves coffee. So when I made another batch of ganache for these gluten-free mocha donuts, I again added espresso powder to the coconut cream. DO NOT ADD BREWED COFFEE. Why? Because coffee is made with water, and water makes melted chocolate seize. Nobody wants that. Trust me. To keep my ganache dairy-free, I use Enjoy Life Foods Dark Chocolate morsels. Have you seen their new teal packaging in the store? I LOVE that they're using the official color for food allergies for their brand. Bold and brave. Just like all of us living with food restrictions.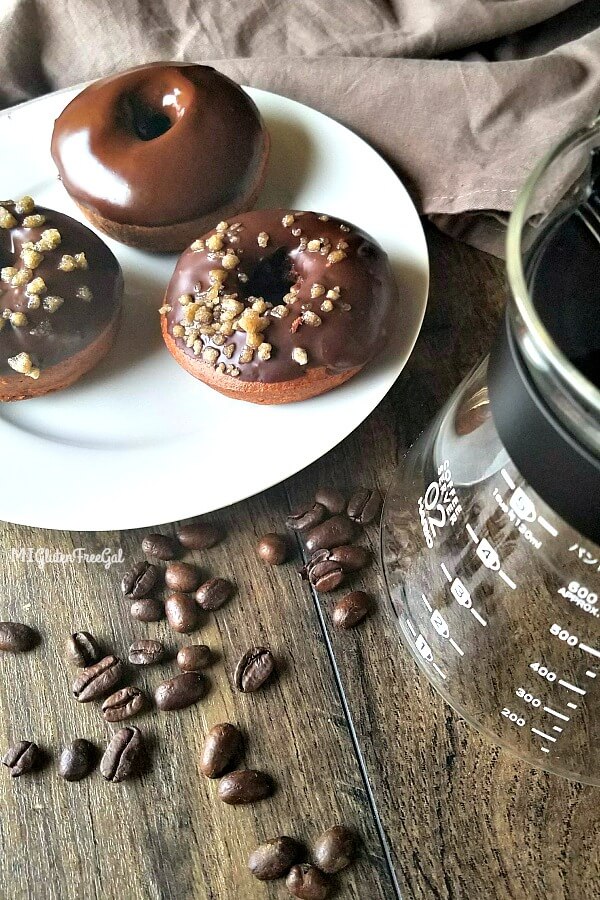 While I love talking about these easy gluten-free mocha donuts, I want to take a moment to talk about ethics. When possible, I like to choose chocolate and coffee that are both ethically raised and cultivated. Coffee and chocolate are two crops that are notorious for using child and slave labor. That is why when I buy coffee I look for Rainforest Alliance or Fair Trade Certified. It makes what we buy a little more expensive on our end. However, by doing so we are investing in farms and families that are raising crops the right way. Brands that utilize the Rainforest Alliance seal include Yumbutter, Kroger, and free2b Foods to name a few. If we all use our dollars to support those that make the world a better place, imagine how much good we can do in the world.
Super Easy Dairy-Free Chocolate Truffles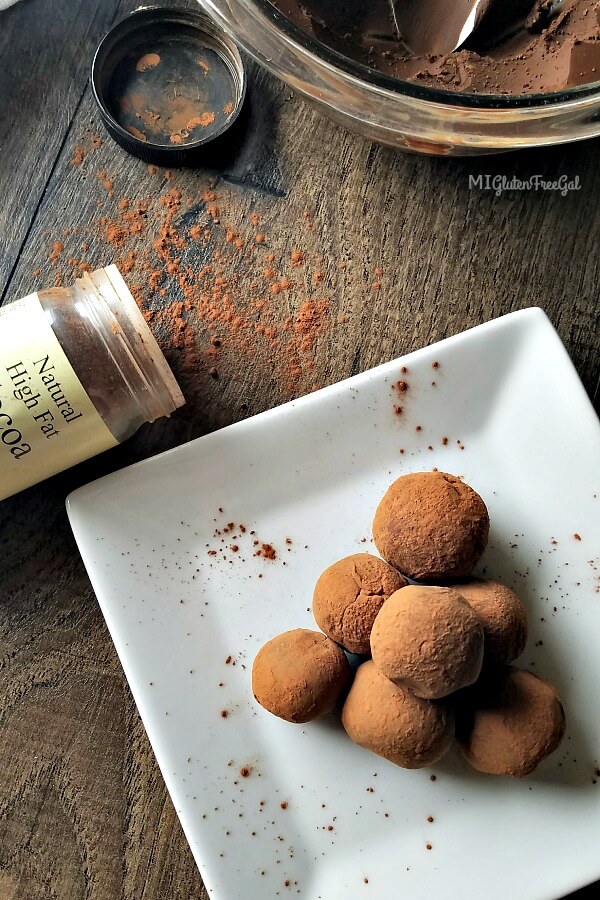 Want to know what else you can make with the ganache you made for these easy gluten-free mocha donuts? TRUFFLES. Deep, rich, dark chocolate truffles. The ratio for the ganache for the donuts is one-to-one, in ounces. (4 oz chocolate to 4 ounces coconut cream) Refrigerate the leftovers for a few hours and you can roll them up into truffles. They will be soft and a bit melty. Therefore, if you simply want to make truffles, and not use it as a topping for donuts, I would recommend 6 ounces of chocolate and 4 ounces of cream. Just sayin'.
So there you have it. A recipe for super easy gluten-free mocha donuts, AND an idea for super easy chocolate truffles. If you'd like other donut recipes, you can try my two-ingredient pumpkin donuts or my dairy-free coconut crusted, chocolate donuts. If you're looking for more creative donut flavors, I highly suggest checking out these from gluten-free gingerbread donuts from Gluten Free Palate. She's the donut QUEEN.
Easy Gluten-Free Mocha Donuts
Ingredients
1 box chocolate cake mix, prepared according to directions
EXCEPT subbing half of water with coffee
4 oz Enjoy Life Dark Chocolate Morsels
4 oz Thai Kitchen Coconut Cream (in a can)
1/2 tsp DeLallo Espresso Powder
Instructions
Preheat oven to 350 degrees.
Combine cake mix according to directions, substituting half of the water called for with coffee of your choosing. Mix well and dump abtter into a gallon size plastic bag. Snip the tip and pipe batter into a donut pan that has been sprayed with cooking spray.
Bake donuts for 15-20 minutes. Allow to cool in pan 3-5 minutes, and carefully remove to cooling rack.
While donuts are cooling, warm 4 oz of coconut cream in a small microwaveable bowl. (If you can only find coconut milk, i would suggest using 3 oz of full fat coconut milk instead of 4.)
Add chocolate chips to warmed coconut cream and allow to set for 5 minutes. (I usually cover the bowl with a small bread plate. Stir until all the chocolate is melted.
Dunk cooled donuts halfway into ganache and allow excess to drip off. Flip over and place on cooling rack or parchment paper. Sprinkle with sanding sugar if desired.
7.6.7
31
http://miglutenfreegal.com/2018/02/07/easy-gluten-free-mocha-donuts/
Who would you share these gluten-free mocha donuts with today? Do you intentionally shop for products that are certified by the Rainforest Alliance or by Fair Trade? Share your story below! 
**I was provided free product form from Better Batter. I was not otherwise compensated for this post. I highly appreciate the care they take to make products free of the 8 most common allergens, as well as powdered sugar free from corn. This page contains affiliate links.**