If there is one party food I miss, cheese sticks top the list. Not string cheese, but the melty gooey deliciousness that I have successfully recreated in these Baked Mozzarella Cheese Sticks. While they take some time to prepare, they are worth every single second. I highly suggest making a big batch, storing them in the freezer, and pulling them out when you need a few!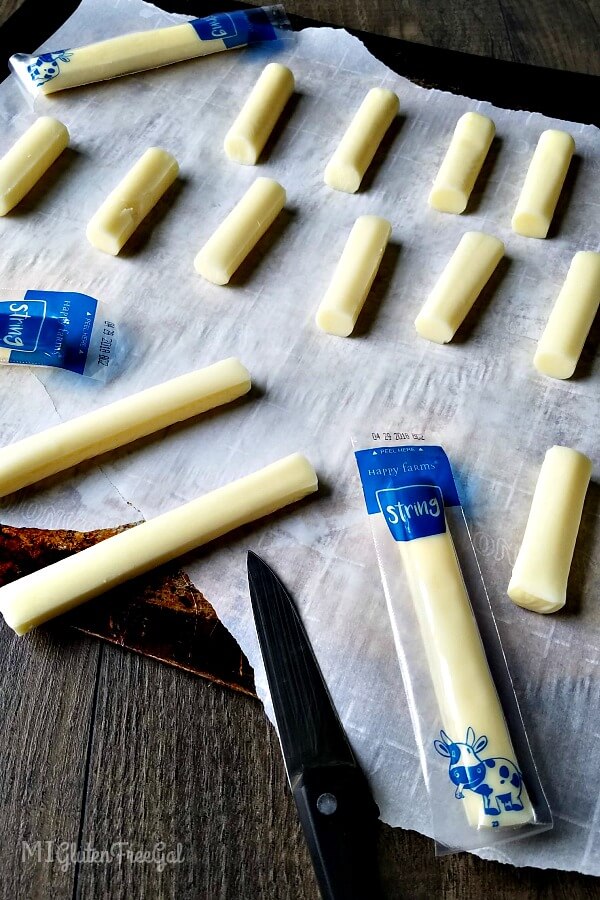 Cheese. If there is one food we never tire of in this household, it is cheese. Whether it's baked ziti loaded with mozzarella, meatloaf made with goat cheese, or creamy gluten-free cheesecake, cheese is always welcome at our dinner table. Most of these dishes are easy to modify gluten-free with just a few tweaks What I had yet to tackle though were Baked Mozzarella Sticks. Since Super Bowl is this weekend AND I had a box of Aleia's Coat and Crunch still to use from my American Gluten Free box, I figured this was the perfect time to get creative.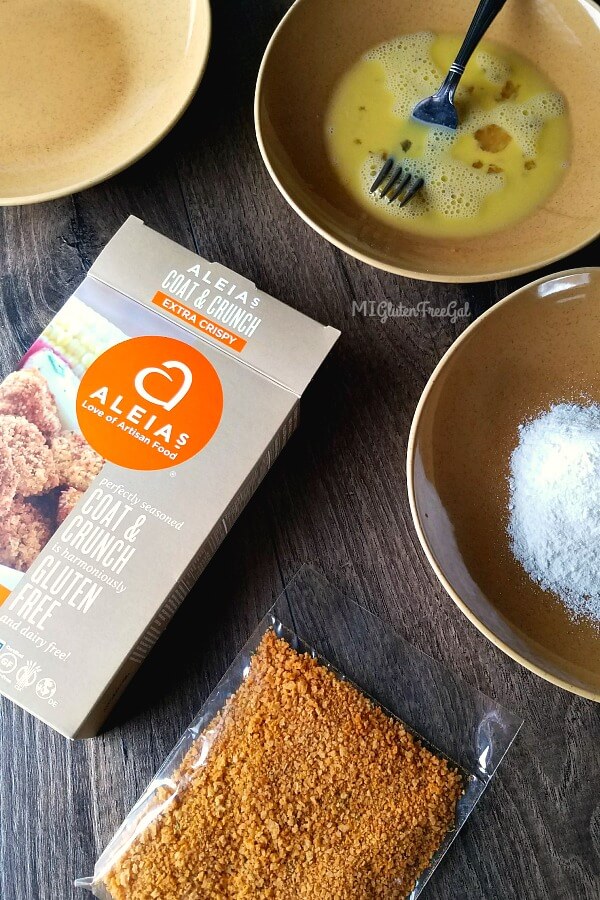 I'm not used to baking breaded items. Therefore, I spent some time researching methods. Many suggested freezing the cheese before breading. I did, but I'm not convinced it was all that important. The real science is the process of coating your mozzarella cheese sticks. Between research and a bit of trial and error, I settled on the technique My Gluten Free Miami used for her cheese sticks. Egg, flour, egg, Aleia's Extra Crispy Coat and Crunch crumbs. This series of steps creates something similar to a paste that the crumbs can adhere to.
Once you coat your mozzarella cheese sticks, THEN you place them in the freezer. This is critical, otherwise you will have a gooey melty mess all over your cookie sheet. I froze mine for at least 2 hours prior to doing a test bake in the oven. Good thing, because I overbaked the first three just a minute too long and they were not photo worthy. Delicious, but definitely not going to win a prize for photo quality. Therefore, I froze the rest overnight and tried again in the morning. SUCCESS!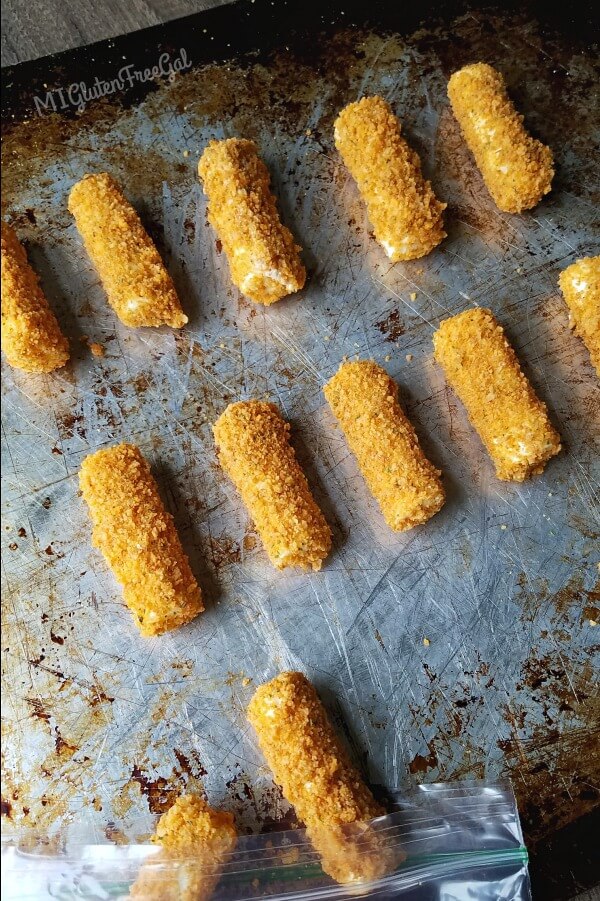 Just to clarify, you want to freeze these baked mozzarella cheese sticks flat on a cookie sheet first. However, once they are hard you can toss them into a ziploc bag and save them for a later date. Or be super awesome, freeze them, and give them to a cheese loving friend. I can just imagine how excited they will be. I mean, I would be. Anyway, I digress. When you want to finally enjoy your baked mozzarella cheese sticks, preheat the oven to 400 degrees. Then, bake them for 6 minutes. Not 7 minutes – trust me from experience that it is one minute too long. And not 5 minutes, because it won't reach that level of stretchy cheesiness we all desire. 6 is the magic number for baked mozzarella cheese stick perfection.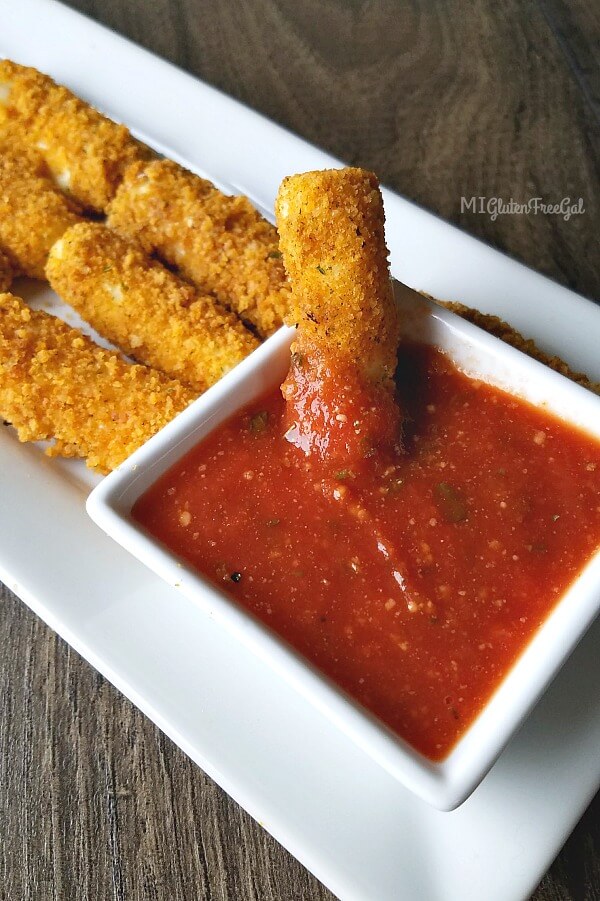 IMO, you don't even need dipping sauce for these baked mozzarellla cheese sticks. They really do taste delicious completely on their own. However, they pair great with marinara sauce or even ranch dressing. They do tend to cool quickly, so I highly suggest eating them promptly. Then again, they're so delicious that they're kind of hard to put down. So, maybe that point is moot.
Gluten Free Baked Mozzarella Cheese Sticks
Ingredients
12 ct package of Mozzarella string cheese
1/4 c Bob's Red Mill Rice Flour
2 eggs, beaten
1 box Aleia's Extra Crispy Coat and Crunch (Crushed and Seasoned Corn Chex could work as well)
Instructions
Unwrap cheese sticks and cut in half. Place on a cookie sheet lined with aluminum foil to make clean up easier.
In a shallow bowl, beat egg whites. Add a tsp of water to thin out if desired. Place gluten-free rice flour in a second shallow bowl and the crumb coating in a third. (I only opened one packet of crumbs at a time to keep it fresh.)
Dip cheese stick in beaten egg, making sure to get the ends of the cheese dipped in the egg. Next, roll the cheese stick in the flour, making sure the ends get coated in flour.
Now, dip the floured cheese stick back in the beaten egg, making sure that all parts coated with flour are now coated with egg. This will create a paste like texture that will help the crumbs adhere to cheese stick.
Finally, dip the cheese stick in the breading, again making sure the ends are thoroughly coated. Place on cookie sheet and repeat with remaining cheese sticks.
After all cheese sticks are coated, place cookie sheet in freezer for preferably three hours or even overnight.If you don't plan to bake them right away, place in a sealable plastic bag and store for later use.
When ready to bake the mozzarella cheese sticks, preheat oven to 400 degrees. Bake cheese sticks in an even layer, on aluminum foil, for 6 minutes. Serve alone or with favorite dipping sauce.
7.6.7
29
http://miglutenfreegal.com/2018/01/29/gluten-free-baked-mozzarella-cheese-sticks/
What are your favorite game day snacks? If you're looking for more "Super" recipes, Grain Changer, Celiac Mama, and VegetarianMamma, have other fabulous links for you, too! Is there a favorite recipe of yours you'd like me to remake "gluten-free"? Drop me a comment below and I'll see what I can do!