I love finding new gluten-free products, especially ones that are food-allergy friendly. These Foodie Fuel Snacks a quick snack that are safe to send to school or devour all by yourself. Thank you to Foodie Fuel for sponsoring this post!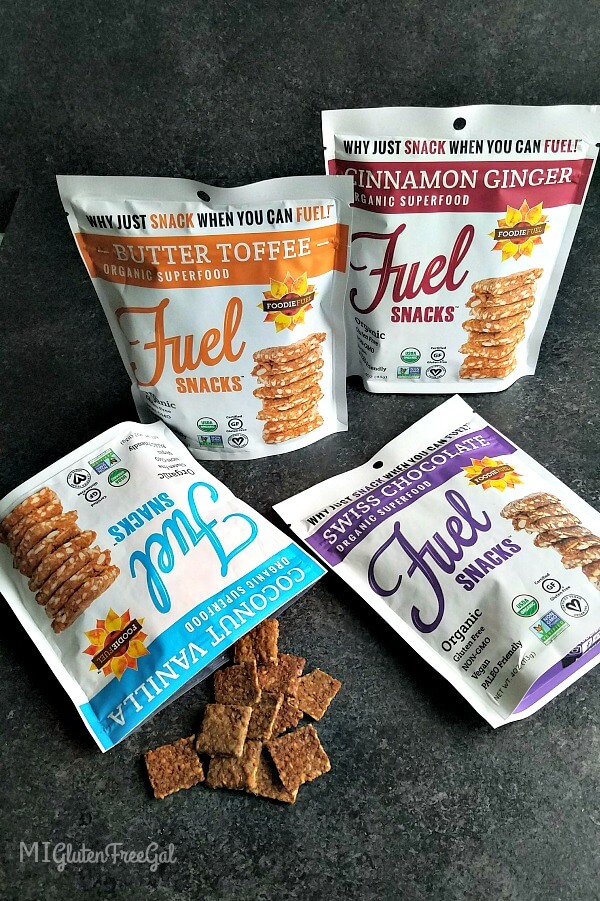 I love to snack. Working from home, I always find myself looking for something to nibble. Too many times, my hand grabs something loaded with processed carbohydrates. Not the best choice, I know. That's why I am always on the lookout for new goodies that are good for me. I miraculously discovered Foodie Fuel Snacks while walking through Horrock's. (Never heard of Horrock's? Shut yo' mouth! Next time you stop in Lansing, you must visit!)  The colorful packaging truly caught my eye.
Know what else caught my eye?
* Certified gluten-free through GFCO (and made in a dedicated GF facility!) 
* Nut-Free ###
* Vegan (i.e., dairy-free and egg-free)
* No artificial or alternative sugars
* Non-GMO
* ORGANIC!!!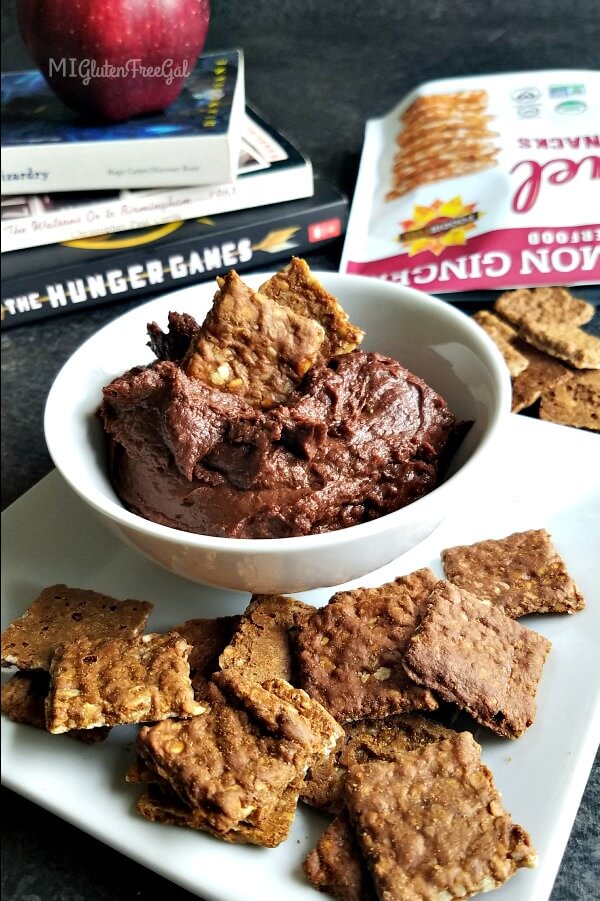 I mentioned what ingredients you won't find. However, let me fill you in on the goodness you WILL find! Foodie Fuel snacks are loaded with heart-healthy, complex-carbohydrate seeds. Love sunflower and pumpkin seeds? They make up the base of these snacks. Are you a fan of chia seeds and flax seeds? These snacks have those too! These bite-sized snacks were created to sustain your energy all day while being full of real nutrients. A touch of coconut sugar or cocoa powder doesn't hurt either!
For all those reasons and more, these are perfect to send as an after-school snack for the clubs my teacher-husband leads. As I shared previously, his district established a nut-free environment in all classrooms. When you get a mix of kids together, sometimes finding a snack that everyone can eat provides a challenge. However, Foodie Fuel Snacks cover all the food-allergy bases. While they taste great on their own, they also pair well with dips. I almost devoured this whole bowl of chocolate dessert hummus, using the Cinnamon Ginger snacks.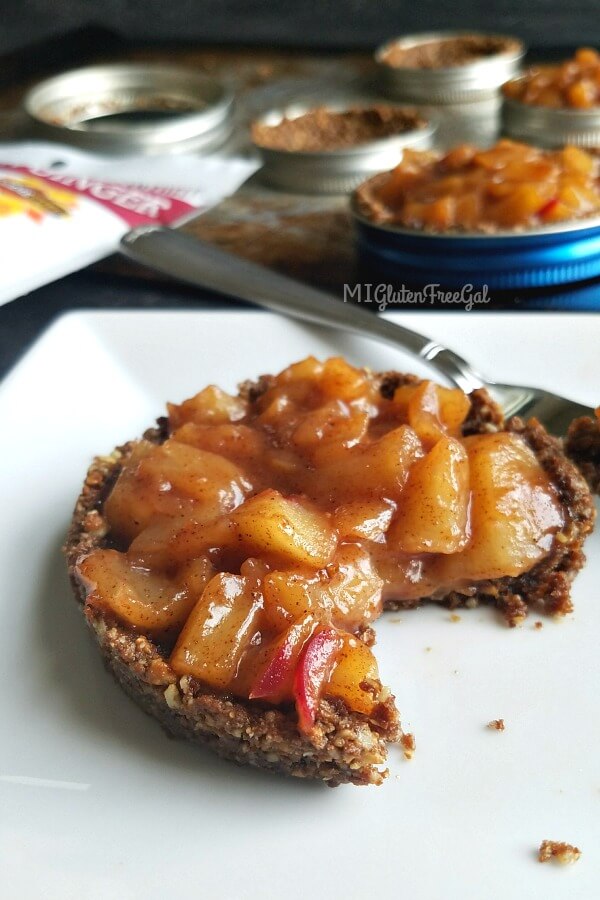 Foodie Fuel Apple Tarts
When I first saw these at Horrock's, I only purchased the Butter Toffee and the Swiss Chocolate. Because, well, CHOCOLATE! I totally passed on the Cinnamon Ginger, thinking they might have too much of a bite. Oh how thankful I am that my friends at Foodie Fuel sent them to me. They are so delicious! Biting into them, I immediately thought they would pair perfectly with apples. Therefore, I made a quick crumb crust with them, formed it into an upside down mason jar lid, and filled it with homemade pie filling. Truly, there are no words for how delicious this tastes. My husband ate every single (remaining) bite when he returned home from work. Shout outs to Dessert For Two and MyRecipes for the inspiration behind this sweet treat!
Looking for other fun ways to use them? Check out this Foodie Fuel Snacks Review from Gluten Free Palate!
Ingredients
For the crust

1 package Foodie Fuel Snacks Cinnamon Ginger Flavor
2-3 tbsp butter, melted (or coconut oil)

For the filling

2 tbsp butter
4 apples, cored, peeled and chopped
4 tsp lemon juice
4 tbsp sugar
1 tsp cinnamon
1/2 tsp salt
1/2 tsp allspice
1/4 tsp ground ginger
1 tsp cornstarch
2 tbsp water
Instructions
For the crust, place contents of one bag of Cinnamon Ginger Foodie Fuel Snacks in a food processor. Pulse until broken into crumbs. Add melted butter until all crumbs moistened.
Take mason jar lids and invert inner lid so the metal side is facing up. Using fingers, push moistened crumbs into mason jar lid to form crust. You will make 4 tarts if using larger lids.
Bake crusts in 350 degree oven for 5-7 minutes. Cool completely.
Meanwhile, in a small stock pot, melt butter and add chopped apples. Add lemon juice, sugar and spices. Cook for 5-10 minutes, while crusts are in oven. In a small bowl, combine cornstarch and water. Add cornstarch slurry to apples and cook one minute more. Remove from heat.
Once crusts and filling have cooled, fill tart shells with filling. Refrigerate one hour for all ingredients to set. Use fingers to pop out bottom of inner mason jar lid.
Notes
Inspiration taken from Dessert for Two, Mason Jar Lid Tarts and MyRecipes.com Spiced Apple Two-Bite Tarts
7.6.7
27
http://miglutenfreegal.com/2018/01/17/foodie-fuel-food-allergy-friendly-snacks/
Which of these flavors do you find most intriguing? What are you favorite food-allergy friendly snacks? Leave me a note below!
**I was provided free product and was compensated for this post. However, I fully enjoyed these products and researched this company prior to agreeing to this sponsored post. I would highly recommend these snacks regardless.**
### Allergen note- While the packaging states "produced in a facility that processes peanuts, tree nuts, milk and eggs," these ingredients are NOT present in the separate production room where Foodie Fuel snacks are made.