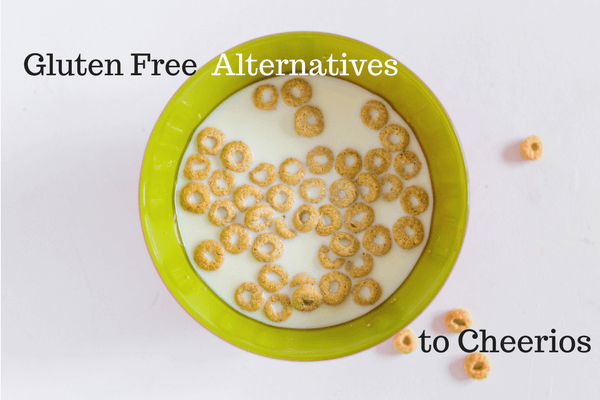 Gluten Free Cheerios. Who knew a small "O" shaped cereal could cause such controversy? People ask "Do you feel Cheerios are safe or unsafe on a gluten-free diet?" I suggest we remove ourselves from that specific conversation. Instead, we should speak up for companies who make unique gluten free alternatives to Cheerios. Many brands exist on the market who take extra strides to create and certify "O" shaped cereals for those of us who need it. Read through the whole post to see just how some of these companies are going above and beyond. Who knows, they may become your new favorite cereal!
Nature's Path Whole O's
Nature's Path Whole O's became one of my favorite gluten free alternatives to Cheerios over a decade ago.  It contains no oats, no GMO's, and is certified through GFCO. This cereal boasts only 5 ingredients. The main ingredients include organic brown rice flour and organic corn flour. While not frequently available in bigger grocery stores, I  find these at local health food stores, as well as on Amazon.
Quinoa Queen Cereals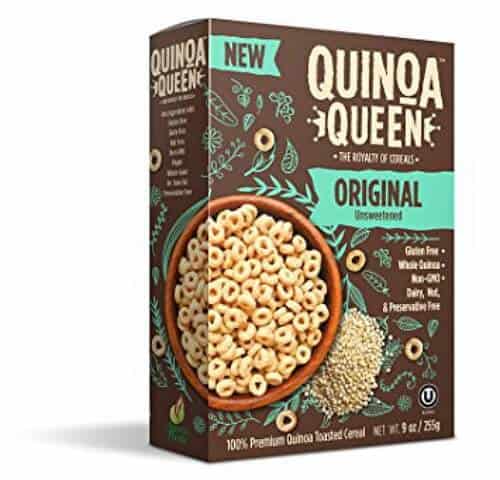 Quinoa Queen may be one of the newest gluten free alternatives to Cheerios. They produce their quinoa based cereals in a dedicated gluten-free facility. Per my conversation with them, they batch test all products to insure they meet the 20 ppm threshold. They complete this with internal AND external laboratory tests. In addition, their products hold organic certification in the United States. As of January 2018, Quinoa Queen is working on gluten-free and Non-GMO certifications. They make three gluten-free O shaped cereal flavors- unsweetened, lightly sweetened, and Citrus Bliss. The unsweetened has a very distinctive taste, and I prefer the lightly sweetened or Citrus Bliss flavors. You can find them in limited stores, but also on Amazon.
Freedom Foods All Round Goodness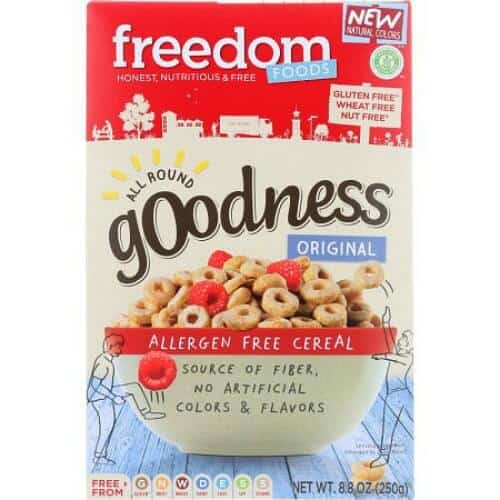 All Round Goodness contains lots of flavor, a touch of maple syrup, and NONE of the Top 8 allergens. Know what else is missing? Artificial colors, flavors and GMO's. That holds true for Freedom Foods products, which I originally tries that the GFAF Expo. They make many "kid favorite" flavors. Flavors include Tropicos which taste like Fruit Loops and Rainbow Rocks which taste like Fruity Pebbles. Their Pro-Teen Crunch vaguely reminds me Captain Crunch. This Austrailan based company is new to American markets, so keep an eye out! Like many gluten free alternatives to Cheerios, this cereal contains no oats. I have found them at Kroger stores, as well as on Amazon.
Orgran Multigrain Breakfast O's with Quinoa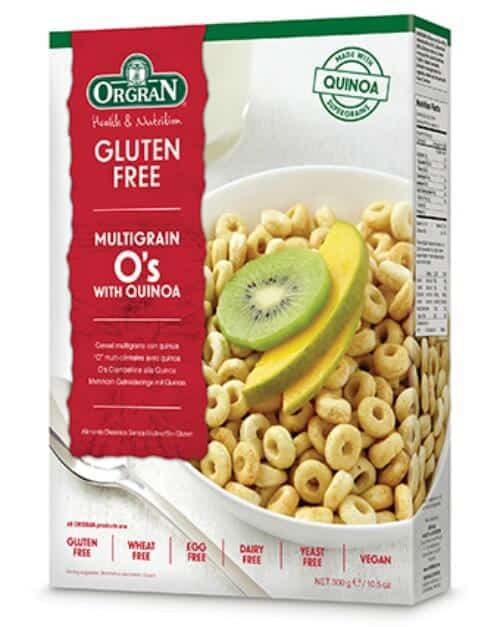 Orgran also hails from Australia. While their Multigrain Breakfast O's taste most similar to the "yellow box" cereal, they also make additional flavors. Their Whole Grain Buckwheat O's contain a hint of maple. Children love their  Rice and Millet O's  Wildberry flavor and their Itsy Bitsy Cocoa O's. Again, since Organ is a foreign company, they might be hard to find on shelves. This gluten-free O shaped cereal and their many other products are available on Amazon.
Kay's Natural's Protein Cereals – Honey Almond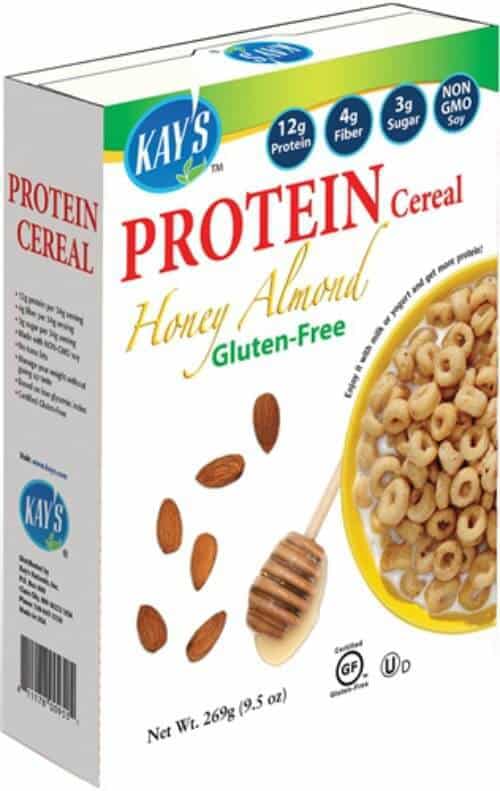 Of all the gluten free alternatives to Cheerios, Kay's Naturals may be the most health focused. Kay's Naturals strives to provide "healthy, protein rich, and low-sugar gluten free snacks and cereals." Their cereals contain 35% protein and lots of fiber to keep you fuller, longer. In addition to their Honey Almond flavor, they also produce French Vanilla and Apple Cinnamon flavors. This O shaped cereal contains stevia, helping to balance blood sugar levels for those with diabetes. Intereted in trying it? Order a 6 pack of their samples on Amazon.
Love Grown Power O's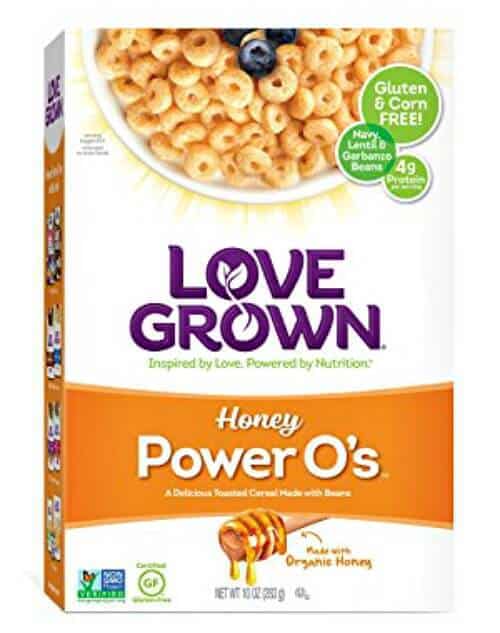 Photo courtesy of Amazon
Love Grown Power O's may contain the most unique blend of ingredients of all the gluten-free "O" shaped cereals. Their create their cereals from "navy, lentil and garbanzo beans." Their original flavor contains no added sugar 4 g of fiber per serving. In addition to their Honey flavor, they also produce unflavored,, chocolate and strawberry flavors. In 2018, look for a new cinnamon flavor as well. The packaging states that they are made in a facility that produces wheat. Per my conversation with them, their "co-manufacturer runs gluten-free one week out of the month. Before and after that production run, they disassemble, clean and them reassemble the equipment for production." These cereals bear the GFCO gluten-free certification, which requires audits on a yearly basis, sometimes even more frequently depending on the product. If you're a Prime fan, you can also order them on Amazon. 
Vans Blissfully Berry Cereal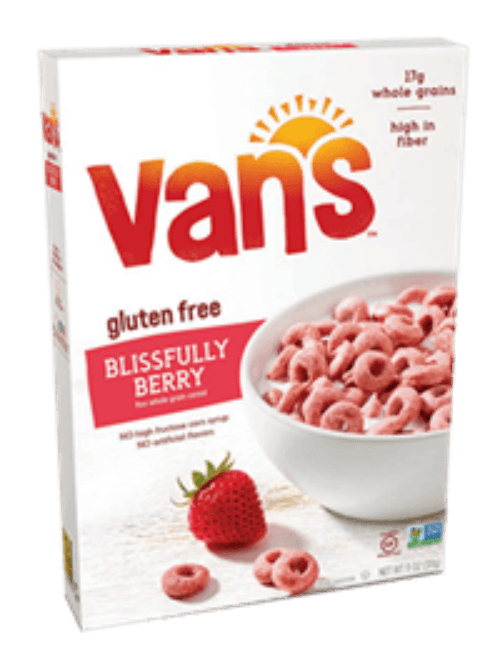 Photo Courtesy of Vans Foods
Vans Foods are most famous for their gluten-free waffles. In recent years they added cereal to their line-up, including their Blissfully Berry and Cocoa Sensation gluten-free O shaped cereals. Of all the gluten free alternatives to Cheerios, these cereals do contain oats. While unsure whether they use purity protocol oats, Vans cereals are certified gluten-free through GFCO. Many big stores carry this cereal, and it is also available on Amazon.
Honorable mention  / Note of Caution– Barbara's Honest O's Multigrain Cereal.  Their FAQ section states they test their gluten-free products to be under 20 ppm. Made from oats, there is no mention on their website as to whether this cereal is made from standard oats or purity protocol oats.
So there you have it. Many gluten-free "O" shaped cereal options, most who have been independently audited to be certified gluten-free. So when the many voices out there want you to pick a side in the gluten free Cheerios argument, politely choose "other." Let's celebrate the diversity of flavors and uniqueness of ingredients. Aren't we blessed that we have so many options?
Which of these cereals are you most interested in trying? Do you frequently buy one of these for your household? Share your thoughts on these brands below! 
**I was not paid by any of these companies to mention these products. This post is meant to be informative only. In addition, these images were not taken by myself, but found through other websites. However, this page does include Amazon affiliate links. Amazon will credit a small portion of the sale to me, but it does not change the price you pay. **