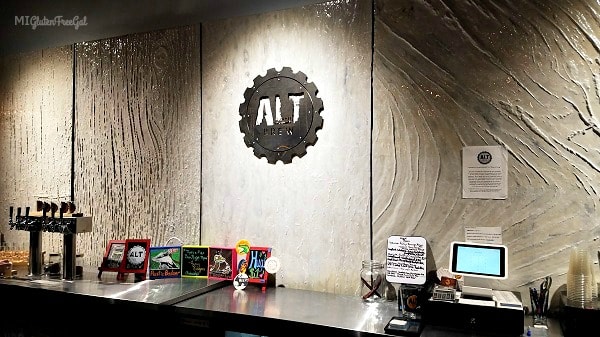 Beer. If there's one thing that those newly diagnosed with Celiac Disease miss, it's GOOD gluten-free beer. There's only a handful of true, dedicated gluten-free breweries in this country. (Stay far away from that gluten-removed beer.) Lucky for us mid-westerners, Alt Brew in Madison, WI brews IPAs, ales and porters that stand up to the task. My husband and I recently visited Alt Brew on our epic trip to South Dakota.
Trevor Easton, the owner of Alt Brew, had been brewing beer at home for years. It was a love and passion he shared with his wife. When she received a Celiac Disease diagnosis in 2007, it changed everything Easton knew about brewing beer. At first he tried still brewing regular beer at home, but he realized the issue with cross-contact with gluten was huge. Therefore, he started over, making brews from completely gluten-free grains. He tried batch after batch, admitting to me that he dumped more beer in that first 6 months than ever before.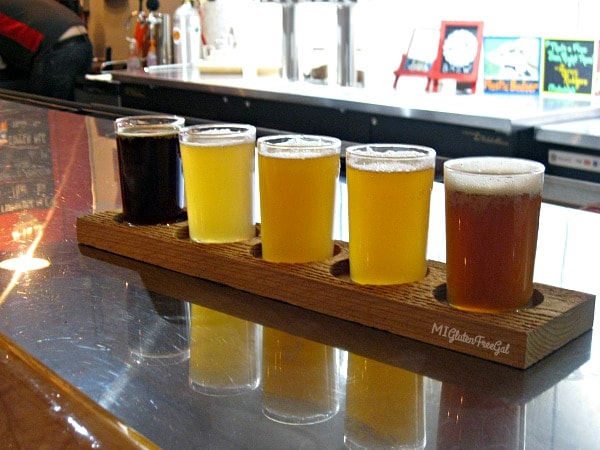 Fast forward ten years later and Alt Brew beers are winning awards. They always have 8 different beers on tap, as well as seasonal items in bottles. Their most notable brew is their Copperhead Ale. It won a Silver Medal Award at the Great American Beer Festival. You'll find everything from IPAs, ales and even their Sunset Belgian Tripel made with teff.
As I prefer ciders to beer, my husband ordered one of the tasting flights at Alt Brew. His flight included the Imperial Brown, the Kickback Kolsch, Hollywood Nights IPA, the Rustic Badger Farmhouse Ale and the Copperhead Ale. My husband prefers stouts and porters to a traditional IPA, so the Imperial Brown was high on his list. He says the Rustic Badger is an all-around great beer.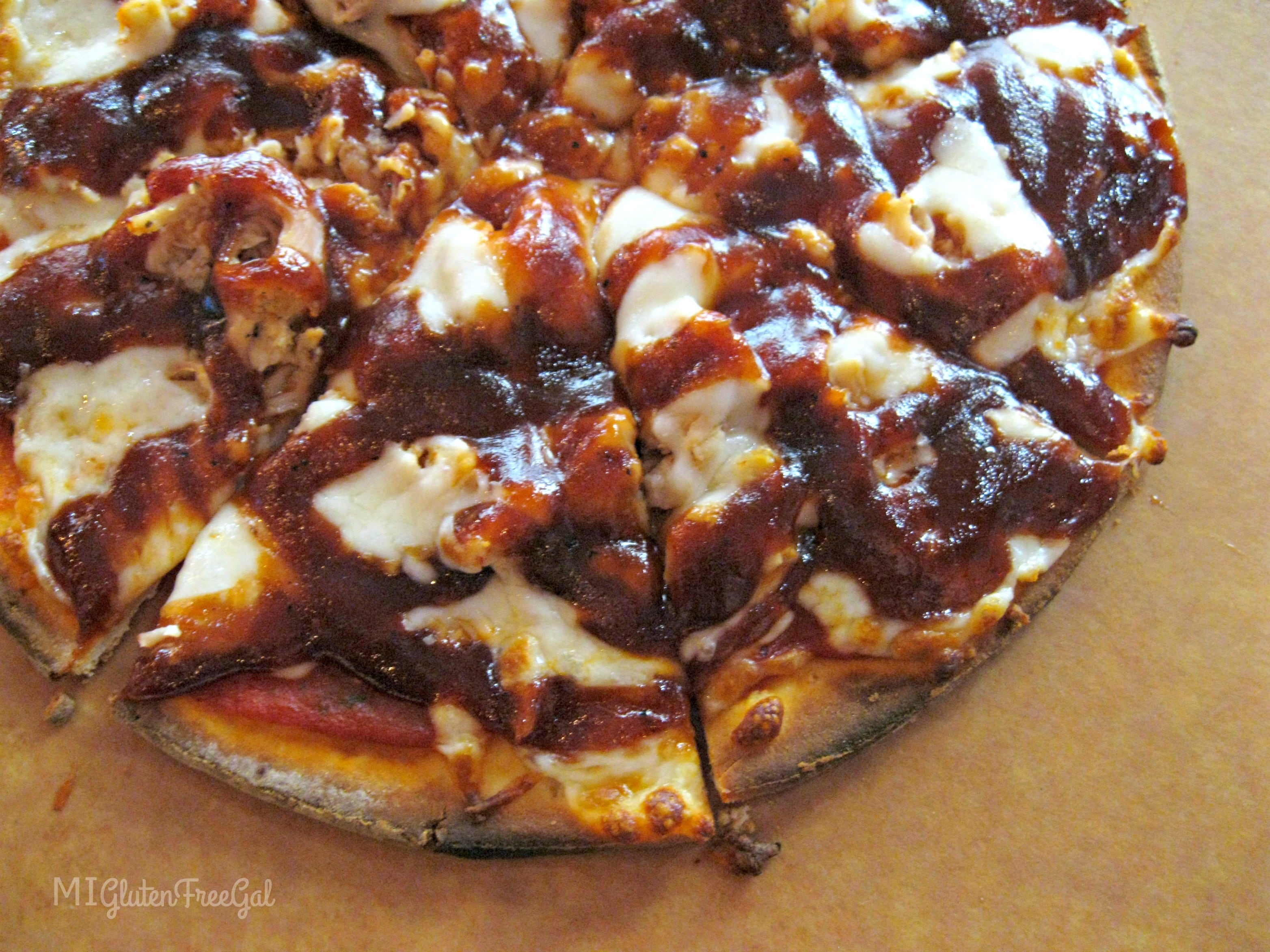 Alt Brew offers more than just beer. They also serve a completely gluten-free menu that includes pizza, nachos and more. We ordered the BBQ pizza and the nachos. Usually the BBQ pizza is topped with smoked pork. However, Trevor swapped out chicken for us due to my husband's pork intolerance. We had spent seven or more hours on the road (driving a Uhaul) and their food was exactly what I was craving. The two dishes easily served two people.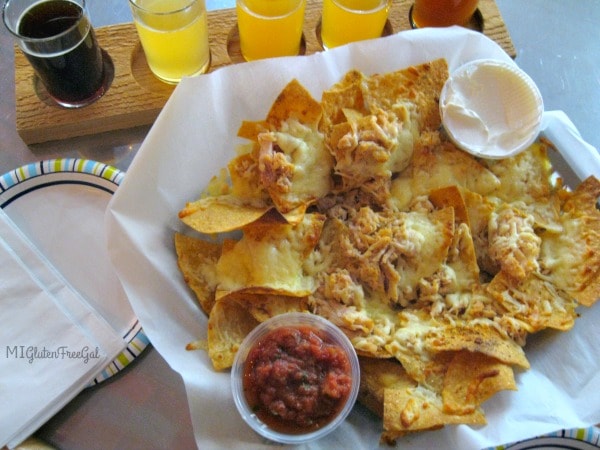 Alt Brew is all about partnering with local businesses. This includes Pasqual's tortilla chips that are used for the nachos. While it wasn't on their menu, they also work with local business The Conscious Carnivore. This ethical butcher shop uses Alt Brew's beer to make one amazing gluten-free beer brat. In addition, they partner with EVP Coffee, from whom Trevor buys coffee when roasting their Coffee Stout that comes out in the spring. (We stopped at this coffee shop on our way out of town. Definitely a must visit!) You can also find Alt Brew on shelves at The Silly Yak, Madison's only dedicated gluten-free bakery.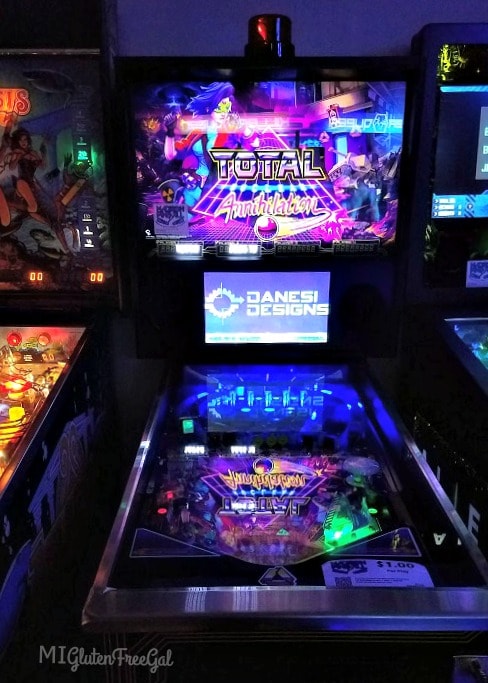 Alt Brew is known far and wide for one more unique feature. Pinball. When they had their soft opening in 2016, Trevor was approached by a local pinball enthusiast. It all started with a suggestion and one pinball machine. Now there are more than a handful of pinball machines in the rear of Alt Brew, including "Killer Queen." This unique pinball machine allows for multiple players and is one of ONLY 14 machines in the entire world. This feature quickly made Alt Brew the go-to place for pinball fans, and is now home to monthly pinball tournaments.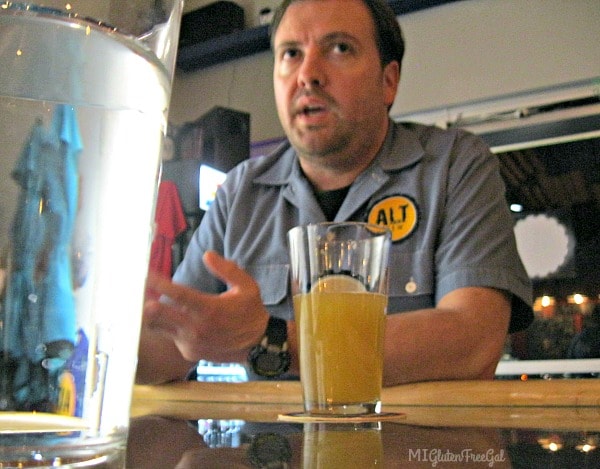 Without a doubt, we had a great night at Alt Brew. While we enjoyed the food and beer, I enjoyed Trevor's company just as much. He has such a welcoming and cordial presence. I felt like I could have sat and talked with him for hours. If you are in the Madison area, I highly recommend making a stop here, because I guarantee you'll love the place. Looking for a more traditional dining experience in Madison? Trevor suggests Jac's Dining and Tap House or Charlie's on Main.
What's your favorite style of beer? Have you found a gluten-free beer that you love? Have other Madison dining suggestions? Please share with our readers below!
Alt Brew
1808 Wright St
Madison Wisconsin 53704
608-352-3373
Webpage | Facebook | Twitter | Instagram
**While we were not charged for our pizza or nachos, my thoughts and opinions are completely my own. We paid for our beer, which my husband thoroughly enjoyed.**