Sometimes we all get into a breakfast rut. Break out of it with this delicious gluten-free savory breakfast strata made with Schar 10 Grains and Seeds Bread! This post is sponsored by Schar, but all thoughts, opinions & crazy concoctions are my own.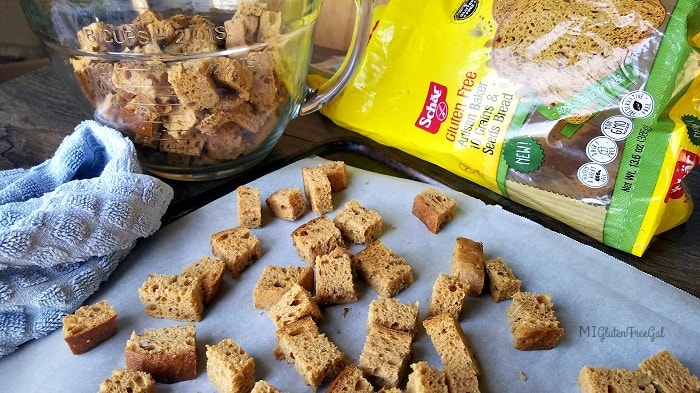 I wonder if you are at all like me. Each weekday our alarm rings at 5 a.m. Ungodly early, I know. But every morning at 5 a.m. I have just enough sense to know that I need to make the coffee. Then the next question is "What am I going to make for breakfast?" If you struggle to figure that out, like I do, I may just have the solution! Bake this gluten-free savory breakfast strata one a free evening, and warm a slice in the microwave in the morning. That way you can start your day with whole grains, lean protein and lots of vegetables.
I love breakfast casseroles like this gluten-free savory breakfast strata. They're fairly easy to through together and allow you to use random ingredients from your kitchen. Like my pumpkin bread pudding, it uses lots of eggs and dairy. However, unlike bread pudding, it uses savory ingredients instead of sweet. (For a great explanation between the difference, read this great article from The Kitchn.) I'm always looking for ways to add vegetables to my breakfast line-up. This gluten-free savory breakfast strata is loaded with them!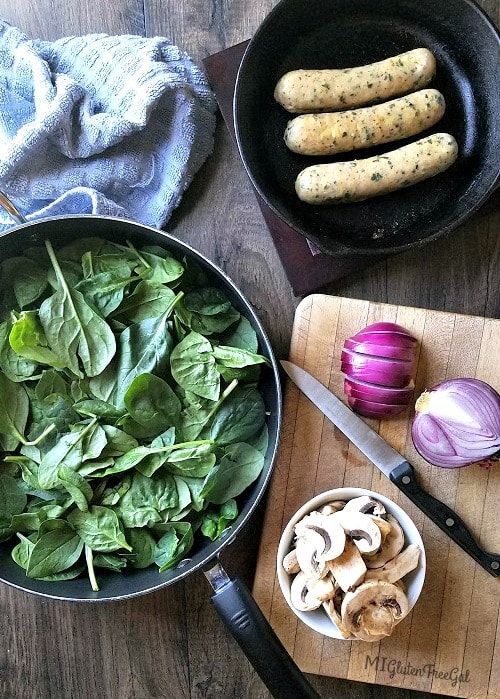 Can you believe at one time I hated onions and spinach? Now I can't imagine cooking without them! Onions contain Vitamin C and help boost our immune system. They also contain chromium, which help to regulate blood sugar. Spinach has many great health properties. Did you know it especially has anti-inflammatory properties, specifically within the digestive tract? It is also rich in iron, which is great for those who are still restoring their iron stores after suffering from anemia. I also added lean chicken sausage to this gluten-free savory breakfast strata. While I worked at Curves, I constantly reinforced the importance of adequate protein at breakfast. It keeps us fueled and feeling full longer than simply eating a bowl of cereal.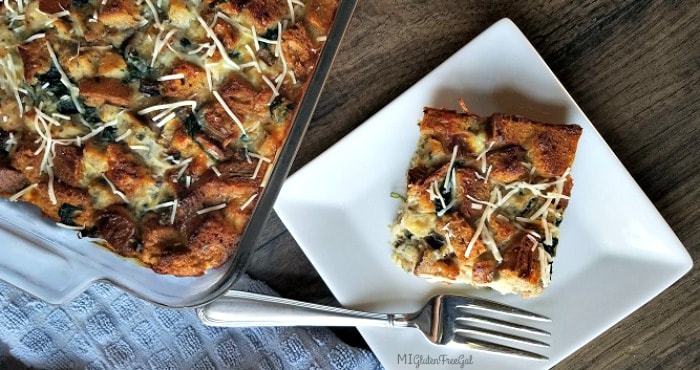 I made this particular gluten-free savory breakfast strata with Schar's Gluten-Free Artisan Baker 10 Grains and Seeds Bread. Schar loaded this bread with whole grains and seeds that provide fiber to a balanced diet. The Academy of Nutrition and Dietetics suggests that women consume at least 25 grams of fiber a day. However, most Americans likely only consume 15 grams a day on average. The multiple grains and seeds in this Schar bread will help boost your fiber intake as well as many other B vitamins.
Back to this amazing gluten-free savory breakfast strata. Don't be fooled by all the healthy items I loaded it with. It may be gluten-free, but it's full of flavor! These savory ingredients combine to create one delicious meal. Make this strata for dinner and then have leftovers for breakfast for the whole family the next morning. Or if you're like me and go away for the weekend, your family may just eat every last piece before you get back!
Looking for other great breakfast foods? Try this simple gluten-free breakfast sandwich or my homemade gluten-free chicken breakfast sausage. You could even use that sausage in this strata! Looking for more breakfast casserole ideas? Check out these 10 Gluten-Free Breakfast Casseroles everyone will love over at My Gluten-Free Miami.
Gluten-Free Savory Breakfast Strata
Ingredients
12 oz Schar Gluten-Free Artisan Baker 10 Grains and Seeds Bread
2 tbsp oil, divided
4 oz red onion, diced
4 oz mushrooms, diced
8 oz bag of spinach
3 Aldi "Never Any' Spinach and Feta Chicken Sausage
2 oz mozzarella cheese
4 oz shredded Parmesan
2 2/3 c milk
12 eggs
1 tsp salt
1/4 tsp pepper
Instructions
Preheat oven to 400 degrees
Cut bread into cubes and place on two cookie sheets. Bake in oven for 10 minutes until bread is toasted. (You can skip this step for a moister strata.)
In a skillet, warm one tablespoon of oil. Saute onions and mushrooms until soft. Then add spinach until completely wilted. Remove vegetables from pan to bowl for the time being.
Add remaining oil to skillet. Bring to temperature and add 3 whole sausages. Cook 8-10 minutes until cooked through. Remove from stove and allow to cool before slicing.
Grease a 9 x 13 casserole dish and add half of bread, half of vegetables, half of sliced sausage and 1 ounce of mozzarella and 2 ounces of Parmesan.
Repeat
In a large bowl, whisk eggs, milk, salt and pepper. Pour egg mixture over bread. Refrigerate pre-baked strata at least two hours, preferably overnight.
Remove casserole from fridge and allow to come to room temperature. Meanwhile, preheat oven to 325 degrees.
Place foil over strata and bake for 20 minutes covered. Remove foil and bake for an additional 25 minutes.
Serve warm with an extra sprinkling of Parmesan cheese if desired.
7.6.7
13
http://miglutenfreegal.com/2017/10/18/gluten-free-savory-breakfast-strata/