Fall is my favorite season. The leaves change color. School resumes, ushering in a new high school football season. I can finally start wearing my comfy sweaters again. I also becomes socially acceptable to enjoy culinary fall favorites. It's the season to celebrate apples and all things pumpkin! It also provides me the chance to show others that gluten-free items can be some of their fall favorites too!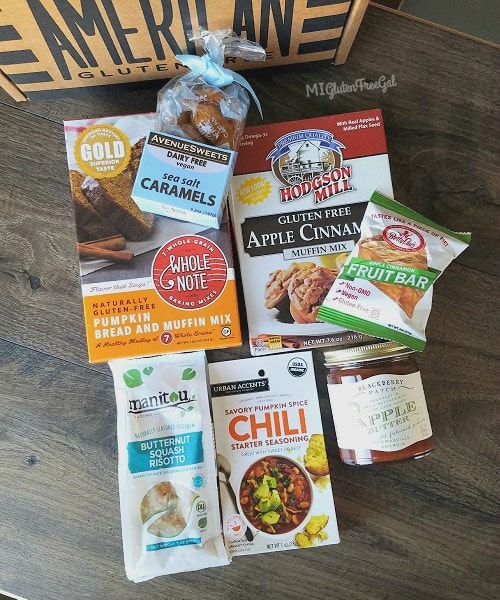 This year it's easier to share my fall favorite with the items that came in my American Gluten-Free box. This subscription box service sends gluten-free and dairy-free items directly to your door. They offer a variety of options. A foodie box with full size pantry items and three types of snack boxes. One box simply contains smaller versions of what comes in the foodie box. There is also a vegan snack box, and a kid's snack box, which is also peanut-free. I've been an affiliate of this company for over a year, and I've always found new products with which to fall in love!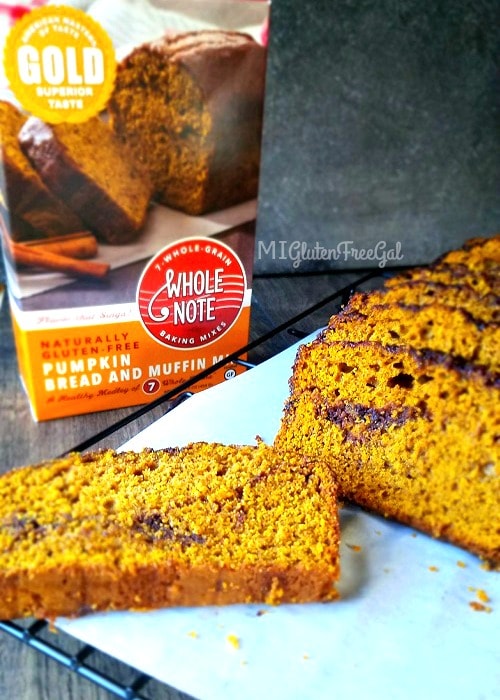 The Whole Note Pumpkin bread received rave reviews from my husband's co-workers. How much did they love it? They ate every last piece and stated that I should go into business as a baker. I'll leave that for other gluten-free bakers that are much more skilled than I! However, it makes me happy that I items like this allow me to share fall favorites like this with those who must eat gluten-free, and those who do not. (To take it up a notch I swirled in some Lekkco chocolate spread in the middle of the batter and on the top. I think that's what really made it delectable!)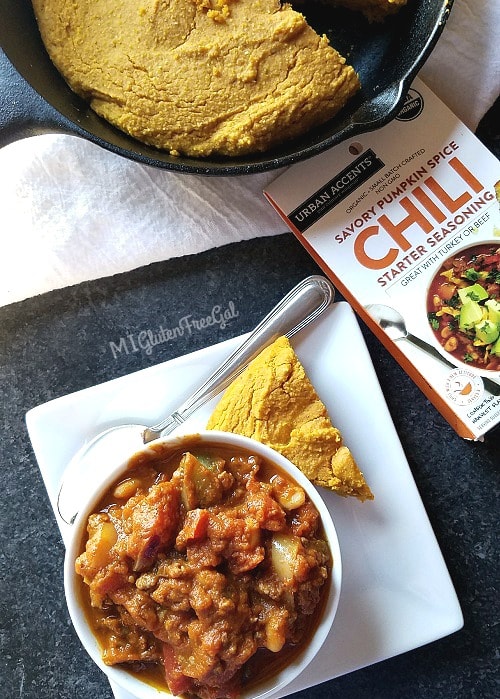 This is the second time Urban Accents products have popped up in my American Gluten-Free box. (Their turkey rub for Thanksgiving is delicious!) This seasoning mix proves pumpkin is not just for sweets and baked goods. My husband loved this chili, although I found it to be a bit spicy for my tastes. A dollop of Greek yogurt cooled it down a bit. Some other adjustments I made included adding chopped apples to the chili in the final stage of cooking and using apple cider instead of water in the directions. I also left out the jalapenos!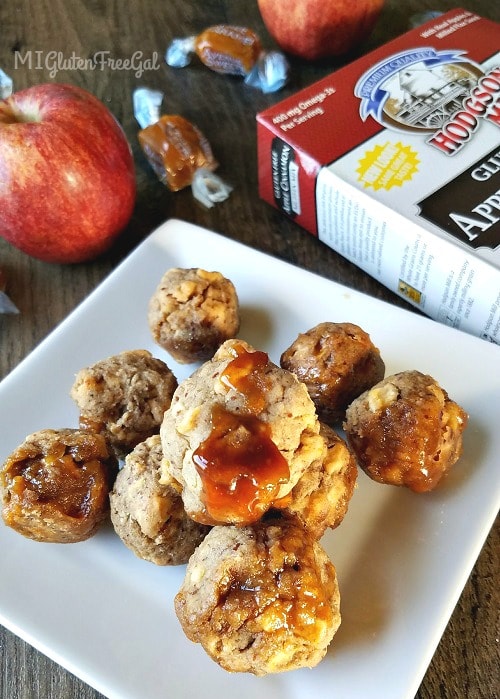 Of all the fall favorites loved by people everywhere, I think caramel apples rank near the top. I snipped the Avenue Sweets dairy-free caramels into small pieces and added them to the Hodgson Mills Gluten-Free Apple Cinnamon Muffin Mix. In addition, I replaced the milk with water, so that these could remain dairy-free. I also replaced the egg called for on the box with applesauce. I did this to keep these not only dairy-free, but vegan as well. They were little balls of delight! I also sent these with my husband to school, and his coworkers ate every last one!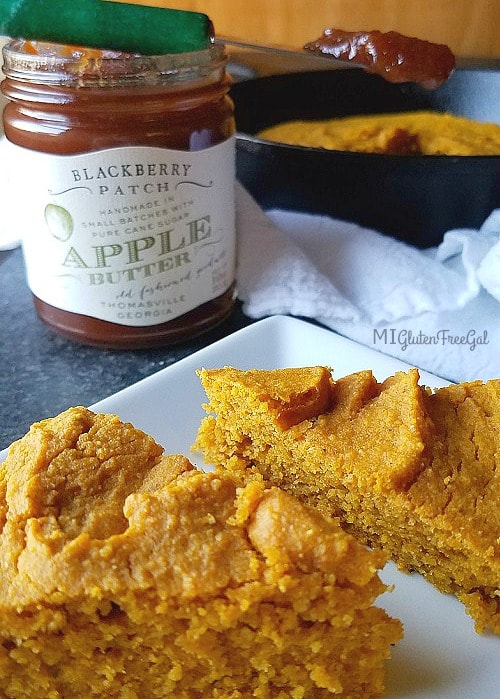 I love apple butter. Every year for Christmas, my grandmother would be me a large jar of it because my family hated it and would never eat it. Receiving this Blackberry Patch Apple Butter in my American Gluten-Free Box made me so extremely happy! It is great on toast, but WONDERFUL on this AMAZING pumpkin cornbread that I found on the Celebrating Sweets blog. I simply subbed in Ryze Gluten-Free flour (their yellow bag) as I saw that my friend Chrystal from Gluten Free Palate used it successfully for her gluten-free cornbread recipe. I used slightly less maple syrup in my recipe, as I didn't want it to be overly sweet. Plus, I cut the recipe in half, because there's just the two of us. It turned out perfect, and paired perfectly with the apple butter!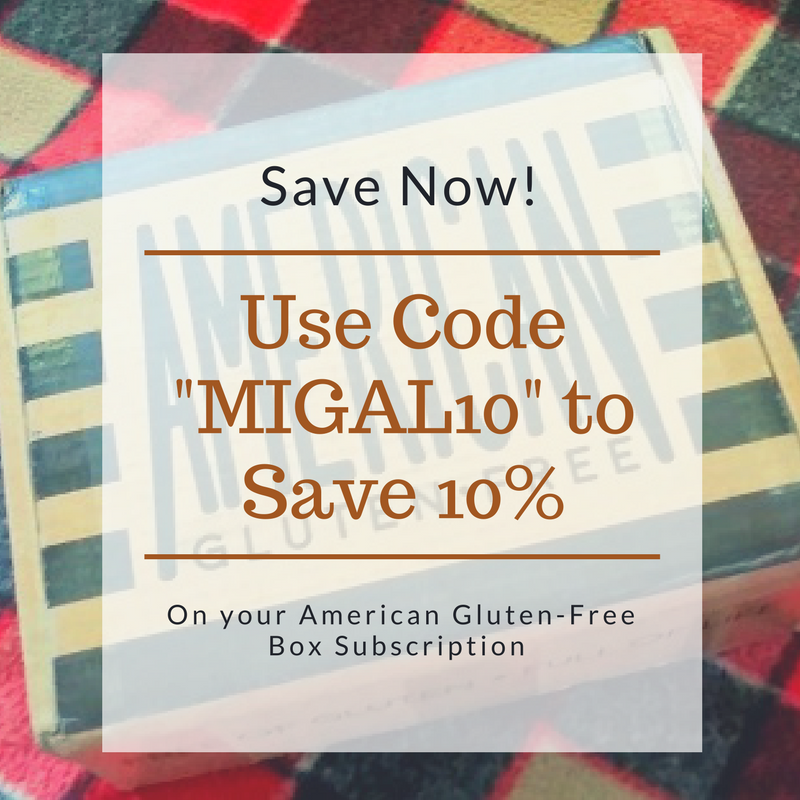 I've been blessed now to receive these boxes every month from American Gluten-Free for over a year. Each month I get to try and fall in love with all these new-to-me companies. Now I get to pass on something new to you as my trusted readers. An exclusive discount! Use the code MIGAL10 to save 10% off of your order. Want to try just one box or send one as a Christmas or birthday gift? Save 10% on that order. Want to try it for the 3 or 6 month subscription? Save 10% off your entire order! Even when you renew! (You can even put a pause on your account if you're going out of town.) Follow my affiliate link to start your American Gluten-Free subscription and SAVE! (Don't forget to put in the discount code!)
I am an American Gluten-Free affiliate. This means I receive a small percentage of the order. However, this does not increase your cost at all. The small percentage credited back to me helps pay for my blogging expenses Thanks for supporting me and American Gluten-Free!