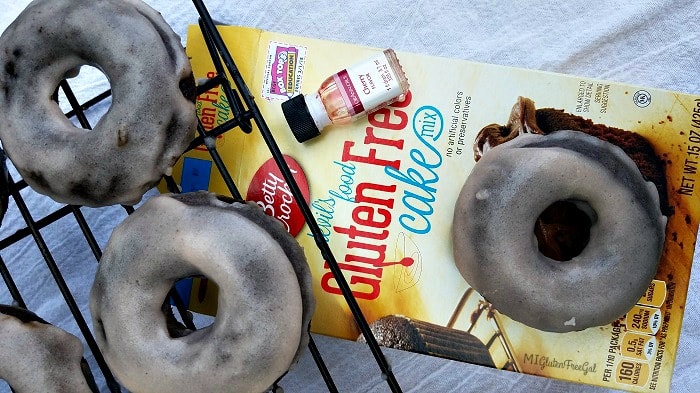 America loves donuts. I mean, what's not to like? Cake in individual servings. Frosting. Sometimes there are sprinkles. Total perfection. Today I share with you a ridiculously easy recipe for two ingredient gluten-free donuts. Not just easy, but free of most of the common allergens. What makes these two ingredient gluten-free donuts different from the gluten-free pumpkin donuts (that also only use 2 ingredients) that I wrote about earlier? Applesauce.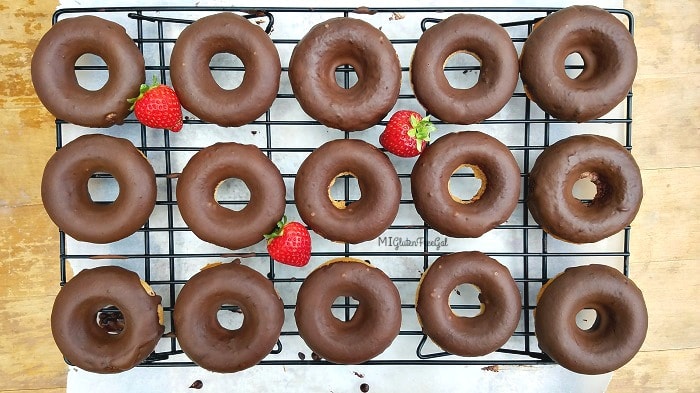 I used Betty Crocker's gluten-free cake mixes as the base for these two ingredient gluten-free donuts. They are fairly easy to find in stores and relatively inexpensive. I've used the chocolate cake mix previously for my gluten-free dairy-free chocolate donuts. Last time I made the mix according to the directions, but substituting coconut oil. However this recipe is so much easier that I may not go back to making them any other way! This time I made two different batches of two ingredient gluten-free donuts. For one batch, I mixed the chocolate cake mix with an almost equal amount of applesauce. For the other batch I mixed the yellow cake mix with a blend of applesauce and pureed strawberries. The things I do for the sake of science. LOL
I made the chocolate batch of donuts first. Even though The Baker Mama suggests adding 2 cups of applesauce in her 2 ingredient baked cake donuts, I chose to go with slightly less. For the 15 oz cake mix, I added 14 oz of applesauce. They baked nice and firm and so delicious. I used this simple powdered sugar basic cake glaze, using Earth Balance buttery spreads and water to keep them dairy-free. I also added a touch of that LorAnn oils Cherry flavoring to take them to the flavors really pop!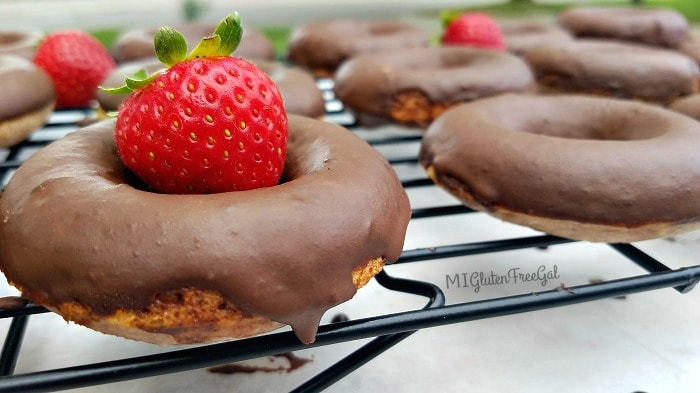 For the second batch, I used the Betty Crocker Yellow Cake Mix, and a blend of pureed strawberries and applesauce. I looked at "premade" strawberry applesauce in stores. It was full with of all sorts of additives that I definitely didn't want in my donuts. So I blended my own "strawberry applesauce, with equal parts pureed strawberries and applesauce. Again, I used 14 oz of "sauce" with 15 oz of cake mix. I baked both batches of donuts for at least 10 minutes, rotating the donut pans half way though. Baking time will depend on your oven, obviously.
Between both batches of these two ingredient gluten-free donuts, the yellow cake "chocolate covered strawberry" donuts are definitely my favorite. What truly sets these apart is the dairy-free chocolate ganache glaze. I consulted AllRecipes.com on how to make chocolate ganache. Who knew it was so easy?!  Depending on how thick you want your ganache, you either use equal ounces of cream and chocolate or double the ounces of chocolate to cream. It's been a while since I made these, but I'm pretty sure I used 1.5 ounces of Enjoy Life's Dark Chocolate Morsels to 1 ounce of Thai Kitchen's new canned Coconut Cream. Sorry I'm not more precise. That's the beauty of glazing donuts though. You can play with them and make them your own!
Now that I've shown you how easy these two ingredient gluten-free donuts are to make, get creative! You can also used mashed banana or canned pumpkin with any gluten-free cake mix with similar results. The sky's the limit. For excellent vegan fried Lemon Donuts, try VegetarianMamma's recipe that uses an Enjoy Life pizza crust mix and 6 ingredients total! Or if you don't have a cake mix on hand, try this recipe from Gluten Free Palate for Gluten-Free Chocolate Dipped Vanilla Cake Donuts! She has some AMAZING donut recipes that you just HAVE to check out.
Two Ingredient Gluten-Free Donuts
Ingredients
1 15 oz gluten-free cake mix
14 oz applesauce (I used unsweetened) or other pureed fruit

Ganache

3 oz Enjoy Life Dark Chocolate Chip Morsels
2 oz Thai Kithcen Coconut Cream

Glaze

2 tbsp Earth Balance Buttery Spreads (You can use regular butter if needed)
1 cup powdered sugar
1 - 2 tbsp hot water (or milk of your choice)
3/4 tsp vanilla
Instructions
Preheat oven to 375. Spray donut pan lightly with cooking spray.
Combine cake mix and applesauce / pureed fruit in large bowl. Blend until all of the cake mix is absorbed.
Fill donut wells with batter, almost to the top. At least 1.5 ounces of batter.
Bake in oven 10-12 minutes, turning halfway through. Baking times might vary depending on your oven.
Remove baked donuts onto cooling rack. Allow to cool completely before adding ganache or glaze.
7.6.7
11
http://miglutenfreegal.com/2017/10/06/two-ingredient-gluten-free-donuts/
This page contains affiliate links.