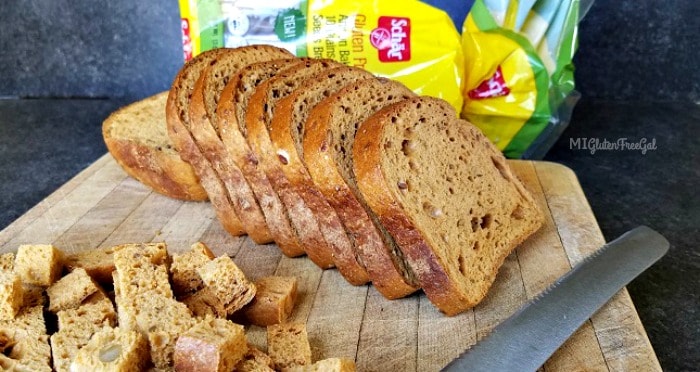 Bread. I think the first thing every newly diagnosed Celiac Disease patient worries about is that they will never eat bread again. Or at least, good bread. People long for bread that's tasty and soft and hearty and doesn't have to be toasted to be palatable. Lucky for us, Schar has been making great, safe gluten-free bread forever. Now they've launched the newest bread to their Artisan Bread line up. The new Schar 10 Grains and Seeds Artisan Bread is loaded with flavor, fiber and absolute deliciousness.
I first became more acquainted with Schar back in 2013. I had the privilege of meeting and learning from their then dietitian, Anne Lee. Since then I've met more of their team and appreciate their mission to health education of both doctors and patients. This addition to their Artisan Baker line reflects their concern for overall health as well. Schar loaded this bread with seeds that are full of B vitamins. This makes this fiber-rich 10 Grains and Seeds Artisan Bread a delicious addition to a healthy breakfast.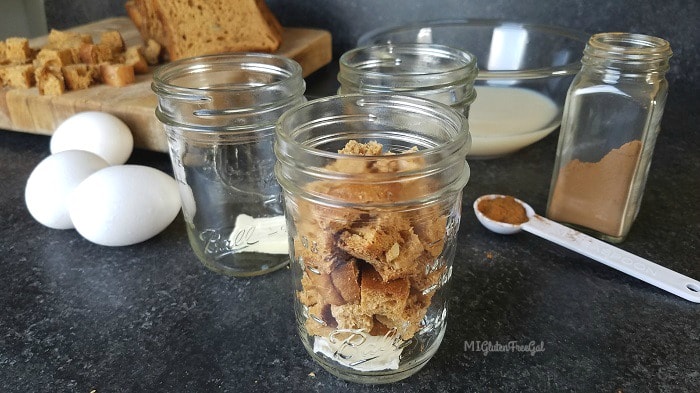 So what are the ancient and whole grains you'll find in this "10 Grains and Seeds" sourdough bread?
– Rice Flour
– Quinoa Seeds
– Pumpkin Seeds
– Flax Seeds
– Sunflower Seeds
– Millet Flour
– Buckwheat Flour
– Quinoa Flour
– Amaranth Flour, and
– Chia Seeds
What will you NOT find in this new Schar 10 Grains and Seeds Artisan Bread?
– Gluten (this bread tests below 10 ppm, lower than the industry standard!)
– Eggs
– Dairy
– GMO's
– Preservatives
– High Fructose Corn Syrup
With an ingredient list like that, it's no wonder they've been voted the #1 bread in Europe and the United States!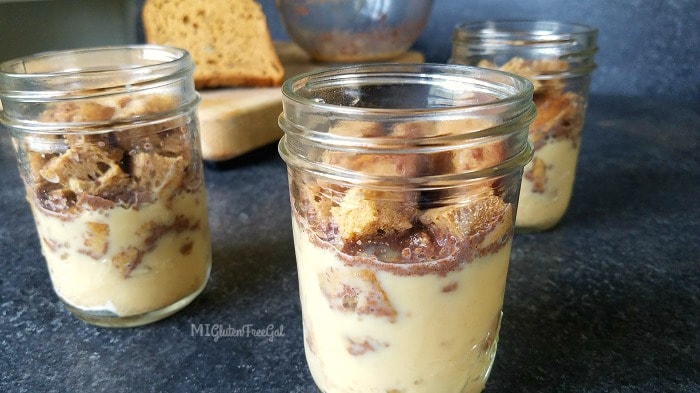 I introduced this 10 Grains and Seeds Artisan Bread to my friends on Instagram. They overwhelmingly replied that this made them eager for French Toast. Lately, quick mason jar meals fascinate me. They so easily make gluten-free food portable! (Did you see my cupcake in a mason jar recipe? Keeps your frosting safe from smooshing!) Therefore, I used this new sourdough bread to make French Toast in a mason jar! I used 6 oz jars for this recipe. They're the perfect individual serving, and you can put in the cupholder of your car if you quickly have to hit the road! Of course, I topped them with a bit of syrup. I added juicy berries to the top to really make this quick meal pop!
Are you ready to try Schar's 10 Grains and Seeds Artisan Bread for yourself? Use this link, go.schar.com/coupon, to receive a $2 off coupon good on any of their products. This includes all their breads, cookies, crackers, pizza, pasta and frozen meals! Let me know what other fantastic things you make with it!
Ingredients
3 tsp butter
4 slices Schar 10 Grains and Seeds Artisan Bread
3 eggs
9 tbsp milk
3 tsp maple syrup
2 tsp cinnamon
Instructions
Place 1 tsp of butter in the bottom of each 6 oz. mason jar
Cut up 4 slices of Schar 10 Grains and Seeds Artisan Bread and distribute the bread evenly between the jars.
In a medium size bowl, beat eggs. To beaten eggs, add milk, maple syrup and cinnamon.
Pour egg & milk mixture over top of the individual mason jars. Only fill jars 2/3 of the way full with liquid, or it will boil over.
Allow bread to soak in mixture for 2-3 minutes. Make sure the bread gets pushed down into liquid so it can absorb as much as possible.
Microwave on high for 50-60 seconds. The bread will rise in the mason jar as the steam tries to escape. It will "deflate" to its original size once it is done cooking.
Top with fresh fruit and syrup and enjoy!
7.6.7
7
http://miglutenfreegal.com/2017/09/15/schar-10-grains-and-seeds-artisan-bread/
**This post is sponsored by Schar. All thoughts and opinions are my own.**