These gluten-free triple mint brownies may just be the most amazing thing I've ever made. Made with Andes mints, will impress everyone you know! Using Krusteaz Double Chocolate brownie mix, they're easy to put together.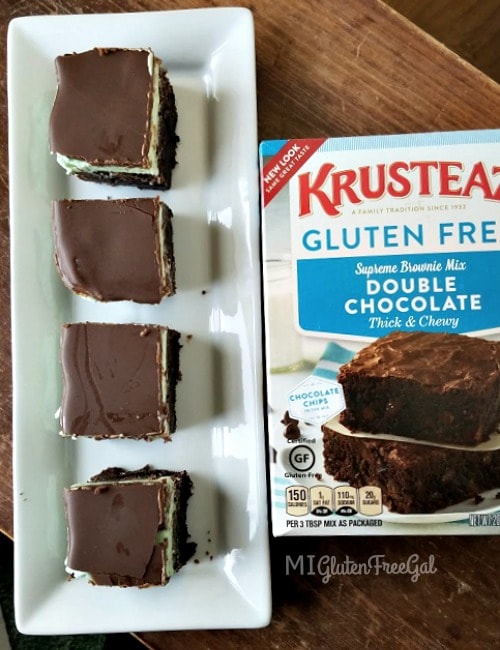 **Krusteaz provided the mix to make these brownies. However, I did not receive other compensation for this post.**
I love chocolate. Seriously, I have a hard time going a single day without sneaking some. Milk chocolate, bittersweet, dark – I'm an equal opportunity chocolate eater. Know what else I love? Mint + chocolate. After all, I do live in Michigan, home to the Mint capital of the World. That's why I'm super excited that Andes Creme de Menthe baking chips are gluten-free! Even better, they are made in a peanut-free facility as well! They're the integral ingredient in these gluten-free triple mint brownies.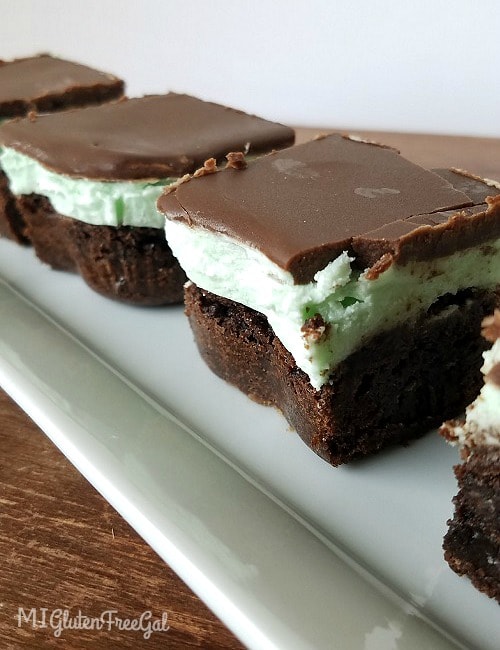 I chose to make these gluten-free triple mint brownies for an upcoming church picnic. Truth be told, I'd never made them before. As my brownie base, I chose to use Krusteaz Double Chocolate Brownie mix. Since Krusteaz also makes "regular" mixes, I highly appreciate that they are certified gluten-free by GFCO. It gives great peace of mind that they go through the extra steps, and expense, to make a gluten-free product geared towards those with Celiac Disease. (Their pancake mix makes a great "biscuit" for breakfast egg sandwiches too!)
This mix comes loaded with chocolate chips. However, I wanted you to experience mint in every bite of these gluten-free triple mint brownies. Therefore, I sifted the chocolate chips out of the brownie mix and replaced them with Andes Creme de Menthe baking chips. From there I simply added the rest of the ingredients listed on the box. Egg, oil, and water. (By the way, normally prepared these brownies contain no dairy ingredients!) The next step for these amazing gluten-free triple mint brownies is the minty cream!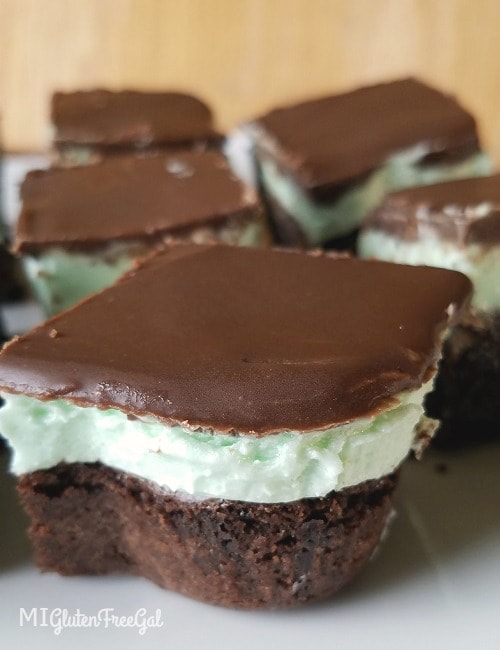 As I mentioned, I've never made these gluten-free triple mint brownies before. Therefore, I relied on the wisdom of my fellow blogger Sharon of What The Fork for inspiration. I've been dying to recreate her Flourless Chocolate Mint Brownies, and her mint filling recipe is ON POINT. The final task is the minty ganache. Sharon used semi-sweet chocolate chips. But remember, these are gluten-free TRIPLE mint brownies. Therefore, I used the afore mentioned Andes baking chips for my ganache! While Susan used cream in her recipe, I used some canned coconut cream in mine. Why? Because it's what I had on hand.
So what was the verdict on these gluten-free triple mint brownies? Picnic attendees, young and old, quickly gobbled them up! I originally cut these into 16 squares. However, it quickly became obvious I needed to cut them in half again. Otherwise, many would have missed out on this delicious treat! I was just excited that they turned out as nicely as they did. They may just be the most beautiful thing I've ever made. Quick note. See those barely scalloped edges? I made these gluten-free triple mint brownies in a disposable aluminum pan. I snipped the corners of the pan, pulled them down, and unearthed one breathtaking brownie!
Gluten-Free Triple Mint Brownies
Ingredients
Brownie Layer

1 Krusteaz Double Chocolate Brownie Mix
3/4 cup Andes Creme De Menthe Baking Chips
1/3 c. water
1/3 c. vegetable oil
1 egg

Mint Cream Filling

1/2 c. butter, softened (115g)
2 cups powdered sugar (240g)
2 tbsp milk (30ml)
1 1/4 tsp LorAnn Oils Peppermint Emulsion

Ganache Topping

1 cup Andes Creme De Menthe Baking Chips
4 tbsp butter
4 tbsp Thai Kitchen Coconut Cream
Instructions
Preheat oven to 325. Lightly spray 8 x 8 baking pan with oil and then lightly dust with rice flour.
Sift Krusteaz Double Chocolate Brownie Mix to remove chocolate chips. Set chocolate chips aside.
Place sifted brownie mix in bowl, along with mint chips, water, oil and egg. Mix to combine. Pour batter into prepared ban and bake for 45-50 minutes.
Remove brownies from oven and allow to cool completely.
Meanwhile, prepare mint cream filling. Combine all items in large bowl and beat until creamy. Spread on completely cooled brownies and then place pan in refrigerator to harden for 30 minutes to an hour.
Finally, prepare ganache. Put Andes Creme de Menthe Baking chips in microwaveable bowl. Add butter and microwave on 50% power for 50-60 seconds. Stir. Continue to melt chips on 50% power until melted. Carefully stir in coconut cream.
Gently pour ganache filling onto chilled and firm brownies. Use a small spatula to GENTLY spread ganache over the entire pan.
Return pan to refrigerator to allow ganache to set, 30-60 minutes.
TO CUT - Use a clean knife to cut through brownies. I find it best to dip the knife in hot water between cuts, and clean the knife with a cloth or paper towel.
7.6.7
2
http://miglutenfreegal.com/2017/08/30/gluten-free-triple-mint-brownies/