There's nothing better than a good donut. Especially when it's an amazing gluten-free pumpkin donut that is also egg-free, dairy-free, soy-free and nut-free! But wait, there's more! These amazing gluten-free pumpkin donuts only require two ingredients. Scout's honor, I'm not lying. One cake mix + one can of pumpkin and you're on your way to easy, tasty deliciousness!
Obviously, any of the recipes I include here on this page are gluten-free because I have Celiac Disease. However, between blogging and working with our gluten-free camp, I've become really aware for the need of safe treats for those with additional allergies. I often send my extra treats to school with my husband, so they don't end up filling out my waist line. Last year the staff was really impressed with my gluten-free Chocolate SunButter donuts, so I was ready to "wow" them on the first day of school with these gluten-free pumpkin donuts.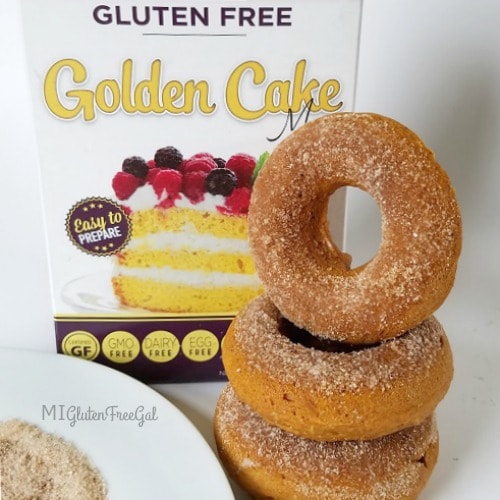 I recently received a box of Really Good Foods Golden Cake Mix in my American Gluten Free Box. They originally suggested that I make a Tres Leche cake, but I made Tres Leche Rice Pudding instead. Golly, that stuff was amazing! I had leftover pumpkin in my fridge from making waffles, and came across a recipe for Two Ingredient Baked Cake Donuts on The BakerMama.  I knew automatically that these gluten-free pumpkin donuts were the perfect use for this cake mix.
Any sort of glazes could be used these donuts, even the same one that I use for my gluten-free applesauce bundt cake. But I wanted to make sure that these were totally dairy-free. After consulting many recipes, I decided with a simple cinnamon-sugar coating like on Gluten Free Palate's site. Just a quick dip in some Earth Balance to keep things dairy-free, a little ruffle in cinnamon and sugar, and these babies are ready for consumption.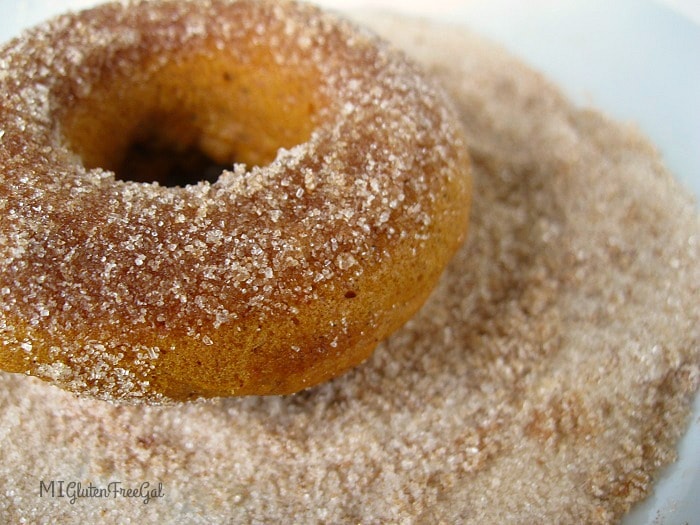 These gluten-free pumpkin donuts were really a hit at school. The secretary in the counseling office eats a vegan diet and was so excited to have a safe option for once! Her exact words were "These are SOOOOOOO tasty!" That's seven 'O's there. That's quite the testimony, if I do say so myself. So the next time you need an allergen-free recipe, make a quick and easy batch of these gluten-free pumpkin donuts. You (and everyone else you know) will be glad you did!
Ingredients

1 box cake mix
Equal ounces of pumpkin puree
2-3 tsp pumpkin pie spice, optional
Melted Earth Balance Butter for Dipping, approximately 1/2 cup
Mix of cinnamon and sugar, approximately 1 cup sugar with 2 tsp cinnamon

Instructions

Preheat oven to 350. Lightly spray donut pan with cooking spray.
Using mixer, thoroughly blend cake mix and pureed pumpkin.
Transfer batter to piping bag or ziploc bag. Cut tip of bag and pipe batter into donut pan. Lightly rap pan on counter to release any air bubbles.
Bake donuts for 8-10 minutes, rotating pans half way through. After removing from oven, allow donuts to cool 5 minutes before transferring to cooling rack. Allow all donuts to cool prior to coating in cinnamon and sugar.
Lightly dip donuts in melted Earth Balance Buttery Spreads. Next, lightly dip donuts in cinnamon and sugar mixture. Return donuts to cooling rack to set.

7.6.7

1

http://miglutenfreegal.com/2017/08/23/gluten-free-pumpkin-donuts/