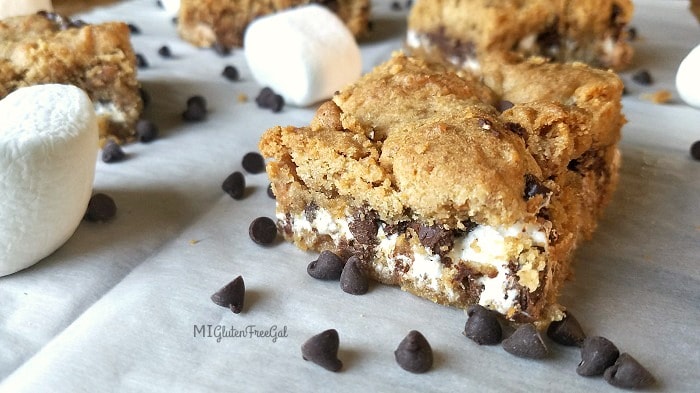 These gluten-free S'mores bars are the epitome of summer memories. They have the ooey, gooey fun of the roasted 'mallow without the need for an open fire or roasting sticks. Plus, this makes a batch large enough to feed a crowd at your next gluten-free picnic. Or at least a highly ambitious family of 5.
As I'm writing this, a website told me that today, July 5th, is National Graham Cracker Day. And who am I to not celebrate a holiday?! One could start this recipe with any number of pre-made gluten-free graham crackers. Enjoy Life Foods makes a vanilla honey graham cookie that is free of the 8 most common allergens. If you're looking for a more traditional graham, Kinnikinnick S'moreables are a hit. They are gluten-free, dairy-free, soy-free and egg-free. (They do however produce items that contain soy and egg in their facility.) Schar Honeygrams are another popular gluten-free graham cracker. (They does however contain soy.) We've used all of these kinds at gluten-free camp, and they've been loved by all.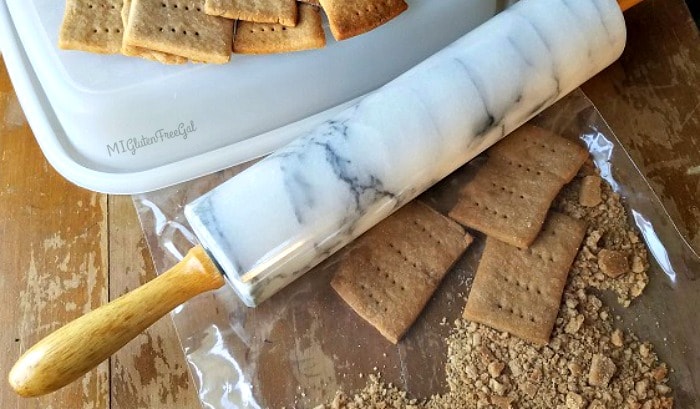 However, I took my baking game to the next level. I made my graham crackers for these gluten-free S'mores bars from scratch. I did so by using GF Jules Graham Cracker – Gingerbread Mix. Jules produces her mix in a facility that is free from the 8 most common allergens, which makes them safe for most! It was the first time I've ever made graham crackers from scratch, and it worked pretty well! Her recipe calls for coconut oil, so that it remains dairy-free. I think if I were to make them again (and I definitely want to!), I'll use butter instead. I tried to turn the graham crackers into crumbs in my food processor, but found it worked better to do this with a simple rolling pin and some smashing. Plus it gets out any additional stress you might be experiencing in life!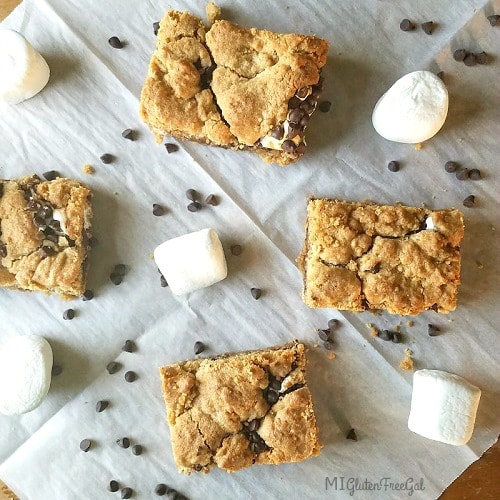 I'd like to say I created the recipe for these gluten-free S'mores bars from scratch. But, I'm too afraid of failure so I totally copied a recipe from someone else. The pictures that accompany Julie's Eats and Treats recipe looked JUST like the gluten-free S'mores bars I remembered at Cherbourg Bakery. And that is definitely what this gluten-free gal was craving! These bars turned out just like I remembered. Chocolatey, gooey, and simply delicious. I used Enjoy Life Foods Mini Chocolate Chips to make sure the chocolate melted in every place possible!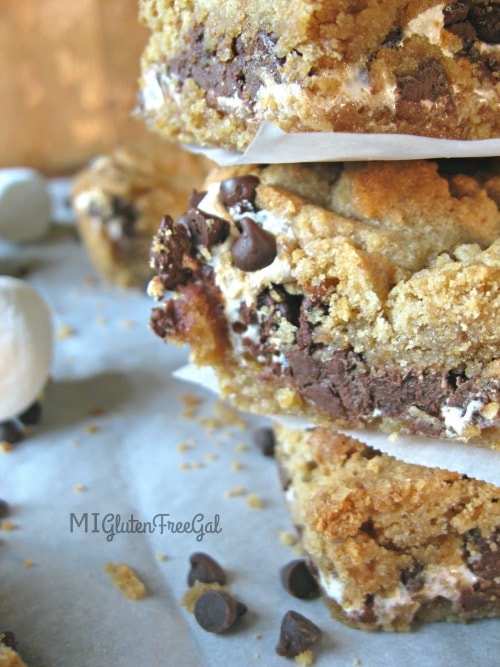 Gluten-Free S'mores Bars
(Recipe by Julie's Eats and Treats)
2 cups gluten-free flour (I used Krusteaz Gluten-Free All Purpose Flour)
2 cups gluten-free graham cracker crumbs
1 tsp baking powder
1 c. butter, room temperature (mine was extra greasy on the bottom. You might get away with 3/4 of a cup.)
1 1/2 c. packed brown sugar
2 eggs
13 oz. container of Marshmallow Fluff. (Or make your own with this recipe from TheKitchn.)
1 bag Enjoy Life Foods Mini Chocolate Chips
1. Preheat oven to 350 degrees and grease a 9×13 pan.
2. In a small bowl, whisk toghether flour, graham cracker crumbs and baking powder.
3. In a large bowl, cream butter and sugar. Add egg, beating after each addition.
4. Add dry ingredients to the butter/sugar mixture, and mix well until all dry ingredients are absorbed. You should have a very moist dough.
5. Julie suggests dividing dough in half. I'd suggest diving it into thirds, and placing two thirds of the dough into the bottom of a your 9×13 pan.
6. Next, carefully spread the container of Marshmallow Fluff on top of dough. I found that if I microwaved the fluff for approx. 15 seconds it came out of the container much more easily. Second, evenly sprinkle Enjoy Life Foods chips on top of fluff.
7. Finally, sprinkle remaining dough on top of chocolate chips. It may not cover it perfectly. That's okay! We want that marshmallow fluff to be poking out!
8. Bake bars in preheated 350 degree oven for 30-35 minutes. Remove from oven when cookie dough is fully baked. Cool completely before trying to cut. Julie suggests that they may cut best when they've been refrigerated.
What's your favorite way to enjoy a S'more? What's your favorite summer time treat? Leave a note below!