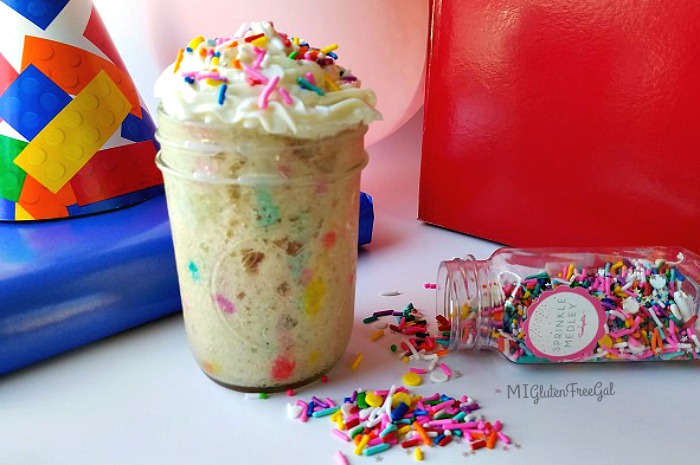 I have a theory in life. You're either a cake lover, or a pie lover. Although I like my grain-free blueberry pie, I LOVE cake. I REALLY love this little gluten-free mason jar cake. You've heard of mug cakes right? Well, this little gluten-free mason jar cake is also made in the microwave. However, the added bonus is that it's cooked in a vessel that you can easily put a lid on! Need a "cupcake" for your little kiddo to take to a birthday party? Problem solved and done in less than 5 minutes, in a handy carrying case!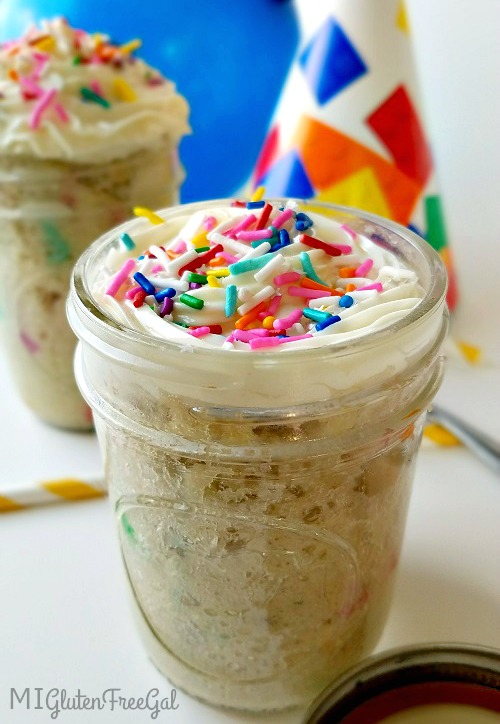 There are TONS of recipes on the internet for mug cakes. Many have the same ratio of sugar, flour and baking powder. Some have eggs, or simply egg yolks. Math geek that I am, I made a spreadsheet to compare them all. The one I ended up settling on was a recipe from a cookbook called "Mug Cakes." The author, Leslie Bilderback, "baked" with self-rising flour in her recipe. However, when I "Googled" self-rising flour, King Arthur Flour's guidelines for preparation called for double the baking powder.
So I used the Krusteaz Gluten-Free All Purpose flour that the company was nice enough to gift to me. (They appreciated those Easiest Gluten-Free Breakfast Sandwich Ever Recipe I made with their pancake mix.) I followed King Arthur Flour's recipe for making your own self-rising flour. (Not to be confused with cake flour, in which you remove flour and replace it with corn starch.) Mixing these proportions will make more than you need for this recipe. You can use the leftover in muffin and scone recipes too!
Self rising flour = 1 cup flour + 1 1/2 tsp baking powder + 1/4 tsp salt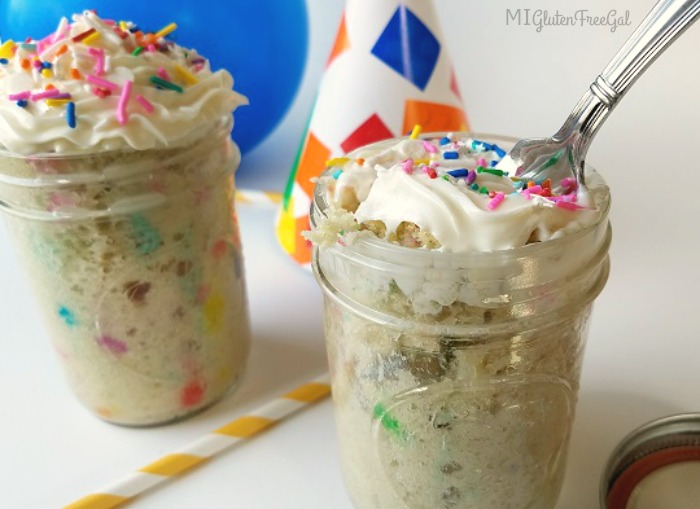 Then I simply followed the rest of Leslie's Classic Yellow Mug Cake recipe. Because I wanted to dress these up a bit, I added some of the fun sprinkles I received in the June American Gluten Free subscription box. Aren't they just the cutest? I'm pretty sure when your gluten-free kid (or honestly, you) take this gluten-free mason jar cake to a birthday party, everyone is going to think it's the greatest! But let's get to how they taste.
O.M. Jeepers did it make one of the most amazing cakes I've ever tasted! It tasted like, CAKE! Not gluten-free cake, but CAKE! I made my husband try some when he got home from work. He was just as impressed! One of Leslie's suggestions was to not fill your vessel more than halfway full. I used 6 oz mason jars, and put in 3 oz of batter. To be able to get the lid on, on top of the frosting, I had to trim down the cake (i.e. eat some) to get the lid on. If you're transporting this cake and want to add frosting, I suggest not putting in more than 2 oz of batter. So this just means you have to make three gluten-free mason jar cakes and eat one for yourself. Oh darn.
Gluten-Free Mason Jar Cake Recipe
(Original Recipe from Leslie Bilderback)
2 tbsp melted butter
2 tbsp milk
6 tbsp gluten-free self-rising flour (1 cup Krusteaz flour + 1 1/2 tsp baking powder + 1/4 tsp salt)
4 tbsp sugar
1 egg
1 tsp vanilla
2 tsp sprinkles
1. In a large glass measuring cup, melt butter. (I used a 2 cup Pyrex measuring cup.)
2. After butter is melted, add milk, flour, sugar and vanilla to large glass measuring cup. Mix ingredients together thoroughly, making sure that flour is fully incorporated.
3. Mix in sprinkles (or other mix-ins)
4. Separate batter into three, 6 oz. mason jars. Fill them no more than 2 oz. full.
5. Place mason jars in microwave and cook 1.5 to 2.5 minutes, depending on your microwave. I did at least 2 minutes for mine.
6. CAREFULLY remove mason jars from microwave. They will be very hot.
7. Allow to cool completely prior to adding frosting. Top with additional sprinkles if desired.
8. Enjoy!
I was given Krusteaz product and an American Gluten Free box at not charge. However, I am not otherwise paid for this individual post. All thoughts and opinions are my own.
This page does include an affiliate link for American Gluten Free's gluten-free, dairy-free subscription box. If you purchase through my link, it does not increase your cost. I do, however, receive a portion of the sale which helps offset the costs of running this blog.
What's your favorite "mug cake" recipe? What tips would you offer to other parents whose gluten-free kiddo has been invited to a non-gf birthday party? Leave some suggestions below, please!>