The older I get, the more I miss home. While Flint may be where our possession reside, my heart always feels at peace in Lansing. It's the simple things. My dad's corny jokes, or the peaceful view out his front window. At my mother-in-law's house, her legendary hospitality always erases my anxieties. Even though I've been married to her son for over a decade, she still insists on waiting on us. The only thing more legendary than her graciousness is this heritage lemon curd.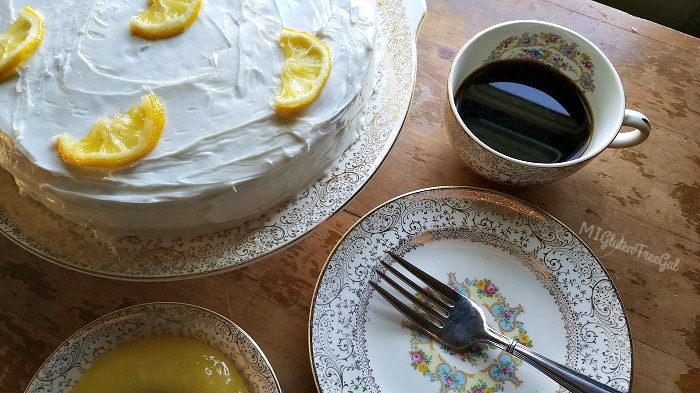 She actually calls it lemon filling, because she only uses it in the family white cake. This cake is a tradition, and a recipe passed down from her mother. Her mother, Merle Braford, used to make everything from scratch. The cake was from scratch, as was the seven minute frosting. Of course, the lemon curd filling was made from scratch, too. Over the years, no one noticed that my mother-in-law started using her favorite cake mix. No one even really noticed that she started using Duncan Hines whipped frosting. However, I guarantee there would be a revolt if the lemon curd filling came out of a jar. Seriously, it's the glue that holds this cake (and family) together.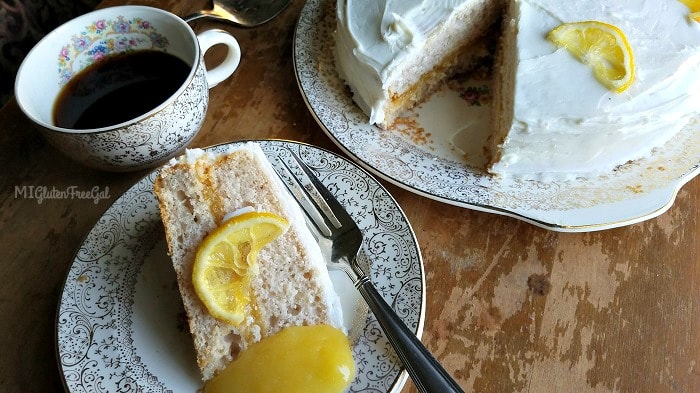 Now, the lemon curd recipe has been passed down to me, along with grandma's china. I try to emulate my mother-in-law's hospitality, making sure everyone is served, down to the cup of coffee or tea. (If you love tea, you'll love my chai cashew butter cookies, which feature the same cups.) Just like mom, I used a cake mix to make the cake above. I usually just use what I have on hand. This time I used the Authentic Foods Vanilla Cake mix that came in my American Gluten Free box. As for the frosting, I just used one I had in my cupboard. (It wasn't whipped. Shhh. Don't tell my mother-in-law.) Of course, I kept the lemon curd the same. Well, I did double it, because one can never have too much lemon curd, am I right?
So now I pass the lemon curd filling recipe on to you. Don't worry, I don't think my mother-in-law will mind. She's pretty great at sharing whatever she has. She'd even share her leftover lemon curd with you. What should you put yours on? Oh, just about everything. It might even be delicious on the egg-free buckwheat bread that my husband's grandfather passed down to me as well. Especially when it's toasted and dotted with butter. Truly, this lemon curd is great on just about everything.
Homemade Lemon Curd
In a large sauce pan,
Mix: 1 1/2 c. sugar
4 tbsp cornstarch
1/4 tsp salt
Add: 1/2 c lemon juice
grated rind of 2 lemon
and mix together until juice is combined into sugar mixture.
Finally, add: 6 egg yolks
1 c water
4 tbsp butter
Combine all ingredients in large sauce pan and cook. Stirring constantly, cook over medium heat. Cooke for approximately about 15 minutes. Allow to cool.
What family recipes have become part of your identity? What's your favoriteway to enjoy lemon curd? Leave me a note below!