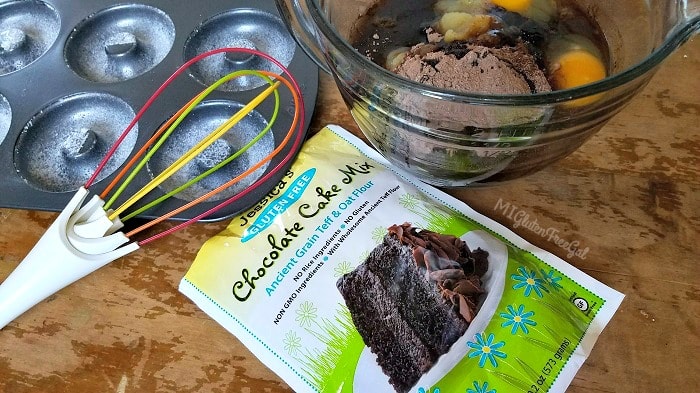 These gluten-free chocolate SunButter donuts are a stroke of last minute inspiration. Some of my most creative and tasty creations stem from a stroke of momentary genius. (Or momentary need for chocolate.) The first Friday in June is always National Donut Day. As a result, I'm baking these gluten-free chocolate SunButter donuts on Thursday. But you Celiac Disease, Food Allergy mommas know all about that "last minute baking", right?
It was meant to be, really. I received my American Gluten Free box this week. This month's theme was "birthday," and I found this Jessica's Natural Foods Chocolate Cake Mix nestled inside. Jessica loaded this mix with whole grain teff and oat flours, as well as flaxseed.  Her mixes contain no rice and no genetically modified ingredients, are made right here in Michigan! I pondered a creative way to use this mix, which could easily be shared with my husband's co-workers. Cha-ching! Gluten-free chocolate SunButter donuts! In addition, since my husband's school is a nut-free zone, I whipped up a homemade SunButter frosting that is OUT OF THIS WORLD!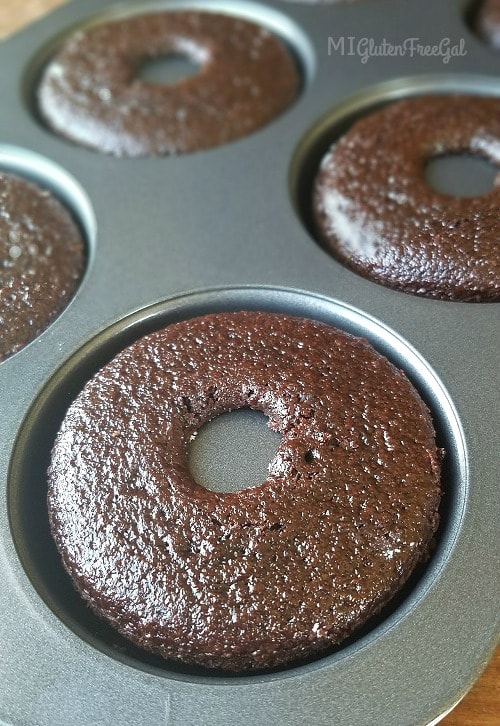 Like many gluten-free bloggers, I bake my donuts. One, because I'm terrified of frying anything in oil and two, because these Wilton donut pans are the easiest thing ever to use! The batter for these gluten-free chocolate SunButter donuts are super easy too. I prepared the Jessica's Natural Foods Chocolate Cake mix according to the directions. Well, mostly. If you've been reading my blog, you know I like to "adjust" things every once in a while. I subbed two of the tablespoons of oil with applesauce, and added a teaspoon of espresso powder. Espresso powder is the secret to deepening the chocolate flavor in any recipe, and it's perfect in these gluten-free chocolate SunButter donuts.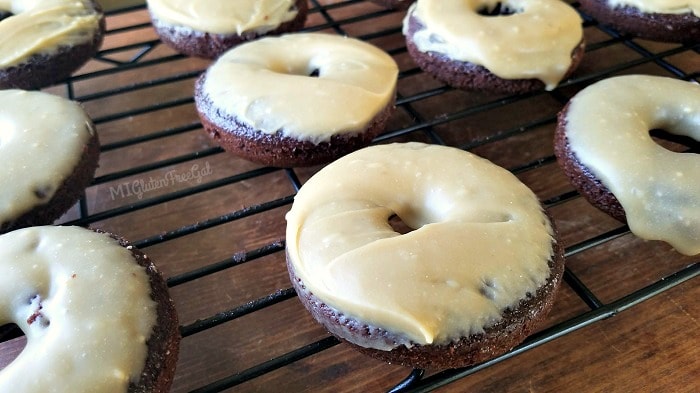 Just like my gluten-free dairy-free chocolate donuts, I baked these in the oven for 15 minutes. My oven has a "hot spot," so I rotated and switched my two donut pans after 8 minutes of baking. While my gluten-free chocolate SunButter donuts were in the oven, I whipped up this easy frosting recipe from Baked By An Introvert. I simply substituted creamy SunButter for the peanut butter called for in her recipe. I LOVE this frosting. It reminds me of the Mackinac Island Peanut Butter Fudge I devoured as a young child. I can imagine putting this in ice cream and on all sorts of delicious things!
I wanted to make it as thin as possible to make for easy donut dipping. As a result, I microwaved the SunButter frosting after all the ingredients were combined. While dunking, I ran out of frosting and had to make another small batch. I used a little bit more butter than it suggested the next time. I think this will be a substitution I will consistently make in the future, and will share below. (As well as the ingredients for a larger batch, so you won't have to make more. But I totally understand if you want to make more and eat it with a spoon!) I'll stop yammering now so you can jump in the kitchen and make a quick batch of these gluten-free chocolate SunButter donuts!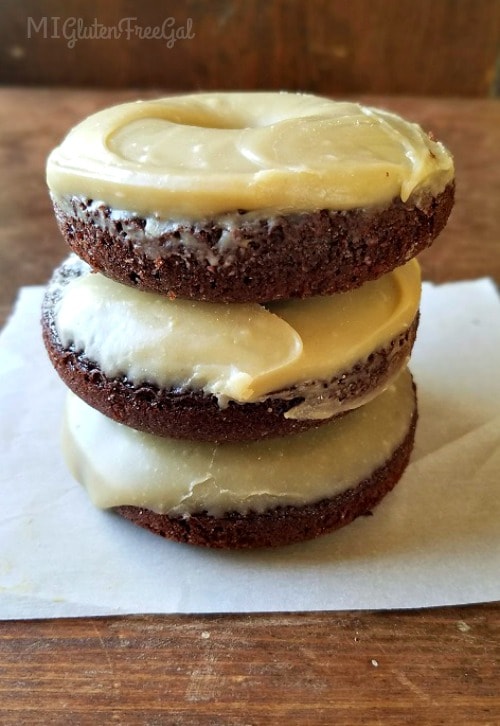 Gluten-Free Chocolate SunButter Donuts
Donuts
1 package Jessica's Natural Foods Chocolate Cake mix
3/4 c. milk
1/4 c. canola oil
2 tbsp applesauce
2 large eggs
1 tsp vanilla
1 tsp espresso powder (optional)
3/4 c. boiling water
Frosting
4 tbsp SunButter
3 tbsp unsalted butter
1 1/3 cups powdered sugar, sifted
4 tbsp heavy cream
Directions
1. First, preheat oven to 325 degrees. (This is the temperature listed on the Jessica's Natural Foods cake mix. If using another chocolate cake mix, bake at the temperature suggested.) Next, grease and flour donut pans. (I coated mine with rice flour. Jessica's mixes contain no rice products, so use an alternative starch if you're sensitive to rice.)
2. In a large bowl, add mix, milk, oil, applesauce, eggs, vanilla and espresso powder. (DON'T add boiling water yet!) Mix until all ingredients are well combined.
3. Now add the boiling water, and mix on medium speed for 60 seconds. The batter for these gluten-free chocolate SunButter donuts will be thin. Therefore, I allowed the batter to rest for 10 minutes.
4. Pour or scoop (I used my Pampered Chef 1 oz scoop) gluten-free chocolate SunButter batter into prepared donut pan wells.
5. Finally, time to put the donuts in the oven. Bake donuts for 8 minutes, then rotate pans 180 degrees and bake for 7 minutes longer. Remove from oven and use a PLASTIC knife to GENTLY separate the baked donuts from the edge of the pan. Allow to cool for 3-4 minutes, then remove donuts to wire rack to cool. The batter makes enough for 20 donuts, so you'll have to wash and grease your donut pans again to bake the remaining batter.
6. Lastly, prepare frosting by placing creamy SunButter and butter in a microwavable glass bowl. Microwave for 20-30 seconds. Stir briskly, then add powdered sugar. It might be lumpy. Add cream to bowl and whisk thoroughly. I placed the frosting back in the microwave for 20-30 seconds to make it thin. (It will set upon cooling.) Stir quickly and then gently dunk donuts in frosting to coat. Return to cooling rack to allow frosting to set.
What's your favorite gluten-free donut? Do you prefer to fry or bake your donuts, or buy premade ones? Leave me a note in the comments below!
I am an affiliate for American Gluten Free. I was provided a box for no charge. It you would like to order this gluten-free dairy-free subscription box for yourself or others, you can click on the image on the right hand side of my blog. I will receive a percentage of the sale, but this does not increase the cost to you. Those funds help keep this site running, so thank you for your support.