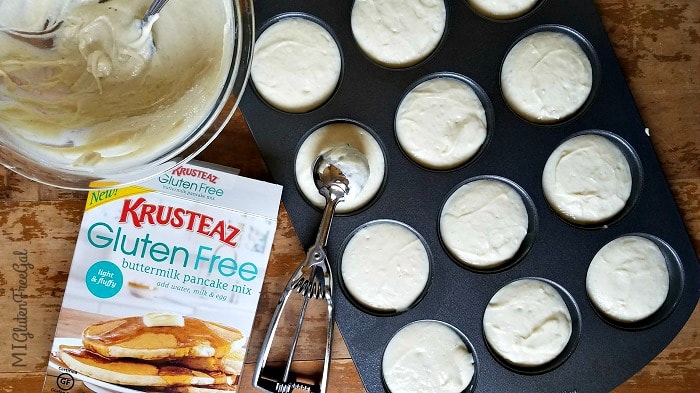 In the past two months, I've fielded many questions about Starbucks. Why? Because they launched a gluten-free breakfast sandwich that everyone has been going bonkers over. (Celiac and the Beast can tell you more about it if you'd like.) That's great, but in my neck of the woods (or inner city as the case may be), there's not a single Starbucks sammie to be found. Not barely anywhere in Michigan, in fact. So I took matters into my own hands. While Starbucks may offer convenience, I offer simple, fluffy breakfast sandwiches that can be prepped, baked and packaged in under an hour. In addition, this comes together with one simple Krusteaz gluten-free buttermilk pancake mix.
Seriously, these super simple gluten-free breakfast sandwich beauties use only 5 ingredients total. (Well, there's the greasing of the pan, but I don't really count that in ingredients.) Gather pancake mix, water, non-fat plain Greek yogurt, milk and eggs, and you're good to go. Why yogurt? It reacts with the baking soda or baking powder in your recipe to provide a lighter and fluffier crumb.  (That's why I use it in my cornbread recipe!) Whip up the batter, scoop two ounces it into your (well greased!) Whoopie Pie pan wells, and you're good to go. Bake in a 350 degree oven for 12 minutes, turning the pan once. When they are done, carefully and quickly loosen them and place on a cooling rack.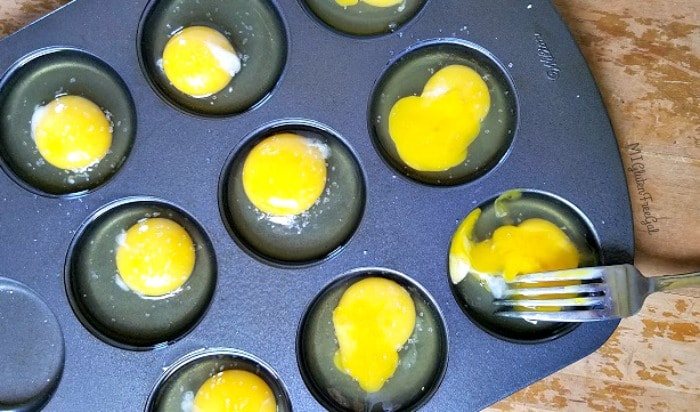 When I did my test run with my gluten-free breakfast sandwich recipe, I prepared enough to make nine sandwiches. Therefore I well-oiled my second Whoopie Pie pan and cracked my eggs into the wells. That's right folks, I'm baking eggs. NO need for all that individual frying and flipping. The trick to baking these eggs is to pierce the yolks gently. Don't whip them, just poke it so the yolk lightly seeps into the whites. Then, sprinkle those eggs with some sea salt, and pop them in the oven for 10 minutes. Not one second more. Then put the other batch of gluten-free breakfast sandwich pancake muffin tops in the oven.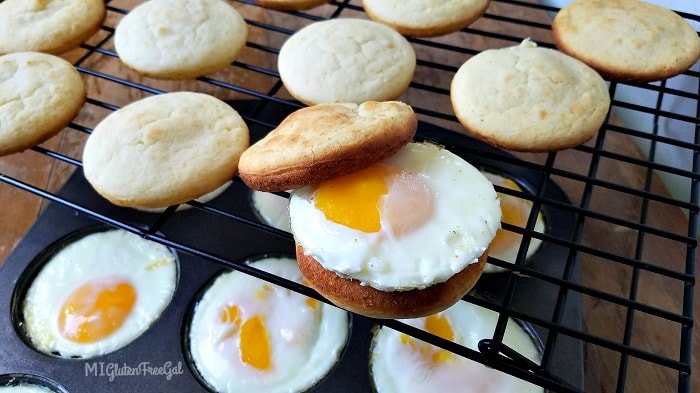 I cant begin to tell you how AMAZING these taste. Seriously, this endeaveor was a "fingers-crossed, hope-for-the-best" situation, and it was all I dreamed it would be. This Krusteaz gluten-free pancake mix has a hint of vanilla and sweetness to them. One could honestly just eat them on their own, drizzled with fresh maple syrup. (I specifically have these pancake stacks from Noble Pig in mind.) However, they are the perfect base for this gluten-free breakfast sandwich deliciousness, that you may not want to use them for anything else.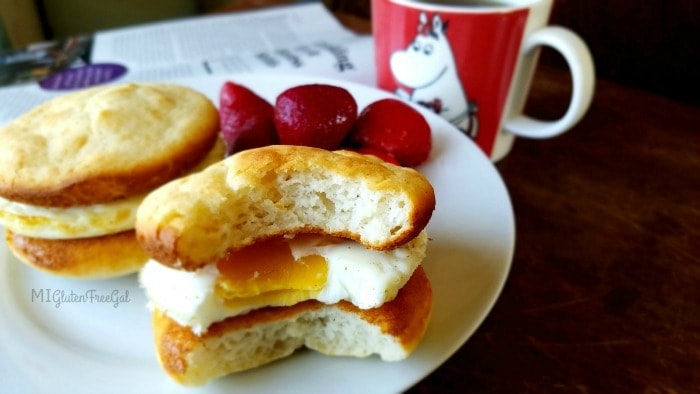 So there you have it. You can have a whole batch of these babies ready in less than an hour. The added bonus? They freeze PERFECTLY! Wrap each one in aluminum foil, place in a gallon size ziploc bag, and you have a quick, ready-to-eat breakfast in just minutes. One of these simple gluten-free breakfast sandwich delicacies would be enough to satisfy and fuel any hungry kiddo. For hungry adults like my hubby, two of these keep him energized all the way until lunch. I like to pair mine with a side of fresh fruit too. If you want to get really fancy, you could top them with my homemade chicken sausage patties. Trying to cut back on grains? Check out these gluten-free Denver Omelet muffins from my friend Boulder Locavore. They look amazing!
And all this talk now makes me hungry. Check out the recipe below while I head to the kitchen!
Easiest Gluten-Free Breakfast Sandwich Recipe
1 3/4 c. Krusteaz Gluten Free Buttermilk Pancake Mix
1/2 c. nonfat Plain Greek Yogurt
1/2 c. cold water
1/3 c. milk
1 egg
9 eggs for baking
1. Preheat oven to 350 degrees. Grease well two Wilton Whoopie Pie pans. (One for pancakes, one for eggs.)
2. In a large bowl, combine all pancake batter ingredients and blend well. I use a 1 oz Pampered Chef scoop to portion out my batter, and place two scoops in each well. Give the Whoopie Pie pan a firm tap on the counter to even out the batter.
3. Bake pancake batter for 12 minutes, rotating after 6 minutes. (Ovens vary, so keep an eye on them!)
4. While pancakes are baking, use the side of a bowl to crack eggs. Place eggs in the second well-greased Whoopie Pie Pan. Pierce yolk gently and allow yolk to seep into whites. Sprinkle with coarse sea salt. When first batch of pancakes are done, place eggs in the oven for 10 minutes, eggsactly. 🙂
5. Loosen baked pancakes from Whoopie Pie Pan and allow to cool completely. Once eggs are done, loosen from pan to prevent sticking.
6. Once all pancakes and eggs are baked, assemble your gluten-free breakfast sandwich. Add cheese, hot sauce, or whatever additional toppings you desire. If you're prepping for later, wrap each individual gluten-free breakfast sandwich (minus condiments or cheese) in foil. Then, place in a gallon ziploc bag and stick in the freeze. They can later be unwrapped and warmed in the microwave for 30 seconds. I prefer to warm them in the foil for 15 minutes in a 350 degree oven.
What's your favorite topping to add to a gluten-free breakfast sandwich? Do you tend to eat a large breakfast or are you an on-the-go kind of person? Share your breakfast tips with me!
Thank you to Krusteaz for sending me free product to play with! This page contains affiliate links as well.