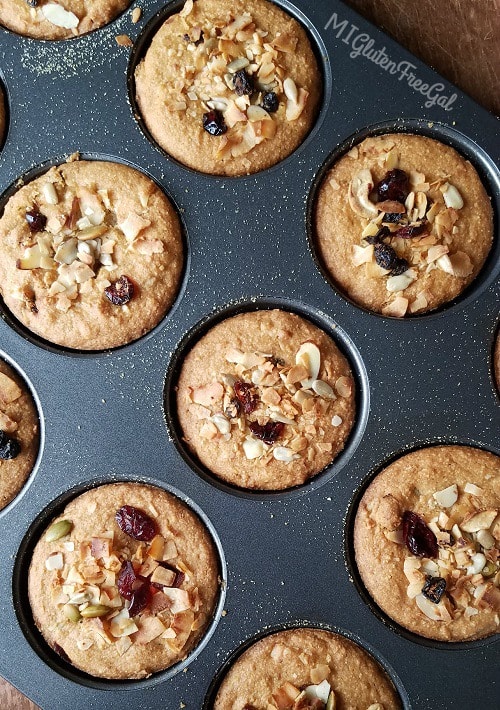 The Paleo Diet. It's a food trend that up until recently I didn't completely understand. There are certain elements I knew. That this is sometimes referred to as the "caveman diet" and that adherents follow a diet that is free of grains, contains lots of fruits and vegetables, and healthy portions of meat. There are things that I recently learned, such as that paleo adherents do not consume dairy or legmues. I wanted to make these paleo vegan muffin tops with aquafaba, so they could be egg-free. However, aquafaba is the excess water in a can of chickpeas, so I wasn't sure if it was "legit." Based on online searches, it appears that many paleo eaters do infact use aquafaba. Great news!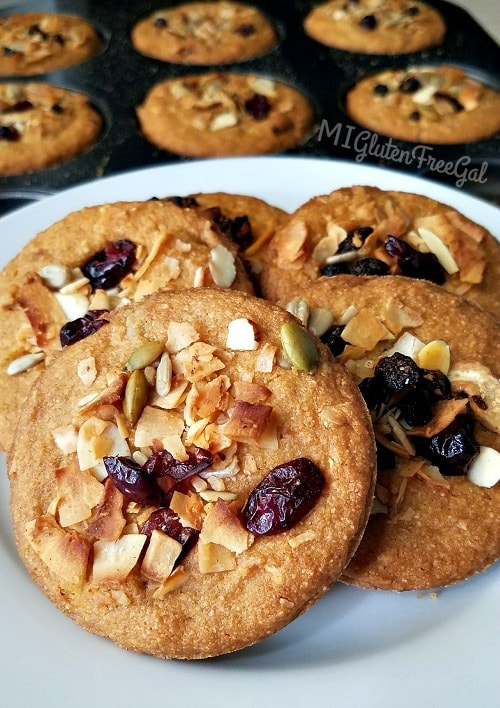 As I was preparing to write about these paleo vegan muffin tops, I was thinking about the idea of "fads." Those of us who have Celiac Disease already know that our diet is more than a fad. It's medically necessary. I'm sure there are those out there that think that the paleo diet is also a fad that will pass some day. However, I can think of people for which this way of eating meets certain medical needs. For example, a diet low in grains and carbohydrates is beneficial for those with diabetes. (This is because it doesn't impact the blood sugar as quickly.) We had two girls at our gluten-free overnight camp last year who became very ill if they ate any sort of grains.
I guess I say all this to get people to understand that we need to stop shaming or judging others based on what they eat. We all have our reasons for our dietary preferences. Whether you're eating paleo vegan muffin tops or kale chips or protein shakes, pay attention to your health first and foremost. Ignore all the haters.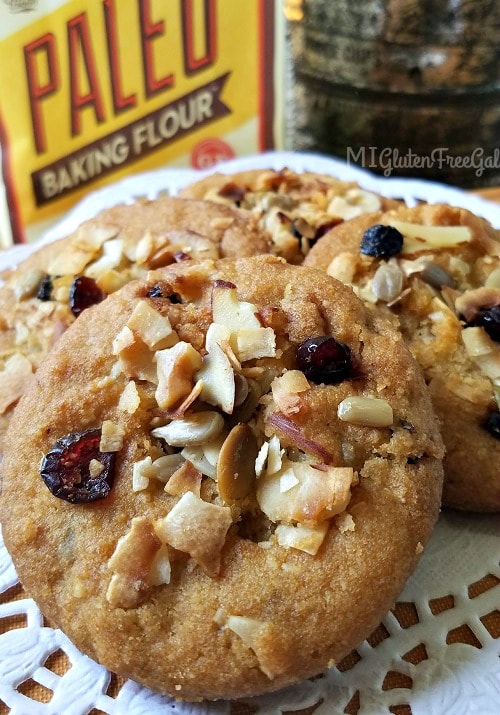 Bob's Red Mill new Paleo Baking Flour is the perfect base for these paleo vegan muffin tops. It contains "almond flour, arrowroot starch, organic coconut flour and tapioca flour." I love that this is a blend of flours. I don't like to use straight up coconut flour, because it requires so many eggs. However, mixed with these other flours, it turned out some amazing paleo vegan muffin tops. I used the recipe listed on the back of the bag of Paleo Baking Flour for muffins, cut it in half, and substituted the appropriate amount of aquafaba. (3 tbsp. of aquafaba = 1 egg). I also added in Bob's Red Mill Paleo Muesli, which is loaded with flaked coconut, shaved almonds and dried fruit. These paleo vegan muffin tops are perfectly sweetened with real maple syrup instead of processed sugar. They're so good!
Bob's Red Mill is releasing a paleo pancake mix soon, so be on the lookout for that as well!
Paleo Vegan Muffin Tops
Recipe from Bob's Red Mill Baking Flour Bag
1 1/2 cups + 6 tbsp Paleo Baking Flour
1/2 tsp baking soda
1/4 tsp salt
4 1/2 tbsp aquafaba (chickpea water)
6 tbsp coconut oil, melted
6 tbsp maple syrup (or honey)
3 tbsp water
1/2 add-ins of choice (I used a half cup of Bob's Red Mill Paleo Muesli, plus more for topping)
1. Preheat oven to 350 degrees. Grease wells of whoopie pie / muffin top pan. (I used melted coconut oil and extra almond flour.)
2. In a small bowl combine flour, baking soda, salt and set aside.
3. In a large bowl whisk together aquafaba, melted coconut oil, maple syrup, and water. Whisk thoroughly. Slowly add dry ingredients and mix thoroughly. Stir in add-ins such as dried fruit or nuts.
4. Spoon batter into prepared whoopie pie / muffin top pans. (I used 2 oz of batter for each well.) Bake for approximately 15 minutes, turning halfway through. Oven temperatures and cooking times may vary, so keep an eye on them. Muffin tops are finished when inserted toothpick comes out clean.
5 Immediately loosen edges of paleo vegan muffin tops to guarantee they will come out easily later.
Makes 12 paleo vegan muffin tops.
Looking for more paleo recipes? My friends are sharing some of their favorite grain-free treats as well. This month we're doing a round-up of some of our favorite paleo recipes. Find these and more using the hashtag, #PassItOnGF,
Dye-Free Coconut Rainbow Cookies by Casey the College Celiac
Gluten-Free Classic Lemon Cheesecake with Almond Crust by The Heritage Cook
Three Bite Almond Flour Cookies by Good For You Gluten Free
Raw Vegan Lemon Cheesecake by Lettuce Be Different
Easy Single Serving Paleo Lemon Almond Cake by Eat Your Way Clean
This page contains affiliate links