Chocolate Cake. My mother-in-law has been making her signature "Wacky Cake" for every member's birthday for as long as I can remember. She always pairs it with a cup of coffee, freshly brewed and poured by her. She's a perfect hostess. It's called "Wacky Cake" because theoretically you throw everything into the pan, mix it together, and stick it in the oven. Super easy. It's also been called "Depression Cake," as the cake batter itself contains no eggs or dairy. Being that I have Celiac Disease, I took it one step further and created this gluten-free vegan chocolate cake, complete with dairy-free fudge frosting!
The secret to turning my mother-in-law's cake into a gluten-free vegan chocolate cake success? Xanthan gum. Actually, xanthan gum is the secret behind most gluten-free baked goods. Gluten is the "glue" that binds and holds regular wheat-based baked goods together. When you have Celiac Disease like I do, that magical gluten becomes poison to your system. Xanthan gum acts like an emulsifier and helps to bind your gluten-free goodies together. I LOVE that Hodgson Mills sells it in small packages because I don't use it all the time.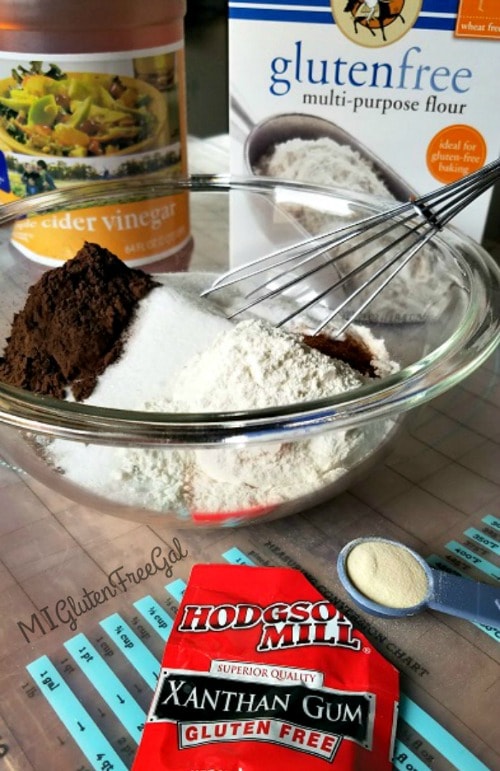 Many gluten-free flour blends contain xanthan gum in them. However, King Arthur Flour doesn't put xanthan gum in their Multi-Purpose Flour. (They do have other mixes that contain it.) I wanted to use it for this gluten-free vegan chocolate cake for two reasons. One, because it's what I had in the cupboard. Second, because I wanted to use it as a way to teach you about xanthan gum and gluten-free binders! Some in the gluten-free community prefer not to use xanthan gum. Alternatives to xanthan gum are guar gum or agar gum. Many have given up using gums all together, as they can cause stomach discomfort in some people. My favorite cake artist and friend Linda Fedewa has started using psyllium husk instead. It is my understanding that one simply substitutes an equal amount of psyllium husk for the xanthan gum in a recipe.
Ever think that your all-purpose gluten-free flour doesn't seem to work perfectly in all applications? The amount of xanthan gum in the mix may be the cause of that. A little goes a LONG way, and not every baked good requires as much as others. The Bob's Red Mill website has some great guidelines on how much xanthan gum to use based on what you're baking.
Cookies – 1/4 tsp per cup of flour
Cakes & Pancakes – 1/2 tsp per cup of flour
Muffins & Quick Breads – 3/4 tsp per cup of flour
Breads – 1 to 1 1/2 tsp per cup of flour
Pizza Dough – 2 tsp per cup of flour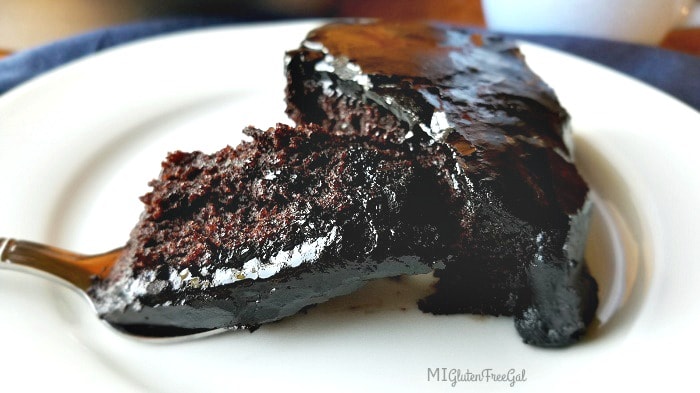 So enough about that. Back to cake. So, this gluten-free vegan chocolate cake has ALWAYS been egg-free and dairy-free. As I mentioned above, it's been referred to as Depression Cake. This is because it was created during the Depression, when dairy and eggs were scarce. So what helps bind this cake together naturally? The combination of vinegar and baking soda. Isn't science great?
The only major adaptation I made to this recipe was the frosting. (I also added some espresso powder to the cake based on this suggestion from King Arthur Flour.) While cake is great on its own, it can always be made better with frosting. Right? This fudge style frosting is SO amazing. When my mother-in-law makes it for her cake, she always makes a double batch. When my husband was young, he and his brother got to choose which one got to lick the spoon and which got to grab an extra spoon and scrape out any residual frosting. Her recipe uses butter and milk. I used Earth Balance Buttery Spread and Rice Dream instead to create this decadent gluten-free vegan chocolate cake.
This thick fudge frosting takes only a few ingredients and few minutes of cooking. My biggest suggestion in its preparation? Make sure to use a non-stick pot and a candy thermometer. The frosting for this gluten-free vegan chocolate cake needs to cook until the "soft ball" stage, or 230-240 degrees.  My mother-in-law has been making this for so long that she has the cooking time down to a science. Me? Not so much. Hence the thermometer. The reason for the non-stick pot is self-serving. Easier to get out any bits of residual frosting that way!
So, the next time you want to make cake, but don't have eggs or butter, no worries! Whip up this gluten-free vegan chocolate cake. No need to wait for someone's birthday!
Gluten-Free Vegan Chocolate Cake
Cake
1 1/2 c King Arthur Multi-Purpose Flour
1 tsp xanthum gum (omit if using a flour blend that already contains xanthan gum)
1/2 tsp espresso powder
1 c sugar
1 tsp baking soda
1/4 tsp salt
3 tbsp Hershey's Special Dark Cocoa
6 tbsp oil (King Arthur Flour uses 5 and 1/3 tablespoons in their recipe)
1 tbsp vinegar
1 tsp vanilla
1 c water
1. Preheat oven to 350 degrees and grease a 9X9 square cake pan with at least 2 inches in height on the side.
2. In a large bowl, mix together flour, xanthan gum (if not already in your flour blend), espresso powder, sugar, baking soda, salt and cocoa. Mix until all ingredients are evenly distributed.
3. In a small bowl, mix together wet ingredients (oil, vinegar, vanilla and water). Add wet ingredients to dry, mixing thoroughly. Pour batter into pan and bake for 25-30 minutes. (I baked mine for 27 minutes, but your oven may vary.)
4. Allow cake to cool completely for an hour or more before attempting to pour on fudge frosting.
Dairy-Free Fudge Frosting
3 tbsp Hershey's Special Dark Cocoa
1 c sugar
8 tbsp Earth Balance
1/4 c. Rice Dream
1 tsp vanilla
1. Combine all ingredients EXCEPT the vanilla in a medium saucepan. (I prefer to use non-stick.) Cook over low-medium heat and bring to a boil. Allow to boil for 4-5 minutes until it reaches the "soft ball" stage, approximately 240 degrees.
2. Remove from heat and add vanilla. Immediately pour frosting on cooled cake. DO NOT WAIT FOR IT TO THICKEN BEFORE POURING! The dairy-free fudge frosting will harden as it cools. Allow to cool for an hour prior to serving.
Have you made a version of this gluten-free vegan chocolate cake before? What family dessert traditions do you enjoy your family? I'd love for you to share them below!