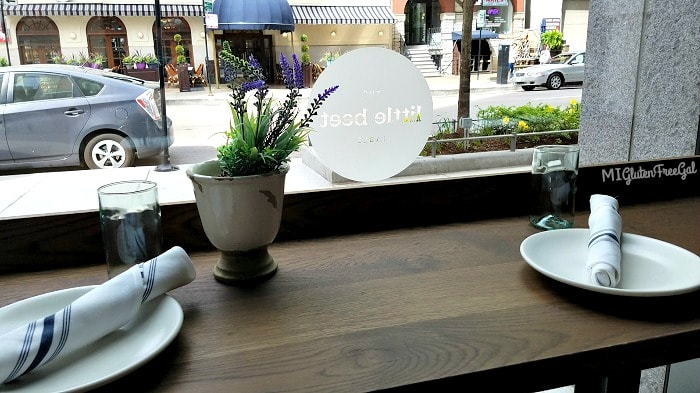 Chicago hosts a wealth of gluten-free options for dining out. The Little Beet Table restaurant is a great addition the list. This 100% gluten-free restaurant supports the community through its farm-to-table concept. This means Little Beet serves locally grown or sourced ingredients. For example, The Little Beet Table procures their gluten-free bread from Wheat's End in downtown Chicago. In addition, the menu here focuses on the use of vegetables. While their menu does include burgers and other meaty protein sources, their creativity shines in dishes where vegetables are the main attraction.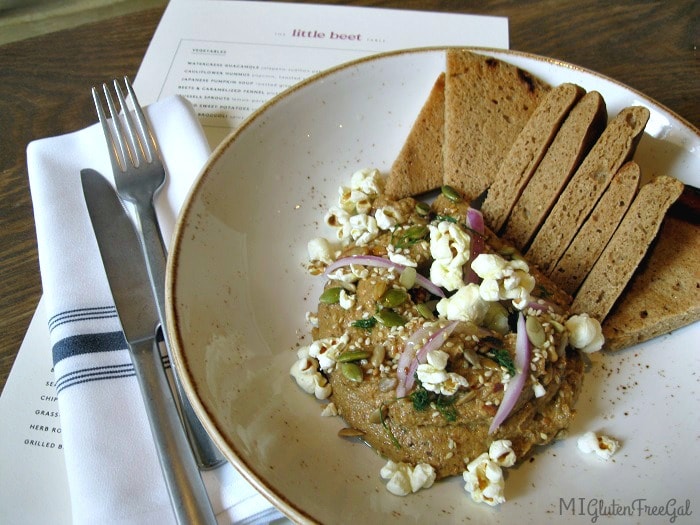 Actually, it was my connection with Wheat's End that introduced me to the management at this restaurant. The Little Beet Table in downtown Chicago is a new location for this Aurify Brands eatery. (they opened in the fall of 2016.) The Little Beet has many locations in New York, all with the same focus on gluten-free, vegetable forward dining. My dear friend Katie in NYC has eaten there multiple times. I've always been intrigued by her amazing pictures. When I learned they had a new location in Chicago, I knew I wanted to eat there. She suggested the Cauliflower Hummus, pictured above. I'm so glad I followed her advice!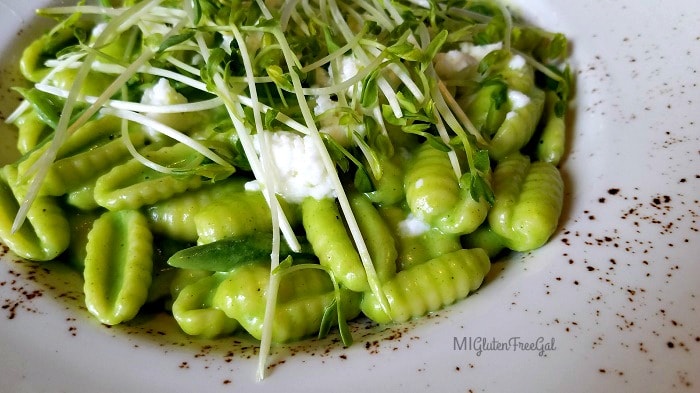 Being a newbie, I asked several of the friendly wait staff what main dishes they preferred. Two of the three suggested the Mint and Pea Cavatelli, which I ordered. The amazing smell of fresh peas greeted me as my server brought it to my table. The subtle addition of mint and the creaminess of the sheep's milk feta cheese created an amazing taste sensation. The portion was more than I could eat, but that didn't stop me from trying. It was so good I didn't want to put it down! The Roasted Spring Vegetables with Quinoa, Brussel Sprouts with Lemon-Parlsey Gremoalata and Crispy Pearl Rice are all things I'd love to taste as well! The menu changes seasonally to utilize the freshest, local produce. Even more reason to go back to try their latest culinary creations!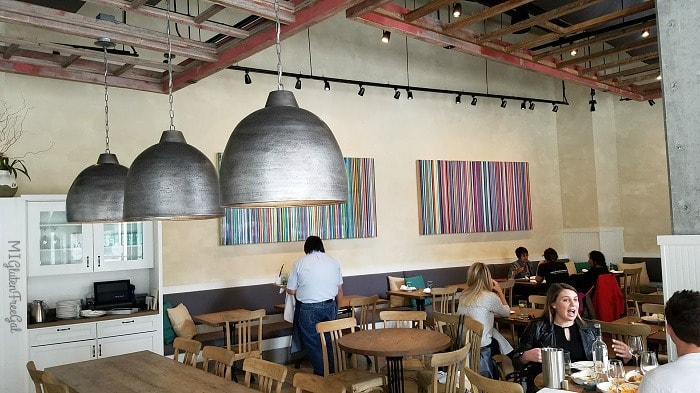 The atmosphere at The Little Beet Table highlights the food nicely. The decor is simple and inviting, without being bland. Floor to ceiling windows surround the building, providing views of downtown Chicago. This also allows natural light to stream in everywhere, which invigorated my spirit while I dined. In addition, there was plenty of open seating at 1 in the afternoon when I dined. I didn't feel rushed or hurried, and received excellent service from the waitstaff. After navigating the L-train and walking to my destination, it was nice to sit and just enjoy my meal in a quiet, relaxed atmosphere. Patio seating gets added this summer so one can further enjoy the sunlight.
While the Chicago location has received some critical marks from professional restaurant reviewers, they have received high praise on other platforms such as Yelp and Find Me Gluten Free. Don't listen to those high-brow naysayers. Main dishes average around $22 and include large portion sizes. While this may not fit in one's budget to eat at every day, it should be an addition to anyone's Chicago itinerary.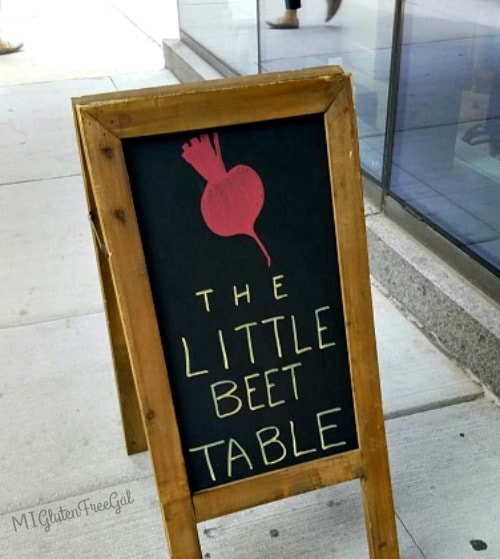 The Little Beet Table
845 N State St, Ste 101
Chicago, IL 60610
(312) 549-8600
Website | Facebook | Twitter | Instagram
While I was not charged for my meal, I received no other forms of compensation. My thoughts and opinions are solely my own. Furthermore, I would gladly recommend this restaurant to anyone!